READ AND REVIEW
FOOLPROOF LOVE (FOOLPROOF LOVE) BY KATEE ROBERT
Release Date: June 6, 2016
SYNOPSIS
Bull rider Adam Meyer put Devil's Falls in his rearview mirror years ago and hasn't stopped running since. Now he's back—temporarily, if he has any say about it. Restless, he finds himself kissing the sexiest girl in town…and agreeing to be the fake boyfriend in her little revenge scheme.

Jules Rodrigez isn't interested in the role of town spinster. Being seen with a hell raiser like Adam is the perfect way to scandalize the residents, make her ex jealous, and prove she's a sexy, desirable woman. And if their plan includes ridiculously hot sex—in public, of course—all the better.

But this thing between them has an expiration date. Putting down roots isn't in Adam's blood, and Jules's roots in Devil's Falls are bedrock deep. He'll leave, even if it rips out his heart. But this time, he's not sure he'll survive it…
BUY LINKS
REVIEW: FOOLPROOF LOVE (FOOLPROOF LOVE) BY KATEE ROBERT
Foolproof Love
by
Katee Robert
My rating:
4 of 5 stars
ARC Review: Foolproof Love (Foolproof Love) by Katee Robert
The thrill of the chase is almost worth all the heartache that's faced. Jules loves small town living but hates the gossip and speculation that goes with it. Katee Robert is just as rebellious as the characters she writes. She aims for the shock and leaves with the heart. For instance, Adam comes across rugged and tough but he is really a man running scared. The same can be said of Jules. The fact that she thinks outside of the box is the reason I enjoy reading her stories. With Katee Robert there's always something new.
View all my reviews
FROM FAKE TO FOREVER BY JENNIFER SHIRK
Release Date: June 6, 2016
SYNOPSIS
Sandra Moyer's preschool is struggling, so when her sister suggests allowing a super-famous actor to research his latest role there, she reluctantly agrees. Except the actor turns out to be Ben Capshaw—a playboy who's never serious, always joking around, and who knows zero about kids or being a parent. Case in point: his involvement in the untimely death of the preschool's class pet…

Ben is enjoying teaching more than he thought he would, but that doesn't mean he's looking for a permanent position. Sure, he's ready for more serious movie roles and less goofing off, but the buttoned-up, beautiful Sandra and her young daughter are more than he bargained for. Plus, Sandra still won't trust him—what if it's all an act, research for the role? As the lines between make-believe and reality blur, Ben will have to decide if love is worth casting aside the role of his life for a new role…that could last a lifetime.
BUY LINKS
REVIEW: FROM FAKE TO FOREVER BY JENNIFER SHIRK
From Fake to Forever
by
Jennifer Shirk
My rating:
5 of 5 stars
ARC Review: From Fake to Forever by Jennifer Shirk
Like a fish out of water, Ben stood out. Ms. Shirk played up that element beautifully. It's so easy to judge a person before taking the time to get to know them. Sandra was guilty of that on a grand scale. Much of that was due to her own issues with doubting herself. This was my first read by Jennifer Shirk and I've been missing out. Ben had a grand career and a full pocketbook, but it took a penniless teacher and a roomful of precocious children to teach him the true meaning of happiness. From Fake to Forever has that rainbow glow.
View all my reviews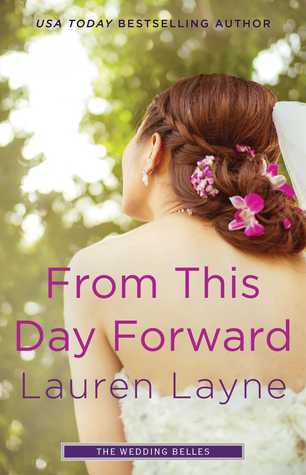 FROM THIS DAY FORWARD (THE WEDDING BELLES) BY LAUREN LAYNE
Release Date
:
June 6, 2016
SYNOPSIS
Sex and the City meets The Wedding Planner in this prequel to USA TODAY bestselling author Lauren Layne's The Wedding Belles series about three high-powered New York City women who can plan any wedding—but their own.

Up-and-coming wedding photographer Leah McHale's career is on the rise–thanks in no small part to the Wedding Belles, the elite New York wedding planning agency that always throws top-tier business Leah's way. So when one of the Belles asks Leah to fill in at the former First Daughter's wedding, Leah is overjoyed to say yes–until she finds out who she'll be working with.

Jason Rhodes is the one man who was able to capture Leah's heart and, once he had it, promptly stepped all over it and left her broken. Now he's working side-by-side with her at the biggest wedding of the season and Leah is determined to give him the cold shoulder. Despite his persistence, she is not going to fall for his charming, impish ways again. Not even if he still has that killer, irresistible smile...
BUY LINKS
REVIEW: FROM THIS DAY FORWARD (THE WEDDING BELLES) BY LAUREN LAYNE
From This Day Forward
by
Lauren Layne
My rating:
5 of 5 stars
ARC Review: From this Day Forward (The Wedding Belles) by Lauren Layne
Lauren Layne is a real asset to the world of romance. Her stories are delightful and explore so many avenues. From relationships between lovers, to facing family issues, even tackling self esteem. With each novel the core objective is being true to one's self. Such a positive message in an tantalizing yet irresistible package.
From This Day Forward centers around love and weddings. Weddings are associated with happiness and magic, but for Leah it's a way of life. Her career as a photographer allows her to capture moments of beauty. However, she knows in her heart that love is based more in fantasy than reality. The opportunity of a lifetime may boost her career but a blast from the past could cause more damage to her already fragile heart. Comparing The Wedding Belles series to Sex and the City or The Wedding Planner is a huge injustice. I was one of the few and far between that could not stand The Wedding Planner and hated Sex in the City. Yet I loved this.
View all my reviews