Both Ambrose and Alexandra want nothing to do with falling in love, but will a "gentleman's bet" cause the stakes to be higher than either bargained for? Find out in RAKEHELL'S SEDUCTION, book 2 in Lauren Smith's Seduction series.
Rafflecopter Code: a Rafflecopter giveaway
Direct link: http://www.rafflecopter.com/rafl/display/b050ef29323/?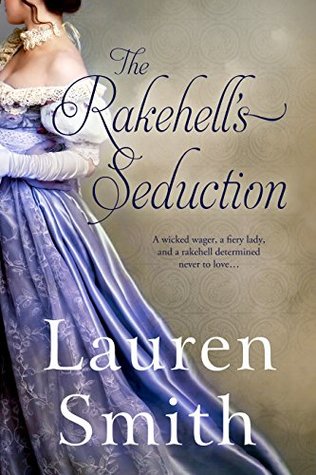 Add The Rakehell's Seduction to your GOODREADS TBR pile!
THE RAKEHELL'S SEDUCTION (THE SEDUCTION SERIES) BY LAUREN SMITH
Release Date: February 6, 2017
SYNOPSIS
HE'S MADE A DANGEROUS WAGER

Ambrose Worthing is no gentleman. He's a proud cold-hearted rake who's determined to stay a bachelor forever. He enjoys bedding a different woman every night without the risk of falling in love. When he hears about a wager over the seduction and ruination of the daughter of his father's best friend, he knows he must intervene. Committing himself to the bet, he agrees to seduce Lady Alexandra Rockford—for her own good. He never expected the lady in question to be a beautiful, fiery creature who has passions of her own that call to his guarded heart.

SHE'S VOWED NEVER TO FALL IN LOVE AGAIN

Alexandra Rockford has sworn off men, her heart still broken from the false promises of a childhood sweetheart who left her to marry an heiress. When she stumbles into Ambrose outside of a country ball, she knows the rake his trouble. His smile, his touch, his forbidden kiss are all too tempting but being with him would ruin her. Determined to enjoy herself without falling in love, Alex can't help but let her defenses down with the too charming rake. But when she discovers Ambrose is seducing her to win a bet, it will take everything Ambrose has to prove to her that he is worthy to love her.
BUY LINKS
Amazon B & N Google Play Books IBooks Kobo
REVIEW: THE RAKEHELL'S SEDUCTION (THE SEDUCTION SERIES) BY LAUREN SMITH
The Rakehell's Seduction by Lauren Smith

My rating: 5 of 5 stars


ARC Review: The Rakehell's Seduction (The Seduction Series) by Lauren Smith

It was so easy to dislike Ambrose, except when it wasn't. Contradicting statement? Yes, but that is the way that I felt. He hid his heart well, but when it came out to play, it set the whole novel on fire. Arrogant, decadent, seductive and brooding this man thrived on being a walking contradiction. When a secret bet puts Alexandra in his sights, his heavily guarded heart may not survive the blow. Alexandra at first glance seems naive in her views, but underneath all of the surface optimism lies a woman with an inner strength and hidden fire just waiting to find it's target. Ms. Smith loves to dole out surprises and with The Rakehell's Seduction she not only gave an enchanting story, she delivered characters that were as mesmerizing and complicated as the writer herself. Well done.



View all my reviews
About Lauren Smith
Amazon Best-Selling Author Lauren Smith is an attorney by day, author by night, who pens adventurous and edgy romance stories by the light of her smart phone flashlight app. She's a native Oklahoman who lives with her three pets: a feisty chinchilla, sophisticated cat and dapper little schnauzer. She's won multiple awards in several romance subgenres including being an Amazon.com Breakthrough Novel Award Quarter-Finalist and a Semi-Finalist for the Mary Wollstonecraft Shelley Award.

Connect with Lauren: Website | Blog | Facebook | Twitter | Goodreads | Amazon | Pinterest | Instagram
Original post: ishacoleman7.booklikes.com/post/1522592/happy-book-week-the-rakehell-s-seduction-the-seduction-series-by-lauren-smith