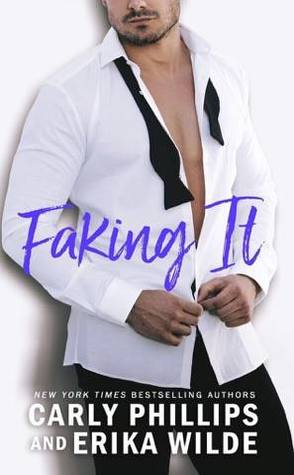 FAKING IT BY CARLY PHILLIPS AND ERIKA WILDE
Release Date: April 11, 2017
SYNOPSIS
Confirmed bachelor Max Sterling isn't into rescuing damsels in distress, but when the very tempting Hailey Ellison needs his help, there's only one thing for him to do. Step in and pose as her loving fiancé. Except there is nothing fake about his attraction to her, or how much he wants her beneath him in his bed, moaning his name. But what starts as a sexy, flirty, temporary engagement, quickly becomes something more serious that neither one ever anticipated.
BUY LINKS
Amazon B & N Google Play Books IBooks Kobo
REVIEW: FAKING IT BY CARLY PHILLIPS AND ERIKA WILDE
Faking It by Carly Phillips

My rating: 5 of 5 stars


Faking It has a sincerity that is seldom found in sensually charged romances. Only a handful of authors can put their heart into their characters and Ms. Phillips and Ms. Wilde gave it their best shot and created a successful parcel of the ups and downs of love. Hailey is the great pretender. Love is her bread and butter, but a past bad experience has led to insecurities that make it hard for this matchmaking goddess to find her own happily ever after. Image is everything. So with a little fib, she keeps her heart on the shelf and her business intact. When her little white lie threatens to topple everything she has built, will she find the strength to put her heart on the line?

Faking It, is the blend of two of romances most incredible genres. Temptation brings heart to the table and creates a sugary story of naughty proportions. Your heart rejoices while hormones go on full alert.



View all my reviews
---
About Carly Phillips and Erika Wilde
***About Carly Phillips***
Carly Phillips is the N.Y. Times and USA Today Bestselling Author of over 50 sexy contemporary romance novels featuring hot men, strong women and the emotionally compelling stories her readers have come to expect and love. Carly is happily married to her college sweetheart, the mother of two nearly adult daughters and three crazy dogs (two wheaten terriers and one mutant Havanese) who star on her Facebook Fan Page and website. Carly loves social media and is always around to interact with her readers. You can find out more about Carly at www.carlyphillips.com.
Website Goodreads Amazon Facebook Twitter
***About Erika Wilde***
Erika Wilde is the author of the sexy Marriage Diaries series and The Players Club series. She lives in Oregon with her husband and two daughters, and when she's not writing you can find her exploring the beautiful Pacific Northwest. For more information on her upcoming releases, please visit her website at www.erikawilde.com.
Website Goodreads Amazon Facebook Twitter
Find Carly Phillips and Erika Wilde Online
Hosted by:
Original post: ishacoleman7.booklikes.com/post/1549361/happy-book-day-faking-it-by-carly-phillips-and-erika-wilde