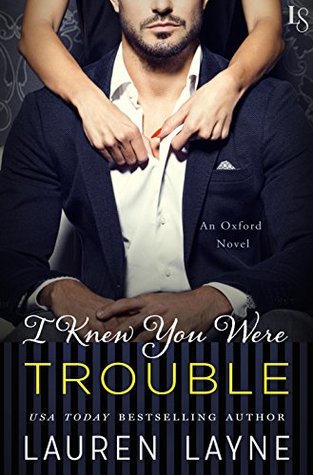 READ AND REVIEW
I KNEW YOU WERE TROUBLE (OXFORD) BY LAUREN LAYNE
Release Date: June 13, 2017
SYNOPSIS
New York City's hottest bachelors are stirring up trouble in this fun, flirty Oxford Novel, as a love triangle forces a feisty beauty to choose between winning back Mr. Right or giving in to Mr. Wrong.

Taylor Carr has it all—a sleek job in advertising, a stunning Manhattan apartment, and the perfect man to share it with: Bradley Calloway. Even after Bradley dumps her for a co-worker on move-in day, Taylor isn't worried. She'll get her man eventually. In the meantime, she needs a new roommate. Enter Nick Ballantine, career bartender, freelance writer—and longtime pain in Taylor's ass. Sexy in a permanent five-o'clock-shadow kind of way, Nick knows how to push Taylor's buttons, as if he could see right through to the real her.

Nick's always trying to fix people, and nobody could use a good fixing more than Taylor. Sure, she's gorgeous, with mesmerizing silver eyes, but it's her vulnerability that kills him. Now that they're shacking up together, the chemistry is out of control. Soon they're putting every part of their two-bedroom apartment to good use. Then Taylor's ex comes crawling back to her, and Nick figures she'll jump at the chance to go back to her old life—unless he fights for the best thing that ever happened to him.

Don't miss any of Lauren Layne's juicy Oxford Novels:
IRRESISTIBLY YOURS | I WISH YOU WERE MINE | SOMEONE LIKE YOU | I KNEW YOU WERE TROUBLE

"Irresistibly Yours has it all: fun banter, hot chemistry, and a couple that you just can't help but want to be together!"—New York Times bestselling author Marquita Valentine

"A smart, sexy, and absolutely irresistible read!"—USA Today bestselling author Mira Lyn Kelly, on I Wish You Were Mine

"Lauren Layne is a new auto-buy author for me. I can't get enough of the men of Oxford!"—Christi Barth, author of the Naked Men series

And look for her exhilarating Sex, Love & Stiletto series:
AFTER THE KISS | LOVE THE ONE YOU'RE WITH | JUST ONE NIGHT | THE TROUBLE WITH LOVE
BUY LINKS
Amazon B & N Google Play Books IBooks Kobo
REVIEW: I KNEW YOU WERE TROUBLE (OXFORD) BY LAUREN LAYNE
I Knew You Were Trouble by Lauren Layne

My rating: 5 of 5 stars


Lauren Layne is one of a handful of authors that can break your heart, while keeping you smiling the whole time. Readers don't have to like every character, but by the end, it's hard not to love them. I Knew You Were Trouble is an ideal example of that. Taylor is a little much at first meeting, but as more is revealed about her, it's easy to understand why. She hides painful insecurities. Nick pushes her, because he sees the beautiful woman behind the abrasive attitude. Another winner.



View all my reviews


HUNKS TO THE RESCUE: 15 CONTEMPORARY ROMANCE NOVELLAS by Margo Bond Collins, Trish McCallan, Krista Ames, Raine English, Tamara Ferguson, Aileen Harkwood, Lynda Haviland, Jody A. Kessler, Katie O'Sullivan, Constance Phillips, Stephanie Queen
Release Date: June 13, 2017
SYNOPSIS
Heroes by Day…Sinful Bad Boys by Night
Indulge your fantasies with this box set of alpha rescuers who have a delicious talent for romance. 15 stand-alone novellas from New York Times and USA Today bestselling, and award-winning authors will steam up your nights and leave you begging for more.
15 hunks. 15 heart-pounding rescues.
13 Brand New Stories!
Bound by Temptation by Trish McCallan, "An absurdly cute canine and a hot, sexy SEAL make reading this a delight." –Amazon Review
Saving Necessity by Margo Bond Collins. For this cowboy, risking his life to save a movie star from a fire is easier than risking his heart.
An Unexpected Twist by Krista Ames. Used to fighting wildfires, Boone Michaels isn't prepared for the sexy stranger who blows into town fighting battles of her own. Nor for the twister that tries to blow her right back out again.
Destiny's Secret by Raine English. Eden Wright's fixer of a Savannah mansion comes with two unexpected extras, a not so friendly ghost, and a hunky paranormal investigator whose agenda includes seducing her.
That Unexpected Kiss by Tamara Ferguson. Can an undercover FBI Agent rescue the woman he loves, when she's targeted by his father's killer?
Unreachable Heart by Aileen Harkwood. Mountain rescue expert Hart Renker isn't counting on sharing a tent in a blizzard with the stunning survivor he pulls from a plane crash, but the heat between them could melt the bitterest cold.
Dark Current by Lynda Haviland. When Ben Kane hitches up to the dock at her troubled marina, with a murky past and a body hotter than the Florida sun, Willow Vega can't tell, is he destined to be her savior or her downfall?
Unwrapping Treasure (A Granite Lake Romance Novella) by Jody A. Kessler. Two paramedics, one disastrous night shift, and a sexy holiday vacation that changes everything.
Breaking the Rules by Katie O'Sullivan. Undercover at a 5-star resort, police detective and rule-breaker Jake Campbell finds the prime suspect impossible to resist.
Falling for Captain Hunk by Stephanie Queen. Always one to go for the wrong damsel-in-distress, Captain Colin "Hunk" Lynch worries his attraction to a fellow law-enforcement professional could be the mistake of his life…if it prevents him from saving hers.
Fire and Ice (A Sunnydale Days Novella) by Constance Phillips. If only someone warned injured firefighter Brian his old flame, Charlene, would walk into his physical therapy session. He should still be angry with her, but instead, he wants nothing more than to rekindle the flames of passion.
Two More Miles by Jan Romes. Keith Miles, rescues Ava Beckenridge after she falls at the gym, and the chemistry between them is undeniable.
Come Hell or High Water by Nancy Segovia. Stranded on a rooftop with first responder Dwight during a hurricane, Maisie's resolve to swear off men weakens as she finds some promises are meant to be broken.
Coaching the Sub by Debbie White. Substitute teacher Shannon has her hands full with bullies in her classroom until Coach "Brock" Andrews gives an assist, while also teaching Shannon a thing or two about love.
Path to Grace by Wilder and Quinn. Daughter of a mob boss, Carina wants nothing to do with her family until she becomes a target in need of a rescue. Enter Matteo, the Family's "cleaner," tasked with handling messes of the dangerous variety—and the passion between them is most definitely messy.
BUY LINKS
REVIEW: HUNKS TO THE RESCUE: 15 CONTEMPORARY ROMANCE NOVELLAS by Margo Bond Collins, Trish McCallan, Krista Ames, Raine English, Tamara Ferguson, Aileen Harkwood, Lynda Haviland, Jody A. Kessler, Katie O'Sullivan, Constance Phillips, Stephanie Queen
Hunks to the Rescue: 15 Hot Contemporary Romance Novellas by Margo Bond Collins

My rating: 4 of 5 stars



Even bad boys need love too. Hunks to the Rescue steps from the fire into the frying pan. Six degrees of separation leads to various degrees of hotness. All worthy of a five star fire alarm.


Destiny's Secret - Raine English takes a walk on the supernatural side. Her hottie investigator and not so nice resident lead to some hauntingly tempting activities. (3 stars)

Coaching the Sub by Debbie White - Tame enough not to offend, yet saucy enough to bring on a secret grin. Coaching the Sub teeters spicy and mild. Shannon and Brock deliver a shocking performance that titillates, aggravates and stimulates the senses. Ms. White has a hidden naughty side after all. (4.5 stars)

Path to Grace by Wilder and Quinn - Matteo is tall, dark and dangerous. Three traits Carina can do without, but will she be able to survive the burning attraction that is calling her name or the danger of the target on her back? (3 stars)





View all my reviews
THE UNEXPECTED HUSBAND (CAPTURED BY LOVE) BY MIRANDA P. CHARLES
Release Date: June 13, 2017
SYNOPSIS
Can Tristan afford to trust the woman he wants?

Tristan Grant's entertainment venues are now the most popular in the country, but his success has come at a price. Larry and Debbie Shipton, his main competitors, are resorting to sabotage to regain their number one position. But that's not the most shocking news. The woman he had a one-night stand with claims she's pregnant with his baby. The problem is, he can't afford to trust her--because her name is Paige Shipton, and she is Larry and Debbie's daughter. Too bad he didn't know that before he slept with Paige, but he's determined not to make any more mistakes when it comes to dealing with the devious Shiptons. If only he can find a way to stop being so attracted to Paige...

Can Paige save her heart from being irreparably broken?

Paige Shipton is going ahead with her pregnancy. It doesn't matter that the father is Tristan Grant--the man who accuses her of deception simply because of who her parents are. She wants the baby, and she's prepared to raise it alone. When she tells Tristan he doesn't need to be involved, his answer surprises her, and she soon finds herself falling deeply for the man determined to ruin the Shipton name. With the conflict between Tristan and her parents escalating to destructive heights, can Paige avoid getting her heart irreparably broken?

***

The Unexpected Husband can be read as a standalone. For better enjoyment of the Captured by Love series, the author recommends reading the books in order.

Book 1: The Unwilling Executive (Lucas Renner and Jade Tully)
Book 2: The Unyielding Bachelor (Rick Donnelly and Lexie Mead)
Book 3: The Undercover Playboy (Carter Garrett and Cassie Stephens)
Book 4: The Unintended Fiancé (Bradley Mead and Erin Baker)
Book 5: The Unforgettable Ex (Gavin Redford and Natasha Garrett)
Book 6: The Unknown Billionaire (Jarryd Westbourne and Marilyn Grant)
Book 7: The Unmasked CEO (Simon Alexander and Geri Blaine)
Book 8: The Unexpected Husband (Tristan Grant and Paige Shipton)
BUY LINKS
REVIEW: THE UNEXPECTED HUSBAND (CAPTURED BY LOVE) BY MIRANDA P. CHARLES
The Unexpected Husband by Miranda P. Charles

My rating: 5 of 5 stars


Too bad falling in love doesn't come with an instructional manual. Complications are the special of the day for two unsuspecting lovebirds in The Unexpected Husband, the eighth novel of Miranda P. Charles', Captured by Love series. This time around Tristan lands in some serious quicksand. Not only is he in the middle of a heated feud with his biggest competitors, he's also landed himself in a deeply uncomfortable situation. With fatherhood pending, his contentious rivalry extending and his hormones and emotions getting out of hand, he's one step closer to former bachelorhood. IF, he can get past his biggest obstacle yet. He's sleeping with the enemy. How could anyone not love the bachelors and bachelorettes of this strong group of friends. From heartbreak to soulmate, Ms. Charles knows how to write romance and keep readers anxiously waiting for more.



View all my reviews
TOO CLOSE TO CALL (ROMANCING THE CLARKSONS NOVELLA) BY TESSA BAILEY
Release Date: June 13, 2017
SYNOPSIS
All-American wide receiver Kyler Tate's life is about to change. A fairytale college career skyrocketed him to the NFL draft. Adoration and opportunity are thrown in his direction wherever he goes, thanks to being chosen in the first round by the Los Angeles Rage.

None of the accolades mean anything, though, without his high school sweetheart, Bree Sutton, by his side. Four years ago, she walked away from Kyler, choosing a quiet life over the flash and notoriety his career would someday bring.

Now he's back in their Indiana hometown, refusing to leave for Los Angeles without her. Demanding she give their life together a shot. Her heart never stopped bleeding for the love of her life, but Bree's decision was final. Too bad their wild attraction has only been amplified by their separation, and Kyler won't quit until Bree is wearing his ring.
BUY LINKS
Amazon Amazon UK Amazon CAN Amazon AU
REVIEW: TOO CLOSE TO CALL (ROMANCING THE CLARKSONS NOVELLA) BY TESSA BAILEY
Too Close to Call by Tessa Bailey

My rating: 5 of 5 stars


Behind every story is a benevolent writer. Tessa Bailey puts her skills front and center with Bree and Kyler. With her mixture of sweet and sexy she crafts a romance that is blissfully nostalgic but also heartbreakingly honest. The boy that's haunted by the girl he can't forget. The girl that managed to break her own heart to ensue others happiness. Will the man and woman they've struggled to become continue to live with regrets? Too Close to Call is one more reason why Tessa Bailey has become a favorite of mine in a short period of time. She leads with compassion and that is a
great aphrodisiac for the soul.



View all my reviews
THE MISFORTUNE OF LADY LUCIANNA (THE UNDAUNTED DEBUTANTES) BY CHRISTINA MCKNIGHT
Release Date: June 13, 2017
SYNOPSIS
Quick-witted hellion Lucianna Constantine has no doubt who was responsible for the death of her dear friend. And she will stop at nothing to expose his transgressions—and those of every despicable man in London. Lucianna has witnessed the cruelty of London's beau monde her entire life…starting with her own father. So she is more than willing to singlehandedly take down every vile man that crosses her path.

Roderick Crofton, the Duke of Montrose, had his entire family fortune stolen when his father trusted the wrong men. After a scandalous article surfaces in the London Daily Gazette, written by the notorious Mayfair Confidential columnist, Roderick finds himself financially destitute, without a betrothed, and lacking the means to find the lords responsible for duping his sire. With little option left, Roderick has only one choice: find another wealthy heiress to wed. His quest brings him to Lady Lucianna Constantine, and soon, he can't deny that he wants her for more than just her dowry.

However, Luci has secrets that could change everything. And when Roderick uncovers what those confidences entail, it could mean misfortune for all involved.
BUY LINKS
REVIEW: THE MISFORTUNE OF LADY LUCIANNA (THE UNDAUNTED DEBUTANTES) BY CHRISTINA MCKNIGHT
The Misfortune of Lady Lucianna by Christina McKnight

My rating: 4 of 5 stars


What draws me to author Christina McKnight is one trait above all else. She doesn't write victims, she creates heroines. Her female leads are spirited individuals with the brains to fight for themselves instead of playing the damsel in distress. Of course, in the case of Lucianna that proved to be somewhat of a negative trait, because she lead with her heart instead of the facts. A painful tragedy has set her on a course that could prove to be her undoing. The Misfortune of Lady Lucianna is a story of survival that romances, intrigues and captivates.



View all my reviews
THE BAD LUCK BRIDE (THE BRIDES OF ST. IVES) BY JANE GOODGER
Release Date: June 13, 2017
SYNOPSIS
The Brides of St. Ives

Welcome to St. Ives, the charming seaside town where even a down-on-her luck bride might find her way back to love . . .

As if being left at the alter for the third time isn't bad enough, Lady Alice Hubbard has now been dubbed "The Bad Luck Bride" by the London newspapers. Defeated, she returns to her family's estate in St. Ives, resolved to a future as a doting spinster. After all, a lady with her record of marital mishaps knows better than to dream of happily-ever-after. But then Alice never expects to see Henderson Southwell again. Her beloved brother's best friend disappeared from her life soon after her brother's death. Until now . . .

Alice is just as achingly beautiful as Henderson remembers. And just as forbidden. For the notorious ladies' man made one last promise to Alice's brother before he died—and that was never to pursue her. But one glimpse of Alice's sorrow and Henderson feels a powerful urge to put the light back in her lovely eyes, one lingering kiss at a time. Even if it means falling in love with the one woman he can never call his bride . . .
BUY LINKS
Amazon B & N Google Play Books IBooks Kobo
REVIEW: THE BAD LUCK BRIDE (THE BRIDES OF ST. IVES) BY JANE GOODGER
The Bad Luck Bride by Jane Goodger

My rating: 4 of 5 stars


All Lady Alice wants is to be happy. So why has her quest become dogged by a trail of tears? A three time loser at love and with her reputation in tatters, this bad luck bride has accepted a life of loneliness. Until a long lost acquaintance has her questioning that possibility. The Bad Luck Bride is a tale of promises broken and new hopes arising. The saying "wrapped in feelings" fits perfectly for Alice and Henderson. Ms. Goodger grabs onto the heart and never seeks to let go. Attention grabbing, emotionally satisfying and hauntingly beautiful.



View all my reviews
ADDICTED TO THE DUKE (IMPERFECT LORDS) BY BRONWEN EVANS
Release Date: June 13, 2017
SYNOPSIS
A lovestruck lady charms the duke of her dreams during an expedition on the high seas in this sexy, swashbuckling novel from USA Today bestselling author Bronwen Evans.

Alexander Sylvester Bracken, Duke of Bedford, has a mission: sail to the Mediterranean and track down Lady Hestia Cary's missing father. It is a straightforward task, but for two rather vexing complications. First, the sea holds painful memories; second, for her own safety, Hestia is to accompany him. As Alex battles the demons of his past, he must also resist Hestia's surprisingly skillful attempts at seduction. After all, Alex has sworn to leave her untouched, and he intends to honor that vow—until he can properly ask the Earl's blessing.

Ever since His Grace rescued Hestia from the arms of a Turkish pirate six long years ago, her heart has belonged to Alex. So when he agrees to help find her father, Hestia is thrilled. Although Alex tries to hide it, there's passion in his eyes—and a frisson of desire in the air—whenever they meet. On board ship, miles from home, Alex won't be able to deny her any longer. But with scoundrels lying in wait, she may not live to tell the tale of her conquest.
BUY LINKS
Amazon B & N Google Play Books IBooks Kobo
REVIEW: ADDICTED TO THE DUKE (IMPERFECT LORDS) BY BRONWEN EVANS
Addicted to the Duke by Bronwen Evans

My rating: 4 of 5 stars


No stranger to adventure, Ms. Evans knows how to thrill readers with her courageous heroes and tempting heroines. This time around she steps up her game and sets the action on the high seas. A wounded warrior battles his inner demons while fighting against the advances of a sexy siren on the quest for answers. As the mystery unfolds the seduction begins. Bronwen Evans doesn't do dull and Addicted to the Duke explains why.



View all my reviews
ONE WEEK TO THE WEDDING (MISTY POINT) BY OLIVIA MILES
Release Date: June 13, 2017
SYNOPSIS
Kate Daniels couldn't be more excited to be planning her best friend's wedding...in theory.
Lately, just thinking about gowns and centerpieces makes her want to hide under the covers with her dog and a good book—one that doesn't include a romantic plot, thank you very much. Maybe it's because her fiancé cheated. Or maybe it's because he cheated with her younger sister, Charlotte. Or maybe it's because her newfound reputation as jilted wedding planner isn't exactly doing wonders for her career.
Charlotte knows she messed up. Big time. But she also knows something Kate doesn't-something that might bring them close again, if her sister will ever take her calls. But as time passes and silence grows, Charlotte begins to realize she can't hide from her problems forever, and that sometimes the only place to run is home.
With the wedding only a week away, Kate expects a few surprises. But what she doesn't expect is to find herself believing...in the strength of family, and the possibility of finding love again.
In the vein of New York Times bestselling authors Susan Mallery, Robyn Carr, and Kristan Higgins, comes the first in a new women's fiction novel from Olivia Miles.
BUY LINKS
Amazon B & N BAM Google Play Books IBooks IndieBound Kobo Target
REVIEW: ONE WEEK TO THE WEDDING (MISTY POINT) BY OLIVIA MILES
One Week to the Wedding by Olivia Miles

My rating: 4 of 5 stars


What is meant to be a cause for celebration, could end up being anything but. One Week to the Wedding is a tale of sisterhood, betrayals and second chances. Olivia Miles always delivers stories that are full of substance, not just entertaining. Kate and Charlotte are sisters with a complicated relationship. What should have been an unbreakable bond has ended up tarnished by betrayal and jealousy. I guess that old the statement about not realizing how important something is until too late is true. One regret too many has left Charlotte estranged from the most important person in her life. Will Kate every forgive her? One Week to the Wedding is a thought provoking story of heartache, family and forgiveness told through the eyes of love and a heart of regret.



View all my reviews
Original post: ishacoleman7.booklikes.com/post/1570746/happy-book-week-new-releases-for-june-13-2017