READ AND REVIEW
THE REMINGTONS: PITCHING FOR LOVE (KINDLE WORLDS NOVELLA) BY AMY MANEMANN
Release Date: March 2, 2016
SYNOPSIS
Tough as nails publicist, Mia Scott, has built her career by dodging the advances from her elite clientele. Her number one rule; never mix business with pleasure. Until a split second decision leads her to a night of unbridled passion -- and the morning after blues when she discovers the man she spent an amazing night with is her newest client.

Professional baseball pitcher, Evan Ahrens, knows he messed up, and messed up royally. One mistake on the field puts him on thin ice with the league and lands him a new PR rep to fix his soiled image. He goes to NightCaps to toss back a few drinks and blow off some steam -- and meets his match in a feisty dark haired woman who takes him to heights he's never been. There's only one problem -- she's his new publicist, and she's made it clear there will be no repeat performances.

A battle of wills gives way to uncontrollable passion as Mia fights her growing feelings to keep things professional, while Evan decides for once in his life he wants something more. The game just went from saving his career, to pitching for love. 
REVIEW: THE REMINGTONS: PITCHING FOR LOVE (KINDLE WORLDS NOVELLA) BY AMY MANEMANN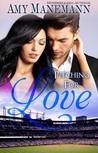 The Remingtons: Pitching for Love by Amy Manemann

My rating: 5 of 5 stars


Amy Maneman tries her hand a little guilty pleasure with Pitching For Love. Mia is no rule breaker but Evan has her rethinking that. I received an ARC of Pitching For Love in exchange for an honest review. The books I have read by this author in the past have not been full of scintillation sexual tension. She should try it more often because it totally worked in this story. I loved the heat but I also liked seeing the vulnerability Mia displayed. It showed she was just as insecure as Evan. This novel worked for me on so many levels. Looking forward to what is ahead for this author.



View all my reviews
THE REMINGTONS: CITY OF LOVE (KINDLE WORLDS NOVELLA) BY KAIRA ROUDA
Release Date: March 2, 2016
SYNOPSIS
Her heart is empty in the new life she's living.

Charlotte Taylor knows she's gorgeous. She's been told that all her life. Since she was a child, her mom, a former model and Miss Georgia, has been grooming her for a professional modeling career and tomorrow, she'll sign with the top agency in New York City. It should be a dream come true.

Alone, and unhappy, she doesn't know where to turn.

Hale Scott works long hours as a chef at the hottest restaurant in Manhattan. It should be his dream job, serving hip food to the coolest crowd in the city. The only problem is his boss. The highlight of his evening is the gorgeous woman he keeps making eye contact with, sitting at the table closest to the kitchen. She looks sad and lonely and he hopes she's still there when the dinner rush subsides.

Charlotte and Hale find an instant connection but a relationship is the last thing Charlotte needs and the only thing Hale wants. Can they find a way to stay together in the overwhelming city, or can they find their own city of love?

Cameo by: Siena Remington from Melissa Foster's Flames of Love
REVIEW: THE REMINGTONS: CITY OF LOVE (KINDLE WORLDS NOVELLA) BY KAIRA ROUDA
The Remingtons: City of Love by Kaira Rouda

My rating: 5 of 5 stars


Charlotte is so much more than a pretty face. Why can't anyone understand that?
Hale leads a life that is hectic and unsatisfying. He has a job he loves but a boss he hates and his brightest moments are spent watching a woman who doesn't know he exists. I received an ARC of City of Love in exchange for an honest review. There is a wistful quality to this read. Hale and Charlotte were living their dream careers in the big city but are not happy. They want more than just work and adoration from their peers.
City of Love is a story about making the choice that is right for you when others don't agree. Lovely story.



View all my reviews
THE REMINGTONS: CRAZY LOVE (KINDLE WORLDS NOVELLA) BY CALINDA B
Release Date: March 2, 2016
SYNOPSIS
Skilled "tiger whisperer" Kennedy Swift is on a mission to get her life on track and escape the people who want to do her harm. Running into Dante Vega isn't on the plan. When her gaze lands on Dante, the same obsession and longing she experienced in her senior year comes roaring back to life. She simply can't afford to let him in. End of story.

An unexpected, surprise encounter at a tiger sanctuary in the Bronx leaves mega-superstar musician Dante Vega reeling. Is the woman being charged by the tiger, about to lose her life, the same woman he crushed hard on at his exclusive private Manhattan high school before she vanished?

Each of their lives has been marred by tragedy. Each carries secrets, too dark to reveal. Will their secrets tear them apart? Or will they find the courage to come clean, risking all to find love?

Cameo appearances from Dex Remington, Ellie Parker, Mitch Anziano and Regina Smith, from Game of Love.
REVIEW: THE REMINGTONS: CRAZY LOVE (KINDLE WORLDS NOVELLA) BY CALINDA B
The Remingtons: Crazy Love by Calinda B.

My rating: 4 of 5 stars


There is something so invigorating about discovering a new author. That feeling of traveling into the unknown is a little scary. Crazy Love gave me that feeling throughout, which proved great because I experienced the fear and uncertainty Kennedy did more realistically. Through her of course. Calinda B has written a story about facing fears and moving forward in a mental and literal way. There is so much heartache in this story but there are also moments of inspiration that make the tears easier to take. I received an ARC of Crazy Love in exchange for an honest review. The road to healing proved treacherous but ending up being worth ever step.



View all my reviews
THE REMINGTONS: LOVE IN THE CITY (KINDLE WORLDS NOVELLA) BY ZOE YORK
Release Date: March 2, 2016
SYNOPSIS
NYPD detective Daniel DeCecco didn't want to fall hard for his best friend's little sister. But Lucy Sark has a plan…

Off-limits love is tested and honesty (eventually) proves to be the best policy in this standalone sequel to Love On The Record (Griffin and Tessa's story).
BUY LINKS
REVIEW: THE REMINGTONS: LOVE IN THE CITY (KINDLE WORLDS NOVELLA) BY ZOE YORK
The Remingtons: Love in the City by Zoe York

My rating: 5 of 5 stars


I'm loving it. One day! That's all it took for me to finish this read. That was great. I received an ARC of Love In the City by Zoe York in exchange for an honest review. I had a preconceived notion going in of what this story was going to be like and was totally wrong. Ms. York story of unrequited love is so enchanting that I found it fabulous. Lucy and Daniel have been tip toeing around their feelings for as long as either can remember. Daniel has had his reasons age, friendship and his relationship with her brother. What's a guy to do when the object of his affection is proving to be his undoing? Find out in this sexy tale. Short, sweet and sexy treat.



View all my reviews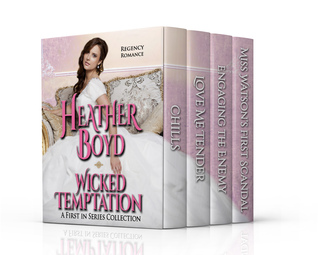 SPECIAL PRE-ORDER PRICE $0.99.
WICKED TEMPTATION: A FIRST IN SERIES REGENCY COLLECTION BY HEATHER BOYD
Release Date: March 2, 2016
SYNOPSIS
Be swept into a world of naughty rogues, independent women, fierce desire and scandalous trysts in this new collection of romance. Each book is the first story in an existing and exciting series ranging from sweet to steamy encounters set in regency England.

Get caught up in Wicked Temptation today…

CHILLS – Distinguished Rogues Book 1: Accident-prone country maiden seeks marriage of convenience with deep-pocketed husband to avoid debtor's prison. Applicant should not be old, arrogant and be capable of ignoring the occasional clumsy gaff when gadding about in society. And no matter how much the lady might wish it, he cannot be her handsome former guardian the Marquess of Ettington—even if he were available.

LOVE ME TENDER – Brothers in Love Book 1: Tristan Greene, Viscount Ramsbury, might be a rake-on-the-run from a husband-hunting debutant, but he also has seduction firmly in mind when he begs protection from the recently widowed Winifred Moore.

ENGAGING THE ENEMY – Wild Randalls Book 1: Every great family has a few secrets best left unspoken. The wild Randalls of Hampshire excel at them. Leopold Randall has come home to England to find his family and face the demons of his past. The question is, however, if he's fully prepared to engage the enemy, the Duchess of Romsey, when she's intimately tangled in his past.

MISS WATSON'S FIRST SCANDAL – Miss Mayhem Book 1: Overworked London banker David Hawke had two goals for his week in the seaside town of Brighton: one, recover a debt from a friend and two, relax for his remaining holiday. Marriage wasn't part of the plan…until the girl next door barges in and turns his life upside down.
BUY LINKS
REVIEW: WICKED TEMPTATION: A FIRST IN SERIES REGENCY COLLECTION BY HEATHER BOYD
Wicked Temptation: A First in Series Regency Collection by Heather Boyd

My rating: 5 of 5 stars


Nobody does scandalous quite like Heather Boyd. Her seductive stories are right up there with Jess Michaels. She gets your blood racing, your imagination going and awakens your emotions with her stories. I received an ARC of Wicked Temptation in exchange for an honest review. With this anthology Ms. Boyd introduces new readers to four of her ongoing series and reacquaints fan with how they began. Four hot stories in one steamy collection is worth the price.



View all my reviews
Original post: ishacoleman7.booklikes.com/post/1352003/check-out-the-new-releases-for-march-2-2016