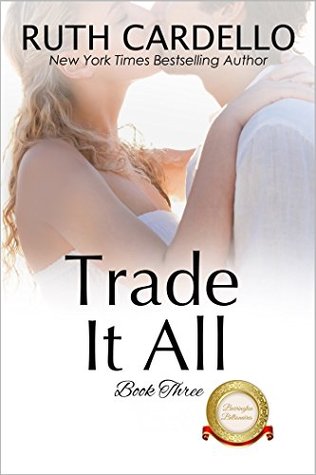 AVAILABLE FOR PRE-ORDER!
READ AND REVIEW
TRADE IT ALL (THE BARRINGTON BILLIONAIRES) BY RUTH CARDELLO
Release Date: July 11, 2016
SYNOPSIS
Lance Barrington's priority is business, not pleasure. Only one woman has ever been able to turn him inside out: Willa Chambers, his sister's best friend. Forbidden. Scandalous. Unforgettable.

They've spent the last ten years trying to forget one night.

When Willa and Lance are thrown together again, things heat up fast. Loving him almost destroyed her the first time.

This time, will it heal her?
BUY LINKS
DON'T MISS BOOKS 1 & 2 OF THE SERIES! AVAILABLE NOW.
CURRENTLY FREE!
ALWAYS MINE (THE BARRINGTON BILLIONAIRES) BY RUTH CARDELLO
SYNOPSIS
When it comes to getting what he wants, Asher Barrington is a hammer who is known for crushing his opponents. From the moment Emily walks into his office and challenges him, winning takes on a whole new meaning.

The only thing standing between Emily Harris and her goal to open a museum for the blind is an arrogant, sexy as hell billionaire, who thinks sleeping with her will not complicate the situation.

He won't change. She won't back down.
But together they sizzle.
BUY LINKS
STOLEN KISSES (THE BARRINGTON BILLIONAIRES) BY RUTH CARDELLO
SYNOPSIS
Dax Marshall isn't the type of man a woman takes home to meet her parents. He's a business shark who has never let anything as insignificant as caring stop him from taking over a company. Some call him heartless, but he doesn't see the value of caring about anyone or anything until he meets Kenzi.

Her happiness becomes his obsession.

Kenzi Barrington has tried to be the person her family needed her to be, but she doesn't want to lie anymore. When she can't hold a dark secret in another day, she turns to the one man she knows is strong enough to hear the truth.

What starts as a simple attraction becomes a friendship that changes how they both define love.
BUY LINKS
COMING SOON!
CRAZY NIGHTS (BARRINGTON BILLIONAIRES) BY DANIELLE STEWART
Release Date
:
July 21, 2016
SYNOPSIS
Emmitt Kalling isn't satisfied unless he's smashing something. It can be a punching bag at the gym or some jerk's face at the bar. He's not picky. Since arriving home from his last deployment, he's itching for some action. But he only finds the same problems he faced before he enlisted.

Evie Pike has been exiled from her budding acting career with few future prospects. On a journey to find her purpose, she discovers her path is only paved with disappointment and the coffee she keeps spilling on her bosses. Feeling painfully unqualified for almost everything, she realizes a chance to hop a plane with Emmitt is like a ripcord on a parachute; she'd better pull it before it's too late.

She's desperate to connect. He's a master at no strings attached. Their attraction is magnetic, but their opinions are polarizing. Will their sizzling chemistry be enough?
BUY LINKS
Amazon B & N Google Play Books IBooks Kobo