READ AND REVIEW
SEDUCING SARAH (KINDLE WORLDS: HELL YEAH / MONTANA HEAT) BY MADDIE JAMES
Release Date: August 9, 2016
SYNOPSIS
When Cole Stevens travels from Montana to Texas to close a business deal with his old friend, Heath McCoy, he never expects to close in on a relationship, too. But with one brief moment of contact in the airport with a pretty young woman carrying a guitar, his heart starts to unravel.

Sarah McClendon, fresh out of the gate after landing the runner-up spot on American Star, is touted as the up-and-coming country music star of the year. When she tangles with her manager at the Highlands Ranch annual barbecue, Cole steps up to the plate to protect her from the smarmy, poor excuse of a human being.

But it's just a weekend right? Cole will be back home on the ranch in Montana come Monday, and Sarah has a career to get off the ground. Can a love-at-first-sight weekend turn into the happily-ever-after neither of them are sure they even want?
BUY LINKS
REVIEW: SEDUCING SARAH (KINDLE WORLDS: HELL YEAH / MONTANA HEAT) BY MADDIE JAMES
Hell Yeah!: Seducing Sarah by Maddie James

My rating: 5 of 5 stars



Seducing Sarah (Kindle Worlds: Hell Yeah/ Montana Heat) by Maddie James

Reviewed for Candid Book Reviews

No other author can hold a candle to Maddie James in the short story department. Like a pocket of sunshine after a cloudy day her characters deliver a purity of heart and serve as a refreshing balm to the soul. Seducing Sarah shows how positivity can rise above the negativity in the world. I exited the way I began with a joy that keeps on giving and awaiting my next read from a gifted author. Not hard to fall in love with perfection.



View all my reviews
COWBOY' S BREAK (KINDLE WORLDS: HELL YEAH / POKER FLAT) BY LEXI POST
Release Date: August 11, 2016
SYNOPSIS
Cowboy and former detective Vance Gallagher never thought he'd have a second chance to convince Rachel Henderson they were meant to be together, nor did he think he'd want to. Now, after seven years, thanks to his old police academy friend, Vance is knee deep in numbers and computers, determined to save Rachel's ranch and his own heart.

Rachel hadn't expected to see Vance again…ever. In fact, she planned on it. Saying goodbye to him had been the hardest thing she'd ever done, but she couldn't handle her sister, the ranch, and his job as an undercover detective all at the same time. Now she's with him every day and buried feelings just won't go away.

The closer Vance gets to solving the mystery of the missing money, the more convinced he becomes that Rachel is the one for him. But when prize animals start disappearing, he has to choose between revealing the culprit and keeping the woman he's always loved from harm. He just can't catch a break.
BUY LINKS
REVIEW: COWBOY' S BREAK (KINDLE WORLDS: HELL YEAH / POKER FLAT) BY LEXI POST
Cowboy's Break by Lexi Post

My rating: 4 of 5 stars




Cowboy's Break (Kindle Worlds: Hell Yeah/Poker Flat) by Lexi Post

Reviewed for Candid Book Reviews


Vance has "wet dream" written all over him. He's fearless, caring and easy on the eyes but toxic to the heart. Vance has struggled with a broken heart and self recriminations after a devastating break-up. Can mysterious circumstances lead him back to the missing pieces of his heart? Rachel has spent most of her young life sacrificing her own happiness. With a complicated sister in need of help, a risky business needing guidance and devastating losses that leave her broken down, she knows what pain really means. When strange happenings start affecting her business, she needs answers. Can a blast from the plastic point her toward her Future?

I have read author Sable Hunter's Hell Yeah novels in the past and the surprising twists and ongoing suspense kept me on my toes and wanting more. Lexi Post stuck to the unexpected turns, but gave a voice to the emotional realities of greed, danger and drug addiction while showing the true meaning of forgiveness and love.



View all my reviews

READ AND REVIEW
HER HELL YEAH COWBOY (KINDLE WORLDS: HELL YEAH / HARLAND COUNTY) BY
DONNA MICHAELS
Release Date: August 9, 2016
SYNOPSIS
Years ago, he unknowingly rescued his soulmate, now she's back in Texas and about to save his guarded heart.

Unlike his twin, Texas National Guardsman Sgt. Logan McCall would rather march barefoot and blindfolded through a cow pasture than date the same woman twice. After an active duty injury during a flood washed away his promising sports career and engagement years ago, Logan guards his heart more than his life until, fresh from deployment, he runs into a friend of the McCoys…literally. Hill Country's newest resident is hotter than the wing sauce soaking into his shirt.

Mission on.

Graphic designer and carrier of misfortune, Chloe Davis is a danger to herself and those around her, so entertaining thoughts for the sexy cowboy wearing her hot sauce should be a no-no…not a hell yeah—especially considering he's the guardsman linked to a horrible instance in her past. But when he turns out to be one of her clients, she can no more avoid him than the attraction sizzling between them. Chloe's back in Texas determined to make a fresh start, and she succeeds in business but fails to resist the handsome soldier's relentless pursuit.

But when he discovers her past, will he trust his heart or lose her forever?
BUY LINKS
REVIEW: HER HELL YEAH COWBOY (KINDLE WORLDS: HELL YEAH / HARLAND COUNTY) BY DONNA MICHAELS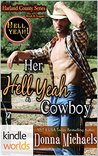 Hell Yeah!: Her Hell Yeah Cowboy (Kindle Worlds Novella) by Donna Michaels

My rating: 5 of 5 stars



Her Hell Yeah Cowboy (Kindle Worlds) by Donna Michaels<br>
Reviewed for Candid Book Reviews

Can missed opportunities lead to a second chance of the Heart? Chloe and Logan are dealing with the fall out from heartaches, when their paths crossing at a time when they need each other most. Her Hell Yeah Cowboy is a romance that proves anything is possible, if a person opens the mind and heart to new possibilities. Full of optimism, creativity and lots of drama in a nice little package.



View all my reviews
UNTIL THERE WAS YOU (KINDLE WORLDS: HELL YEAH!) BY CIANA STONE
Release Date: August 9, 2016
SYNOPSIS
Lola's life is filled with mysteries. Why did her parents abandon her as a baby? What's behind the baffling blackouts she suffers and the frightening images she creates while she's out? Who is the strange woman claiming to hold the answers - and why does she say Lola has a life or death mission to perform?

Morgan has a few mysteries of his own. What was his father going to give him on the day he died, the gift he said would change Morgan's life? Who is this bewitching woman who passes out upon meeting him and creates pictures of his past and future?

And was she really sent to save his life or is she in need of psychiatric help?

All they both know is that from the moment they meet a bond is formed and it is stronger and more passionate than anything either has ever known. And that fate has brought them together for a very important reason.

If only they knew what it was...
BUY LINKS
REVIEW: UNTIL THERE WAS YOU (KINDLE WORLDS: HELL YEAH!) BY CIANA STONE
Hell Yeah!: Until There Was You by Ciana Stone

My rating: 3 of 5 stars



Hell Yeah!: Until There Was You by Ciana Stone

Reviewed for Candid Book Reviews

I'm not into stories bordering on the supernatural. The reason being authors have a tendency to get carried away with the strange and not deliver on the story. Until There Was You was a complicated story to sort through. Lots of haunting questions to answer but the aura of mystery was needed to keep Lola and Morgan's journey from coming across as generic. I tried something different and Ciana Stone kept the surprises coming, the pieces hidden and the wonder flowing until the bitter end. 3.5 stars.



View all my reviews
Original post: ishacoleman7.booklikes.com/post/1454762/now-available-kindle-worlds-hell-yeah