THE BACHELOR'S PROMISE (BACHELOR AUCTION) BY NAIMA SIMONE
Release Date
:
August 29, 2016
SYNOPSIS
Aiden Kent never expected to see Noelle Rana again. He's determined to keep his distance from the beautiful enigma wrapped in denim and leather. He can't trust anyone with the last name Rana. But he made a promise to his dying mother, and it isn't long before Noelle invades his personal space. He can't stop thinking about the exotic beauty's alluring curves.
He wants the daughter of his enemy, and he's determined to have her…if only for one night.
If Noelle wants to move forward with her life, she must make a deal with the devastatingly gorgeous, broody millionaire Aiden. He made a promise years ago, and she's come to collect—even if it means facing down the only man who ever broke her heart. And there's a really good chance he'll do it again.
BUY LINKS
Amazon
B & N
Google Play Books
IBooks
Kobo
REVIEW
:
THE BACHELOR'S PROMISE (BACHELOR AUCTION) BY NAIMA SIMONE
The Bachelor's Promise
by
Naima Simone
My rating:
4 of 5 stars
Easy is not a word that either Aiden or Noelle are familiar with. Fight is the motto that plays on repeat like a theme song in their lives. He's the guy with the chip on his shoulder and enough anguish and guilt to last a lifetime. Noelle's the woman that carries shame and heartache around like her own personal zip code. Events beyond their control has left these two at odds. Can a promise to a dying woman heal two broken hearts?
The Bachelor's Promise
paints a picture of so much pain, but out of all the bitterness, two people learned how to hope again. Naima Simone blended the passion and heat of a complicated rivalry to make for a fiery story of forgiveness and courage. Powerful message: Love can stomp out hate.
View all my reviews
MY FAIR PRINCESS (THE IMPROPER PRINCESS) BY VANESSA KELLY
Release Date
:
August 30, 2016
SYNOPSIS
First, Vanessa Kelly brought readers The Renegade Royals. Now, in a delightfully witty new series, she introduces The Improper Princesses—three young women descended from royalty, each bound for her own thrilling adventure . . .
Despite being the illegitimate daughter of a prince, Gillian Dryden is happily ignorant of all social graces. After growing up wild in Italy, Gillian has been ordered home to England to find a suitable husband. And Charles Valentine Penley, the excessively proper, distractingly handsome Duke of Leverton, has agreed to help transform her from a willful tomboy to a blushing debutante.
Powerful and sophisticated, Charles can make or break reputations with a well-placed word. But his new protégée, with her habit of hunting bandits and punching earls, is a walking scandal. The
ton
is aghast . . . but Charles is thoroughly intrigued. Tasked with taking the hoyden in hand, he longs to take her in his arms instead. Can such an outrageous attraction possibly lead to a fairytale ending?
BUY LINKS
Amazon
B & N
Google Play Books
IBooks
Kobo
REVIEW
:
MY FAIR PRINCESS (THE IMPROPER PRINCESS) BY VANESSA KELLY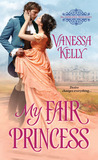 My Fair Princess
by
Vanessa Kelly
My rating:
5 of 5 stars
A heroine unlike any other ...
Gillian is not afraid to be herself. Even when everyone else is pushing her to become someone else. Vanessa Kelly creates characters that are bold and electrifying. I don't think that I have every come across one as strong willed as Gillian in one of her stories, however. When summoned home to take her place as the toast of the social elite, she meets her biggest challenge in the one man determined to change her wild ways. What Charles finds is a free spirit that appeals to his inner wildness. Can he accept the beauty that is Gillian or will he break his own heart in taming her? I love to read stories that integrate the importance of being true to one's self. There is a piece of beauty in ever soul. Thanks for shining a light on that message Vanessa Kelly.
View all my reviews
FIRE BRAND BY DIANA PALMER
Release Date
:
August 30, 2016
SYNOPSIS
He'll risk his whole heart to save her from the past

Gaby Cane was always a bit afraid of her attraction to Bowie McCayde. Even when she was fifteen and Bowie's family took her in, she had sensed his simmering resentment. Now ten years later, she's an aspiring journalist who can hold her own with any man professionally, the dark shadows of years gone by far behind her. Then Bowie strides back into her life—only this time, he needs her, and the pull of loyalty to his family is too strong to ignore.

When Bowie asked Gaby to help save his family's Arizona ranch, he never expected the girl he once knew to return transformed into a stunning, successful woman. As they work together, Bowie is shocked to find that her innocence and beauty stir a hunger he can't deny. But the rogue rancher can sense something holding her back, and he's determined to uncover the terrible secret Gaby is fighting to keep hidden…
BUY LINKS
Amazon
B & N
Google Play Books
Harlequin
IBooks
Kobo
REVIEW
:
FIRE BRAND BY DIANA PALMER
Fire Brand
by
Diana Palmer
My rating:
5 of 5 stars
Bowie was blessed with good looks but a sour disposition. Enamored of his pretty face, it's once he opens his mouth the acidic personality shines through. Gaby is an outsider with a huge heart but a secret past that is as dramatic as it is heartbreaking. She's tenacious, fierce but broken inside. I received an ARC of
Fire Brand
in exchange for an honest review. Fire Brand is the Diana Palmer I've been waiting to see again. When she puts pen to paper I expect to feel a stirring of my emotional compass and she sent it off the charts with this read. In Fire Brand Ms. Palmer examines how secrets and subterfuge can leave a lasting impression. Not just on one life but many. She blends two different love stories with the rough terrain of the Arizona desert and creates a story that is as haunting as the prairie and history that she used as the back drop. This novel made me remember why I enjoy her stories.
View all my reviews
AN INDECENT PROPOSAL (THE O'MALLEYS) BY KATEE ROBERT
Release Date
:
August 30, 2016
SYNOPSIS
New York Times and USA Today bestselling author Katee Robert continues her smoking-hot series about the O'Malleys-wealthy, powerful, and full of scandalous family secrets.
Greed. Ambition. Violence. Those are the "values" Olivia Rashidi learned from her Russian mob family-and the values she must leave behind for the sake of her daughter. When she meets Cillian O'Malley, she recognizes the red flag of his family name . . . yet she still can't stop herself from seeing the smoldering, tortured man. To save her family, Olivia sets out to discover Cillian's own secrets, but the real revelation is how fast-and how hard-she's falling for him.
Plagued by a violent past, Cillian is more vulnerable than anyone realizes. Anyone except Olivia, whose beauty, compassion, and pride have him at "hello," even if she's more inclined to say good-bye to an O'Malley. While his proposal of sex with no strings seems simple, what he feels for her isn't, especially after he learns that she belongs to a rival crime family. Cillian knows that there is no escape from the life, but Olivia may be worth trying-and dying-for . . .
BUY LINKS
Amazon
B & N
Google Play Books
IBooks
Kobo
REVIEW
:
AN INDECENT PROPOSAL (THE O'MALLEYS) BY KATEE ROBERT
An Indecent Proposal
by
Katee Robert
My rating:
4 of 5 stars
ARC Review: An Indecent Proposal (The O'Malleys) by Katee Robert
Cillian and Olivia are like a bad cliche'. Their love story reads like a Greek tragedy. Surrounded by violence, ambition and sadness, each is searching for a way to escape. Katee Robert's story of sacrifice, survival and redemption is lead by courageous central characters who are more than the danger, darkness and tragedy embedded in their DNA. Each has to overcome obstacles ranging from guilt, to unknown enemies and secrets in order to find the strength to leave behind the bitterness and mistrust ingrained in their souls. It is amazing to me how flexible an author Ms. Robert is proving to be. Her street smart heroes and heroines are as intriguing as her suave heroes and sassy heroines. An Indecent Proposal has that edge of danger that good girls love.
View all my reviews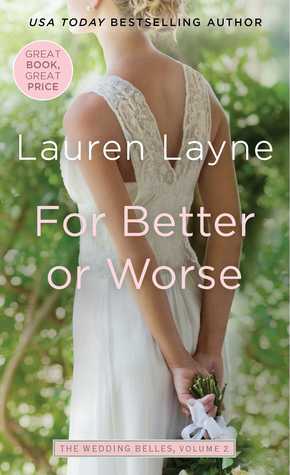 FOR BETTER OR WORSE (WEDDING BELLES) BY LAUREN LAYNE
Release Date
:
August 30, 2016
SYNOPSIS
Will a budding wedding planner and her bad boy neighbor stop banging heads and start hearing wedding bells in the sexy second novel in
USA TODAY
bestselling author Lauren Layne's irresistible new series that marries
Sex and the City
with
The Wedding Planner
?
When small-town girl Heather Fowler finally gets promoted from assistant to
actual
wedding planner, she's determined to make it as one of Manhattan's elite Wedding Belles. Unfortunately, her first client demands an opulent black-tie affair at the Plaza…in five months' time. Heather's days quickly become a flurry of cake tastings, dress-fittings, RSVP cards, and bridal tantrums. But what she's really losing sleep over is the live music blaring from her playboy neighbor's apartment all night.
Five years ago, Josh Tanner was an up-and-comer on Wall Street, complete with the penthouse and the migraines. But a grim cancer diagnosis made him realize there is more to life than the corner office. If only he could convince his pretty, workaholic neighbor to let loose, too. As Heather lets down her guard, Josh is surprised when he starts falling for the sweet, vulnerable woman hiding beneath those power suits. Soon, it's Heather's turn to convince Josh to take the biggest risk of all: love.
BUY LINKS
Amazon
B & N
Google Play Books
IBooks
Kobo
REVIEW
:
FOR BETTER OR WORSE (WEDDING BELLES) BY LAUREN LAYNE
For Better or Worse
by
Lauren Layne
My rating:
4 of 5 stars
ARC Review: For Better or Worse (The Wedding Belles) by Lauren Layne
It's not very often that I can picture the characters as actors in a live movie. With Heather and Josh I totally could. Josh has had a hard road and been faced with some tough choices but the uncertainty and adversity has made him aware of his inner strength and allowed him to gain new appreciation for his surroundings. Heather balances out the seriousness with her quirky yet charming personality. I entered this story dreading the serious subject matter and exited applauding the excellent way it was handled.
For Better or Worse
mixes drama with charisma and ended up surprising me.
View all my reviews
Original post:
ishacoleman7.booklikes.com/post/1453462/stories-of-hope-courage-and-forgiveness-pre-order-these-powerful-reads-now