BE MY VALENTINE (MCCLENDON HOLIDAY) BY SEAN D. YOUNG
Release Date: January 8, 2018
SYNOPSIS
Patrice McClendon wants to create a signature scent for her family's aromatherapy and day spa this Valentine's Day. The holiday is crucial for the family business, even if Patrice has never been a hearts and flowers kind of girl. But creating the fragrance isn't easy, and Patrice needs help. She gets that and more when she meets successful perfumer Jacques Germain.

There are instant sparks when Jacques meets Patrice, but she's asked him for professional help, and mixing business with pleasure is a no-no. But they soon realize that none of the rules apply when love is involved, and Jacques is determined to show Patrice that Valentine's Day can bring gifts more precious than anything money can buy.
BUY LINKS
Amazon B & N Google Play Books IBooks Kobo
REVIEW: BE MY VALENTINE (MCCLENDON HOLIDAY) BY SEAN D. YOUNG
Be My Valentine by Sean D. Young

My rating: 5 of 5 stars


Count on Sean D. Young for some family fun and holiday magic with her irresistible McClendon series. The surprises never end and the love is always overflowing. Patrice gets her chance to shine with Be My Valentine. She's been looking for love in all the wrong places, but the sweet smell of success may lie just around the corner. Jacques could prove to be her saving grace in more ways than one. Mixing business with pleasure was not part of the equation, but following their hearts could have everything coming up roses for these soulmates. Simple and sweet can be as sexy as tawdrily torrid.



View all my reviews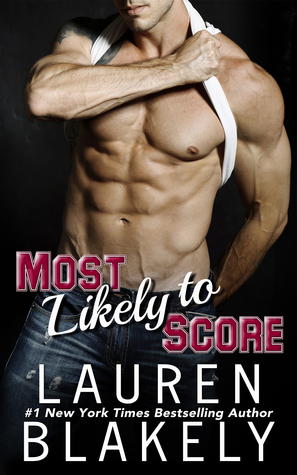 MOST LIKELY TO SCORE BY LAUREN BLAKELY
Release Date: January 8, 2018
SYNOPSIS
A sexy new forbidden romance from #1 NYT Bestselling Author Lauren Blakely about a sports star and the woman who's off limits...

It should have been a simple play…

She needed a football player to step up and be the star for a charity calendar. I needed a sharp and savvy publicist to manage a brand-new sponsorship deal. I scratched her back. She scratched mine. And oh hell, did Jillian ever drag her nails down my back on one hell of a hot night. Okay fine, it was several hot nights on the road.

Now we're back in town and it's time to set the play clock back to when we were simply player and publicist. Given the way the last few years have gone, I can't risk this deal, so it's hands off for us once again. Trouble is, I want more than than just another night with her.

What's a guy to do when he's always been most likely to score, but the woman he's falling for is just out of bounds?

I don't date players.
And I definitely don't sleep with players.
And I absolutely don't fall for a certain player when I get to know him and learn he's more than just sexy -- he's clever, funny and has a heart as big as his . .. well, you get my drift.

But my job is at stake, and I can't afford to lose that as well as my heart. The problem is, I think I've already lost that game.

What's a girl to do when the clock is running out, but the man she's falling for is off limits?
BUY LINKS
Amazon B & N Google Play Books IBooks Kobo
REVIEW: MOST LIKELY TO SCORE BY LAUREN BLAKELY
Most Likely To Score by Lauren Blakely

My rating: 4 of 5 stars


It's a man's world, but it don't mean nothing without a good woman. James Brown had it right. No truer words have ever been said. Lauren Blakely lays out the full package with Most Likely to Score. When it comes to seduction this author never fumbles. Not only do Jillian and Jones score in the romance department, but they land a touchdown in the most memorable characters category as well. Jillian is a woman with her feet planted firmly on the ground, but her heart resides in the clouds. A secret crush, a difficult career and a playboy client don't make her life any easier. Jones has his career on the line and his heart at risk. Can he play the most important game of his life without losing it all? The Game is on and the winning point is at hand. Who will be Most Likely to Score?



View all my reviews
THE SHEIKH'S TAMED BRIDE ( THE SHARIF SHEIKHS) BY LESLIE NORTH
Release Date: January 8, 2018


SYNOPSIS
Rashid Sharif has never apologized for his wild lifestyle, but after one scandal too many his family is fed up with his playboy ways. He'll agree to his brother's outrageous demand that he marry, but it won't be to some wallflower as his conservative family would prefer. If he's going through with this farce, there's only one woman he'll take as his wife—his sister-in-law's American friend Mila. She's a rebellious little thing, with fiery passion simmering beneath her icy exterior. Although Mila's never been more than coldly polite to him, Rashid will do what it takes to win her over.

Mila's always been a wild child, but when she chose to follow her dreams to Dubai it wasn't to work as a glorified waitress. She needs a chance to get ahead, but when that opportunity comes, it's not a job she's offered—it's a marriage. Rashid Sharif is ridiculously handsome, richer than sin…and a complete player. Mila wants nothing to do with the womanizer, even when he offers her more money than she could make in a lifetime. But when the notorious bad boy begins to play nice, Mila finds it hard to resist temptation.

As Rashid works to woo Mila, a simple seduction suddenly seems like something more. But can she ever trust the sinful sheikh, or will Mila always worry that Rashid is only playing games with her heart?
BUY LINKS
Amazon B & N Google Play Books IBooks Kobo
REVIEW: THE SHEIKH'S TAMED BRIDE ( THE SHARIF SHEIKHS) BY LESLIE NORTH
The Sheikh's Tamed Bride by Leslie North

My rating: 5 of 5 stars


When fighting for something important, rules don't apply. Mila and Rashid are in for the fight of their lives. After a lifetime of struggle Mila needs a chance to get ahead. Rashid wants a chance at earning his family's respect. Born to be wild, it's that rebellious spirit that can make or break any chance they have to be happy. From fighters to lovers and survivors, the battle is on for an exotic and intoxicating showdown. The Sheikh's Tamed Bride is a powder keg of grit, lust and heart.



View all my reviews
DEEP BY M. MALONE AND NANA MALONE
Release Date: January 8, 2018
SYNOPSIS
I am the ghost that haunts your dreams. I am a liar, a protector…a killer…I am death.

You think you know my story, but you have no idea. My death was just the beginning.

In the years since I escaped the shadow organization that owned me, my vow to protect my family is the only thing that kept me alive.

Until I meet her.

Too bad I need the monster to protect her from the demons of her past.

Too bad she's not that innocent.



Warning: I know you want the whole story right now. But that's not how things went down. And I think you know by now when it comes to ORUS, things don't always go according to f*cking plan.

(The Deep Duet unfolds over the course of two books. Deep will be followed by Deeper, releasing on January 29th)
BUY LINKS
Amazon B & N Google Play Books IBooks Kobo
REVIEW: DEEP BY M. MALONE AND NANA MALONE
Deep by M. Malone

My rating: 4 of 5 stars


Black, white and gray collide to create a hodge podge the likes I've yet seen. Rafe and Diana are strangers with a history. He's her bogeyman and she's his retribution. Or could it be that their about to become each other's downfall? In a world where nothing is as it seems and danger runs rampant, emotions run high and secrets run deep. Malone squared lays the groundwork for an enticing, yet complicated battle of wills. Deep plays peekaboo with the mind while setting the senses ablaze.



View all my reviews
MAN CANDY (REAL LOVE) BY JESSICA LEMMON
Release Date: January 9, 2018
SYNOPSIS
Dax: After spending the summer buried up to my eyeballs in my family's affairs, I'm ready for a break. The kind of break where I can spend two solid weeks camping and fishing in the company of absolutely no one. Then I find myself directly in the path of a drop-dead gorgeous tornado by the name of Becca Stone. Who can resist a night with a damsel in distress? Especially when she happens to be a leggy blonde? The last thing I expect is for Becca to show up on my cabin doorstep the next night, shivering in the rain and ready for seconds.

Becca: One minute I'm admiring the rock-hard jaw of the Magic Mike lookalike who walks into my bar, and the next I'm getting fired by my own brother. Loudly. In front of everyone. Luckily Dax Vaughn is a gentleman who aims his white-hot smile at me. Oh, it's on. Wham, bam, thank you ma'am. Then a torrential storm washes out the main road and causes a massive power outage, giving us two whole weeks to enjoy each other's company. At which point Dax will go back home, leaving "us" in the rearview mirror. That's the plan. Or it was . . . until I started falling for him.
BUY LINKS
Amazon B & N Google Play Books IBooks Kobo
REVIEW: MAN CANDY (REAL LOVE) BY JESSICA LEMMON
Man Candy by Jessica Lemmon

My rating: 5 of 5 stars


It's not whether you win or lose, but how you play the game. Jessica Lemmon gets that and that's what makes her stories so precious. She fights for the underdog and that's a role we all can relate to. In love, in life and heart, we've all walked a mile in those shoes. Becca is the ultimate long shot. She has a sweet heart, but is a bit clueless when it comes to life. As her world is falling apart, she manages to fall in love, with the one man who can either bring her to her knees or make all her dreams come true. Dax is no hero. He's just a man with a lot on his plate and no room in his heart. Can a loner and a free spirit find love in the middle of nowhere? Man Candy is an addiction that will live on long after the last page is devoured.



View all my reviews
THE WRIGHT SECRET BY K.A. LINDE
Release Date: January 9, 2018
SYNOPSIS
A new brother's-best-friend stand alone romance by USA Today bestselling author K.A. Linde…

I was just his best friend's little sister.

But he was always more than that to me.

After twelve years of pining over Patrick's easy smile, baby blues, and captivating charm, I decide to take matters into my own hands—and completely blow my chance.

Who knew a self-proclaimed manwhore would decide to be a gentleman the first time I'm naked in his bed? Definitely, not me. But when I land there again, neither of us has any intention of stopping.

There's only one problem: nobody can know. Especially not my three older brothers. If they found out, all hell would break loose.

So I'm willing to keep our secret...

Because I want him Wright here, right now.
BUY LINKS
Amazon B & N Google Play Books IBooks Kobo
REVIEW: THE WRIGHT SECRET BY K.A. LINDE
The Wright Secret by K.A. Linde

My rating: 5 of 5 stars


The worst kept secret has become the best guilty pleasure. Morgan and Patrick were a match twelve years in the making. The younger sister and the brother's best friend may have taken the long way, but they caught up pretty quickly. Naughty meets nice and delivers sweet. K.A. Linde has teased an attraction between these two from the very beginning. It was fun to hear their journey in their own words.



View all my reviews
THE CROWN PRINCE'S BRIDE (THE PRINCE DUOLOGY) BY DONNA ALWARD
Release Date: January 9, 2018
SYNOPSIS
A Crown Prince gets a second chance at love with the woman who's always been there - in the next book in the prince duology from Donna Alward!

The Crown Prince of Marazur is suffering from a broken heart. After losing his wife and future queen, he knows he'll never find love again with a partner as wonderful as her. He's thrown himself into his duties and is trying to be a better father to his two children, but he's lonely. Even though falling in love seems impossible, so does spending the rest of his life alone.

Stephani has been Raoul's assistant for years. Smart, loyal, and discreet, Stephani is fantastic at her job. Except for the fact that she's been in love with her boss since her first week of employment, not that she would ever act on it. Besides, Raoul is first in line to the throne and she's his assistant. If Raoul ever marries again, it'll be with someone who can be a future queen. Not someone like Stephani.

When Raoul's date for a state dinner is unable to attend, he invites Stephani. She's well-versed on the issues and castle protocol, and Raoul's always been comfortable with her. But when Stephani arrives, Raoul hardly recognizes her. Is this stunning woman the same one who's run his office for years?

The Crown Prince's Bride is the ultimate fairy tale for readers looking for Cinderella to get her prince—and be able to keep him past midnight.
BUY LINKS
Amazon B & N Google Play Books IBooks Kobo
REVIEW: THE CROWN PRINCE'S BRIDE (THE PRINCE DUOLOGY) BY DONNA ALWARD

The Crown Prince's Bride by Donna Alward

My rating: 5 of 5 stars


Knowing and facing the truth are two of life's hardest tasks. The third is facing fears, especially when it comes to love and loss. One woman changed the course of many lives, but can that one woman be instrumental in bringing two grieving hearts a new beginning? The mystic of a fairytale is that we always remember the beauty and forget the heartache. The Crown Prince's Bride forces the facing of some painful truths in order to get to that great big rainbow at the end of the tunnel. Donna Alward brings her own brand of magic to an awesomely majestic romance.



View all my reviews
BAYSIDE PASSIONS (BAYSIDE SUMMERS) BY MELISSA FOSTER
Release Date: January 10, 2018
SYNOPSIS
Fall in love at Bayside, where sandy beaches, good friends, and true love come together in the sweet small towns of Cape Cod.

BAYSIDE SUMMERS is a series of standalone steamy romance novels featuring alpha male heroes and sexy, empowered women. They're fun, flirty, flawed, deeply emotional, always passionate, and easy to relate to. And of course, you'll see cameos from the Seaside Summers characters!

"​With her wonderful characters and resonating emotions, Melissa Foster is a must-read author!" -NYT Bestseller Julie Kenner​

"Melissa Foster is synonymous with sexy, swoony, heartfelt romance!" -NYT Bestseller Lauren Blakely​

In BAYSIDE PASSIONS...
When Emery Andrews's best friend, Desiree, moves away, falls in love, and opens a an inn all in one summer, she feels her absence like a missing limb. Until she visits over the holidays and meets sinfully hot Dean Masters, who's as easy on the eyes as he is to talk to. After returning home, what starts as a flurry of late-night flirtations quickly turns into a deep connection and unexpected friendship. Now, months later, Desiree offers Emery a job teaching yoga at the inn. Adventurous Emery jumps at the chance and heads for Wellfleet, Massachusetts, to reunite with her BFF and her new close friend, Dean.

After months of sharing their lives, and their secrets, over video chats and phone calls, Dean's ready to move things to the next level. The fact that Emery seems oblivious to the sparks between them and has recently put her foot down about dating friends just means he'll have to bide his time.

When Emery finds a naked man in her kitchen the first morning she's there, Dean doesn't hesitate to move her into his guest room. Maybe now Emery will see what's right before her eyes--although that guy she's got a date with might be a problem.

All BAYSIDE SUMMERS books can be read as standalone novels or as part of the series:

Bayside Desires (now available)
Bayside Passions
Bayside Heat
Bayside Desires
BUY LINKS
Amazon B & N Google Play Books IBooks Kobo
REVIEW: BAYSIDE PASSIONS (BAYSIDE SUMMERS) BY MELISSA FOSTER
Bayside Passions by Melissa Foster

My rating: 5 of 5 stars


The beauty of Melissa Foster as an author is that readers get to experience the many sides of her personality through the stories she tells. The Bayside Summers series is less intense, but no less riveting. Dean and Emery are a breath of fresh air with their flirty banter and budding friendship. However, Bayside Passions is a Melissa Foster novel. Underneath the breeze lies a few gusts. There will be patches of rain that will darken the canvas, but in the end the storm clouds make it worth the ride.



View all my reviews
SEDUCING HER BROTHER'S BEST FRIEND (TEA FOR TWO) BY NOELLE ADAMS
Release Date: January 10, 2018
SYNOPSIS
After too many years being overlooked by men, Carol is ready to take action. She wants a man, and she knows which man she wants. Her brother's best friend, Patrick Stevenson.

Patrick is funny and brainy and the sexiest man she's ever known, but he has never looked at her as anything except his friend's little sister. That's going to change.

Carol isn't good at flirting. Or seduction. Or anything that requires putting herself out there. But she's going to make sure Patrick sees her as a desirable woman—and one he wants for more than one night—even if it turns her whole world upside down. He already likes her a lot. He just needs to open his eyes to how good they'd be together.

After all, how stubborn can he be?
BUY LINKS
Amazon B & N Google Play Books IBooks Kobo
REVIEW: SEDUCING HER BROTHER'S BEST FRIEND (TEA FOR TWO) BY NOELLE ADAMS
Seducing Her Brother's Best Friend by Noelle Adams

My rating: 5 of 5 stars


Noelle Adams is romance gold. She proves that love is not always in your face sex appeal. Seduction does not have to be raunchy, it can be a subtle merging of the minds and hearts. Carol and Patrick are one of the best examples of romance. Love was a gradual progression, that neither saw coming, until it was too late to overlook. There is no perfect time to fall in love and no perfect person to fall in love with. Love is accepting a person for who they are not who we want them to be. Seducing Her Brother's Best Friend is a flawless look at what love is. Sweet, sinful and flawed, but no less life-changing.



View all my reviews
Original post: ishacoleman7.booklikes.com/post/1625828/new-releases-for-week-of-january-7-2018