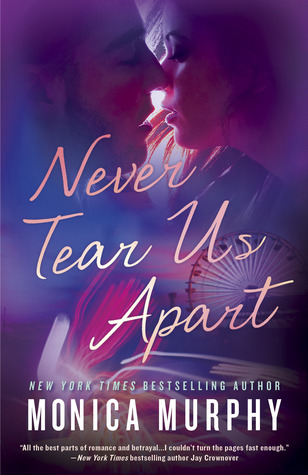 OUT NOW!!
READ AND REVIEW
NEVER TEAR US APART (PART 1) BY MONICA MURPHY
SYNOPSIS
Perfect for readers of Colleen Hoover, Jay Crownover, and K. A. Tucker, the first novel in this darkly sexy contemporary series from bestselling author Monica Murphy kicks off an emotionally powerful two-part tale of forbidden love.

A long time ago, when I was fifteen and a completely different person, I saved a girl's life. I spent only a handful of hours with her, but somehow, we connected—and I've never been the same. No one understands what we went through. No one knows what it's like to be us. We survived, yet I don't feel like I'm really living—until now. Eight years later, I find her. I want to make her mine. I need to make her mine. But she'll hate me forever when she finds out who I really am.
BUY LINKS
Amazon B & N Google Play Books IBooks Kobo
REVIEW: NEVER TEAR US APART (PART 1) BY MONICA MURPHY
COMING SOON (AVAILABLE 5/3)
NEVER LET YOU GO (PART 2) BY MONICA MURPHY
Release Date: May 3, 2016
SYNOPSIS
Darkly sexy, emotional and forbidden, a woman unwittingly falls in love with the son of her abductor. The conclusion of a two-book contemporary romance series by New York Times bestselling author Monica Murphy.

Lies hurt. Lies destroy. I tried my best to understand why Ethan kept his secrets but it was so hard. Until I realized that I couldn't deny myself any longer -- I needed to be with him. We needed each other. Despite my family's wariness, the media's fascination with us, the fact that his father still has a stranglehold on our lives, we belong together. No matter what. I will never let Ethan go. But sometimes love destroys us too, and we're too weak to banish the demons. Especially when our demons are determined to ruin us...
BUY LINKS
Amazon B & N Google Play Books IBooks Kobo
REVIEW: NEVER LET YOU GO (PART 2) BY MONICA MURPHY
Original post: ishacoleman7.booklikes.com/post/1388576/spotlight-never-tear-us-apart-series-by-monica-murphy-coming-5-3-never-let-you-go-by-monica-murphy