Join us in celebrating the release of AFTER WE FALL by Marquita Valentine!
Title: After We Fall (Take the Fall #3)
Age Group: Adult
Genre: Contemporary Romance
Release Date: April 26, 2016
BUY LINKS
Amazon B & N Google Play Books IBooks Kobo
SYNOPSIS
A tough cop with an even tougher past, Hunter Sloan has never let anyone stop him from getting what he wants—and he wants Evangeline Ambrose bad. With her gentle curves and raw vulnerability, Hunter's beautiful, mysterious new neighbor awakens his protective side. Determined to do right by a woman who's gone through hell and back, Hunter could be the one to take away the pain—so long as his own secrets don't sink their relationship before it begins.

Having escaped an abusive marriage, Evangeline simply wants to start over in the small, quiet town of Forrestville. She's also avoiding all contact with the opposite sex, because she just can't trust her instincts when it comes to men—not even with the sinfully sexy cop next door. So why can't she stop thinking about him? Hunter has darkness in his soul, and yet no one ever made her feel so safe. For all her best laid plans, Evangeline didn't count on choices this hard—or temptation this hot.
REVIEW: AFTER WE FALL (TAKE THE FALL) BY MARQUITA VALENTINE
ALSO AVAILABLE!
TAKE THE FALL
Amazon: http://amzn.to/1EeO7uI
iBooks: http://apple.co/1RW7oVg
Google Play: http://bit.ly/22QCJyb
Kobo: http://bit.ly/1AttPuT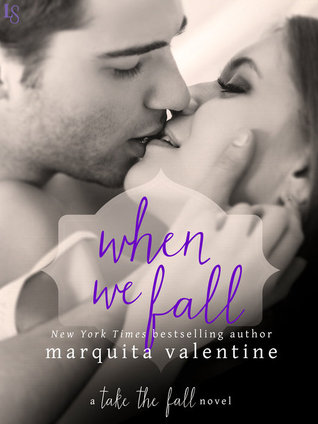 WHEN WE FALL
Amazon: http://amzn.to/1Lo7aEZ
iBooks: http://apple.co/1IeMgJ1
Google Play: http://bit.ly/1AWFAgG
Kobo: http://bit.ly/1DCErLy
About the author
Marquita Valentine is the New York Times and USA Today Bestselling Author of the Holland Springs and Boys of the South series.

Since first taking the plunge in July of 2012 to self publish, Marquita Valentine has sold over a quarter of a million books around the world. She's appeared on the Top 100 Bestselling Ebooks Lists on iBooks, Amazon Kindle, and Barnes&Noble. She's been called "one of the best new voices in romance" (Guilty Pleasures Book Reviews) and her books have been accused of being "a sexy, fun, and slightly addicting contemporary read" (The Book Queen).

When she's not writing sexy heroes who adore their sassy heroines, she enjoys shopping, reading, and spending time with her family and friends. Married to her high school sweetheart, Marquita lives in a seriously small town in the south with her husband, two kids, and a dog.
Website | Twitter | Facebook | GoodReads | Pinterest | Boys of the South Pinterest Board | Holland Springs Pinterest Board
Original post: ishacoleman7.booklikes.com/post/1389861/wordsmith-publicity-presents-review-tour-after-we-fall-by-marquita-valentine