COMING SOON!
NEW RELEASES FOR WEEK OF APRIL 15, 2018.
COME AS YOU ARE BY LAUREN BLAKELY
Release Date: April 16, 2018
SYNOPSIS
I couldn't have scripted a more perfect night.

For one fantastic evening, at a masquerade party in the heart of Manhattan, I'm not the millionaire everyone wants a piece of. Fine—multimillionaire. But who's counting all those commas? Not me, and not the most intriguing woman I've ever met, who happens to like dancing, witty banter, and hot, passionate up-against-the-wall sex as much as I do.

There's no need for names or business cards. And that's why I'm eager to get to know her more, since my mystery woman seems to like me for me, rather than for my huge…bank account.

Everything's coming up aces. Until the next day when things get a little complicated. (Newsflash — a lot complicated.)
BUY LINKS
Amazon Audible B & N Google Play Books IBooks Kobo Paperback
REVIEW: COME AS YOU ARE BY LAUREN BLAKELY
Come As You Are by Lauren Blakely

My rating: 5 of 5 stars


This Prince needs a Princess, but has run out of places to look. A broken heart, a masquerade, a perfect night and he may have just found his Cinderella. Flynn knows how to get what he wants, but for Sabrina with daylight comes reason. Will she risk her future for a chance at right now? Come as You Are blends the phenom that is Lauren Blakely with the fantasy of a fairytale wish and a dash of cold hard reality. Passion unfolds with a bit of entertainment, a handful of humor and fistful of heart.



View all my reviews
FORGET YOU (THE KINGMAN BROTHERS) BY NINA CRESPO
Release Date: April 16, 2018
SYNOPSIS
Sophie Jordan dreams about hooking up with Nicolas "King" Kingman—the gorgeous CEO of her company—but as her boss, he'll always remain out of reach. King knows he isn't built for happily-ever-afters and only indulges in brief romantic encounters. But when Sophie agrees to fill in as his last-minute date to a charity gala, an unexpected discovery quickly escalates their platonic relationship to one of passion.

King is determined to ignore their attraction and, feeling betrayed, Sophie severs ties with him and the company. Everything changes, however, when he's injured in an accident, and Sophie agrees to help until he closes a major deal. Unfortunately, he's developed amnesia, and although he doesn't remember their night together, desire binds them in ways they can't resist.

Time is running out on closing the deal, as well as Sophie moving on to her new career. Will King deny love in favor of winning and lose Sophie forever?
BUY LINKS
Amazon BAM B & N Google Play Books IBooks Kobo
REVIEW: FORGET YOU (THE KINGMAN BROTHERS) BY NINA CRESPO
Forget You by Nina Crespo

My rating: 5 of 5 stars


LOVE. We've all been through it. At times we rue it. Yet when it's right we wouldn't change a thing. The perfect description of Forget You. Crespo used my own heart against me. King and Sophie are messy, dysfunctional, frustrating, emotional, yet realistically exceptional. Forget You takes a walk down memory lane with the heart as it's guide, to remind us why when it comes to love, the fight is worth the fall.



View all my reviews
LOVE AGAIN (COWBOYS AND ANGELS) BY KELLY ELLIOTT
SYNOPSIS
Jonathon Turner is going to be the death of me.

Maybe not the death of me…but my panties for sure! They seem to disintegrate the moment he touches me. Looks at me. Smiles at me. Talks to me.

It's more than physical. He's breaking through an impenetrable wall.

There's a problem though—he's younger than me.

Six. Years. Younger.

Let's not forget he's also one of my brother's best friends.

Oh, the other problem I forgot to mention…

I never wanted to fall in love again.

But you know what they say….never say never.

Love Again is Book four in the Cowboys and Angels Series
BUY LINKS
Amazon B & N Google Play Books IBooks Kobo
REVIEW: LOVE AGAIN (COWBOYS AND ANGELS) BY KELLY ELLIOTT

Love Again by Kelly Elliott

My rating: 5 of 5 stars


When it comes to the heart, Waylynn has much to learn. Can Jonathan show her the way? Elliott makes sure to forget all the stereotypical stigmas and speak from the heart. Love Again is about taking a risk when your head is saying no, but your soul is saying yes. Success is not measured by failure, but the leap of faith it takes to get there. From sappy to sexy, Love Again explores all the facets of love.





View all my reviews
ROYAL HEIR (WESTERLY BILLIONAIRE) BY RUTH CARDELLO
Release Date: April 17, 2018
SYNOPSIS
Ruth Cardello, the New York Times and USA Today bestselling author of Up for Heir, turns a fairy-tale romance into a sizzling bedtime story.

Rachelle Westerly needs a break. After years of acting as the family peacekeeper, she's finally ready to take a step back. Her movie-star brother has offered her the perfect escape. But on the very first day of her vacation, she steps onto a red carpet and straight into the arms of a real-life prince—and the promise of just the kind of flash and fortune that tore her own family apart.

As the soon-to-be leader of Vandorra, Prince Magnus de Bartelebon always gets what he wants—and the regal bad boy wants the sweet American schoolteacher. Although he should be announcing his engagement of convenience to a neighboring princess, Rachelle is the one he desires in his bed and by his side.

While the drop-dead gorgeous Magnus might be almosteverything she craves, Rachelle can't help but think that falling for him would be a royal mistake. He may be ruling a kingdom one day, but she's in charge of her heart. And he'll have to win it with more than a lap of luxury—as inviting as it is.
BUY LINKS
Amazon Amazon AU Amazon CA Amazon UK Audible B & N Paperback
REVIEW: ROYAL HEIR (WESTERLY BILLIONAIRE) BY RUTH CARDELLO
Royal Heir by Ruth Cardello

My rating: 5 of 5 stars


Royal Heir (Westerly Billionaire, #3) by Ruth Cardello
We want the fairytale. We need the fairytale. Ruth Cardello makes sure that we get it. Royal Heir is every romantic's dream. To find a happy ending. However, Ms. Cardello switches it up as only she can. Rachelle and Magnus, have to first rescue themselves, before they get a happily ever after. For Magnus, that means letting go of his ingrained bitterness and mistrust by allowing himself to love. For Rachelle, that means releasing herself from the past and looking ahead to the future. Amazing that one little boy could set about healing a lifetime of damage, with a less than simple request. The power of hope is a wonderful thing.



View all my reviews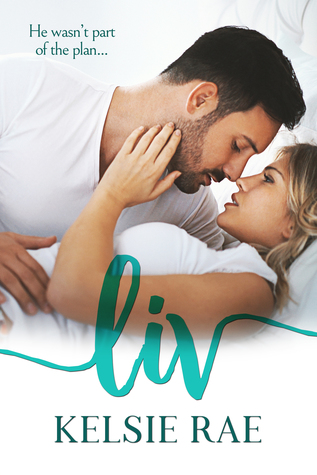 LIV BY KELSIE RAE
Release Date: April 17, 2018
SYNOPSIS
Liv had her life all figured out until it was shattered by the loss of her husband. He left her a piece of him she hadn't planned on. How can she pick up the pieces when she doesn't know how?
Liv:
I never imagined my life would end up this way. I thought I had everything figured out until I got the call my husband was killed in a car accident and that my period was late.
Dead Husband?: Check
Positive Pregnancy Test?: Check
Screwed Beyond Belief?: Double Check
Luke:
I was never supposed to see her again. That was the deal. Leave her and my ex-best friend behind to finally mend my broken heart and move on with life. And it was going smoothly, too. That is, until said ex-best friend dies and and his wife, Liv, lets a secret slip at his funeral that I can't possibly ignore.
Out of my freaking mind?: Check
Extremely Angry Girlfriend who will kill me when she finds out I have a new roommate?: Check
About to get my heart ripped in two?: Double Check
BUY LINKS
Amazon Amazon AU Amazon CA Amazon UK B & N Google Play Books IBooks Kobo
REVIEW: LIV BY KELSIE RAE

Liv by Kelsie Rae

My rating: 5 of 5 stars


What a title. What a talent. What a story. Liv is one woman's quest to pick up the pieces of her shattered life and broken heart. Tragedy brings many emotions for Liv. The love of her life is gone and more stunning surprises await. A pregnancy and second chance at happiness. If she can move beyond the past and take a chance on the future. Ms. Rae lures readers into a world of heartbreaking loss, unexpected new beginnings and forgiveness in this realistic and emotional romance.



View all my reviews
CHASER (DIVE BAR) BY KYLIE SCOTT
Release Date: April 17, 2018
SYNOPSIS
Given his well-earned bad boy reputation, Eric is having a tough time scoring.. When single Jean moves to town, she seems heaven sent by the sex gods. Only problem is, she not only wants nothing to do with him, but it turns out that she's pregnant.

Starting over in a small town, Jean is determined to turn her wild lifestyle around and be the kind of mother she always wished she'd had. Since local bar owner and all round hottie, Eric Collins, is now determined to steer clear of her pregnant self, it should be easy. When she goes into labour during a snow storm and her car slides on some ice, it's Eric who comes to the rescue.

There seems to be a bond between them now, but is it enough? And can Eric give up his manwhore ways to be the man Jean needs?
BUY LINKS
Amazon B & N Google Play Books IBooks Kobo
REVIEW: CHASER (DIVE BAR) BY KYLIE SCOTT
Chaser by Kylie Scott

My rating: 4 of 5 stars


Chaser proves that fate has a sense of humor. Why does the right thing, happen at the wrong time? That's the irony we call life. Chaser though not always funny is good for a few laughs. Ms. Scott delivers wisdom with a wry sense of humor and a hearty dose of reality. She prides herself on not being too serious, but always being right on time.





View all my reviews
FIRST IN SERIES COLLECTION BY CHRISTINA MCKNIGHT
Release Date: April 17, 2018
SYNOPSIS
Escape into the intricate, emotional Regency world of Christina McKnight with four series starters.
Shunned No More (A Lady Forsaken Series, Book One)
Lady Viola Oberbrook longed for a quiet life in the country, far from London and the society who'd shunned her during her first season. She never expected to come face-to-face with Lord Haversham, the only man who had every right to despise her.

The Thief Steals Her Earl (Craven House Series, Book One)
The Earl of Cartwright is determined to find out who stole from his family. When he finds out the thief is the woman he's fallen in love with, he must choose between duty and love.

Theodora (Lady Archer's Creed Series, Book One)
When Lady Theodora Montgomery is unmasked while competing in an archery tournament, she fears her reputation is ruined. To save face, she accepts a marriage of convenience with her friend's older brother, Alistair Price—who soon shoots arrows to her heart with perfect aim.

The Disappearance of Lady Edith (The Undaunted Debutantes Series, Book One)
One tragic night changed sensible, proper Lady Edith Pelton's life: when her best friend fell to her death, pushed down a flight of stairs by a nefarious lord. Now, Edith dedicates her time watching the man she thinks is responsible, while gathering other information to expose other scoundrels posing as gentlemen of honor about London. But when her spying is noticed by a perfect stranger, Edith finds herself with two mysteries—what happened to her friend, and how to win the heart of a brilliantly handsome lord.
BUY LINKS
Amazon B & N Google Play Books IBooks Kobo
REVIEW: FIRST IN SERIES COLLECTION BY CHRISTINA MCKNIGHT
Shunned No More by Christina McKnight

My rating: 4 of 5 stars


The toast of society, Viola is enjoying her meteoric success until all her hopes are shattered at the hands of a duel that proves deadly. It's hard to forgive yourself when the blame continues to come from others as well. Now she has to contend with a broken heart, a guilty conscience and a sexy but vengeful Earl. Shunned No More shows that even in one's darkest hour there is always hope. Learning is a task never outgrown and forgiveness can prove a balm for the soul. Ms. McKnight tackles the benefits of having an open heart and a compassionate spirit while rebuilding trust and finding hope.



View all my reviews
The Thief Steals Her Earl by Christina McKnight

My rating: 5 of 5 stars


Boundaries. Such a black and white word. The limit that is not to be crossed no matter what. Although on paper it's a reasonable word when emotion becomes involved there is a different meaning entirely. In the name of love lines get blurred and that invisible wall becomes an obstacle that needs to be demolished. Jude and Cart are not all that different. Cart's a planner, Jude's a plotter. His logical mind has been both a gift and a curse. Her active imagination and out of the box thinking are about to land her in a sticky situation. One thing's for sure these two will stop at nothing to protect the people they love. With her street savvy and his book smarts they may each succeed. As I read more and more of Ms. McKnight's romances it easy to see why so many enjoy her stories. She does not stick with the traditional love stories but like her characters creates a world center around the best of their talents and works from there. The Thief Steals Her Earl has personality and I respect any author who can make a story her own.



View all my reviews
Theodora by Christina McKnight

My rating: 5 of 5 stars


Positivity. Such a big word, with a simple meaning that means so much. I am drawn to strong heroines. So many times, women are looked at as in need of a rescuer but Ms. McKnight has spotlighted the opposite with her Lady Archer's Creed series. Strength of character breeds strong friendships, fearless women and great storytelling. I can go on all day about Theodora and her band of courageous compadres but the greatest message of all within the pages of this novel is: There is no one mold for a person to fit into. We are special for what we are and that inner light that sets our course not only makes us unique but beautiful.



View all my reviews
The Disappearance of Lady Edith by Christina McKnight

My rating: 4 of 5 stars


One tragic night has lead three women on a journey of danger, courage and love. Christina McKnight, begins her Undaunted Debutantes series with a bang. The Disappearance of Lady Edith is a story of betrayals, danger and the quest for justice. The death of a close friend has pushed Lady Edith to the edge. She wants someone to pay and she needs answers. Her determination catches the eye of a possible suitor, but also puts her in more danger than she could ever have imagined. The lure of the chase is hard to ignore.



View all my reviews
BEFORE DAYLIGHT (ONE NIGHT IN SOUTH BEACH) BY ANDIE J. CHRISTOPHER
Release Date: April 17, 2018
SYNOPSIS
Perfect Strangers
Ballerina Laura Delgado is just one solo away from a dream job with the New York City Ballet. Then a drunken pas de deux at her cousin's wedding results in the one thing she never wanted—a husband. TV producer Charlie Laughlin may be deliciously kissable, but she needs him offstage now, and out of her life.
Perfect Disaster
Charlie's ready for marriage and kids, and on the lookout for just the right woman. Laura doesn't fit the bill at all—but Charlie can't stop thinking about the sultry way they moved together. And he can't help but wonder if he can change the gorgeous dancer's mind about leaving Miami with heated kisses that promise as much as they demand . . .
Perfect Partners
Annulling their sham marriage is all Laura wants—until she gets to New York and realizes that leaving Charlie behind is easier said than done. Can a relationship that began as a hot mistake become the kind of love that will last forever?
BUY LINKS
Amazon B & N Google Play Books IBooks Kobo
REVIEW: BEFORE DAYLIGHT (ONE NIGHT IN SOUTH BEACH) BY ANDIE J. CHRISTOPHER
Before Daylight by Andie J. Christopher

My rating: 5 of 5 stars


In a world filled with ballets and call sheets, they weren't looking for romance. Until love found them. Remember that saying about the right person coming into your life at the wrong time? Christopher takes that scenario and runs with it. Before Daylight is the tale of workaholics who meet at a wedding and unknowingly find their forever. The road to happily ever after is full of prideful regret and frustrating choices, but serendipity wins out in the end. Ms. Christopher gets the soul of a romantics. It's not about bleeding hearts or exaggerated happy endings. Love is about finding the ending that's right for you.





View all my reviews
LONE STAR BLUES (WRANGLER'S CREEK) BY DELORES FOSSEN
Release Date: April 17, 2018
SYNOPSIS
Wrangler's Creek's most eligible bad boy has just become its most eligible single dad.
Dylan Granger could always count on his rebellious-cowboy charm to get his way—until the day his wife, Jordan, left him and joined the military. The realization that during a wild night he got her cousin pregnant is shocking enough. But the news that Jordan has come home to Texas to help raise the baby is the last thing he expects.
Raising a baby with Dylan in Wrangler's Creek is a life Jordan might've had years ago, but she doesn't want regrets. She wants what's best for the child—and to find out if there's something deeper between her and her ex than blazing-hot chemistry. Getting closer means letting down her guard to Dylan again, but will he be able to accept the emotional scars on her heart?
BUY LINKS
Amazon B & N Google Play Books Harlequin IBooks Kobo
REVIEW: LONE STAR BLUES (WRANGLER'S CREEK) BY DELORES FOSSEN
Lone Star Blues by Delores Fossen

My rating: 4 of 5 stars


Jordan and Dylan love each other. However, there are times in life when love may not be enough. One drunken night changed the course of three lives and ended up breaking two hearts. Now one precious bundle is bringing that heartache full circle and making way for a second chance. Lone Star Blues is the convoluted love story of Jordan and Dylan. A perfect love shatters with an act that neither saw coming and both have trouble getting past. Will the consequences of that night help them mend fences and make them whole again? Forgiveness is hard even on a good day, yet Ms. Fossen makes it look so easy despite the complicated scenario. I guess love can overcome anything. A tale of sacrifice and second chances.



View all my reviews
THE THEORY OF UNREQUITED (THE SCIENCE OF UNREQUITED) BY LEN WEBSTER
Release Date: April 18, 2018
SYNOPSIS
Atomic number: 8
Name of chemical element: Oxygen
Symbol: O

Every theory has a test subject … even between best friends.

The pact: Stanford.
The betrayal: AJ attending Duke.
The reason: She did something stupid like fall in love with Evan.
The problem: Evan's not ready to let this betrayal go so easily.
The solution: Find AJ and fix them.

The Theory of Unrequited, Book One in The Science of Unrequited: The Story of AJ & Evan
BUY LINKS
Amazon Amazon AU Amazon CA Amazon UK B & N Google Play Books IBooks Kobo
REVIEW: THE THEORY OF UNREQUITED (THE SCIENCE OF UNREQUITED) BY LEN WEBSTER
The Theory of Unrequited by Len Webster

My rating: 5 of 5 stars


By listening to her head, she not only broke her own heart, but ruined an always constant friendship. Sometimes the most difficult choice can be the most enlightening in the end. Evan and AJ have mastered the equation of friendship, but what happens when love walks in? Len Webster has crafted a masterful tale of friendship, betrayal and love. Filled with youthful angst, adult themed drama and the hope of a chance to set things right. The ending is only the beginning.



View all my reviews
NOW AVAILABLE!
NEW RELEASES FOR WEEK OF APRIL 8, 2018.
THE SHEIKH'S UNEXPECTED WIFE (ZAHKIM SHEIKHS) BY LESLIE NORTH
Release Date: April 9, 2018
SYNOPSIS
Sheikh Nasim Said is going through with his arranged marriage—it will be good for business, and his country Zahkim, even if his cousin Arif says it will be a disaster. But when his veil- shrouded bride faints halfway through the ceremony, he discovers he hasn't married the daughter of a neighboring king, but the luscious Ginni Leeland. His wife is a stranger, but he can't wait to get to know her better –in every way—even if her stunt has threatened Zahkim's relationship with their neighbor.

Ginni is full of Southern charm, and she plans to put it to good use in Zahkim, proving to her daddy she's ready to take over the family business by cementing a deal to transport Zahkim's oil. Helping her friend elope by taking her place (temporarily!) in her wedding is the perfect ruse to get her close to Sheikh Nasim. But the marriage wasn't supposed to be legally binding! Now she's married to a sheikh, her daddy's furious, and—worst of all—she's falling in love with her new husband. Now Ginni has to prevent a war, seal the deal with Zahkim, and keep her heart from breaking—all in less than a week.
BUY LINKS
Amazon B & N Google Play Books IBooks Kobo
REVIEW: THE SHEIKH'S UNEXPECTED WIFE (ZAHKIM SHEIKHS) BY LESLIE NORTH
The Sheikh's Unexpected Wife by Leslie North

My rating: 5 of 5 stars


Good intentions have a way of turning into big trouble. A favor for a friend has landed Ginni in the middle of a national incident. Married to a sexy Sheikh, feuding with her father and possibly the cause of impending war. Nasim is on the verge of uniting two countries, until his cunning bride pulls the wool over his eyes and makes a run for the border. In one instant all his plans go up in smoke and as battle lines are drawn, a bridal stand in lays claim to his heart. The Sheikh's Unexpected Wife is a battlefield of feelings. Whether good or bad, naughty or nice it's temptation till the very end.



View all my reviews
PRETENDING HE'S MINE (LOVE ON CUE) BY MIA SOSA
Release Date: April 10, 2018
SYNOPSIS
Mia Sosa returns with another fun, flirty romance in her critically-acclaimed Love on Cue series!

For Hollywood agent Julian Hart, representing his best friend—megastar Carter Williamson—means it's nearly impossible to keep his personal life and career separate. To make matters worse, Carter's younger sister has been starring in Julian's wildest fantasies more often than he'd care to admit. He knows she's off-limits, but when Ashley shows up on his doorstep, needing a place to crash… suddenly his greatest temptation is sleeping down the hall.

Free-spirited Ashley Williamson doesn't do commitment. Jobs, apartments, men… why let herself be tied down? But she's had a crush on her older brother's best friend for years and she's committed to making Julian want her, one towel-clad midnight encounter at a time. But just as things start heating up, their steamy flirtation is interrupted by Carter's east coast wedding. Ashley has no desire to go home and face her reputation as the family disappointment. But living with—dare she say dating?—a successful, sexy film agent could give them something else to talk about.

Julian can't believe he agreed to fake a relationship with the one woman he can never have. And it's going to take more than a little willpower to remember it's all pretend. Or is it?
BUY LINKS
Amazon B & N Google Play Books IBooks Kobo
REVIEW: PRETENDING HE'S MINE (LOVE ON CUE) BY MIA SOSA
Pretending He's Mine by Mia Sosa

My rating: 5 of 5 stars


Pretending He's Mine is a handful of sunshine on a cloudy day. Mia Sosa never loses her sense of humor as she opens her heart to readers. To be open to love, one has to be willing to risk the consequences. Julian and Ashley had a bit of wreckage to work through, but watching them muddle through was the fun part. Ashley's looking to find herself. Julian's trying to keep his sanity. A relationship of convenience is the answer to both their prayers, unless their hearts end up being collateral damage. Ms. Sosa will help find your smile, even as she confiscates your heart.

Copyright of Night Owl Reviews



View all my reviews
MISADVENTURES OF A ROOKIE (MISADVENTURES) BY TONI ALEO
Release Date: April 10, 2018
SYNOPSIS
***MISADVENTURES ARE STANDALONE ROMANCES THAT CAN BE READ IN ANY ORDER***

Winning has always come naturally for stud ice hockey defenseman Gus "the Bus" Persson. On the ice or off, he's never had any trouble scoring, racking up goals—and girls. As the best player in his rookie class and the number-one draft pick of the Malibu Suns, he's taking his game to the next level and is justifiably full of swagger.

So why does one of the Suns' ice girls treat him like he's invisible?

Bo St. James doesn't have time for rookie hotshots who think their gloves don't stink. She knows them, she works with them, she trains them. It doesn't matter that Gus Persson is the hottest newbie she's ever seen. She knows his type. She's got big plans of her own, and she's not going to let some cocky rich kid athlete keep her from her goals.

But there's a chemistry between them they cannot deny. A lust that burns so hot, it threatens to melt the very ice on which they make their livings. The game has changed for both of them. Together, can these two play to win?
BUY LINKS
Amazon B & N Google Play Books IBooks Kobo
REVIEW: MISADVENTURES OF A ROOKIE (MISADVENTURES) BY TONI ALEO
Misadventures of a Rookie by Toni Aleo

My rating: 5 of 5 stars


The star of the show is about to be cut down to size by one fiercely determined woman. He's a shot caller on the ice and an ace scorer with the ladies, but his ego leaves a lot to be desired. Gus has a lot to learn about women and Bo St. James knows how to get the job done. If there's a thin line between love and hate, these two stepped over a long time ago. A winning fight to the finish!




View all my reviews
HIGH HEELS AND HAYSTACKS (BILLIONAIRES IN BLUE JEANS) BY ERIN NICHOLAS
Release Date: April 10, 2018
SYNOPSIS
A boss-employee romance...with a twist


Only three things stand between Ava Carmichael and her twelve billion dollar inheritance:

1. A year of living in Bliss, Kansas.

2. A relationship that lasts six consecutive months.

3. A pie.

Ava has run a multi-billion-dollar company, negotiated with shark investors, and hobnobbed with business royalty, but she's about to be defeated by her inability to turn sugar, flour, and apple pie filling into something edible.

Conveniently, the owner of the diner next door, Parker Blake, is magic in the kitchen. And he technically works for her. So she can make him teach her to bake. And, hey, if everyone assumes they're heating up more than the oven during their time in the kitchen…well, that's called multitasking.

Parker Blake likes his women the way he likes his coffee: not in his diner. But gorgeous, strong-willed, type-A Ava clearly isn't going to stop messing up his kitchen—or his simple, stress-free small town life—until the conditions of her daddy's will are met. So, sure, he'll teach his "boss" to bake.

But once the kitchen door closes, it's pretty clear who's really in charge.
BUY LINKS
Amazon B & N Google Play Books IBooks Kobo
REVIEW: HIGH HEELS AND HAYSTACKS (BILLIONAIRES IN BLUE JEANS) BY ERIN NICHOLAS
High Heels and Haystacks by Erin Nicholas

My rating: 5 of 5 stars


Ava, Cori and Brynn may think they have the world figured out, but they still have a lot to learn when it comes to matters of the heart. Even from the great beyond, Rudy still has a few lessons to teach his girls. In Diamonds and Dirt Roads, Cori found the courage to go after what she wants. In High Heels and Haystacks it's Ava's turn. Ava is a confident businesswoman, but her personal life is lacking. So are her cooking skills. Enter Parker Blake, her nemesis/temptation. They may get on each other nerves, but the kitchen isn't the only thing their heating up. Pie is the least of her worries. She may have just lost her heart. Small town fun equals big-time romance and life-changing lessons.



View all my reviews
EMBRACED AT SEASIDE (SWEET WITH HEAT: SEASIDE SUMMERS) BY ADDISON COLE
Release Date: April 11, 2018
SYNOPSIS
Sweet with Heat: Seaside Summers features a group of fun, flirty, and emotional friends who gather each summer at their Cape Cod cottages. They're sassy, flawed, and so easy to relate to, you'll be begging to enter their circle of friends!

In EMBRACED AT SEASIDE...
After working hard all day creating his beautiful metal sculptures, Hunter Lacroux likes to unwind with a hot babe–or two. But after spending a handful of nights with smart, sassy, and beautiful Jana Garner, the woman who challenges everything he does and says, Hunter wants more.

As a dancer, boxer, actress, and waitress, Jana is tough, organized, and as dedicated as she is committed. She has to be to maintain her crazy schedule. But when it comes to men, Jana's had a string of bad relationships, and there's only thing she'll commit to–not committing.

Passion ignites every time Jana and Hunter are together, but the closer Hunter gets, the faster Jana runs. When Hunter lays on the charm, Jana throws out a challenge she's sure he can't meet, and Hunter steps up to the plate, forcing her to face her hurtful past or let go of him forever.

SWEET WITH HEAT: SEASIDE SUMMERS SERIES
Read, Write, Love at Seaside
Dreaming at Seaside
Hearts at Seaside
Sunsets at Seaside
Secrets at Seaside
Nights at Seaside
Seized by Love at Seaside
Embraced at Seaside
Lovers at Seaside
Whispers at Seaside

***

Embraced at Seaside by Addison Cole is the sweet edition of New York Times bestselling author Melissa Foster's steamy romance novel Seaside Embrace and convey all of the passion you expect between two people in love, without any explicit scenes or harsh language.
PLEASE NOTE: This is true "sweet with heat" and Jana and Hunter's story begins with a large dose of steam. It is the steamiest in the series, and remains true to the characters' personalities.

Addison Cole is the sweet alter ego of New York Times and USA Today bestselling and award-winning author Melissa Foster. She writes humorous and emotional sweet contemporary romance. Her books do not include explicit sex scenes or harsh language. Addison spends her summers on Cape Cod, where she dreams up wonderful love stories in her house overlooking Cape Cod Bay.

Addison enjoys discussing her books with book clubs and reader groups and welcomes an invitation to your event
BUY LINKS
Amazon B & N Google Play Books IBooks Kobo
REVIEW: EMBRACED AT SEASIDE (SWEET WITH HEAT: SEASIDE SUMMERS) BY ADDISON COLE

Embraced at Seaside by Addison Cole

My rating: 5 of 5 stars


Fear is the driving factor in Hunter and Jana's relationship. Behind closed doors, their attraction takes free reign, but in the real world the risk seems too great of a cost. Past hurts have made prickly, independent Jana afraid to trust her instincts. Hunter is both the best and worst of her fears brought to life. He's rough around the edges, but brings beauty into her once dark and lonely world. He also forces her to face some hard truths about herself. Her heart yearns for a soft place to land and Hunter is the cushion intent on breaking the fall. Embraced at Seaside is a multi-faceted, flawed, courageous and steamy quest into the abyss of love.



View all my reviews
AND I LOVE YOU (LOVE IN THE VINEYARDS) BY KATE KISSET
Release Date: April 12, 2018
SYNOPSIS
Fall in LOVE IN THE VINEYARDS where happily-ever-afters are guaranteed.
Dive into this small-town romance series and visit a charming community where everyone knows each other.
Swoon over the gorgeous, protective men in this large saga where families and close friends are connected.
You'll revisit favorite characters as you fall in love with new heart stoppers throughout the series.
Although each book is a standalone read, you'll soon be hooked on the whole series.
And I Love You (Book #3)
She's the overnight DJ desperate for a caffeine infusion.
He's the late-night bartender who has just what she needs.
If they play their cards right they might both get the refill of a lifetime.
Radio disc jockey Juliet St. John is hiding her heart in the dark. Once the toast of the Bay Area with her own popular morning show, she's now forced to work the remainder of her contract in the career ending pit of overnight radio. The only bright spot of her day is the gorgeous bistro bartender three doors down who provides her with a nightly infusion of caffeine.
A twist of fate finds Juliet broadcasting from the restaurant where she learns the sexy bartender Gabe Durand is not the man she thought he was. Is he hiding secrets in plain sight?
Shattered by tragedy, Gabe moves to San Francisco with his four-year-old daughter, hoping for a fresh start at his new restaurant. But the beautiful disc jockey from wine country changes the menu when she rekindles emotions he thought were long dead. To find love again, he'll have to come to terms with his past and confess the one thing that might scare her away.
If you like small towns, sweet and cozy romances, gorgeous vineyard settings, a full cast of friends, steamy scenes, laughter, and sexy book boyfriends, buy And I Love You now and be instantly transported to a place where happily-ever-afters are guaranteed!

***
LOVE IN THE VINEYARDS

Love at Last *Jamie Santino
Love's Home Run *Luca Santino
And I Love You *Juliet St. John
Love is a Wildfire *Michael Santino July 2018)
Say You Love Me *Leo Santino (Summer 2018)
Road to Love *Nico Santino (Fall 2018)
It Must Be Love TBD
Best of My Love TBD
My One and Only Love
Companion Stories:
*Kissing Mr. Mistletoe: Christmas in Napa
*Kissing Luca: Short story. (Micro Prequel: Danica & Luca when they were teenagers)
***
BUY LINKS
Amazon B & N Google Play Books IBooks Kobo
REVIEW: AND I LOVE YOU (LOVE IN THE VINEYARDS) BY KATE KISSET
And I Love You by Kate Kisset

My rating: 5 of 5 stars


It's hard to keep your head in the clouds when the world feels like it's caving in around you. In recent weeks cynicism has become Juliet's daily frame of mind. Stuck working the night shift after a career implosion, this after dark DJ has no time for optimism in her repartee, until another night stalker forces through her walls and offers her, her every fantasy. Kate Kisset takes her cue from some of the most memorable romances and takes her time with Gabe and Juliet's love story. And I Love You is a hint of classic romance with the best modern day swag. Heaven isn't too far away when delving into a Kate Kisset romance.



View all my reviews
RISE BY PIPER LAWSON
Release Date: April 12, 2018
SYNOPSIS
I'm Riley McKay. The perfect boyfriend.

Why? I'm rich, good looking, and can climb a mountain with my bare hands. I remember birthdays and anniversaries. And I'm a seriously decent guy.

Your mom will love me. Your dad will respect me (in that grudging way dads do when they know you're screwing their daughter).

And when it ends, which—let's be honest—it always does…

I'm nice then too.

There's nothing missing from my rinse-and-repeat life. Definitely not the girl who walked away ten years ago without a word.

The one who drops back into my life like a fireball when I least expect it.

The only woman I couldn't do 'nice' with.

They say you can't rise without the fall.

With her, I've already fallen. And no matter how sexy she is, how beautiful, or confident or edgy… I won't fall for Sam again.

Because falling's easy. Getting up is a b*tch.

Riley and Samantha's story is a sexy second-chances romance that will give you all the feels. It's an interconnected standalone with secondary characters from PLAY and NSFW.
BUY LINKS
Amazon B & N Google Play Books IBooks Kobo
REVIEW: RISE BY PIPER LAWSON
RISE by Piper Lawson

My rating: 5 of 5 stars


Rise takes off the blinders of love. No longer is romance a woman's world. It's an equal opportunity heartache. The history of Riley and Sam is emotional, fun loving and frustrating. Lawson lays it all on the line. From the angstful misunderstandings to the surprise second chance, Rise is meant to be UNFORGETTABLE, and it lives up to the hype.





View all my reviews
RUFF AROUND THE EDGES (THE DOGFATHER) BY ROXANNE ST. CLAIRE
Release Date: April 12, 2018
SYNOPSIS
The Dogfather is a contemporary romance series from New York Times bestselling author Roxanne St. Claire celebrating what she loves most: hot guys, great dogs, big families...and true love. And a portion of the proceeds from every book in the series will be donated to the Alaqua Animal Refuge in the author's home state of Florida!

U.S Army Night Stalker Major Aidan Kilcannon leaves Afghanistan after his best friend, Charlie, is killed in action. Aidan's only consolation is the knowledge that he's now solely responsible for Charlie's dog, Ruff, a rambunctious boxer they'd found in a bombed-out hospital in Kabul. With the help of Aidan's father, the Dogfather himself, they transport Ruff back to the States. He arrives shortly after Aidan, and both dog and man are suffering from loss, trauma, and sudden change. Aidan is certain his only hope is the comfort and love he gets from Ruff, and that this dog will help him adjust to the staggeringly difficult transition from battlefield to Bitter Bark.

But the day Ruff arrives, Daniel Kilcannon informs his son that Rebecca Spencer, Charlie's younger sister, has a hard and fast claim on Ruff and she intends to honor her brother's wishes. Aidan has to relinquish the dog to her, no matter how impossible that is.

Beck Spencer is in Bitter Bark temporarily to help the only living relatives she has left. After losing her parents as a child, and her brother six months ago, she, too, hopes that Ruff will offer the solace and companionship she needs. But when Ruff finally shows up at her door, the man holding the leash is obviously determined to talk her out of keeping the dog. In fact, Aidan uses every persuasive power he has to convince Beck to give up Ruff...and he's as wild and unpredictable as the dog they both want.

Everything gets complicated by Ruff, who has his own idea of who should be his master, making it impossible for Beck to win him over. But she'll do anything to succeed, even work closely with maddeningly sexy and relentlessly determined Aidan Kilcannon, who has some skills she desperately needs to save her uncle's local pizza business.

With an uneasy truce, a restless dog, and an attraction that bubbles like one of Slice of Heaven's award-winning pizzas, Aidan and Beck soon realize they can help each other heal. But as they fall deeply in love and discover the true meaning of family and home, they'll have to face the pains of their past if they have any chance of a future.
BUY LINKS
Amazon B & N Google Play Books IBooks Kobo
REVIEW: RUFF AROUND THE EDGES (THE DOGFATHER) BY ROXANNE ST. CLAIRE
Ruff Around the Edges by Roxanne St. Claire

My rating: 5 of 5 stars


Only through the power of love can a broken soul find the courage to heal. The beauty of that adage is that Ms. St. Claire and her Kilcannon clan don't just use it for the two legged warriors, but for the four legged ones as well. Ruff Around the Edges is one dog's quest to unite two broken hearts and create a family. Ruff has seen war, loss and despair, yet he manages to keep hope alive for a soldier and a sister coping with a tragic loss. Brought together by pain Aidan and Beck learn the meaning of faith through the eyes of love and the heart of a dog. Totally cuddleworthy masterpiece.



View all my reviews
SKYSTONE CANYON (IRON FEATHER BROTHERS) BY DIANA J. REED
Release Date: April 14, 2018
SYNOPSIS
He's the toughest cowboy on patrol fighting darkness--until a rare woman reminds him of the light in his heart...
Barrett Iron Feather hardly has time for romance between busting drug rings as a veteran police officer and maintaining his roping winning streak at rodeos. Then his world turns upside down when the police chief goes behind his back and makes Barrett head of security for a Hollywood movie set. Skystone Canyon is a historical western being filmed in the picturesque mountain town of Bandits Hollow, and Barrett's furious he's been relegated to supervising "pampered city slickers". Yet he never dreamed duty would force him to run smack-dab into his first boyhood crush, former child star Lainey Neil. All grown up now, Lainey's no longer the chubby teen driven by her abusive father to attend "fat camp" at a Colorado horse ranch. She's a beautiful film star, and she's shocked to come face to face with Barrett, that unforgettable cowboy who taught her the grit she needed to survive her hellish childhood. Can a second chance at first love possibly blossom into forever love? Only destiny knows if Hollywood-style happy endings can turn out to be real...
Skystone Canyon is Book 2 in the Iron Feather Brothers contemporary romance series.

Iron Feather Brothers Series: Meet the Iron Feather Brothers--they're tough, they're dangerous, and family means everything to them. Whether it's living up to their ancestor's outlaw reputation or brandishing their own style of justice, these men have each other's backs. And it takes very special women to get under their skin and untangle their barbed-wire hearts in order to find love in this contemporary western romance series set in the Rocky Mountains
BUY LINKS
Amazon B & N Google Play Books IBooks Kobo
REVIEW: SKYSTONE CANYON (IRON FEATHER BROTHERS) BY DIANA J. REED
Skystone Canyon by Diane J. Reed

My rating: 5 of 5 stars


Barrett has seen some dark places. His job brought him face with the ugliness in the world. Danger is his playground. So when he finds himself on a set in tinsel town working a new assignment, he's less than thrilled. Until a face from his not so distant past shows him a glimpse into his future. Lainey Neil is a scrapper. She's survived a life that has not always been kind and become a stronger woman for it. When the boy that gave her hope in her darkest moments reenters her sphere, can she let go the boy she remembers and accept the man he's become? Skystone Canyon is as treachous as any rock formation, yet the depth of the connection between Reed and her characters makes for an inspiringly haunting tale.





View all my reviews
Original post: ishacoleman7.booklikes.com/post/1654608/new-this-week