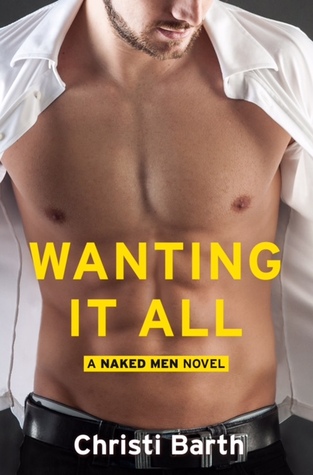 READ AND REVIEW
WANTING IT ALL (A NAKED MEN NOVEL) BY CHRISTI BARTH
Release Date: August 9, 2016
SYNOPSIS
In the follow-up to Risking It All, hailed by Lauren Layne as "the perfect escapist read," the heartthrobs of the Naked Men blog and podcast get a little too real about friendship, love, and sex. For one wealthy bachelor, the trouble starts when all three collide. . . .

After narrowly surviving a bus crash in high school with his best friends, science geek Knox Davis resolved to become so successful that he could have anything and everything he wants. Now he's über-wealthy, a huge business success, and a notorious ladies' man. Knox refuses to limit himself to one woman, but when his latest conquest—a blond beauty from the Alaskan bush—challenges his superficial ways, Knox begins to see the world through her eyes, and finds he likes what he sees.

A nurturer at heart, Madison Abbott wants to put down roots. She left Alaska to meet Mr. Right—and to track down Logan, the half-brother she's never met. Instead, she finds Knox. Although the sexy-as-sin bachelor may not seem like marriage material, Madison's starting to think that Knox is The One. But Knox refuses to settle down, especially once he learns that Madison is his best friend's little sister. Now it's up to her to convince Knox that she's everything he really wants.
BUY LINKS
Amazon B & N Google Play Books IBooks Kobo
REVIEW: WANTING IT ALL (A NAKED MEN NOVEL) BY CHRISTI BARTH
Wanting It All by Christi Barth

My rating: 5 of 5 stars


Griffin, Riley, Knox, Josh and Logan are a close knit group of friends that have been inseparable most of their lives. When a traumatic event almost succeeding in permanently separating this band of brothers, each vowed to make changes and live life to the fullest. Wanting It All is Knox's journey. Knox as a youngster, was the odd man out. The skinny guy with the awkward personality and a thirst for knowledge was a prime target for bullies. Loyal friends and his brain are what got him though some of the toughest times in his life. Now, as an adult, he has money, success and an active libido that rivals are his former haters. Still, he isn't satisfied.

Madison is a country girl , searching for answers in the big city. She craves for a connection to a family she's never known. She also hopes to find a place she belongs. A chance meeting sets in motion an attraction she can't escape and revelations that could implode all her wishes and happiness. I received an ARC of Wanting It All by Christi Barth in exchange for an honest review. One event changed many lives, some positively, others negatively but it had an effect that was attention grabbing for a group of friends. Ms. Barth, handles the turmoil with gentleness and finesse. She has added another wonderful story to a great series. Facing fear isn't weak, it makes a person stronger for having tackled it head on.




View all my reviews
DON'T MISS THE FIRST BOOK IN THE NAKED MEN SERIES:
RISKING IT ALL (A NAKED MEN NOVEL) BY CHRISTI BARTH
RISKING IT ALL (A NAKED MEN NOVEL) BY CHRISTI BARTH
Release Date: March 8, 2016
SYNOPSIS
Who doesn't love Naked Men? In Christi Barth's irresistible series, a group of close-knit friends talk out their problems with naked honesty on a popular blog. Bonded by a high-school tragedy, they're moving on from the past—and fighting for the future with strong and sassy women.

Griffin Montgomery helps people. As a teenager, he kept his best friends alive after their soccer team's bus crashed in the Alps. Now, as a Coast Guard search and rescue pilot, he saves lives with reckless abandon—until he goes too far and earns a lengthy suspension. Working on the Naked Men projects keeps his mind busy, but Griff's itching to get back in the action. That's when he finds his latest rescue mission: a pretty wallflower who's stuck in her comfort zone.

Chloe Widmore doesn't take risks. As a professional letter writer, she gets enough excitement out of expressing other people's emotions. So when the hottest man she's ever seen invades her coffee shop, Chloe surprises herself with how much she wants to be with him. Routines make her feel safe. Griff makes her deliciously unsafe, in so many ways. But falling for him is one risk she might just have to take . . . whether she's ready or not.
BUY LINKS
Amazon B & N Google Play Books IBooks Kobo
REVIEW: RISKING IT ALL (A NAKED MEN NOVEL) BY CHRISTI BARTH
Risking It All by Christi Barth

My rating: 5 of 5 stars


There can be no doubt that Griffin's past has shaped his future. He enjoys taking risk, loves helping people and keeps busy to drown out the memories he can't seem to let go of. Chloe is the complete opposite she'd rather write about life than experience it. She prefers a nice quiet environment that makes her feel safe and in control. When she is in Griffin's presence she feels none of those things and she thrives on the erratic emotions he makes her feel. Risking It All was such a hot read for me. It was brilliant to bring these two opposites together. Being with Griffin made Chloe more daring. Chloe helped Griffin to relax more. What I liked most about this story is that Chloe and Griffin needed each other. Their differences made them stronger as a couple and helped center them individually. I received an ARC of Risking it All in exchange for an honest review. I am now a converted fan.



View all my reviews
Original post: ishacoleman7.booklikes.com/post/1447134/spotlight-naked-men-series-by-christi-barth