Review:
GOING TOE TO MISTLETOE (KINDLE WORLDS: SAPPHIRE FALLS) BY RACHELLE AYALA
Release Date: October 20, 2016
SYNOPSIS
Candi Myers has lost her business and her boyfriend right before Christmas. She visits her sister in Sapphire Falls to help her prepare for her wedding.

Troy Caine gives advice to the lovelorn, only he never has luck in love. When Candi's sister gives her a list of things to find and do, he finds himself bumping into her, always at a place with mistletoe hanging.

Despite her attraction to him, Candi has been burned and all she wants from Troy is a vacation fling. He, however, is looking for his forever-woman. Will both their Christmas wishes come true?

Full of twists and unexpected surprises, Going Toe to Mistletoe is a sexy and romantic romp by Rachelle Ayala, writing in Erin Nicholas' Sapphire Falls Kindle World. It is a standalone story.
BUY LINKS
Amazon
REVIEW: GOING TOE TO MISTLETOE (KINDLE WORLDS: SAPPHIRE FALLS) BY RACHELLE AYALA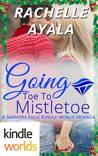 Going Toe to Mistletoe by Rachelle Ayala

My rating: 5 of 5 stars


Sapphire Falls is a homey little town with some interesting people. The big draw for me is that Erin Nicholas created a place from love and that feeling permeates every author and character that comes through it. Rachelle Ayala knows how to have fun. With Going Toe to Mistletoe she manages to blend her trademark whimsy with heartwarming sentiment. Troy is Mr. Lonely Hearts. His talent for helping the lovelorn is legendary in his neck of the woods, but the fruits of his labor haven't done him any good. Enter Candi, fed up with love and down on her luck. A small town Christmas wedding could open the door to the chance at romance both are looking for. Tis the season to melt the heart and Ms. Ayala is off to a beautiful and entertaining start.



View all my reviews

Original post: ishacoleman7.booklikes.com/post/1479869/arc-review-going-toe-to-mistletoe-kindle-worlds-sapphire-falls-by-rachelle-ayala