READ AND REVIEW
WYOMING BRAVE (WYOMING MEN) BY DIANA PALMER
Release Date
:
December 27, 2016
SYNOPSIS
The Wyoming men are back! In their quest for true love on the range, are these ranchers bold enough to open their hearts to the women under their protection?

Ren Colter may own an enormous ranch in Wyoming, but he scorns his wealth. He's closed himself off since his fiancée left him years ago, so he's shocked when he allows Meredith Grayling to stay with him. He tells himself it's only to protect the blonde beauty from a stalker, but Ren's alpha instincts soon kick in.

The last thing Merrie wants is a devastatingly handsome man like Ren lurking around her. He's too experienced, too appealing for her already shot nerves. What she needs is just to get away from it all: the man haunting her waking dreams and the one hunting her like an animal. But no woman escapes this Colter cowboy!
BUY LINKS
Amazon
B & N
Google Play Books
Harlequin
IBooks
Kobo
REVIEW
:
WYOMING BRAVE (WYOMING MEN) BY DIANA PALMER
Wyoming Brave
by
Diana Palmer
My rating:
5 of 5 stars
Beauty finds her beast with heartache, drama and surprisings twists along the way. Diana Palmer has been a one click author for me since the age of 18. Her colorful characters, family atmosphere and small town stories of action and suspense got me through my teenage years and have followed me into adulthood. Her legacy of strong women and fierce men with rough edges and kind hearts is the stuff legends are made of. Ren and Merrie prove to be another feather in her cap. Wyoming Brave picks up where Defender, Sari and Paul's journey ended and allows Merrie's to begin. The danger is real, but the unions that she creates within her make shift family prove as bulletproof as she turn's out to be. From bad boy gangster's with soft hearts and shrewd minds, to captivating animals and beautiful rugged terrain
Wyoming Brave
will leave you breathless.
View all my reviews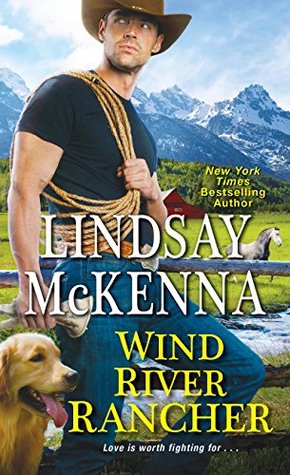 WIND RIVER RANCHER (WIND RIVER VALLEY) BY LINDSAY MCKENNA
Release Date

: December 27, 2016
SYNOPSIS
Something to hold on to . . .
Not so long ago, Reese Lockhart was commanding a company of Marines. Now his life is spiraling out of control. The Bar C ranch outside Jackson Hole, Wyoming may be his last chance to save himself . . .
Shaylene Crawford, an Afghanistan veteran herself, knows all too well the demons of PTSD—that's why she's determined to turn her family's cattle ranch into a place where wounded warriors can work, find a home, and rebuild their souls. Her embittered father nearly drank and gambled the place away, but with help from a small crew of vets—including the newest arrival, the quietly compelling Reese Lockhart—she intends to hold on to her dream. And when someone tries to destroy that dream, Reese will do whatever it takes to defend her . . .
BUY LINKS
Amazon
B & N
Google Play Books
IBooks
Kobo
REVIEW
:
WIND RIVER RANCHER (WIND RIVER VALLEY) BY LINDSAY MCKENNA
Wind River Rancher
by
Lindsay McKenna
My rating:
4 of 5 stars
A message of hope delivered through the pages of a romantic suspense novel.
Wind River Rancher
not only entertains, it informs. Ms. McKenna sheds light on Post Traumatic Stress Disorder (PTSD) and the struggle it's victims experience on a daily basis. Reese is a man focused on moving forward, but the demons from his past keep trying to pull him back in. Shaylene, is an inspiring work of art. Guiding by her heart, yet trying to escape her past has led her on a path to help those that may not have been as lucky as herself. Through Shaylene and Reese, Wind River Rancher uplifts, delivers insight and engrosses.
View all my reviews
HER RUTHLESS RUSSIAN (THE KAREV BROTHERS) BY LESLIE NORTH
Release Date

: December 29, 2016
SYNOPSIS
Born into a Russian Mafia family, Vlad Karev is no stranger to violence…but this time it's personal. Someone has murdered his father and Vlad can't rest until he finds the killer. When the trail leads to an art gallery, Vlad wants to dig deeper, but he needs help from the owner's daughter. The pretty redhead is far too innocent for a man like Vlad, but he'll do what it takes to get the information he needs. His obligations are to the family, even if that means using the fiery woman for his own needs.

Madison O'Connor works hard to keep her family's gallery going, although secretly she has little interest in art. But when she discovers her father's been laundering money for the Russian Mafia, she'll do everything she can to keep him out of jail. She hates to lie, but she has a plan…seduce the Russian bad boy to learn the mob's secrets. Never mind his dangerous exterior or icy blue eyes, Madison's going to get her family free of the mob, even if she has to use Vlad Karev to do it.

As the killer gets closer, so do Vlad and Madison. But is their connection just the means to an end, or could their romance be real?
BUY LINKS (Coming Soon)
Amazon B & N Google Play Books IBooks Kobo
REVIEW
:
HER RUTHLESS RUSSIAN (THE KAREV BROTHERS) BY LESLIE NORTH
Her Ruthless Russian by Leslie North
My rating: 4 of 5 stars
Madison knows bad news when she sees it, so when trouble darkens her front door her first instincts is to run. Until she finds her own guardian angel in the most unlikely of places. Vlad lives on the edge. Surrounded by violence all his life, he thrives on danger. When violence hits close to home, he wants answers and that quest may prove to be his salvation and his undoing.
Her Ruthless Russian
is a perfect metaphor for love. It comes out of nowhere like a thief in the night, but the impact stays with you for the rest of your life. From beginning to end, Ms. North has done it again. Delivered a stunning story of passion that ravishes the heart and leaves me craving more.
Original post:
ishacoleman7.booklikes.com/post/1508514/available-this-week