WYOMING BRAVE (WYOMING MEN) BY DIANA PALMER
Release Date
:
December 27, 2016
SYNOPSIS
The Wyoming men are back! In their quest for true love on the range, are these ranchers bold enough to open their hearts to the women under their protection?

Ren Colter may own an enormous ranch in Wyoming, but he scorns his wealth. He's closed himself off since his fiancée left him years ago, so he's shocked when he allows Meredith Grayling to stay with him. He tells himself it's only to protect the blonde beauty from a stalker, but Ren's alpha instincts soon kick in.

The last thing Merrie wants is a devastatingly handsome man like Ren lurking around her. He's too experienced, too appealing for her already shot nerves. What she needs is just to get away from it all: the man haunting her waking dreams and the one hunting her like an animal. But no woman escapes this Colter cowboy!
BUY LINKS
Amazon
B & N
Google Play Books
Harlequin
IBooks
Kobo
REVIEW
:
WYOMING BRAVE (WYOMING MEN) BY DIANA PALMER
Wyoming Brave
by
Diana Palmer
My rating:
5 of 5 stars
Beauty finds her beast with heartache, drama and surprisings twists along the way. Diana Palmer has been a one click author for me since the age of 18. Her colorful characters, family atmosphere and small town stories of action and suspense got me through my teenage years and have followed me into adulthood. Her legacy of strong women and fierce men with rough edges and kind hearts is the stuff legends are made of. Ren and Merrie prove to be another feather in her cap. Wyoming Brave picks up where Defender, Sari and Paul's journey ended and allows Merrie's to begin. The danger is real, but the unions that she creates within her make shift family prove as bulletproof as she turn's out to be. From bad boy gangster's with soft hearts and shrewd minds, to captivating animals and beautiful rugged terrain
Wyoming Brave
will leave you breathless.
View all my reviews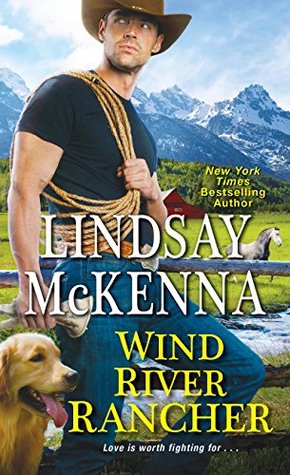 WIND RIVER RANCHER (WIND RIVER VALLEY) BY LINDSAY MCKENNA
Release Date

: December 27, 2016
SYNOPSIS
Something to hold on to . . .
Not so long ago, Reese Lockhart was commanding a company of Marines. Now his life is spiraling out of control. The Bar C ranch outside Jackson Hole, Wyoming may be his last chance to save himself . . .
Shaylene Crawford, an Afghanistan veteran herself, knows all too well the demons of PTSD—that's why she's determined to turn her family's cattle ranch into a place where wounded warriors can work, find a home, and rebuild their souls. Her embittered father nearly drank and gambled the place away, but with help from a small crew of vets—including the newest arrival, the quietly compelling Reese Lockhart—she intends to hold on to her dream. And when someone tries to destroy that dream, Reese will do whatever it takes to defend her . . .
BUY LINKS
Amazon
B & N
Google Play Books
IBooks
Kobo
REVIEW
:
WIND RIVER RANCHER (WIND RIVER VALLEY) BY LINDSAY MCKENNA
Wind River Rancher
by
Lindsay McKenna
My rating:
4 of 5 stars
A message of hope delivered through the pages of a romantic suspense novel.
Wind River Rancher
not only entertains, it informs. Ms. McKenna sheds light on Post Traumatic Stress Disorder (PTSD) and the struggle it's victims experience on a daily basis. Reese is a man focused on moving forward, but the demons from his past keep trying to pull him back in. Shaylene, is an inspiring work of art. Guiding by her heart, yet trying to escape her past has led her on a path to help those that may not have been as lucky as herself. Through Shaylene and Reese, Wind River Rancher uplifts, delivers insight and engrosses.
View all my reviews
FOUR WEDDINGS AND A SIXPENCE ANTHOLOGY BY Julia Quinn, Elizabeth Boyle, Stefanie Sloane, Laura Lee Guhrke
Release Date

: December 27, 2016
SYNOPSIS
Beloved authors Julia Quinn, Elizabeth Boyle, Laura Lee Guhrke, and Stefanie Sloane deliver the stories of four friends from Madame Rochambeaux's Gentle School for Girls who find an old sixpence in their bedchamber and decide that it will be the lucky coin for each of their weddings… "Something Old"
Julia Quinn's prologue introduces her heroine Beatrice Heywood and the premise for
Four Weddings and a Sixpence
.
"Something New"
In Stefanie Sloane's unforgettable story, an ever-vigilant guardian decrees that Anne Brabourne must marry by her twenty-first birthday. But love finds her in the most unexpected of ways.
"Something Borrowed"
Elizabeth Boyle tells the tale of Cordelia Padley, who has invented a betrothed to keep her family from pestering her to wed. Now she'll need to borrow one to convince them she's found her true love.
"Something Blue"
In Laura Lee Guhrke's story, unlucky Lady Elinor Daventry has her sixpence stolen from her and must convince the rake who pilfered the coin to return it in time for her own wedding.
"... and a Sixpence in Her Shoe"
Julia Quinn finishes with the story of Beatrice Heywood, who never believed that the sixpence was anything but a tarnished old coin—until it led all of her friends to true love. But her faith in the coin is tested when it keeps sending her to the wrong man!
BUY LINKS
Amazon
B & N
Google Play Books
IBooks
Kobo
REVIEW
:
FOUR WEDDINGS AND A SIXPENCE ANTHOLOGY BY Julia Quinn, Elizabeth Boyle, Stefanie Sloane, Laura Lee Guhrke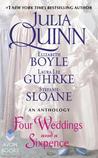 Four Weddings and a Sixpence: An Anthology
by
Julia Quinn
My rating:
4 of 5 stars
Jane Austen would be proud. Her brand of humor, heart and pomp was executed to create a flawless celebration of the majesty that is historical romance. I went into this anthology as a fan of Julia Quinn and left it having discovered three new kindred spirits in my love of regency. Each author add her voice to a collection of stories that blended seamlessly to create one terrific read. Whimsy, sentiment and love collide in this ode to romance.
View all my reviews
HER RUTHLESS RUSSIAN (THE KAREV BROTHERS) BY LESLIE NORTH
Release Date

: December 29, 2016
SYNOPSIS
Born into a Russian Mafia family, Vlad Karev is no stranger to violence…but this time it's personal. Someone has murdered his father and Vlad can't rest until he finds the killer. When the trail leads to an art gallery, Vlad wants to dig deeper, but he needs help from the owner's daughter. The pretty redhead is far too innocent for a man like Vlad, but he'll do what it takes to get the information he needs. His obligations are to the family, even if that means using the fiery woman for his own needs.

Madison O'Connor works hard to keep her family's gallery going, although secretly she has little interest in art. But when she discovers her father's been laundering money for the Russian Mafia, she'll do everything she can to keep him out of jail. She hates to lie, but she has a plan…seduce the Russian bad boy to learn the mob's secrets. Never mind his dangerous exterior or icy blue eyes, Madison's going to get her family free of the mob, even if she has to use Vlad Karev to do it.

As the killer gets closer, so do Vlad and Madison. But is their connection just the means to an end, or could their romance be real?
BUY LINKS
Amazon B & N Google Play Books IBooks Kobo
REVIEW
:
HER RUTHLESS RUSSIAN (THE KAREV BROTHERS) BY LESLIE NORTH
Her Ruthless Russian
by
Leslie North
My rating:
5 of 5 stars
Madison knows bad news when she sees it, so when trouble darkens her front door her first instincts is to run. Until she finds her own guardian angel in the most unlikely of places. Vlad lives on the edge. Surrounded by violence all his life, he thrives on danger. When violence hits close to home, he wants answers and that quest may prove to be his salvation and his undoing.
Her Ruthless Russian
is a perfect metaphor for love. It comes out of nowhere like a thief in the night, but the impact stays with you for the rest of your life. From beginning to end, Ms. North has done it again. Delivered a stunning story of passion that ravishes the heart and leaves me craving more.
View all my reviews
DIRTY PLAYERS BY TIA LOUISE
Release Date

: December 19, 2016
SYNOPSIS
TWO COMPLETE NOVELS - One limited-edition boxed set
BOOK #1: THE PRINCE & THE PLAYER

Let the games begin...
Runaway Zelda Wilder will do whatever it takes to secure a better life for her and her sister Ava. Crown Prince Rowan Westringham Tate will do whatever it takes to preserve his small country.
MacCallum Lockwood Tate will do whatever it takes to steal Zelda's heart…
When Zelda is hired to run a con on the brooding future king, she falls instead for his sexy younger brother, "playboy prince" Cal.
Cal is determined to hold his beautiful player, but it's too late. Zelda is in over her head with some very dangerous men. Shots are fired and time is running out for the prince to save his player…
BOOK #2: A PLAYER FOR A PRINCESS

From the Mediterranean to the Caribbean, the game continues...
Zelda Wilder is on the run from the ruthless assassins who've decided she knows too much to live.
Reformed playboy prince MacCallum Lockwood Tate isn't about to let the sexy player who stole his heart get away—if only he could decide whether he wants to save her or spank her for her dangerous choices.
All of the players' skills are tested in this plot to capture a killer and save a princess.
Cinderella meets Ocean's Eleven in this CONTEMPORARY ROMANCE DUET, featuring secrets, lies, royal high jinks, scams and double-crosses; breathless, swooning lust, cocky princes, dominant alpha future-kings, and crafty courtiers, who are not always what they seem.
BUY LINKS
Amazon Amazon UK ARE B & N Google Play Books IBooks Kobo
Amazon Print
Createspace
REVIEW
:
DIRTY PLAYERS BY TIA LOUISE
The Prince & The Player
by
Tia Louise
My rating:
4 of 5 stars
I am an avid reader and discovering new authors is what I love to do. So when
The Prince and The Player
was brought to my attention, I was skittish but anticipation ultimately won out. Taylor Swift summed up Zee and Cal with her song " I Knew You Were Trouble". The signs were all there. Zee is in over her head trying to stay in control, when her heart, life and family are on the line. Tia Louise and her thrilling story of danger, love and adventure is over the top but addictive all the same.
View all my reviews
A Player for A Princess
by
Tia Louise
My rating:
4 of 5 stars
The Prince and the Player got the adrenaline going with the train wreck that is Zee's life. Bad guys, temptation and family ties landed her in a ton on hot water. Now running scared and out of options, Zee has more surprises in store. Ms. Louise mixes things up with some role reversal and more heated moments between our resident bad girl and her naughty prince. There is never a dull moment with these two in the explosive conclusion of the Dirty Players Duet.
View all my reviews
COMPLETELY YOURS (OPPOSITES ATTRACT) BY ERIN NICHOLAS
Release Date
:
December 20, 2016
SYNOPSIS
Kiera Connelly leads a quiet life, and that's just how she likes it. She's built a name as a graphic designer and meets up with her friends online, all from the comfort of her living room couch. But when a rare outing turns disastrous, Kiera finds herself up close and way too personal with an unbelievably hot real-life hero.

Zach Ashley doesn't see himself as a hero. He's just a regular guy who gets to help people every day as an EMT. But when he's called to a scene and has to treat his most gorgeous patient ever, he finds himself mixing work with pleasure. He never hesitates to put his life on the line...but will he ever risk his heart?
BUY LINKS
Amazon
B & N
Google Play Books
IBooks
Kobo
REVIEW
:
COMPLETELY YOURS (OPPOSITES ATTRACT) BY ERIN NICHOLAS
Completely Yours
by
Erin Nicholas
My rating:
5 of 5 stars
A recluse by choice Kiera hides her strengths and wears her flaws like a badge of honor. Zach's job is to help those in need. His career as an EMT brings him a close up view of some of the most tragic events, but his level head and quick actions have proven beneficial in many times of crisis. On the outside he's a pillar of strength, but on the inside he's dealing with a broken heart and a guilty due to a recent loss in his own life.
Completely Yours
is standard Erin Nicholas. Abundantly funny intertwined with heady romance and irresistible characters. It's invigorating to read a story that identifies with many but feels like it is speaking directly to you. So many things in life are worth being passionate about and Completely Yours proves to be one of them.
View all my reviews
SHELTERED BY THE SEAL (THE INHERITANCE, HERO FORCE) BY AMY GAMET
Release Date: December 20, 2016
SYNOPSIS
Not every inheritance brings good fortune...
A pregnant and desperate Jessa McConnell assumes the identity of a coworker to secure her own future, but finds her life in danger when she inherits a book intended for the other woman. The only person who can protect her now is HERO Force member Jax "Aces" Andersson, a former Navy SEAL and the unwitting father of Jessa's unborn child.
This book is part of The Inheritance, a multi-author project connecting bestselling series with a single cross-over storyline--that of billionaire Harold Hopewell, who leaves a series of life-changing bequests in his will. Search for The Inheritance to find all the connected books!
BUY LINKS
Amazon
B & N
Google Play Books
IBooks
Kobo
REVIEW
:
SHELTERED BY THE SEAL (THE INHERITANCE, HERO FORCE) BY AMY GAMET
Sheltered by the SEAL
by
Amy Gamet
My rating:
4 of 5 stars
Amy Gamet does not do TAME. Her repertoire consists more of complicated, exciting, emotionally charged explosives. Jessa's life went from complex to downright dangerous in the blink of an eye. Now she has to find a way out of the mess before it costs her the ultimate price. A woman of mystery, a man with a plan, a volatile scenario and a powder keg of secrets lead Jessa and Jax out of the frying pan and into the fire. What a way to shake up a series.
Sheltered By The Seal
is a thrilling asset to The Inheritance Series .
View all my reviews
THE SHEIKH'S CHRISTMAS BABY (SHADID SHEIKHS) BY LESLIE NORTH
Release Date

: December 20, 2016
SYNOPSIS
Their passionate affair ended in heartbreak when he left without warning. When he returns unexpectedly, can their heat melt away the hurt of the past?
Kashif Shadid has always craved adventure. With one last chance to win the Iditarod dog sled race before assuming his role as Sheikh, he's returned to the Alaskan wilderness to train at a legendary sled dog farm. But returning means coming face to face with Kristy Cohen, the woman who captured his attention years ago. He's thrilled once again by her icy beauty, but her farm is facing financial ruin. Kashif's eager to take control, however, getting her to agree with his plans may be a challenge.
Kristy Cohen works hard to keep her sled dog farm afloat while raising her young daughter. Faced with declining revenues and a changing climate, Kristy's struggling, but she's not willing to turn her back on her business model. When Kashif Shadid shows up out of the blue pushing her to make changes, Kristy's response is as cold as the Alaskan snow. She fell for tall, handsome Kashif once before. After four years without a word from him, she won't be making that mistake again.
This time, Kristy's guarding more than just her heart. With her farm and her daughter to consider, can she ever risk taking a chance on Kashif again?
BUY LINKS
Amazon B & N Google Play Books IBooks Kobo
REVIEW
:
THE SHEIKH'S CHRISTMAS BABY (SHADID SHEIKHS) BY LESLIE NORTH
The Sheikh's Christmas Baby
by
Leslie North
My rating:
5 of 5 stars
Leslie North created the atmosphere for a reader to enjoy in front of a fire with a warm blanket, hot drink and a snuggle with the one you love.
The Sheikh's Christmas Baby
is sentimental gold. From the breathtaking winter wonderland location of Alaska to the descriptive story of shattered love and of course those adorable dogs. It would be inhumane not to have fallen a little in love with Kashif and Kristy. Any time a story leaves you with a warm feeling inside and a smile on your face, it's a winner.
View all my reviews
NEAREST THING TO HEAVEN (MAVERICK JUNCTION) BY LYNNETTE AUSTIN
Release Date
:
December 20, 2016
SYNOPSIS
Lynnette Austin presents the second book in her sassy Texas-set Maverick Junction series, now in mass market!
Ty Rawlins, the widowed father of rambunctious triplets, is at odds with Sophie London when she returns to Maverick Junction at Thanksgiving for her cousin Annelise Montjoy's wedding to Cash Hardeman. Chicago is home, where she runs Starlight Productions, her greeting card company. Sophie is a fish out of water in Texas. The cows freak her out. The long-horned steers are nightmare inducing. But Ty's triplets, one of whom spilled cherry soda on her white silk lap at Cash's barbecue, are enough to make her run all the way back to Illinois in her Jimmy Choos. What will it take for Ty to convince Sophie that Maverick Junction is where she belongs, right beside him and his boys?
BUY LINKS
REVIEW

: NEAREST THING TO HEAVEN (MAVERICK JUNCTION) BY LYNNETTE AUSTIN
Nearest Thing to Heaven
by
Lynnette Austin
My rating:
5 of 5 stars
Parenting changes everything. The hardest job in the world is looking after the most vulnerable, frustrating and beautiful gift bestowed, a child. There is no handbook, only a overpowering connection that borders on fear and awe. Raising a child together is tough, but when tackling it solo it gets harder. So Ty had his hands full raising three mischievous boys on his own.
Nearest Thing to Heaven
is driven by emotion and that is it's largest appeal. Ms. Austin had me hook, line and sinker. A bruised heart, a gorgeous guy, adorable boys and undeniable attraction, all add up to pure gold.
View all my reviews
THEN CAME YOU (4 - IN -1) BY VIOLET DUKE AND MELANIE SHAWN
Release Date: December 20, 2016
SYNOPSIS
Warm your hearts this winter with three USA Today bestselling romances starring a sweet & sexy single dad falling for the one woman who drives him crazy, a fiercely independent working mom taking a chance at love with the last man she expects, and a rough, gruff cop accidentally finding his soulmate when he wasn't looking. *PLUS* get a bonus bestie book from Violet's friends, the sister writing duo Melanie Shawn. This 4-in-1 box set is only available until the start of the new year so get your copy today!
FINDING THE RIGHT GIRL — Can't Resist Series
— A USA TODAY Bestseller —
Having loved and lost twice in his life, Brian Sullivan decides a casual, no-hearts-broken fling might be just what he needs. Unfortunately, being the nice guy poster boy and all, he isn't exactly versed in the fine art of flings. So he looks to the outrageously 'unique,' provokingly button-pushing Tessa Daniels for a crash course. There's absolutely no way he's falling in love with this one...right?
Tessa has no idea what she was thinking telling Brian that she was some sort of fling expert. She's never been flung before and she sure as heck doesn't know where or how to begin flinging a guy like Brian. Not only does the man have her being more herself than she's ever been in her life, but he's the only person she knows who seems to have as many demons and skeletons in the closet as she does.
What's more, he's got her thinking of the one thing she stopped letting herself even hope for years ago...a happily ever after.
LOVE, DIAMONDS, AND SPADES — Cactus Creek Series
— A USA TODAY Bestseller —
Fiercely independent single mom Quinn Christiansen has good reason not to trust men, seeing as how her ex gambled away their savings and left her to care for their ailing newborn on her own. So color her pissed when the universe goes and decides to make the one man in Cactus Creek not afraid of her ball-busting charm another gambling musician. A ridiculously handsome, gruffly sweet, charmingly pushy one at that.
Rylan Grey isn't used to getting a woman so worked up...well, not in a bad way, at least. But somehow, his mere existence seems to annoy the guarded and gorgeous Quinn to no end. Sure, he's made some gambles to get to where he's at, but they were all of the life variety, with risks as important as the rewards—and not a single dollar in play. While Rylan never wagers anything he's not willing to lose—namely his heart—he's more than ready to ante up once he sees past Quinn's icy defenses.
She could just be his riskiest gamble yet.
BEFORE THAT NIGHT — Unfinished Love Series
— A USA TODAY Bestseller —
Before that night, Addison Milan had been just a college dropout secretly raising her two young siblings in a beat-up minivan.
Before that night, Caine Spencer had been just a hardened cop sent to check out the claims of suspected child neglect involving the woman he hasn't been able to stop thinking about for months.
Before that night, Addison would never have thought the man she'd been fighting hard not to fall for—her only friend in her new shadow of a life—would be in a position to rip her family apart.
Before that night, Caine would never have believed any woman could make him fall head over heels, let alone make him feel so damn compelled to look the other way when it came to his job.
Then that one perfect night changed everything.
BUY LINKS
REVIEW
:
THEN CAME YOU (4 - IN -1) BY VIOLET DUKE AND MELANIE SHAWN
Then Came You
by
Violet Duke
My rating:
4 of 5 stars
Moments of heartache morph into bright days of joy. It may be tough getting there but Ms. Duke always delivers powerful stories that can reduce a reader to tears. Whether happy or heartbreaking depends on the reader but she definitely leaves an impression. Then Came You delivers three stellar examples of what makes Violet Duke a powerhouse as an author. T
hen Came You
is a versatile display of the impact of a gifted writer. From to dark days to shining moments Violet Duke and Melanie Shawn are a memorable duo.
When you least expect it love finds you.
Finding the Right Girl
is the followup to the Can't Resist series. Brian is at a crossroads having lost what he holds dear. He may have stumbled on the key where he least expects. Stand alone and no cliffhanger. Rewarding read.
Down on her luck Quinn never ever wants to fall in love again. Pain and heartache were her best friends through out her marriage and she does not plan to go through that again. NEVER SAY NEVER.
Love, Diamonds and Spades
combines touching moments with moments of fun to create a story that is worthy of any romance reader.
View all my reviews
THE TROUBLE WITH DUKES (WINDHAM BRIDES) BY GRACE BURROWES
Release Date
:
December 20, 2016
SYNOPSIS
This first novel in a new Regency series from USA Today bestselling author Grace Burrowes is a spinoff of her highly popular Windham series.
THEY CALL HIM THE DUKE OF MURDER...
The gossips whisper that the new Duke of Murdoch is a brute, a murderer, and even worse—a Scot. They say he should never be trusted alone with a woman. But Megan Windham sees in Hamish something different, someone different.
No one was fiercer at war than Hamish MacHugh, though now the soldier faces a whole new battlefield: a London Season. To make his sisters happy, he'll take on any challenge—even letting their friend Miss Windham teach him to waltz. Megan isn't the least bit intimidated by his dark reputation, but Hamish senses that she's fighting battles of her own. For her, he'll become the warrior once more, and for her, he might just lose his heart.
BUY LINKS
Amazon
Audible
BAM
B & N
Google Play Books
IBooks
Indiebound
Kobo
REVIEW
:
THE TROUBLE WITH DUKES (WINDHAM BRIDES) BY GRACE BURROWES
No risk, no gain. I am so glad that I took a chance on Hamish and Megan. Neither are what they seem. Each carries a heavy load of baggage that they need to sift through. However if they can weather the storm, the best is yet to come. The Trouble With Dukes is that once one captures heart, it's forever. Grace Burrowes spirited characters and emotional story made for an enticing journey.
DYLAN (BAD BILLIONAIRES AFTER DARK) BY MELISSA FOSTER
Release Date
:
December 21, 2016
SYNOPSIS
The Bad Billionaires After Dark are a series of stand-alone romances that may also be enjoyed as part of the larger Love in Bloom series.
Indulge your inner vixen with these sexy billionaires!
Meet the Bad Boys... Four fiercely loyal, sinfully sexy, uber alpha brothers, about to fall head over heels for their leading ladies.
Everything's naughtier after dark...
Sinfully sexy bar owner Dylan Bad has a thing for needy women. He's a savior, a knight in shining armor, and his mighty talented sword has no trouble bringing damsels in distress to their knees. Enter Tiffany Winters, a gorgeous cutthroat sports agent who looks like sex on legs, f**ks like she's passion personified, and wouldn't let a man help her if she were dangling from a ledge and he was her only hope. One night and too much tequila might change their lives forever. The question is, will either one survive?
***
The Bad Boys After Dark books are long enough to burn up the sheets and short enough to leave you craving more.
Read the whole Billionaires After Dark series:
BAD BOYS AFTER DARK
Mick
Dylan
Carson (coming soon)
Brett (coming soon)
More Billionaires After Dark books:
WILD BOYS AFTER DARK (Available Now!)
Logan
Heath
Jackson
Cooper
The BILLIONAIRES AFTER DARK series is part of the LOVE IN BLOOM big family romance collection. Each book may be read as a stand-alone novel, or as part of the series.
BUY LINKS
Amazon
Amazon.co.uk
Barnes and Noble
GPlay
iBooks
KOBO
REVIEW
:
DYLAN (BAD BILLIONAIRES AFTER DARK) BY MELISSA FOSTER
Bad Boys After Dark: Dylan by Melissa Foster

My rating: 5 of 5 stars


Getting to know a Melissa Foster character is like falling in love for the first time. At first meeting there are no flaws to push you away, only the beginning of something wonderful to lure the reader in. That belief that something special is about to happen is the feeling that Dylan and Tiffany embody as a unit and those complexities only get stronger in their moments of individuality. Tiffany is a ball buster with a killer work ethic and a briefcase full of demons. Dylan mixes his playboy status with a killer smile, a wicked bedside manner and a hero complex but behind all the gloss lies an edge of darkness that not many get to see up close. Sex, secrets and pride are as destructive as any explosive. Dylan needed to heal himself before he could offer help to anyone else. Dylan can be described in two words. Wickedly good.



View all my reviews
DASHING THROUGH THE SNOW BY M. LEIGHTON
SYNOPSIS
Dilyn Hart hates Christmas, so when her boss (and ex-boyfriend) hands her an assignment to interview champion snowboarder and gorgeous playboy extraordinaire, Dash Grainger, on Christmas Eve, she takes it. There are several things she doesn't plan for—a surly driver, a chalet in the middle of nowhere, a freak snowstorm—but the biggest surprise of all is Dash himself.
Dash Grainger lives for the high, and so far in his twenty-six years, he's never met anyone or anything he loves more. Nothing has ever thrilled him as much as slick snow, cold air, and breakneck speed.
Until he meets Dilyn.
But one perfect night doesn't mean clear, blue skies the next day. There are some storms that can't be weathered.
Christmas Day might just be one of them.
BUY LINKS
Amazon B & N Google Play Books IBooks Kobo
REVIEW
:
DASHING THROUGH THE SNOW BY M. LEIGHTON
Dashing through the Snow: A Sexy, Snowy Christmas Tale
by
M. Leighton
My rating:
5 of 5 stars
What an introduction!
Dashing Through the Snow
hit a high note for me. M. Leighton has fun and flirty down to a science. Dilyn talks a good game but meets her match in Dash. Dash has all the moves to make this high maintenance diva into his biggest fan. The perfecting setting for a showdown of the sexiest type.
View all my reviews
A DARING PROPOSITION (KINDLE WORLDS: DARE TO LOVE) BY CASEY HAGEN
SYNOPSIS
Boudoir photographer Emberly Blair uses her unusual creative talents to do more than snap steamy photos. Her passion? Using artistic sensuality to help other women find their hidden beauty. Rooted in a family tragedy, Emberly's work is her life's mission, and she takes seriously every nuance of light and shadow in the images she creates. What she doesn't take seriously is the uptight millionaire who lands on her doorstep in need of a good headshot, a female escort, and someone to curb his sarcastic tongue.
IT genius and philanthropist Seth Owens doesn't pay much attention to anything not connected to an electronic grid—until he meets smart and sexy Emberly Blair. He considers her work superficial smoke-and-mirrors, but knows that where there's smoke there's flame, and Emberly is it. When Emberly suggests they make a trade—she'll accompany him to a dedication event where he is the reluctant star if he'll be her plus-one at a wedding—Seth agrees to walk into the fire.
The fire becomes a sensual blaze that consumes Seth and Emberly. But just as they begin to believe that their love might be strong enough to burn high and hot for a lifetime, Seth makes a move that Emberly can't forgive. It will take more than a few sparks to relight their relationship—and a deeper understanding by both of them of what it takes to forge a forever love.
BUY LINKS
Amazon
REVIEW
:
A DARING PROPOSITION (KINDLE WORLDS: DARE TO LOVE) BY CASEY HAGEN
Dare To Love Series: A Daring Proposition
by
Casey Hagen
My rating:
5 of 5 stars
Once you read a Casey Hagen story, it's hard to forget. She writes about real life issues that are not always pretty by giving them her special touch of empathy with a hint of comic relief. That keeps the story grounded in humanity. Her editions to Kindle Worlds prove how much of a chameleon she really is. She blends in with her ability to conquer a setting and add her voice to an already popular series and get herself heard. Seth and Emberly are different on the surface but share similarities underneath. Both have struggled with feelings of insecurity. Emberly has chosen to face hers head on by helping others with self esteem issues. Seth inside still feels like that scared little boy who wasn't good enough despite the success he has.
A Daring Proposition
is a feast for the senses with it's sensuality and emotional overload. A powerful message in a tiny package delivers the best kind of surprise.
View all my reviews
UNFORGETTABLE YOU (STARLIGHT HILL) BY HEATHERLY BELL
SYNOPSIS
A frustrated author recently jilted by her fiancée, Diana wants a life do-over. What she needs is a change of scenery and she just might find that in Starlight Hill. But when Diana is the victim of a fire and rescued by her teenage crush, she'll be forced to remind her heart frequently that she's sworn off men. Tough and wild Scott has changed from his days as a love 'em and leave 'em type, making it difficult for Diana to remember why she gave up on love in the first place …
Scott is an adrenaline-junkie firefighter with a wild past until a painful mistake changed his life forever. When Diana's rescue is filmed and goes viral, his first instincts are to protect and fix. There's something about being around Diana that makes him feel human again, and like he can be the man she believes he is. The kind of man she deserves. But first he'll have to forgive himself …
Can these two trust each other enough to leave the past behind and find happily ever after in the small town of Starlight Hill?
BUY LINKS
Amazon B & N Google Play Books IBooks Kobo
REVIEW
:
UNFORGETTABLE YOU (STARLIGHT HILL) BY HEATHERLY BELL
Unforgettable You
by
Heatherly Bell
My rating:
5 of 5 stars
Heatherly Bell's brand of optimistic wisdom and fetching scenarios make for a heavenly combination. I love the positive message she delivers within her stories: "Hurdles are a part of life, but how we handle these obstacles is what makes a person stronger." Her bright attitude is contagious and the charming characters are like a dream come to life.
Unforgettable You
is fancy tickling second chance story. Are Diana and Scott looking to escape painful memories or searching for a more pleasant future? Only they can decide. The proof is in the pudding with this soul stirring read. Received a copy in exchange for an honest review.
View all my reviews
GOLDEN LIES BY BARBARA FREETHY
SYNOPSIS
Every family has secrets -- some too intriguing to resist ... some too dangerous to ignore ...
A novel about three remarkable families -- the fifty-year-old promise that once bound them together, the fiery betrayal that tore them apart, and the ancient bronze dragon that could destroy their future ...
Riley McAllister, Paige Hathaway, and Alyssa Chen come from very different worlds. Tough guy Riley has overcome the hard knocks of a working-class upbringing. Paige struggles to define her place as the heir to a famous antiques emporium. And Alyssa feels trapped by the restrictions of her family's old world attitudes. Now this unlikely trio of strangers must come together to follow an elusive trail through the streets of San Francisco -- from glittering Pacific Heights to colorful Chinatown to trendy south of Market. Each will have to make the impossible choice between romantic love and family loyalty, between sheltering lies and revealing truth. Once the door to the past is opened, there's no turning back ...
BUY LINKS
Amazon
B & N
Google Play Books
IBooks
Kobo
REVIEW
:
GOLDEN LIES BY BARBARA FREETHY
Golden Lies
by
Barbara Freethy
My rating:
3 of 5 stars
Years ago I read a story by Katherine Stone entitled Pearl Moon. The main characters were so intricately connected that it was hard to distinguish where the forks in the road would take you next. With
Golden Lies
, Barbara Freethy captured that exact feeling. I felt like I was walking through a maze and the way out was so well hidden that I lost my way a number of times. Golden Lies is not for the faint of heart. Either you are all in or not at all.
Riley, Paige and Alyssa find themselves immersed in a complex mystery that will have a ripple effect. Only open minds, open hearts and puzzle lovers need apply to this complicated read. I love a challenge so I'm all in. 3.5 stars
View all my reviews
SUNSET THUNDER (THE CALIENDO RESORT) BY SHANNYN LEAH
SYNOPSIS
Violet Caliendo escorts couples into the illusion of "happily ever after" as wedding coordinator at Willow Valley's five-star Caliendo Resort. But Violet doesn't believe in love or "happily ever after" anymore. She's guarded herself from love so deeply since her divorce that some even call her the "Ice Queen." When she has to plan her ex-husband's wedding, even her Ice Queen persona takes a hit.
With her emotions in high gear, she takes out her frustrations by having sex with her ex's best man, Ryder Carlex. Ryder is a playboy type and Violet figures it's a simple one-time fling. But Ryder actually is attracted to Violet in a way he's never known before. Neither of them ever imagines that the sparks between them will ignite a fire hotter than anything they've ever encountered – slowly breaking down both their walls.
Will Violet be able to let go of her past and embrace a possible future with Ryder? Will Ryder let Violet into his own deep, dark secrets? Or will their trust issues forever doom them both from achieving their own "happily ever after"?
This book can be read as a stand alone, but for more enjoyment read them in the order of the series, as all the characters appear in future books.

Read the full BY THE LAKE SERIES:

MCADAMS SISTERS
BOOK 1: Lakeshore Secrets
BOOK 2: Lakeshore Legend
BOOK 3: Lakeshore Love
BOOK 4: Lakeshore Candy
BOOK 5: Lakeshore Lyrics

THE CALIENDO RESORT:
BOOK 1: Sunset Thunder
BOOK 2: Sunset Rivalry
BOOK 3: Sunset Sale
BOOK 4: Sunset Slopes
BOOK 5: Sunset Shelter
BUY LINKS
Amazon B & N Google Play Books IBooks Kobo
REVIEW
:
SUNSET THUNDER (THE CALIENDO RESORT) BY SHANNYN LEAH
Sunset Thunder
by
Shannyn Leah
My rating:
5 of 5 stars
Violet is a puzzle within a puzzle. Her past has soured her on the institution of marriage and after her own divorce, she now helps others plan there weddings. Huh? Her past meets her present when she ends up entangled in planning her ex's upcoming wedding. Add in a best man she loathes more than her ex husband and the soap opera begins.
Sunset Thunder
puts the loco in crazy. The surprises are scandalous, the relationships titillating and the drama amplifies from uh-oh to HELL NO, rather quickly. Sunset Thunder took wrong to high frequency levels and delivered a performance that I'll not soon forget. On my list of re-reads.
View all my reviews
SEEKING FOREVER (KINDLE WORLDS: BAREFOOT BAY) BY SAMANTHA CHASE
Release Date
:
October 11, 2016
SYNOPSIS
Ellie Shaw has a new job, a new home and a new lease on life – compliments of her cheating ex. Refusing to look back, she's ready to put her time and focus on helping couples celebrate their happily ever after's with a new position with Barefoot Brides. Just because she didn't get her happy ending, doesn't mean she's given up on love. Unfortunately, one of the first couple's she's up to work with is her ex and the woman he cheated on her with!

Max Santos knows every inch of the Casa Blanca Resort & Spa property like the back of his hand – basically because he's the one responsible for it all. He loves his job. Loves his life on Mimosa Key but…he's in a rut. Work has become his life and he's almost desperate for something to come along and shake up his world a little bit. And when Ellie shows up in one of his equipment sheds cursing like a sailor while she's clearly hiding out, his curiosity is instantly piqued. Soon, he's helping her in the craziest – and sexiest - game of hide and seek all over Casa Blanca!

Ellie knows she'll never be able to truly move forward until she confronts her ex, but doing that means she won't have any excuses to keep 'running' into Max. She thinks it's too soon to start thinking about a future with him, but Max keeps proving time and time again that he'll be there for her. And while Ellie's been hiding from her past, Max has been anxiously seeking their future – their forever.

Seeking Forever is part of Roxanne St. Claire's Barefoot Bay Kindle World
BUY LINKS
Amazon
REVIEW
:
SEEKING FOREVER (KINDLE WORLDS: BAREFOOT BAY) BY SAMANTHA CHASE
Seeking Forever
by
Samantha Chase
My rating:
5 of 5 stars
Like a fairweather friend life can be fickle. The sour moments seem more constant than the sweet. But fear not, the not so happy situations are preparations for the most precious ones. With
Seeking Forever
, Ms. Chase takes a broken heart mixes in an uncomfortable situation and concocts an irresistible romance. With it's beautiful weather, picturesque surroundings and friendly locals Mimosa Key seems like a great place to start over for Ellie. When the job of her dreams leads her to the situation of her nightmares, she starts to rethink that choice. Crossing paths with an old acquaintance has her exploring new possibilities and may prove to be just the medicine to heal her wounded heart. Two of my favorite authors Roxanne St. Claire and Samantha Chase teamed up. Ms. St. Claire brought the exotic location and Ms. Chase delivered on the feel good motivation.
View all my reviews
COME AND GET YOUR LOVE (KINDLE WORLDS: BAREFOOT BAY) BY MARIA GERACI
Release Date

: October 11, 2016
SYNOPSIS
Baseball's Sexy Bad Boy has come to Barefoot Bay, and he's here to score...
Brian "Boom-Boom" Callahan might have a million dollar swing, but his bad boy rep has gotten him in trouble with his major league baseball team, so he's been temporarily sent down to the minors to teach him a lesson.
Aubrey Adams' fledgling PR firm has been hired to keep the Barefoot Bay Buck's new hotshot hitter under the radar. All he has to do is play nice for the rest of the season and she'll get a much needed bonus to keep her company afloat.
Being sent down to the minors is Brian's worst nightmare, but one look at Aubrey and he decides that the next four weeks might not be so bad if he can get the cute brunette to warm his personal bench. Aubrey's not about to be anyone's groupie, especially not to a spoiled athlete whose batting record is only surpassed by the number of women he's reported to have bedded.
But when Brian lays on the charm, Aubrey finds herself falling for the funny, kind, and intelligent man he hides from the press. When a well-intentioned gesture gets unexpected national publicity, Aubrey has to wonder if she's up to playing in the big leagues, or if she's just being played.
BUY LINKS
Amazon
REVIEW
:
COME AND GET YOUR LOVE (KINDLE WORLDS: BAREFOOT BAY) BY MARIA GERACI
Barefoot Bay: Come And Get Your Love
by
Maria Geraci
My rating:
5 of 5 stars
Ms. Geraci brings her A game with
Come and Get Your Love
. A heavy hitter in the big leagues is about to be brought back down to size. Brian has the skills to be a star athlete but his reputation makes him a liability, costing him dearly. Aubrey is just the girl to tone down the ego and polish up the shine. If she can keep her heart and his hormones out if the equation. Ms. Geraci scored a home run with Brian and Aubrey. I'm not into sports stories but she made me sit and take notice. That's a winner for me.
View all my reviews
OPERATION: ROMEO (KINDLE WORLDS: BAREFOOT BAY: SEALS ON VACATION) BY KAT CANTRELL
Release Date

: October 11, 2016
SYNOPSIS
SEALs on Vacation

Jilted groom Garrett Van Doren didn't expect to spend his wedding night alone. But finding Callie Jones in his bed—naked—also wasn't in the plan. The mortifying hotel room mix up never should have happened but Garrett needs someone to keep him from jumping into the next relationship too fast. Callie is determined to seduce his brother to get herself out of a dating rut. What else can they do except join forces? But Operation: Romeo takes an unexpected twist when Callie realizes she was in the right bed all along—Garrett's. And the determined Navy SEAL is trying to set her up with his brother...

BUY LINKS
Amazon
REVIEW
:
OPERATION: ROMEO
(KINDLE WORLDS: BAREFOOT BAY: SEALS ON VACATION) BY KAT CANTRELL
Operation: Romeo
by
Kat Cantrell
My rating:
5 of 5 stars
Sassy, sexy and hilarious. Those Van Doran brothers know how to make an impression. Twin Navy Seals, Mimosa will never know what hit it.
Operation: Romeo
proves that love may be deaf, dumb and blind but always lands on it's feet. Garrett is adorably clueless when it comes to love. A whirlwind romance that culminated in a runaway bride is neon proof. There must be something in the water on that island that causes sain people to do stupid things. Callie makes that clear with her flair for landing in some crazy situations. In the end Operation: Romeo casts it's spell rather quickly.
View all my reviews
SEDUCED BY THE BEST MAN (KINDLE WORLDS: BAREFOOT BAY: SEALS ON VACATION) BY ZOE YORK
Release Date

: October 11, 2016
SYNOPSIS
Navy SEAL Dylan Van Doren knows a thing or two about keeping his enemies at bay. But even though Astrid Hughes is—was—the maid of honor in his brother's disaster of a non-wedding, she doesn't look like his enemy. She doesn't feel like one, either, when he pulls her into his arms and kisses her senseless.
Astrid values loyalty above everything else. So it's totally wrong to let herself fall into a vacation fling with her best friend's ex's brother, right? Maybe not if they keep it a secret. And if they promise each other they'll walk away at the end of the week, no matter what.
BUY LINKS
Amazon
REVIEW
:
SEDUCED BY THE BEST MAN (KINDLE WORLDS: BAREFOOT BAY: SEALS ON VACATION) BY ZOE YORK
Seduced by the Best Man
by
Zoe York
My rating:
5 of 5 stars
How can you not fall for the warrior with a fearless attitude but the soul of a romantic? Rough around the edges Dylan has a secret. He believes in the forever kind of love that true romantics fantasize about. Problem? He needs to find his other half. Astrid is a little bit quirky, naive, loyal and about to help break his brother's heart. A scrapped wedding and picturesque island could be just the setting for the love of a lifetime.
Seduced by the Best Man
was an easy read that flew by. My one critique would be because I loved these characters so much, I wish the story had been longer.
View all my reviews
FIGHTING FOR HIS WIFE (KINDLE WORLDS: BAREFOOT BAY) BY JULIE BENNETT
Release Date

: October 11, 2016
SYNOPSIS
Bestselling Author Jules Bennett invites readers into Barefoot Bay where two special people are destined to find their happily ever after.

She is determined to save him…

Escaping to Barefoot Bay was the only way Cara Prescott knew to cope with the devastating news that could end her marriage. Maybe marrying after a whirlwind affair had been a mistake…at least, that's the excuse she's giving her husband to justify setting him free.

He is determined to save their marriage…

Former soldier Tucker Prescott has no clue what sent his wife running back to Barefoot Bay, but he's not letting her go that easy. He's never given up on anything and he certainly isn't starting with the one person who completes him. Cara Prescott is about to discover that her husband is a stronger man than she ever knew…because he's not about to let her carry this burden alone.
BUY LINKS
Amazon
REVIEW
:
FIGHTING FOR HIS WIFE (KINDLE WORLDS: BAREFOOT BAY) BY JULIE BENNETT
Fighting For His Wife
by
Jules Bennett
My rating:
4 of 5 stars
Pain does not take a break just because we're happy. What makes us aware of the strength we possess and the fighter that we are is the ability to face life's surprises, good or bad head on.
Fighting for His Wife
is about having the faith to fight courageously in times of adversity. Tucker is in for the fight of his life. His marriage is falling apart. His wife, has disappeared and he wants answers. Cara pledged forever but a heartbreaking secret has her rethinking that vow. Love is more than pretty words. It's about weathering the rocky road and the stormy winds together. A powerful story of conviction and wisdom.
View all my reviews
TROUBLEMAKER BY LINDA HOWARD
SYNOPSIS
A thrilling, fast-paced novel of romantic suspense from sensational New York Times and USA Today bestselling author Linda Howard.
For Morgan Yancy, an operative and team leader in a paramilitary group, nothing comes before his job. But when he's ambushed and almost killed, his supervisor is determined to find out who's after the members of his elite squad—and why. Due to worries that this unknown enemy will strike again, Morgan is sent to a remote location and told to lay low and stay vigilant. But between a tempting housemate he's determined to protect and a deadly threat waiting in the shadows, keeping under the radar is proving to be his most dangerous mission yet.
The part-time police chief of a small West Virginian mountain town, Isabeau "Bo" Maran finally has her life figured out. She's got friends, a dog, and a little money in the bank. Then Morgan Yancy shows up on her doorstep. Bo doesn't need a mysterious man in her life—especially a troublemaker as enticing and secretive as Morgan.
The harder they fight the intense heat between them, the closer Morgan and Bo become, even though she knows he's hiding from something. But discovering the truth could cost Bo more than she's willing to give. And when Morgan's cover is blown, it might just cost her life.
BUY LINKS
Amazon
B & N
Google Play Books
IBooks
Kobo
REVIEW
:
TROUBLEMAKER BY LINDA HOWARD
Troublemaker
by
Linda Howard
My rating:
3 of 5 stars
Troublemaker
served as a reminder of why I'm a Linda Howard fan, but it took me completely out of my comfort zone. I am not now, nor have I ever been a paranormal fan, but there are authors that can get me to take a chance on a new genre. Ms. Howard is one of those. Her fast paced stories have always drawn my attention. Bo and Morgan had the complexity that I love and the mystery that I crave from suspense novels. More thriller than romance this story has chops to get the heart pumping but proved a little much for my taste.
View all my reviews
Original post:
ishacoleman7.booklikes.com/post/1507709/now-available