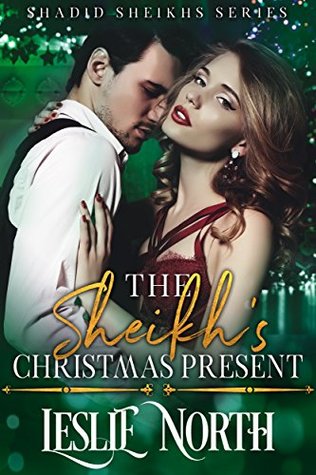 READ AND REVIEW
THE SHEIKH'S CHRISTMAS PRESENT (SHADID SHEIKHS) BY LESLIE NORTH
Release Date: December 13, 2016
SYNOPSIS
The Christmas season is a time for giving, and pilot Maria Walken has a planeload of gifts she's gathering for Syrian refugees. Her charity has gotten a bad rap, and this time she's determined to get her cargo delivered in time for the holiday. When a businessman shows up in need of a lift, she can't stand his display of wealth…or the way he takes her breath away. But when he offers a large donation to her charity, Maria can hardly refuse.

Sheikh Jarik Shadid is trying to make it to Lebanon to testify against a former friend. With his need for discretion and few options to choose from, he's more than willing to contribute to Maria's charity in exchange for a seat on her cargo plane. But as a freak snowstorm blows in extending their travel plans, Jarik's sensible exterior is starting to crack under the beautiful weight of the principled pilot.

Maria always promised herself she'd never fall for a rich man, but as they work to spread holiday cheer, she's beginning to wonder if Jarik is everything she's ever wanted for Christmas.
BUY LINKS
Amazon B & N Google Play Books IBooks Kobo
REVIEW: THE SHEIKH'S CHRISTMAS PRESENT (SHADID SHEIKHS) BY LESLIE NORTH
The Sheikh's Christmas Present by Leslie North

My rating: 4 of 5 stars


Who needs mistletoe when a snowstorm can prove just as rewarding? Jarik is easy on the eyes, with a bank account big enough to draw anyone's attention. Maria leads with her heart. This firecracker wants to make a difference in the world and her charity work helps her do just this that. When Mr. Ego and Ms. Chip on Her Shoulder meet the chill in the air quickly becomes a raging inferno. The Sheikh's Christmas Present brought heated exchanges and magical moments as it lit up my heart with this dynamite duo.



View all my reviews
THE SHEIKH'S CHRISTMAS MAID (SHADID SHEIKHS) BY LESLIE NORTH
Release Date: December 8, 2016
SYNOPSIS
The snow is falling, the fires are blazing, and Poppy Milenne is hard at work. While the housemaid preps for a wealthy guest, she's hardly expecting someone young and handsome. Imagine her surprise when the man who comes to spend the Christmas holiday is the charismatic Sheikh Shadid. The playboy prince arouses Poppy's thirst for adventure, but giving in to temptation would mean risking her job…and her heart.

Sheikh Samir Shadid can't stand spending the holidays alone. Christmas reminds him of a time he'd like to forget, and what better way to do so than with a willing woman. His father may have sent him away for safety, but that doesn't mean he can't enjoy himself while he's here. When the beautiful American maid catches his eye, Samir is determined to seduce her in time for Christmas.

Samir is looking for a holiday fling, but Poppy soon gets under his skin. And the more time she spends with him, the harder he is to resist. While the weather may be cold outside, inside 'tis the season for love.
BUY LINKS
Amazon B & N Google Play Books IBooks Kobo
REVIEW: THE SHEIKH'S CHRISTMAS MAID (SHADID SHEIKHS) BY LESLIE NORTH
The Sheikh's Christmas Maid by Leslie North

My rating: 4 of 5 stars


Snow, matchmaking and a bad boy. Oh My! The Sheikh's Christmas Maid is a common theme with some modern sizzle. The originality was somewhat lacking but the chemistry between Samir and Poppy made up for some of that. Surprising twists made for a entertaining romance.



View all my reviews


TEACH YOUR HEART: A NEW ZEALAND OPPOSITE ATTRACT ROMANCE (FAR NORTH)
SYNOPSIS
Some lessons are harder to learn than others…

Doctor O-for-Awesome Owen Bennett is all about fixing broken things. Then the arrival of his orphaned nieces and nephew for twelve weeks causes his workaholic life to plummet into chaos. Hiring the beautiful but unpredictable Gracie Cooper as a live-in nanny might just get him out of a tight spot…or it could seduce him into a reckless affair.

After four years flitting around Europe, waitress/dog-walker/au-pair Gracie Cooper has returned home to New Zealand. Her plans to hang out with her big brother change when Owen offers a perfect solution to her crippling university debt. In spite of her sexy-stick-in-the-mud boss, she'll spend fun days playing in Bounty Bay's sand and surf with three cute kids. At summer's end she'll follow the sun overseas again.

Gracie and Owen's opposites-attract connection is so unexpected and powerful that their foundations are rocked. But some things aren't easy to fix. Some past hurts can't be run from forever. And the lessons they teach each other risk breaking their hearts.
BUY LINKS
Amazon B & N Google Play Books IBooks Kobo
REVIEW: TEACH YOUR HEART: A NEW ZEALAND OPPOSITE ATTRACT ROMANCE (FAR NORTH)
Teach Your Heart by Tracey Alvarez

My rating: 5 of 5 stars


Teach Your Heart is such a sweet feel good story. I think I got a cavity just from reading it. The beauty of the story is the message it relays. Sometimes the biggest surprises are the most rewarding. I thought the little girls were adorable and the romance an awesome bonus. A winner in my eyes.



View all my reviews
Original post: ishacoleman7.booklikes.com/post/1505830/currently-available