READ AND REVIEW
COMING SOON: THE BRIDE WORE STARLIGHT (SEVEN BRIDES FOR SEVEN COWBOYS #3) BY LIZBETH SELVIG
Release Date: February 9, 2016
SYNOPSIS
Once comfortable on stage in front of thousands, Joely Crockett is now mortified at the thought of walking—or rolling—down the aisle at her sisters' wedding. Scarred and wheelchair-bound, the former beauty queen has lost more than the ability to walk—she's lost her fire. But when one handsome, arrogant guest accuses her of milking her injuries and ignites her ire, Joely finally starts to feel truly alive again, and soon it's impossible for her to resist her heart's desire.
Alec Morrissey knows a little something about loss. A famous rodeo cowboy before he was injured in Iraq, he's managed to create something of a normal life, even if it's not the one he always imagined. Encountering stunning but damaged Joely, he sees a kindred spirit who can learn from his mistakes.
As these two healing souls begin to fall in love under the Wyoming stars, they must discover if they are willing to give in to the tragedies of life or fight for a future together.
BUY LINKS
Amazon B & N Google Play Books IBooks Kobo
REVIEW: THE BRIDE WORE STARLIGHT (SEVEN BRIDES FOR SEVEN COWBOYS #3) BY LIZBETH SELVIG
The Bride Wore Starlight by Lizbeth Selvig

My rating: 5 of 5 stars


Lizbeth Selvig's writing connects to her readers. The Seven Brides for Seven Cowboys series was a discovery I do not regret. Thanks to Avon, Edelweiss and Ms. Selvig, I have loved every single book. Have nicknamed them the five star collection and will continue until the end. I was blessed to received an ARC of The Bride Wore Starlight in exchange for an honest review. It would have been so easy to see this read as a dismal look at life's heartbreaking moments. However, with a little bit of laughter, quite a few tears and outstanding writing this story became about appreciating the blessings and the lessons from each experience whether good or bad. Make the most of the time you have and the people you love. I am getting emotional just from writing this review.



View all my reviews
Don't miss one book from this emotional series!!!
THE BRIDE WORE DENIM (SEVEN BRIDES FOR SEVEN COWBOYS #1) BY LIZBETH SELVIG
SYNOPSIS
When Harper Lee Crockett returns home to Paradise Ranch, Wyoming, the last thing she expects is to fall head-over-heels in lust for Cole, childhood neighbor and her older sister's long-time boyfriend. The spirited and artistic Crockett sister has finally learned to resist her craziest impulses, but this latest trip home and Cole's rough-and-tough appeal might be too much for her fading self-control.
Cole Wainwright has long been fascinated by the sister who's always stood out from the crowd. His relationship with Amelia, the eldest Crockett sister, isn't as perfect as it seems, and with Harper back in town, he sees everything he's been missing. Cole knows they have no future together—he's tied to the land and she's created a successful life in the big city—but neither of them can escape their growing attraction or inconvenient feelings.
As Harper struggles to come to grips with new family responsibilities and her forbidden feelings for Cole, she must decide whether to listen to her head or to give her heart what it wants.
BUY LINKS
Amazon B & N Google Play Books IBooks Kobo
REVIEW: THE BRIDE WORE DENIM (SEVEN BRIDES FOR SEVEN COWBOYS #1) BY LIZBETH SELVIG
The Bride Wore Denim by Lizbeth Selvig

My rating: 5 of 5 stars

The Bride wore Denim is a fun, yet unique story. Can I just say the title drew my attention to the book. It fits Harper's personality perfectly. Harper has never been afraid to stand out. Now she is determined to blend in and make her family proud. At ever turn she is finding that just is not who she is. The things she tries to change are what Cole likes most about her. The problem? Cole belongs to someone else. The Bride Wore is Denim encourages being true to who and what a person is meant to be. Being unique is what makes us special. I received an ARC of this story from Edelweiss for an honest review.


View all my reviews
THE BRIDE WORE RED BOOTS (SEVEN BRIDES FOR SEVEN COWBOYS #2) BY LIZBETH SELVIG
SYNOPSIS
Dr. Amelia Crockett's life was going exactly the way she had always planned—until one day it wasn't.
When Mia's career plans are shattered, the always-in-control surgeon has no choice but to head home to Paradise Ranch and her five younger sisters, cowboy boots in tow, to figure out how to get her life back on track. The appearance of a frustrating, but oh-so-sexy, former soldier, however, turns into exactly the kind of distraction she can't afford.
Even though Mia can't stand the sight of him, Gabriel Harrison has never returned the sentiment. He can't seem to resist teasing the gorgeous doctor who pushes all of his buttons. And the searing hot kisses they share are turning him inside out.
As she begins to work with Gabe, helping former vets recover from severe PTSD with the aid of some wild Mustangs, Mia finds herself becoming more like the person she used to be. She never expected to alter her life plans, and definitely never expected to fall for anyone, least of all the handsome Gabe. But fate and some lucky red boots have a way of changing things. As their lives become more complicated, will Mia and Gabe's love be enough to smooth the way to a happily ever after?
BUY LINKS
Amazon B & N Google Play Books IBooks Kobo
REVIEW: THE BRIDE WORE RED BOOTS (SEVEN BRIDES FOR SEVEN COWBOYS #2) BY LIZBETH SELVIG
The Bride Wore Red Boots by Lizbeth Selvig

My rating: 5 of 5 stars


With her Seven Brides for Seven Cowboys series, Lizbeth Selvig has created story lines that are uplifting, entertaining and compelling. I have had the pleasure of reading The Bride Wore Denim (#1) and The Bride Wore Red Boots(#2). Ms. Selvig has centered these stories around two women that to the outside world appear sure of themselves and focused. Yet underneath it all are the normal human flaws. Insecurities, unhappiness, and longing for something more.
A visit home proves to be just the medicine. It opens up new opportunities in life and love. I received an ARC of The Bride Wore Red Boots in exchange for an honest review.



View all my reviews
__________________________________________________________________
NEW RELEASE: HARD EVER AFTER (HARD INK) BY LAURA KAYE
Release Date: February 2, 2016
SYNOPSIS
Justice served. Honor restored. Team reunited.
After a long battle to discover the truth, the men and women of Hard Ink have a lot to celebrate, especially the wedding of two of their own—Nick Rixey and Becca Merritt, whose hard-fought love deserves a happy ending.
As Nick and the team shift from crisis mode to building their new security consulting firm, Becca heads back to work at the ER. But amid the everyday chaos of demanding jobs and their upcoming nuptials, an old menace they thought long gone reemerges, threatening the peace they've only just found.
Now, for one last time, Nick and Becca must fight for their always and forever, because they know that when true love overcomes all the odds it lasts hard ever after.
BUY LINKS
Amazon | Barnes & Noble | iBooks |Kobo
REVIEW: HARD EVER AFTER (HARD INK) BY LAURA KAYE
Hard Ever After by Laura Kaye

My rating: 4 of 5 stars


Hard Ever After is short, but not sweet. Laura Kaye manages to cram a ton of excitement into one novella. This story is a celebration of love and friendship. It is also a new beginning of sorts. Nick and Becca are on the verge of starting their new life together. Nick and friends are starting a new consulting business and an old foe lies in wait. Sound exciting. It is. I loved seeing what old friends where up to. Life is full of changes but family is the one constant in a shaky world. I recieved an ARC in exchange for an honest review.



View all my reviews
_______________________________________________________________
BEST WORST MISTAKE (BRIGHTWATER # 3) BY LIA RILEY
SYNOPSIS
Sometimes the worst mistakes turn out to be the best…

Smoke jumper Wilder Kane once reveled in the rush from putting out dangerous wildfires. But after a tragic accident, he's cut himself off from the world, refusing to leave his isolated cabin. When a headstrong beauty bursts in, Wilder finds himself craving the fire she ignites in him, but letting anyone near his darkness would be a mistake.

After her Hollywood life went up in smoke, Quinn Higsby decided to leave Tinseltown behind and return to Brightwater to care for her ailing father. She spends her days in a small bookstore, until her peaceful existence is up-ended by a fascinating but damaged man. Quinn is determined not to be scared off by Wilder, not once she's experienced the heat of his passions.

But when an arsonist targets the community and Wilder is accused, he must confront the ghosts of his past. Will his desire for Quinn burn him up or will he be able to tame the wildness inside and rekindle a hope for their future?
BUY LINKS
Amazon B & N Google Play Books IBooks Kobo
REVIEW: BEST WORST MISTAKE (BRIGHTWATER # 3) BY LIA RILEY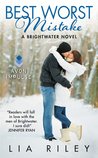 Best Worst Mistake by Lia Riley

My rating: 4 of 5 stars


Wilder is a complicated character. He;s shut himself off like a wounded animal. Quinn is the answer to a prayer. She has her own pain to work through but in Wilder she sees a man who not only needs a friend but love as well. Quinn represents what Wilder never thought to regain his dreams. This is a story of healing. The story is rich with emotion.




View all my reviews
Original post: ishacoleman7.booklikes.com/post/1337485/avon-impulse-knows-how-to-do-romance