THE REMINGTONS: PITCHING FOR LOVE (KINDLE WORLDS NOVELLA) BY AMY MANEMANN
Release Date: March 2, 2016
SYNOPSIS
Tough as nails publicist, Mia Scott, has built her career by dodging the advances from her elite clientele. Her number one rule; never mix business with pleasure. Until a split second decision leads her to a night of unbridled passion -- and the morning after blues when she discovers the man she spent an amazing night with is her newest client.

Professional baseball pitcher, Evan Ahrens, knows he messed up, and messed up royally. One mistake on the field puts him on thin ice with the league and lands him a new PR rep to fix his soiled image. He goes to NightCaps to toss back a few drinks and blow off some steam -- and meets his match in a feisty dark haired woman who takes him to heights he's never been. There's only one problem -- she's his new publicist, and she's made it clear there will be no repeat performances.

A battle of wills gives way to uncontrollable passion as Mia fights her growing feelings to keep things professional, while Evan decides for once in his life he wants something more. The game just went from saving his career, to pitching for love. 
REVIEW: THE REMINGTONS: PITCHING FOR LOVE (KINDLE WORLDS NOVELLA) BY AMY MANEMANN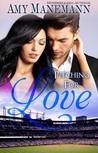 The Remingtons: Pitching for Love by Amy Manemann

My rating: 5 of 5 stars


Amy Maneman tries her hand a little guilty pleasure with Pitching For Love. Mia is no rule breaker but Evan has her rethinking that. I received an ARC of Pitching For Love in exchange for an honest review. The books I have read by this author in the past have not been full of scintillation sexual tension. She should try it more often because it totally worked in this story. I loved the heat but I also liked seeing the vulnerability Mia displayed. It showed she was just as insecure as Evan. This novel worked for me on so many levels. Looking forward to what is ahead for this author.



View all my reviews
THE REMINGTONS: CITY OF LOVE (KINDLE WORLDS NOVELLA) BY KAIRA ROUDA
Release Date: March 2, 2016
SYNOPSIS
Her heart is empty in the new life she's living.

Charlotte Taylor knows she's gorgeous. She's been told that all her life. Since she was a child, her mom, a former model and Miss Georgia, has been grooming her for a professional modeling career and tomorrow, she'll sign with the top agency in New York City. It should be a dream come true.

Alone, and unhappy, she doesn't know where to turn.

Hale Scott works long hours as a chef at the hottest restaurant in Manhattan. It should be his dream job, serving hip food to the coolest crowd in the city. The only problem is his boss. The highlight of his evening is the gorgeous woman he keeps making eye contact with, sitting at the table closest to the kitchen. She looks sad and lonely and he hopes she's still there when the dinner rush subsides.

Charlotte and Hale find an instant connection but a relationship is the last thing Charlotte needs and the only thing Hale wants. Can they find a way to stay together in the overwhelming city, or can they find their own city of love?

Cameo by: Siena Remington from Melissa Foster's Flames of Love
REVIEW: THE REMINGTONS: CITY OF LOVE (KINDLE WORLDS NOVELLA) BY KAIRA ROUDA
The Remingtons: City of Love by Kaira Rouda

My rating: 5 of 5 stars


Charlotte is so much more than a pretty face. Why can't anyone understand that?
Hale leads a life that is hectic and unsatisfying. He has a job he loves but a boss he hates and his brightest moments are spent watching a woman who doesn't know he exists. I received an ARC of City of Love in exchange for an honest review. There is a wistful quality to this read. Hale and Charlotte were living their dream careers in the big city but are not happy. They want more than just work and adoration from their peers.
City of Love is a story about making the choice that is right for you when others don't agree. Lovely story.



View all my reviews
THE REMINGTONS: CRAZY LOVE (KINDLE WORLDS NOVELLA) BY CALINDA B
Release Date: March 2, 2016
SYNOPSIS
Skilled "tiger whisperer" Kennedy Swift is on a mission to get her life on track and escape the people who want to do her harm. Running into Dante Vega isn't on the plan. When her gaze lands on Dante, the same obsession and longing she experienced in her senior year comes roaring back to life. She simply can't afford to let him in. End of story.

An unexpected, surprise encounter at a tiger sanctuary in the Bronx leaves mega-superstar musician Dante Vega reeling. Is the woman being charged by the tiger, about to lose her life, the same woman he crushed hard on at his exclusive private Manhattan high school before she vanished?

Each of their lives has been marred by tragedy. Each carries secrets, too dark to reveal. Will their secrets tear them apart? Or will they find the courage to come clean, risking all to find love?

Cameo appearances from Dex Remington, Ellie Parker, Mitch Anziano and Regina Smith, from Game of Love.
REVIEW: THE REMINGTONS: CRAZY LOVE (KINDLE WORLDS NOVELLA) BY CALINDA B
The Remingtons: Crazy Love by Calinda B.

My rating: 4 of 5 stars


There is something so invigorating about discovering a new author. That feeling of traveling into the unknown is a little scary. Crazy Love gave me that feeling throughout, which proved great because I experienced the fear and uncertainty Kennedy did more realistically. Through her of course. Calinda B has written a story about facing fears and moving forward in a mental and literal way. There is so much heartache in this story but there are also moments of inspiration that make the tears easier to take. I received an ARC of Crazy Love in exchange for an honest review. The road to healing proved treacherous but ending up being worth ever step.



View all my reviews
________________________________________
CURRENTLY AVAILABLE!
THE REMINGTONS: PULLED BY LOVE BY AMY MANEMANN (KINDLE WORLDS NOVELLA)
SYNOPSIS
After years of paying her dues, Ava Sweet finally owns the taffy shop of her dreams. Her grandmother's signature recipes are beginning to make a statement in Soho, NY, and with the help of her friend, Leanna Remington, she has her eyes set on the upcoming Big Apple Sweets Convention to put her shop on the map. The only problem, she's been accused of stealing a recipe by the hunky Boy Scout from the fudge and candy shop next door.

Hudson James is always ready and willing to lend a helping hand, especially at his family's fudge and candy shop. They're looking to showcase some new recipes at the upcoming sweets convention in the hopes of regaining the notoriety their shop has always been known for. Until the owner of the taffy shop next door creates a recipe so similar to theirs that Hudson doesn't hesitate to call her out on it.

In a world of sugary creations and high pressure candy making, adding a dash of romance isn't part of the recipe. With the sweets convention only a week away, Ava and Hudson will need to try and keep their eye on the prize, even while their hearts are being pulled by love.
BUY LINKS
REVIEW: THE REMINGTONS: PULLED BY LOVE BY AMY MANEMANN (KINDLE WORLDS NOVELLA)
The Remingtons: Pulled by Love by Amy Manemann

My rating: 5 of 5 stars


A fun, sweet confection of a read. Hudson and Ava strike sparks off each other from the first moment they meet. Each has a strong sense of family loyalty and overpowering sense of personality. Amy Manemann found the perfect recipe for Pulled By Love. Two hot temperamental characters, sugary sweets, sexual tension, chemistry with a strong mixture of romantic fun. Stir it all together and you have the perfect combination of a fantastic read. Received a copy of The Remingtons: Pulled by Love for an honest review.



View all my reviews
THE REMINGTONS: A TEXAS KIND OF LOVE (KINDLE WORLDS NOVELLA) BY MELISSA STORM
SYNOPSIS
Louise Stark left her small Texas home town during high school and vowed never to look back. Unfortunately, she has no choice when she is called in to settle the estate of a great aunt she hardly knew. With her best friend Siena Remington in tow, she reluctantly takes a trip across the country and back into her past—planning to return to her fast-paced Manhattan life as quickly as possible.

Brady Williams leads a life filled with adventure, danger, and fame as the star bronco rider in a traveling rodeo. Proud of his reputation as the sexiest bad boy in Texas, he knows he can have any woman he wants. So why can't he get his mind off straight-laced Louise, the girl he shared his first kiss with back in elementary school? And, more importantly, how can he convince her to stay in Jefferson long enough to give him a chance?

Louise and Brady are about to find out that no amount of distance can stand in the way of two hearts that fit perfectly together. So saddle up and get ready to fall in love with this sweet Western romance inspired by Melissa Foster's Remington series.
BUY LINKS
REVIEW: THE REMINGTONS: A TEXAS KIND OF LOVE (KINDLE WORLDS NOVELLA) BY MELISSA STORM
The Remingtons: A Texas Kind of Love by Melissa Storm

My rating: 5 of 5 stars


Reviewed for Candid Book Reviews

I am new to author Melissa Storm and to Kindle Worlds format. For this reason I was not sure what to expect. A Texas Kind of Love proved to be just my type of story. Short, sweet and with a great deal of emotional depth. Ms. Storm created a story full of strong characters, life lessons and emotion all in one little package.



View all my reviews

THE REMINGTONS: SPOTLIGHT ON LOVE (KINDLE WORLDS NOVELLA) BY KAIRA ROUDA
SYNOPSIS
Since childhood, Olivia Larson has dreamed of becoming a top fashion model. Recruited by an elite New York agency, she's about to board a private plane to fly to the Big Apple. As a promise to her dedicated mom, she's focused on her career, and nothing else, but that determination is challenged when a sexy and secretive celebrity arrives for the same flight.

Bad boy pop star Reed Ralston has been famous since he was a tween, pushed into the spotlight by an overbearing stage mom and appearing on a popular kids' TV show as a singer/ songwriter. Against the odds, and with dark secrets from a troubled childhood hidden from the press, Reed has transitioned into a successful adult star with a carefully manufactured image designed to keep him on top of the charts and in the pop-culture media.

Sometimes opposites attract immediately, as Reed and Olivia discover during their spark-filled, hour-long flight to New York. But what happens when that attraction is exposed to the harsh spotlight of fame will make all the difference.
BUY LINKS
REVIEW: THE REMINGTONS: SPOTLIGHT ON LOVE (KINDLE WORLDS NOVELLA) BY KAIRA ROUDA
The Remingtons: Spotlight on Love by Kaira Rouda

My rating: 4 of 5 stars


So much of the story centers on the differences between Olivia and Reed and the pressures of fame on their fledgling romance that it is almost forgotten about the one affinity they share. Overbearing stage moms. That connection was the spark that lit the fuse to this relationship. It takes some distance for Olivia to see how unhealthy that ultimate focus is to her life. These characters are not cartoons in a fairy tale world, They are real people, facing issues that are important to them. My infatuation with Reed was immediate. His imperfections, regrets and struggles were made him easy to fall in love with. I received a copy of Spotlight on Love in exchange for an honest review.



View all my reviews
CURRENTLY FREE!
GAME OF LOVE (LOVE IN BLOOM: THE REMINGTONS) BY MELISSA FOSTER
SYNOPSIS
Ellie Parker is a master at building walls around her heart. In the twenty-five years she's been alive, Dex Remington has been the only person who has always believed in her and been there for her. But four years earlier she came to Dex seeking comfort, and then disappeared like a thief in the night, leaving him a broken man.

Dex Remington is one of the top PC game developers in the U.S. He's handsome, smart, and numb. So damn numb that he's not sure he'll ever find a reason to feel again.

A chance encounter sparks intense desires in Ellie and Dex. Desires that make her want to run—and make him want to feel. A combination of lust and fear leads these young lovers down a dangerous path. Is it possible to cross a burned bridge or are they destined to be apart forever?
BUY LINKS
Amazon B & N Google Play Books IBooks Kobo
Original post: ishacoleman7.booklikes.com/post/1343598/coming-soon-the-remingtons-kindle-worlds-novella