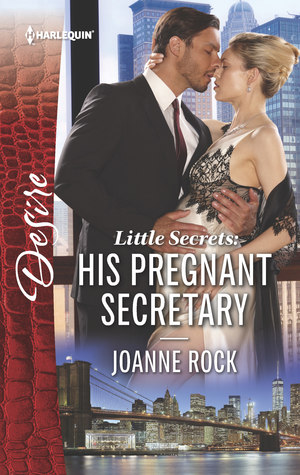 His Pregnant Secretary
By Joanne Rock
Little Secrets
The McNeill Magnates #4
Harlequin Desire #2560
Mass Market Paperback & eBook
December 2017
LITTLE SECRETS: HIS PREGNANT SECRETARY BY JOANNE ROCK
Release Date: December 1, 2017
SYNOPSIS
The boss's baby bargain…

Becoming a father was never part of Jager McNeill's plan, until the heat between him and his luscious assistant turned into searing passion. Now Delia Rickard is carrying his baby. After growing up without a father, Jager's determined to be there for his child. And marriage would ensure that. But despite their chemistry, Delia's unwilling to marry for anything less than love.

A trip with Jager to Manhattan could change all that. For in this enchanting city ablaze with Christmas lights, romance begins to blossom. And a kiss under the mistletoe just might turn into lasting love.
REVIEW: LITTLE SECRETS: HIS PREGNANT SECRETARY BY JOANNE ROCK
Little Secrets: His Pregnant Secretary by Joanne Rock

My rating: 4 of 5 stars


Their journey began with friendship, but a passionate encounter changed all that. Life just got complicated. An unplanned pregnancy, family issues and insecurities disrupt the burgeoning attraction between Jager and Delia, but one well guarded secret could spell the end of a chance at forever before hello has even begun. His Pregnant Secretary is a chance to get acquainted with a new branch of McNeill men and maybe even solve a mystery.



View all my reviews
EXCERPT
…"There's a lot about the McNeill lifestyle that's impressive," she noted dryly, straightening.
It was a welcome change of subject.
"We've been fortunate financially," he admitted, wondering how he could tempt her into eating something. To keep her strength up. "But I hope you know I'd trade it all to see Damon happy again. Hell. I'd trade it all to see him." Jager worried about him. Damon wasn't himself when he'd left.
Jager grabbed the white china plate Delia had set aside and refilled it. It might not be a high-risk pregnancy, but she still needed to take care of herself. He'd read online that exhaustion would kick in over the next few weeks and she could lose her appetite even more.
"I wonder where he went?" She frowned down at the plate as he handed it to her, but she took a raspberry and popped it in her mouth. "Do you think he had a plan?"
"I think he was going to look for Caroline himself. Visit places her credit card was used in the last year. I spoke briefly to the investigator Cameron told us about—the one who said he could find Damon. But ultimately, I know my brother wants to find the men responsible for his wife's disappearance."
"That sounds dangerous. Can you stop him?" Delia set her plate aside again, worry etched in her features. Damn it. He hadn't meant to upset her. "Before he does something rash?"
He hesitated. The truth would only make her more uneasy. But Delia had been lied to before. He had no option besides being completely forthright.
"I'm not sure I'd want to, even if I could." The police had honored a request from Caroline's father that they "respect his daughter's wish for privacy." But Jager didn't believe for a moment that she'd left by her own free will, and neither did Damon.
Unfolding herself from the couch cushion, Delia rose to her feet. Clearly agitated, she paced around the sofa before returning to the window.
"But he could get in serious trouble." She laid a hand on the back of Jager's. "I didn't have time to get to know Damon very well before you all left Martinique, but I spoke with him often enough to realize he's a good person. If you could talk to him, you could convince him to speak to the police again."
Jager came to his feet, wishing he had more comfort to offer her. But his words were unlikely to ease her mind.
"Men came into his house. Took the woman he loved. And, as far as we can tell, those same men let her die alone at sea rather than return her to him after he did everything they asked." Talking about it made him agitated. Putting himself in Damon's shoes lit a fiery rage inside him. "If someone hurt you, I'd turn over heaven and earth to find them too. How can I blame my brother for doing the same?"
His heart slugged hard as he wrapped his arms around her, drawing her close.
"What if he finds the men he's searching for? He could get hurt. Or killed. Or end up in prison for the rest of his life if he—" Delia objected.
He gently quieted the torrent of worries with a finger on her lips.
"He's already suffering more than we can imagine. I'm not sure there's any punishment worse than what he's going through right now."
When she sighed, her shoulders sagging, he shifted his finger away from her soft mouth, feeling his way along her smooth cheek. His hand traveled down her warm neck to the curve of her collarbone, mostly bare above the square neck of her nightgown.
"Damon's in hell." The truth had been apparent to Jager when they parted. "He may never have the chance to touch his wife this way again."
He meant to comfort Delia somehow, but as he glanced up into her hazel eyes, he wondered if he was the one who needed the warmth of this connection. The solace of her touch.
The vanilla scent of her skin beckoned him. Her hair, still damp from a bath, was beginning to dry in soft waves. And damn it all, no matter who needed who, he couldn't deny himself the feel of her any longer.
Gently, he tipped her head back, giving her time to walk away if she chose. But her eyelids slowly lowered, her lashes a dark sweep of fringe fluttering down. He kissed her there. One press of his lips to the right eye. One press of his lips to the left.
Her raspberry-scented breath teased his cheek in a soft puff of air. Her fingers trailed lightly up his arm through the worn cotton of the well-washed Henley shirt that he'd pulled on along with a pair of sweats after his shower. The light, tentative feel of her hands on him seared away the conversation they'd been having. All he cared about was touching her.
Tasting her.
Cradling her face in his hands, he waited for her eyes to open again. He wanted to see acceptance there. When her entranced gaze found his, there was more than just acceptance. He saw hunger. A need as stark as his own.
About Joanne Rock:
Four-time RITA nominee Joanne Rock has never met a romance sub-genre she didn't like. The author of over eighty books enjoys writing a wide range of stories, most recently focusing on sexy contemporaries and small town family sagas. An optimist by nature and perpetual seeker of silver linings, Joanne finds romance fits her life outlook perfectly--love is worth fighting for. A frequent speaker at regional and national writing conferences she enjoys giving back to the writing community that nurtured and inspired her early career. She has a Masters degree in Literature from the University of Louisville but credits her fiction writing skills to her intensive study with friend and fellow author Catherine Mann. When she's not writing, Joanne enjoys travel, especially to see her favorite sports teams play with her former sports editor husband and three athletic-minded sons.
Social Media links:
Facebook http://facebook.com/JoanneRockAuthor
Twitter http://twitter.com/JoanneRock6
IG https://www.instagram.com/joannerock6/
Pinterest https://www.pinterest.com/jrockauthor/
Amazon https://www.amazon.com/Joanne-Rock/e/B004N4QDM8/ref=la_B004N4QDM8
Bookbub https://www.bookbub.com/authors/joanne-rock
Newsletter http://www.joannerock.com/sign-up-for-joannes-newsletter/
Original post: ishacoleman7.booklikes.com/post/1621798/new-release-little-secrets-his-pregnant-secretary-by-joanne-rock