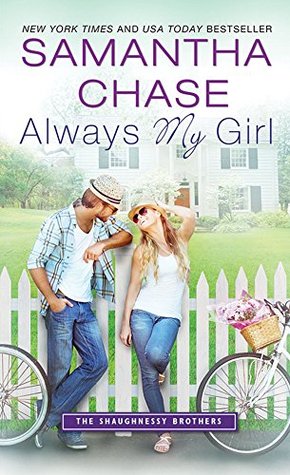 READ AND REVIEW
ALWAYS MY GIRL (THE SHAUGHNESSY BROTHERS) BY SAMANTHA CHASE
Release Date: July 5, 2016
SYNOPSIS
Book #3 in New York Times and USA Today bestselling author Samantha Chase's dazzling new series.

The Shaughnessy Brother you've been waiting for!
Sometimes the love that's closest to you is the hardest to see.
Quinn Shaughnessy's two older brothers have found their true loves ... but Quinn's not about to join that parade. Nope, as he tells his best friend Anna, there's a lot more to life than getting tied down to one person. He's positive tomboy Anna will be on his side - except she's inexplicably developing other interests - even dating! Suddenly Quinn is seeing Anna in a very different light.
Quinn has been Anna's buddy since they were both five years old. She can tell him anything - except the one big secret she's been hiding for years - that she's fallen in love with him. Now Anna is determined to make a life for herself that doesn't include pining for Quinn. Falling in love with your best friend? Easy. Telling them how you really feel? Impossible.
BUY LINKS
Amazon B & N Google Play Books IBooks Kobo
REVIEW: ALWAYS MY GIRL (THE SHAUGHNESSY BROTHERS) BY SAMANTHA CHASE
Always My Girl by Samantha Chase

My rating: 5 of 5 stars


With Love Walks In having been a tearjerker, Always My Girl has lightened things up with Quinn and Anna's story. Sometimes less is more. Samantha Chase came back swinging with this hilarious take on romance. Quinn does not do well with change, so when his best friend turns the tables on him and goes from girl next door to woman of his dreams anything can happen. Always My Girl is a fun friends to lovers novel that proves the versatility of Ms. Chase. She can do it all.




View all my reviews
THE FAMILY MAN BY KELLY EADON
Release Date: July 5, 2016
SYNOPSIS
TEMPTATION NEVER TASTED SO SWEET...

When life hands lemons to Beth Beverley, she makes mouthwatering lemon squares. Mostly because they're coveted by the sexy single dad who owns Belmont's most popular coffee shop. But that's where her crush on Griffin has to end. Her sweet treats are selling like crazy cakes in his shop, and she doesn't mix business with pleasure. Too bad his sinful smile has her flirting with the idea of forever.

Griffin Hall definitely needs to keep his eyes--and his hands--off Beth. Since he's traded in late-night gigs and partying for bedtime stories with his little girl in his arms, he doesn't have time for anything else. So why does Beth's big heart and easy way with his daughter make him finally feel alive again? But there's a little secret Beth doesn't know, something he can't bear to tell her . . .
BUY LINKS
Amazon B & N Google Play Books IBooks Kobo
REVIEW: THE FAMILY MAN BY KELLY EADON
The Family Man by Kelly Eadon

My rating: 5 of 5 stars


ARC Review: The Family Man By Kelly Eadon

The beautiful artwork on the cover attracted my attention. The book description drew me in and Kelly Eadon's story captured my heart. There is something refreshingly sweet about a man like Griffin. Sacrificing in every way imaginable in order for his little girl to have the love and security that she needs and deserves. He's one of the good ones. What's ironic is that he does not see how much of a good father he actually is. It takes the hands of fate, small town living and the love of a good woman to open his eyes. Beth has a big heart, a love of baking and an attraction to one of her most profitable clients. The problem is the baggage that they both carry is heavier than either realizes. It will take a precocious child, a fiery attraction and a whole lot of faith to convince her to take a chance. I received an ARC of The Family Man for an honest review. The adorable romance, charming town and heartwarming themes are an addictive combination.



View all my reviews
DREAMING UP A DARE (KINDLE WORLDS: DARE TO LOVE) BY CATHERINE GAYLE
Release Date: July 6, 2016
SYNOPSIS
Hockey star Jackson Maddox and gymnast Pepper Winters have been best friends since childhood…
Just friends.
When Jackson needs a date to a prestigious party, he calls upon his petite and dazzling BFF to be his arm candy for the night. Nothing could be better than walking into a room with Pepper on his arm. Jackson won't ever admit how he really feels about her, because they're…
Just friends.
With her gymnastics career over, Pepper welcomes a chance to let her freak flag fly—especially with Jackson by her side. Pepper can't confess she's loved him since childhood. He's her best friend, and there's no reason to jeopardize what they've got. But they're still…
Just friends.
But when a seemingly harmless game of Truth or Dare gets a little too close and entirely too personal, can Jackson dream up a dare that could give them both what they really want?
BUY LINKS
Amazon
REVIEW: DREAMING UP A DARE (KINDLE WORLDS: DARE TO LOVE) BY CATHERINE GAYLE
Dreaming Up a Dare by Catherine Gayle

My rating: 5 of 5 stars


ARC Review: Dreaming Up A Dare (Kindle Worlds: Dare To Love) by Catherine Gayle

Catherine Gayle picked a plot line that romance fans are familiar with and gave it her own author makeover. Pepper and Jackson's progression into more than friends is enlightening, sensual and sensitive. Ms. Gayle took me right over that cliff with this adorable couple. The way Jackson looked after Pepper was a romantic fantasy come to life and who knew innocent Pepper had a kinky side. What I liked most is that despite the sexy game of Truth or Dare, time and distance and career achievements and or disappointments, this duo always look out for each other. Dreaming up A Dare checked all the right boxes for me.



View all my reviews
Original post: ishacoleman7.booklikes.com/post/1429102/it-s-the-final-countdown-available-next-week