READ AND REVIEW
CHRISTMAS WITH THE SHERIFF (SHADOW CREEK, MONTANA) BY VICTORIA JAMES
Release Date: November 7, 2016
SYNOPSIS
After fleeing her beloved small town five years ago, Julia Bailey is back to spend Christmas with her family. Returning is hard, but keeping the devastating secret about her late husband is even harder. Her place isn't in Big Sky Country any longer...but the more time she spends with the irresistible Sheriff who saved her once before, and his adorable little daughter, the more Julia starts wishing she could let go of the past and start a new life.

Single dad and county Sheriff Chase Donovan had been secretly in love with his best friend's wife for years. But after her traumatic loss he knew Julia needed to get away from Shadow Creek, even though helping her leave was the last thing he wanted to do. Now she's home and he doesn't intend to lose her a second time. Chase is going to prove to Julia just how good they can be together this Christmas...and forever.
BUY LINKS
Amazon B & N Google Play Books IBooks Kobo
REVIEW: CHRISTMAS WITH THE SHERIFF (SHADOW CREEK, MONTANA) BY VICTORIA JAMES
Christmas with the Sheriff by Victoria James

My rating: 5 of 5 stars


ARC Review: Christmas With the Sheriff by Victoria James

Julia thought she had the perfect life until tragedy struck and left her with more questions than happy memories. There is nothing more heartbreaking than a mother having to bury her child. Julia's pain in that moment grabs hold and although unbearable to watch is hard to look away from. The fact that she lost the love of her life in that moment has repercussions in her life for years to come. Ms. James takes readers on a prolific journey that starts with heartache and tragedy but ends with healing and redemption. Christmas With the Sheriff is a story second chances. For Julia, a chance to unlock her heart and allow herself to be vulnerable and find happiness again. For Chase, a chance to risk exploring the feelings he's kept hidden. Victoria James makes it okay to ugly cry because a beautiful smile is only a heartbeat away.



View all my reviews
SNOWBOUND WITH MR. WRONG (SNOWFLAKE VALLEY) BY BARBARA WHITE DAILLE
Release Date: November 7, 2016
SYNOPSIS
Worst. Day. Ever. After Lyssa Barnett's sister tricks her into reprising her role at Snowflake Valley's annual children's party, she doesn't think anything can be worse than squeezing into her too-small elf costume. Then tall, dark, and way too handsome Nick Tavlock shows up to play Santa…and an unexpected storm leaves them snowbound in the isolated lodge.

The last thing Nick wants is to spend a cozy Christmas Eve with a trio of kids and the woman who dumped him. But as much as Lyssa frustrates him, he can't stop thinking about her. And soon, he's fighting very un-Santa-like thoughts of kissing a certain sexy Miss Elf under the mistletoe. As Nick starts to fall for Lyssa all over again, he knows it will take nothing short of a miracle to have Lyssa in his arms on Christmas Day.
BUY LINKS
Amazon B & N Google Play Books IBooks Kobo
REVIEW: SNOWBOUND WITH MR. WRONG (SNOWFLAKE VALLEY) BY BARBARA WHITE DAILLE
Snowbound with Mr. Wrong by Barbara White Daille

My rating: 5 of 5 stars


ARC Review: Snowbound with Mr. Wrong (Snowflake Valley) by Barbara White Daille

Snowbound with Mr. Wrong has all the right ingredients to heat things up. Take two clueless exes, add kids and an unexpected snowstorm for good measure and than wait for the sparks to begin. Things are about to get naughty this holiday season. Ms. Daille brings on the laughs with Nick and Lyssa. Lyssa is adorably frustrating, She has no clue how falling in love works. Nick is equally dense, but a temptation all the same. If the romance doesn't take away the chill, the laugh out loud antics sure will.



View all my reviews
HER UNEXPECTED ENGAGEMENT (CHECKERBERRY INN) BY KYRA JACOBS
Release Date: November 7, 2016
SYNOPSIS
Sometimes you've got to fake it 'til you make it…

Stephanie Fitzpatrick wanted out of the spotlight after her pro-golfer husband was caught on camera cheating. But when she returns to Michigan for a job interview and some much-needed R&R, a fib told by her well-meaning sister has her looking for a temporary fiancé, or she can kiss her new start good-bye.

Desperate to hide the truth, she goes to the one man who can help—her former best friend.

Miles Masterson is relieved to see the Checkerberry Inn beginning to thrive once more. Not only does it ease his mind about his grandmother's financial future, but also about his decision to finally escape town. But then one all grown up and sexy as hell friend from the past shows up needing rescue. Now the temptation to change the "temporary" arrangement into something more is making it harder to think about leaving.


Each book in the Checkerberry Inn series is a standalone, full-length story that can be enjoyed out of order.
BUY LINKS
Amazon B & N Google Play Books IBooks Kobo
REVIEW: HER UNEXPECTED ENGAGEMENT (CHECKERBERRY INN) BY KYRA JACOBS
Her Unexpected Engagement by Kyra Jacobs

My rating: 5 of 5 stars


ARC Review: Her Unexpected Engagement (Checkerberry Inn) by Kyra Jacobs

I love stories that have a small town vibe to them. The sense of family, the beautiful surroundings all appeal to me because I live in more of the big city where things are more fast paced. Kyra Jacobs caught my attention even more with the setting Michigan. I have lived in Michigan all of my life, so it was nice to see it get a shout out. Her Unexpected Engagement is the story of a woman taking back her life after an epic betrayal. Betrayed by her husband, hounded by the media and needed a fresh start, Stephanie heads home for a breather and ends up finding her destiny. Small town living, close knit family and the chance to see my state through new eyes. How could I not enjoy this novel.



View all my reviews
TURBULENT DESIRES (BILLIONAIRE AVIATORS) BY MELODY ANNE
Release Date: November 8, 2016
SYNOPSIS
ER nurse Lindsey Helm used to be strong. Then a late-night attack at the hospital nearly killed her and left two close colleagues dead. Now Lindsey has retreated from the world. She knows she needs to move on, but every hint of danger seems threatening—including a certain sexy fly boy who's determined to show Lindsey what she's missing. But falling for F-18 pilot Maverick Armstrong is a risk she can't afford…
Maverick knows that fear can eat away at the soul, and he won't leave Lindsey to that fate. She needs someone to reach her and to remind her of the exhilaration and unbelievable passion of being touched. He'll help her heal, and then he'll walk away. Hehas to walk away. Because Maverick swore he would never fall in love and never marry. But this is a rescue operation, and Maverick will stay the course—even if things get hazardous. Even if saving Lindsey means surrendering his heart in the process…
BUY LINKS
REVIEW: TURBULENT DESIRES (BILLIONAIRE AVIATORS) BY MELODY ANNE
Turbulent Desires by Melody Anne

My rating: 5 of 5 stars


Growing up Lindsey Helm may not have had much but she was secure in the fact that she was loved, protected and wanted to make a difference. That pureness of heart lead her into a career as an ER nurse. It was the best of both worlds. Not only could she make a difference, she could help others while doing it. But life can turn on a dime and one tragedy filled night has left it's mark on the once confident, positive thinking Lindsey. Guilt, pain and fear have become her constant companies and her worst enemies. Turbulent Desires is the second book in the Billionaire Aviators series. The drama was so real, I felt part of the story. Maverick proved himself to be more than a pretty face. His caring manner and soft heart helped to heal a broken spirit. Maverick and Lindsey had a mountain to climb and a river to cross but along the way proved that LOVE can calm any storm and breach the toughest walls.



View all my reviews
DIRTY SEXY SINNER (DIRTY SEXY) BY CARLY PHILLIPS AND ERIKA WILDE
Release Date: November 8, 2016
SYNOPSIS
Are you ready to get in bed with a SINNER?

After a lifetime of lies, deceit and betrayal, Jackson Stone isn't a man who trusts easily—with women being at the top of the list. Now he's all about control in every aspect of his life. Especially between the sheets. Hot, mutual pleasure with a woman? No problem, as long as he's in charge. But there's something different about sexy bartender Tara Kent that he finds irresistible, in bed and out. Something that has him willing to compromise his principles and bend his rules. Let the sinning begin.

ALL BOOKS IN THE DIRTY SEXY SERIES can be read on its own, or as a companion to the other book in the series:

Dirty Sexy Saint (Clay)
Dirty Sexy Inked (Mason)
Dirty Sexy Cuffed (Levi)
Dirty Sexy Sinner (Jackson)
BUY LINKS
Amazon B & N Google Play Books IBooks Kobo
REVIEW: DIRTY SEXY SINNER (DIRTY SEXY) BY CARLY PHILLIPS AND ERIKA WILDE
Dirty Sexy Sinner by Carly Phillips

My rating: 5 of 5 stars



ARC Review: Dirty Sexy Sinner (Dirty Sexy) by Carly Phillips and Erika Wilde

In my eyes Jackson was not a sinner, more of a lost soul. He spent a great deal of time searching for that missing piece that would allow him to feel loved, accepted and whole. Having followed the Dirty Sexy series from the beginning I can say in all honestly that although Clay and Levi can be bad like nobody's business, Mason and Jackson are the keepers of my heart. It was a tough choice between Mason (the sensitive protector) and Jackson (the heart of a bad boy with the soul of romantic) to decide on my favorite, so I'm calling it a draw. Dirty Sexy Sinner is my favorite of the series. Naughty and nice join together to tie up loose ends and strengthen the bonds of family. Along the way Ms. Phillips and Ms. Wilde constructed a love story for the ages. Family = Love = Happiness. Sad to see this series end.



View all my reviews
ONE SNOWY NIGHT ( HEARTBREAKER BAY) BY JILL SHALVIS
Release Date: November 8, 2016
SYNOPSIS
New York Times bestselling author Jill Shalvis returns to Heartbreaker Bay with a fun and festive holiday novella!

It's Christmas Eve and Rory Andrews is desperate to get home to the family she hasn't seen in years. Problem is, her only ride to Lake Tahoe comes in the form of the annoyingly handsome Max Stranton, and his big, goofy, lovable dog Carl.

Hours stuck in a truck with the dead sexy Max sounds like a fate worse than death (not), but Rory's out of options. She's had a crush on Max since high school and she knows he's attracted to her, too. But they have history… and Max is the only one who knows why it went south.

They've done a good job of ignoring their chemistry so far, but a long road trip in a massive blizzard might be just what they need to face their past… and one steamy, snowy night is all it takes to bring Max and Rory together at last.
BUY LINKS
Amazon B & N Google Play Books IBooks Kobo
REVIEW: ONE SNOWY NIGHT ( HEARTBREAKER BAY) BY JILL SHALVIS
One Snowy Night by Jill Shalvis

My rating: 5 of 5 stars



ARC Review: One Snowy Night (Heartbreaker Bay) by Jill Shalvis

I always have a blast reading Jill Shalvis. She puts her heart into her story and that love shines thru. Charming stories and irresistible characters are my weakness and this author put that on full display with One Snowy Night. Max and Rory are on a collision course with fate and nothing can stop the impact. When a writer can humanize an animal enough to steal the story without taking away from the plot line, I know she's a winner. The only bummer is that the trip was over too soon.



View all my reviews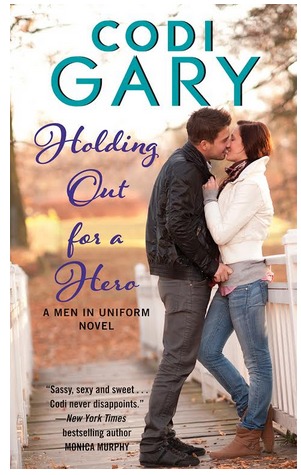 HOLDING OUT FOR A HERO (MEN IN UNIFORM) BY CODI GARY
Release Date: November 8, 2016
SYNOPSIS
He wasn't looking for love...

Two years after the death of his wife, Sergeant Blake Kline is still hurting. He isn't ready to date, but whenever he stops by his local diner and sees the friendly smile of his favorite waitress, he feels a spark of true happiness again. And when her life is unexpectedly threatened, Blake discovers his feelings for her might not be as platonic as he thought.

She was holding out for the hero of her dreams...

Bookworm Hannah York has always been a hopeless romantic—preferring book boyfriends to blind dates—and she's been day-dreaming about Blake since the moment he came into her diner. She's convinced they'll never be more than friends... until Blake kisses her and "weak in the knees" becomes more than just a line from her favorite romance novel. The closer Blake and Hannah get, however, the harder he fights to keep her at a distance.

But forever has a way of sneaking up on you...

When their blossoming relationship takes a complicated turn, Blake will have to face his past… or risk losing Hannah forever.
BUY LINKS
Amazon B & N Google Play Books IBooks Kobo
REVIEW: HOLDING OUT FOR A HERO (MEN IN UNIFORM) BY CODI GARY
Holding Out for a Hero by Codi Gary

My rating: 4 of 5 stars



ARC Review Holding Out for a Hero (Men in Uniform) by Codi Gary

Holding Out For A Hero is much more than the title. Hannah and Blake are two lonely hearts searching for a chance to be whole. Hannah is stuck in her fantasy of what a perfect man should be. Blake is living on heartbreaking memories of a love gone too soon. Basically, Hannah is leading with her heart and Blake his head. Problem is in order to stand a chance at building a future and finding happiness, they have to listen to both head and heart. Not one or the other. One of the reasons that I am a fan of Ms. Gary is that she is not afraid to show the vulnerabilities of the hero. The true measure of a man is not only his strength but the ability to expose his weaknesses as well. Holding Out For a Hero is a story that exudes the power of faith, the strength of love and the pain of moving on in the face of grief. Relate-able for anyone whose ever loved and loss.



View all my reviews
IT'S BEEN YOU (CRUSH ON YOU) BY RINA GRAY
Release Date: November 8, 2016
SYNOPSIS
Marketing manager Tiana Holliday just landed her dream job at an award-winning agency in New York City. There's just one problem: cocky playboy Nathaniel Lawson, her old grad school nemesis, is her new officemate.
As the firm's rising star, Nathan never had to compete for prime clients until all-work and no-play Tiana strutted into his workspace. When an opportunity arises to manage a lucrative sports car account and nab a big promotion, he challenges her to a wager: Loser does the winner's bidding for one month. But their friendly little competition suddenly threatens to erupt into an all-out battle of desire.
As they straddle the line between love and war, they just might discover that challenging each other outside the boardroom is even more satisfying than advertised.
BUY LINKS
Amazon | Barnes and Noble | Kobo | iTunes
REVIEW: IT'S BEEN YOU (CRUSH ON YOU) BY RINA GRAY
It's Been You by Rina Gray

My rating: 4 of 5 stars


ARC Review: It's Been You (Crush on You) by Rina Gray

From frenemies to love? Not very original, but that in no way takes away from the enjoyment of this sweet, smart and humorous battle of the sexes. The plot line may be obvious and hormones may be raging but that amps up the level of fun. Reading It's Been You, felt like rediscovering a favorite past time and picking up right where I left off.



View all my reviews
CHRISTMAS ON POINTE (SILVER BELL FALLS) BY SAMANTHA CHASE
Release Date: November 9, 2016
SYNOPSIS
It's Christmastime again in Silver Bell Falls and the whole town is getting in the spirit to help ballet teacher Abby Foster achieve her dream of opening her own dance studio!

Dancing has been Abby's dream for her entire life – but more than anything, she wanted that dream in her beloved hometown of Silver Bell Falls. Teaching ballet to children at the community center is fine, but she' hoping for so much more – her own studio, her own business…not to mention maybe meeting Mr. Right and having a family of her own. For almost a year, she's been picturing Dean Hughes in that role and if he wasn't such a darn recluse, maybe she'd have a chance.

Solitude and Dean Hughes have always gone hand-in-hand. It wasn't by choice, but because of circumstances beyond his control. And once again, things are out of his control when he finds himself being named permanent guardian for his five year old niece just in time for the holidays. Dean had always imagined that he'd have a family of his own someday, just not quite like this. With the support of his hometown friends, he knows he's going to be okay. But it's Abby's help with his niece that's making the biggest difference.

This isn't the Christmas either of them has planned, but maybe it's the chance for the most perfect one yet!
BUY LINKS
Amazon B & N Google Play Books IBooks Kobo
REVIEW: CHRISTMAS ON POINTE (SILVER BELL FALLS) BY SAMANTHA CHASE
Christmas On Pointe: A Silver Bell Falls Holiday Novella by Samantha Chase

My rating: 5 of 5 stars


ARC Review: Christmas on Pointe (Silver Bell Falls) by Samantha Chase

Sometimes it takes a bump in the road to help us find our way. With Christmas on Pointe, Ms. Chase spins a beautiful tale of missed opportunities, optimism and the powerful force that puts everything in focus. LOVE! Abby is a dreamer. Her hopes don't always pan out, but she looks at the world with more of a glass half full mentality. If at first you don't succeed, keep trying until you do is her opinion. Dean is more of a realist. He sees things as they are, not as they could be. When life throws him another curveball in the form of his five year old niece, his life, his heart and his home will never be the same. Christmas on Pointe is a story of faith, miracles and family. Captures the meaning of the season as it casts a spell on the heart.



View all my reviews
TRU BLUE BY MELISSA FOSTER
Release Date: November 9, 2016
SYNOPSIS
He wore the skin of a killer, and bore the heart of a lover...

There's nothing Truman Gritt won't do to protect his family--Including spending years in jail for a crime he didn't commit. When he's finally released, the life he knew is turned upside down by his mother's overdose, and Truman steps in to raise the children she's left behind. Truman's hard, he's secretive, and he's trying to save a brother who's even more broken than he is. He's never needed help in his life, and when beautiful Gemma Wright tries to step in, he's less than accepting. But Gemma has a way of slithering into people's lives and eventually she pierces through his ironclad heart. When Truman's dark past collides with his future, his loyalties will be tested, and he'll be faced with his toughest decision yet.
BUY LINKS
Amazon B & N Google Play Books IBooks Kobo
REVIEW: TRU BLUE BY MELISSA FOSTER
Tru Blue by Melissa Foster

My rating: 5 of 5 stars


I am not ashamed to say that I cried quite a bit while reading Tru Blue. Ms. Foster, went for the gut with Truman and Gemma. Tru was complicated. Just when I thought I had a read on him, he threw me off course again. From family man to convicted felon, to sensitive soul, there were many sides to this warrior. He had the heart of a lover but the soul of a fighter. His need to protect those he loved, forced him to make some tough decisions. In trying to do the right thing, he changed the course of so many lives and sacrificed the most precious parts of himself. Gemma is his redemption. She's his conscience when he loses his way, his helper when he needs it and his biggest fan when he loses faith. Tru Blue is more than a romance, it is a story of love, a story of hope and a story of courage. 10 + stars.

Copyright of Night Owl Reviews
YOUR INESCAPABLE LOVE (BENNETT FAMILY) BY LAYLA HAGEN
Release Date: November 10, 2016
SYNOPSIS
*A new sizzling friends-to-lovers romance from a USA TODAY Best-selling Author*
*This book is a stand-alone. Each book in The Bennett Family series will follow a different couple.*
Max Bennett was nine years old the first time he met Emilia. The two formed a tight friendship that lasted for years until she moved away. Now, years later, Max enjoys a successful career, and his brilliant business sense helped him take his family's company to the next level. Max loves his life: carefree and fun. He has everything he wants and does not intend to settle down anytime soon (even though his family might have other ideas).
But when a chance encounter brings him face-to-face with Emilia, he starts questioning everything. The girl he last saw years ago has grown into a beautiful woman with sensual curves and a smile he can't get out of his mind. Their chemistry is sizzling, and between old memories and new challenges, the two form an undeniable connection.
Emilia Campbell has a lot on her plate, taking care of her sick grandmother. Still, the twenty-eight-year-old physical therapist faces everything with a smile on her face and a positive attitude. The one area in her life where she's not too optimistic is love. After practically being left at the altar, Emilia has sworn off men. Until the childhood friend she hero-worshiped and hasn't quite forgotten steps into her clinic. Max is every bit the troublemaker she remembers, only now he has a body to drool over and a smile to melt her panties. Not that she intends to do the former, or let the latter happen.
They are both determined not to cross the boundaries of friendship. But as they spend more time together, their chemistry spirals out of control. Can Emilia trust her childhood hero with the key to her heart and accept she might have found her one true love?
BUY LINKS
Amazon B & N Google Play Books IBooks Kobo
REVIEW: YOUR INESCAPABLE LOVE (BENNETT FAMILY) BY LAYLA HAGEN
Your Inescapable Love by Layla Hagen

My rating: 5 of 5 stars


ARC Review: Your Inescapable Love (Bennett Family) by Layla Hagen

The Bennetts are a joy to get to know. Mom and Pop Bennet raised a group of independent individuals who have eclectic tastes but have remained true to the traditions instilled in them as children. Love is overflowing with this family and there is always room for honorary editions. Ms. Hayden welcomes readers with open arms into her stories. She gets it. She delivers from her heart revealing and pleasurable reads. Max and Emilia take a trip down memory lane that goes from innocent to provocative really quickly. A friendship that began at the age of nine when an adventurous boy met a brokenhearted, shy girl and appointed himself her protector, picks up where a fifteen year hiatus left off. Emilia has grown into a beautiful woman. Her job brings her up close and personal with the boy she never forgot. An accident reunites Max with the girl of his dreams, but will he finally admit she stole his heart at nine years old? Not only did Your Inescapable Love deliver an unforgettable romance, it also touched on a subject that is dear to my heart. Alzheimer's is never easy to live through. Both my grandmothers struggled with the disease and it leaves a lasting impression and takes an emotional toll. I totally related with what Emilia went through with her grandmother.



View all my reviews

RITES OF PASSAGE (TULSA THUNDERBIRDS) BY CATHERINE GAYLE
Release Date: November 10, 2016
SYNOPSIS
Where do you go once you've hit rock bottom?

With his world already in shambles, Andrew Nash's life plummets even further after a freak accident on the ice exposes his deepest secret. Still unsure if he should ever return to the game he's devoted his life to, the future Thunderbirds captain knows he isn't quite ready to throw in the towel. Meeting a talented and sexy artist changes everything for Drew.

But Ravyn Penn's past is darker than his, and her wounds cut deeper. Drew's looking forward, but Ravyn is stuck dwelling over a life that leaves her guilt-ridden and full of regret.

Drew's a fighter, and he knows they need to claw their way out of the past—together—even when the future promises no guarantees. But can Ravyn let go and blindly trust him—taking a rite of passage through the darkness—to find the life they both deserve?
BUY LINKS
Amazon B & N Google Play Books IBooks Kobo
REVIEW: RITES OF PASSAGE (TULSA THUNDERBIRDS) BY CATHERINE GAYLE
Rites of Passage by Catherine Gayle

My rating: 5 of 5 stars


ARC: Rites of Passage (Tulsa Thunderbirds) by Catherine Gayle

With Ms. Gayle there is no halfway. Her stories are absorbing journeys that impart wisdom, demand attention and leave readers craving more. Kleenex is always close at hand in my case. Raw emotion is hard to contain. Rites of Passage deals with a hot button topic that still is misunderstood years after it's first appearance. HIV. Three letters that have changed many lives over the years are still the catalyst for debate. Rites of Passage humanized this disease and gives a voice to those unknown faces living in fear. I applaud this courageous story, it's hard not be affected by the struggle of anyone in pain whether it be emotional or physical. If I had to describe Rites of Passage in two words, I would use hauntingly beautiful.



View all my reviews
Original post: ishacoleman7.booklikes.com/post/1492464/in-the-mood-for-romance-check-out-new-releases-for-week-of-11-6