READ AND REVIEW
TURBULENT DESIRES (BILLIONAIRE AVIATORS) BY MELODY ANNE
Release Date: November 8, 2016
SYNOPSIS
ER nurse Lindsey Helm used to be strong. Then a late-night attack at the hospital nearly killed her and left two close colleagues dead. Now Lindsey has retreated from the world. She knows she needs to move on, but every hint of danger seems threatening—including a certain sexy fly boy who's determined to show Lindsey what she's missing. But falling for F-18 pilot Maverick Armstrong is a risk she can't afford…
Maverick knows that fear can eat away at the soul, and he won't leave Lindsey to that fate. She needs someone to reach her and to remind her of the exhilaration and unbelievable passion of being touched. He'll help her heal, and then he'll walk away. Hehas to walk away. Because Maverick swore he would never fall in love and never marry. But this is a rescue operation, and Maverick will stay the course—even if things get hazardous. Even if saving Lindsey means surrendering his heart in the process…
BUY LINKS
REVIEW: TURBULENT DESIRES (BILLIONAIRE AVIATORS) BY MELODY ANNE
Turbulent Desires by Melody Anne

My rating: 5 of 5 stars


Growing up Lindsey Helm may not have had much but she was secure in the fact that she was loved, protected and wanted to make a difference. That pureness of heart lead her into a career as an ER nurse. It was the best of both worlds. Not only could she make a difference, she could help others while doing it. But life can turn on a dime and one tragedy filled night has left it's mark on the once confident, positive thinking Lindsey. Guilt, pain and fear have become her constant companies and her worst enemies. Turbulent Desires is the second book in the Billionaire Aviators series. The drama was so real, I felt part of the story. Maverick proved himself to be more than a pretty face. His caring manner and soft heart helped to heal a broken spirit. Maverick and Lindsey had a mountain to climb and a river to cross but along the way proved that LOVE can calm any storm and breach the toughest walls.



View all my reviews
DIRTY SEXY SINNER (DIRTY SEXY) BY CARLY PHILLIPS AND ERIKA WILDE
Release Date: November 8, 2016
SYNOPSIS
Are you ready to get in bed with a SINNER?

After a lifetime of lies, deceit and betrayal, Jackson Stone isn't a man who trusts easily—with women being at the top of the list. Now he's all about control in every aspect of his life. Especially between the sheets. Hot, mutual pleasure with a woman? No problem, as long as he's in charge. But there's something different about sexy bartender Tara Kent that he finds irresistible, in bed and out. Something that has him willing to compromise his principles and bend his rules. Let the sinning begin.

ALL BOOKS IN THE DIRTY SEXY SERIES can be read on its own, or as a companion to the other book in the series:

Dirty Sexy Saint (Clay)
Dirty Sexy Inked (Mason)
Dirty Sexy Cuffed (Levi)
Dirty Sexy Sinner (Jackson)
BUY LINKS
Amazon B & N Google Play Books IBooks Kobo
REVIEW: DIRTY SEXY SINNER (DIRTY SEXY) BY CARLY PHILLIPS AND ERIKA WILDE
Dirty Sexy Sinner by Carly Phillips

My rating: 5 of 5 stars



ARC Review: Dirty Sexy Sinner (Dirty Sexy) by Carly Phillips and Erika Wilde

In my eyes Jackson was not a sinner, more of a lost soul. He spent a great deal of time searching for that missing piece that would allow him to feel loved, accepted and whole. Having followed the Dirty Sexy series from the beginning I can say in all honestly that although Clay and Levi can be bad like nobody's business, Mason and Jackson are the keepers of my heart. It was a tough choice between Mason (the sensitive protector) and Jackson (the heart of a bad boy with the soul of romantic) to decide on my favorite, so I'm calling it a draw. Dirty Sexy Sinner is my favorite of the series. Naughty and nice join together to tie up loose ends and strengthen the bonds of family. Along the way Ms. Phillips and Ms. Wilde constructed a love story for the ages. Family = Love = Happiness. Sad to see this series end.



View all my reviews
ONE SNOWY NIGHT ( HEARTBREAKER BAY) BY JILL SHALVIS
Release Date: November 8, 2016
SYNOPSIS
New York Times bestselling author Jill Shalvis returns to Heartbreaker Bay with a fun and festive holiday novella!

It's Christmas Eve and Rory Andrews is desperate to get home to the family she hasn't seen in years. Problem is, her only ride to Lake Tahoe comes in the form of the annoyingly handsome Max Stranton, and his big, goofy, lovable dog Carl.

Hours stuck in a truck with the dead sexy Max sounds like a fate worse than death (not), but Rory's out of options. She's had a crush on Max since high school and she knows he's attracted to her, too. But they have history… and Max is the only one who knows why it went south.

They've done a good job of ignoring their chemistry so far, but a long road trip in a massive blizzard might be just what they need to face their past… and one steamy, snowy night is all it takes to bring Max and Rory together at last.
BUY LINKS
Amazon B & N Google Play Books IBooks Kobo
REVIEW: ONE SNOWY NIGHT (HEARTBREAKER BAY) BY JILL SHALVIS
One Snowy Night by Jill Shalvis

My rating: 5 of 5 stars



ARC Review: One Snowy Night (Heartbreaker Bay) by Jill Shalvis

I always have a blast reading Jill Shalvis. She puts her heart into her story and that love shines thru. Charming stories and irresistible characters are my weakness and this author put that on full display with One Snowy Night. Max and Rory are on a collision course with fate and nothing can stop the impact. When a writer can humanize an animal enough to steal the story without taking away from the plot line, I know she's a winner. The only bummer is that the trip was over too soon.



View all my reviews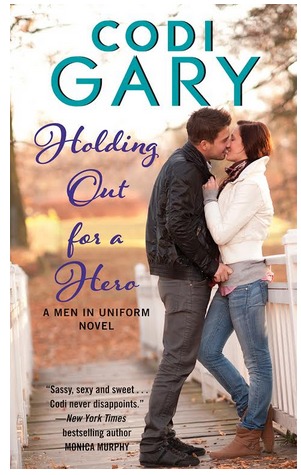 HOLDING OUT FOR A HERO (MEN IN UNIFORM) BY CODI GARY
Release Date: November 8, 2016
SYNOPSIS
He wasn't looking for love...

Two years after the death of his wife, Sergeant Blake Kline is still hurting. He isn't ready to date, but whenever he stops by his local diner and sees the friendly smile of his favorite waitress, he feels a spark of true happiness again. And when her life is unexpectedly threatened, Blake discovers his feelings for her might not be as platonic as he thought.

She was holding out for the hero of her dreams...

Bookworm Hannah York has always been a hopeless romantic—preferring book boyfriends to blind dates—and she's been day-dreaming about Blake since the moment he came into her diner. She's convinced they'll never be more than friends... until Blake kisses her and "weak in the knees" becomes more than just a line from her favorite romance novel. The closer Blake and Hannah get, however, the harder he fights to keep her at a distance.

But forever has a way of sneaking up on you...

When their blossoming relationship takes a complicated turn, Blake will have to face his past… or risk losing Hannah forever.
BUY LINKS
Amazon B & N Google Play Books IBooks Kobo
REVIEW: HOLDING OUT FOR A HERO (MEN IN UNIFORM) BY CODI GARY
Holding Out for a Hero by Codi Gary

My rating: 4 of 5 stars



ARC Review Holding Out for a Hero (Men in Uniform) by Codi Gary

Holding Out For A Hero is much more than the title. Hannah and Blake are two lonely hearts searching for a chance to be whole. Hannah is stuck in her fantasy of what a perfect man should be. Blake is living on heartbreaking memories of a love gone too soon. Basically, Hannah is leading with her heart and Blake his head. Problem is in order to stand a chance at building a future and finding happiness, they have to listen to both head and heart. Not one or the other. One of the reasons that I am a fan of Ms. Gary is that she is not afraid to show the vulnerabilities of the hero. The true measure of a man is not only his strength but the ability to expose his weaknesses as well. Holding Out For a Hero is a story that exudes the power of faith, the strength of love and the pain of moving on in the face of grief. Relate-able for anyone whose ever loved and loss.



View all my reviews
ONE SUMMER OF SURRENDER (SEASONS) BY JESS MICHAELS
Release Date: November 8, 2016
SYNOPSIS
A hot historical romance from USA Today Bestselling Romance Author Jess Michaels

Lucien, the Earl of Stenfax has been engaged twice, but only in love once. That was with his childhood sweetheart, Elise. When she threw him over for a man with more money and a higher ranking title, it broke him. Now she's widowed and he finds himself drawn to her again, like a moth to her flame.

Elise had her reasons for walking away from Lucien, reasons he doesn't understand. Back in Society, she's now financially desperate and is even considering becoming someone's mistress. But Lucien keeps appearing at the most inopportune moments and it's only a matter of time before the desire between them explodes.

Time will tell if Lucien will be able to see past his lusty drive for revenge. And if Elise can convince him she's worthy of more, despite the past.
BUY LINKS
Amazon B & N Google Play Books IBooks Kobo
REVIEW: ONE SUMMER OF SURRENDER (SEASONS) BY JESS MICHAELS
One Summer of Surrender by Jess Michaels

My rating: 4 of 5 stars



ARC Review: One Summer of Surrender (Seasons) by Jess Michaels

Love can conquer anything. Or so they thought. Lucien offered his heart to the woman of his dreams only to have it thrown callously back at him. Elise will always carry a special place in her heart for her first love, but sometimes love is not enough. When circumstances conspire to keep them apart, can fate in the form of a lady of the evening help them find their second chance?

The mystery of the heartbroken Earl has led me on a merry chase since Lucien first graced thel canvas in Gray and Rosalind story. I wanted answers and Jess Michaels puts it all out there. Elise sacrificed her reputation and torpedoed her own happiness to protect the people she loved. It doesn't get more real than that. I shed quite a few tears for what might have been as I hoped and prayed that there would be a chance for these star crossed lovers to begin again. One Summer of Surrender reeks of passion from the emotional turmoil to the tempting attraction. The big reveal of the scandalous secrets was over drawn out but the story itself hyptonizes.



View all my reviews
WELCOME HOME FOR CHRISTMAS (HERO'S WELCOME) BY ANNIE RAINS
Release Date: November 8, 2016
SYNOPSIS
The bestselling Hero's Welcome series continues with a juicy Christmas romance, a short novel set in Seaside, North Carolina, where the bustling military base keeps this small town stocked with dedicated, lovable heroes.

Three-hundred-and-sixty-four days a year, Allison Carmichael doesn't mind being single. It sure beats dating another loser, and it keeps her heart safe. Then there's that three-hundred-and-sixty-fifth day: Christmas Eve, the traditional time her entire family gathers together—and gangs up on her, demanding to know when she's going to get married. This year, she swears, is going be different. And that's why, at a charity auction she's throwing on-base, she buys herself a man.

Sergeant Troy Matthews insists that he's not for sale. His time is, though, and he's happy to donate it. Happier still when he learns the identity of the winning bidder: the redhead with the killer good looks and smart mouth who runs the veteran's center. Allison needs Troy's help to fool her family into believing they're an item, and he's all too happy to indulge her. But by the time Christmas Eve rolls around, their little charade is working a little too well . . . because Troy's falling head over heels.
BUY LINKS
Amazon B & N Google Play Books IBooks Kobo
REVIEW: WELCOME HOME FOR CHRISTMAS (HERO'S WELCOME) BY ANNIE RAINS
Welcome Home for Christmas by Annie Rains

My rating: 5 of 5 stars


ARC Review: Welcome Home For Christmas (Hero's Welcome) by Annie Rains

Most of the time Allison is content. She adores her family, is happy with her choices, but then there are the times that loneliness rears it's head and leaves her yearning. What's
a girl to do to shake away those holiday blues? A spur of the moment decision is about to pay huge dividends.

I have been waiting for Allison to get her heart's desire. Her nurturing nature was evident in the care she took of others. The fact that her match had been right in her sights the whole time was a pleasant surprise. I have enjoyed every minute of Annie Rains' Hero's Welcome series. Full of positive, vivacous pleasure with endearing characters and lots of heart.



View all my reviews

IT'S BEEN YOU (CRUSH ON YOU) BY RINA GRAY
Release Date: November 8, 2016
SYNOPSIS
Marketing manager Tiana Holliday just landed her dream job at an award-winning agency in New York City. There's just one problem: cocky playboy Nathaniel Lawson, her old grad school nemesis, is her new officemate.
As the firm's rising star, Nathan never had to compete for prime clients until all-work and no-play Tiana strutted into his workspace. When an opportunity arises to manage a lucrative sports car account and nab a big promotion, he challenges her to a wager: Loser does the winner's bidding for one month. But their friendly little competition suddenly threatens to erupt into an all-out battle of desire.
As they straddle the line between love and war, they just might discover that challenging each other outside the boardroom is even more satisfying than advertised.
BUY LINKS
Amazon | Barnes and Noble | Kobo | iTunes
REVIEW: IT'S BEEN YOU (CRUSH ON YOU) BY RINA GRAY
It's Been You by Rina Gray

My rating: 4 of 5 stars


ARC Review: It's Been You (Crush on You) by Rina Gray

From frenemies to love? Not very original, but that in no way takes away from the enjoyment of this sweet, smart and humorous battle of the sexes. The plot line may be obvious and hormones may be raging but that amps up the level of fun. Reading It's Been You, felt like rediscovering a favorite past time and picking up right where I left off.



View all my reviews
Original post: ishacoleman7.booklikes.com/post/1493371/new-releases-for-november-8-2016