CHRISTMAS WITH THE SHERIFF (SHADOW CREEK, MONTANA) BY VICTORIA JAMES
Release Date: November 7, 2016
SYNOPSIS
After fleeing her beloved small town five years ago, Julia Bailey is back to spend Christmas with her family. Returning is hard, but keeping the devastating secret about her late husband is even harder. Her place isn't in Big Sky Country any longer...but the more time she spends with the irresistible Sheriff who saved her once before, and his adorable little daughter, the more Julia starts wishing she could let go of the past and start a new life.

Single dad and county Sheriff Chase Donovan had been secretly in love with his best friend's wife for years. But after her traumatic loss he knew Julia needed to get away from Shadow Creek, even though helping her leave was the last thing he wanted to do. Now she's home and he doesn't intend to lose her a second time. Chase is going to prove to Julia just how good they can be together this Christmas...and forever.
BUY LINKS
Amazon B & N Google Play Books IBooks Kobo
REVIEW: CHRISTMAS WITH THE SHERIFF (SHADOW CREEK, MONTANA) BY VICTORIA JAMES
Christmas with the Sheriff by Victoria James

My rating: 5 of 5 stars


ARC Review: Christmas With the Sheriff by Victoria James

Julia thought she had the perfect life until tragedy struck and left her with more questions than happy memories. There is nothing more heartbreaking than a mother having to bury her child. Julia's pain in that moment grabs hold and although unbearable to watch is hard to look away from. The fact that she lost the love of her life in that moment has repercussions in her life for years to come. Ms. James takes readers on a prolific journey that starts with heartache and tragedy but ends with healing and redemption. Christmas With the Sheriff is a story second chances. For Julia, a chance to unlock her heart and allow herself to be vulnerable and find happiness again. For Chase, a chance to risk exploring the feelings he's kept hidden. Victoria James makes it okay to ugly cry because a beautiful smile is only a heartbeat away.



View all my reviews
SNOWBOUND WITH MR. WRONG (SNOWFLAKE VALLEY) BY BARBARA WHITE DAILLE
Release Date: November 7, 2016
SYNOPSIS
Worst. Day. Ever. After Lyssa Barnett's sister tricks her into reprising her role at Snowflake Valley's annual children's party, she doesn't think anything can be worse than squeezing into her too-small elf costume. Then tall, dark, and way too handsome Nick Tavlock shows up to play Santa…and an unexpected storm leaves them snowbound in the isolated lodge.

The last thing Nick wants is to spend a cozy Christmas Eve with a trio of kids and the woman who dumped him. But as much as Lyssa frustrates him, he can't stop thinking about her. And soon, he's fighting very un-Santa-like thoughts of kissing a certain sexy Miss Elf under the mistletoe. As Nick starts to fall for Lyssa all over again, he knows it will take nothing short of a miracle to have Lyssa in his arms on Christmas Day.
BUY LINKS
Amazon B & N Google Play Books IBooks Kobo
REVIEW: SNOWBOUND WITH MR. WRONG (SNOWFLAKE VALLEY) BY BARBARA WHITE DAILLE
Snowbound with Mr. Wrong by Barbara White Daille

My rating: 5 of 5 stars


ARC Review: Snowbound with Mr. Wrong (Snowflake Valley) by Barbara White Daille

Snowbound with Mr. Wrong has all the right ingredients to heat things up. Take two clueless exes, add kids and an unexpected snowstorm for good measure and than wait for the sparks to begin. Things are about to get naughty this holiday season. Ms. Daille brings on the laughs with Nick and Lyssa. Lyssa is adorably frustrating, She has no clue how falling in love works. Nick is equally dense, but a temptation all the same. If the romance doesn't take away the chill, the laugh out loud antics sure will.



View all my reviews
HER UNEXPECTED ENGAGEMENT (CHECKERBERRY INN) BY KYRA JACOBS
Release Date: November 7, 2016
SYNOPSIS
Sometimes you've got to fake it 'til you make it…

Stephanie Fitzpatrick wanted out of the spotlight after her pro-golfer husband was caught on camera cheating. But when she returns to Michigan for a job interview and some much-needed R&R, a fib told by her well-meaning sister has her looking for a temporary fiancé, or she can kiss her new start good-bye.

Desperate to hide the truth, she goes to the one man who can help—her former best friend.

Miles Masterson is relieved to see the Checkerberry Inn beginning to thrive once more. Not only does it ease his mind about his grandmother's financial future, but also about his decision to finally escape town. But then one all grown up and sexy as hell friend from the past shows up needing rescue. Now the temptation to change the "temporary" arrangement into something more is making it harder to think about leaving.


Each book in the Checkerberry Inn series is a standalone, full-length story that can be enjoyed out of order.
BUY LINKS
Amazon B & N Google Play Books IBooks Kobo
REVIEW: HER UNEXPECTED ENGAGEMENT (CHECKERBERRY INN) BY KYRA JACOBS
Her Unexpected Engagement by Kyra Jacobs

My rating: 5 of 5 stars


ARC Review: Her Unexpected Engagement (Checkerberry Inn) by Kyra Jacobs

I love stories that have a small town vibe to them. The sense of family, the beautiful surroundings all appeal to me because I live in more of the big city where things are more fast paced. Kyra Jacobs caught my attention even more with the setting Michigan. I have lived in Michigan all of my life, so it was nice to see it get a shout out. Her Unexpected Engagement is the story of a woman taking back her life after an epic betrayal. Betrayed by her husband, hounded by the media and needed a fresh start, Stephanie heads home for a breather and ends up finding her destiny. Small town living, close knit family and the chance to see my state through new eyes. How could I not enjoy this novel.



View all my reviews
CRAZY PUCKING LOVE (TAKING SHOTS) BY CINDI MADSEN
Release Date: November 7, 2016
SYNOPSIS
I just met the girl of my dreams.

Megan Davenport is funny and smart, and she's as much of an insomniac as I am. She's also my team captain's little sister, which I only found out after our passionate kiss.

Megan is completely off-limits—her brother makes that very clear—and I know better than to think I can keep a relationship going during hockey season anyway. But that doesn't mean we can't be late-night friends, right?

The only problem is, love makes you do crazy things, like breaking all the rules.
BUY LINKS
Amazon B & N Google Play Books IBooks Kobo
REVIEW: CRAZY PUCKING LOVE (TAKING SHOTS) BY CINDI MADSEN
Crazy Pucking Love by Cindi Madsen

My rating: 4 of 5 stars


ARC Review: Crazy Pucking Love (Taking Shots) by Cindi Madsen

Teen angst with a side of adult drama. In the past I have not been a fan of young adult romance but Ms. Madsen may have just changed my mind. Crazy Pucking Love is Gilmore Girls meets 90210. A little light humour to add to the emotional drama and the sensual chemistry between Dane and Megan.



View all my reviews
IT'S BEEN YOU (CRUSH ON YOU) BY RINA GRAY
Release Date: November 8, 2016
SYNOPSIS
Marketing manager Tiana Holliday just landed her dream job at an award-winning agency in New York City. There's just one problem: cocky playboy Nathaniel Lawson, her old grad school nemesis, is her new officemate.
As the firm's rising star, Nathan never had to compete for prime clients until all-work and no-play Tiana strutted into his workspace. When an opportunity arises to manage a lucrative sports car account and nab a big promotion, he challenges her to a wager: Loser does the winner's bidding for one month. But their friendly little competition suddenly threatens to erupt into an all-out battle of desire.
As they straddle the line between love and war, they just might discover that challenging each other outside the boardroom is even more satisfying than advertised.
BUY LINKS
Amazon | Barnes and Noble | Kobo | iTunes
REVIEW: IT'S BEEN YOU (CRUSH ON YOU) BY RINA GRAY
It's Been You by Rina Gray

My rating: 4 of 5 stars


ARC Review: It's Been You (Crush on You) by Rina Gray

From frenemies to love? Not very original, but that in no way takes away from the enjoyment of this sweet, smart and humorous battle of the sexes. The plot line may be obvious and hormones may be raging but that amps up the level of fun. Reading It's Been You, felt like rediscovering a favorite past time and picking up right where I left off.



View all my reviews
TURBULENT DESIRES (BILLIONAIRE AVIATORS) BY MELODY ANNE
Release Date: November 8, 2016
SYNOPSIS
ER nurse Lindsey Helm used to be strong. Then a late-night attack at the hospital nearly killed her and left two close colleagues dead. Now Lindsey has retreated from the world. She knows she needs to move on, but every hint of danger seems threatening—including a certain sexy fly boy who's determined to show Lindsey what she's missing. But falling for F-18 pilot Maverick Armstrong is a risk she can't afford…
Maverick knows that fear can eat away at the soul, and he won't leave Lindsey to that fate. She needs someone to reach her and to remind her of the exhilaration and unbelievable passion of being touched. He'll help her heal, and then he'll walk away. Hehas to walk away. Because Maverick swore he would never fall in love and never marry. But this is a rescue operation, and Maverick will stay the course—even if things get hazardous. Even if saving Lindsey means surrendering his heart in the process…
BUY LINKS
REVIEW: TURBULENT DESIRES (BILLIONAIRE AVIATORS) BY MELODY ANNE
Turbulent Desires by Melody Anne

My rating: 5 of 5 stars


Growing up Lindsey Helm may not have had much but she was secure in the fact that she was loved, protected and wanted to make a difference. That pureness of heart lead her into a career as an ER nurse. It was the best of both worlds. Not only could she make a difference, she could help others while doing it. But life can turn on a dime and one tragedy filled night has left it's mark on the once confident, positive thinking Lindsey. Guilt, pain and fear have become her constant companies and her worst enemies. Turbulent Desires is the second book in the Billionaire Aviators series. The drama was so real, I felt part of the story. Maverick proved himself to be more than a pretty face. His caring manner and soft heart helped to heal a broken spirit. Maverick and Lindsey had a mountain to climb and a river to cross but along the way proved that LOVE can calm any storm and breach the toughest walls.



View all my reviews
HUNTER (7 BRIDES FOR 7 BROTHERS) BY MELODY ANNE
Release Date: November 8, 2016
SYNOPSIS
When Hunter Brannigan loses his father and is sent a map, he doesn't know what to think. Is it a joke? Was the old man going senile at the end? The attorney sending the map assures him the piece of paper was definitely from his father and he must follow the clues to find himself.

Hunter has been running from anything even remotely resembling responsibility for a very long time. He's a world renowned Photo Journalist, traveling the seven continents in pursuit of the next great shot. He's been in the heart of the trauma during war time, natural disasters, and life-altering moments, always on the other side of the lens, never getting emotionally involved. His father's last wish for him is to put himself within the pictures he's famous for.

Deciding to humor his father's last request, he stumbles upon Rebekah Kingsley III, an uptight History Professor who desperately needs to let her hair down. Though he has his doubts she can get dirty long enough to help him, something about her won't let him walk so easily this time. Will she be enough to make him settle down, or will he leave her with nothing but a picture of what could have been
BUY LINKS
Amazon B & N Google Play Books IBooks Kobo
REVIEW: HUNTER (7 BRIDES FOR 7 BROTHERS) BY MELODY ANNE
Hunter by Melody Anne

My rating: 5 of 5 stars


Melody Anne leaves her close knit family drama behind and brings on the dysfunction with Hunter. The Brannigans are stubborn, free spirited and proud. All that determination does not come with problems. With all the testosterone crowding this gene pool it's no wonder the family dynamic breeds chaos. But when tragedy strikes, can this group of loners mend fences and become a family? I have to say the concept of this series is genius. A dying man working to heal his broken family from the great beyond, if that's not love I don't know what is. Hunter has been so busy running from his past, he doesn't know what it means to embrace his future. With a little help from a surprising source, he may find the answers in the most unlikely of places. Within himself. An estranged family, some divine matchmaking and a chance at a new beginning makes for a temptation of the highest order.



View all my reviews
DIRTY SEXY SINNER (DIRTY SEXY) BY CARLY PHILLIPS AND ERIKA WILDE
Release Date: November 8, 2016
SYNOPSIS
Are you ready to get in bed with a SINNER?

After a lifetime of lies, deceit and betrayal, Jackson Stone isn't a man who trusts easily—with women being at the top of the list. Now he's all about control in every aspect of his life. Especially between the sheets. Hot, mutual pleasure with a woman? No problem, as long as he's in charge. But there's something different about sexy bartender Tara Kent that he finds irresistible, in bed and out. Something that has him willing to compromise his principles and bend his rules. Let the sinning begin.

ALL BOOKS IN THE DIRTY SEXY SERIES can be read on its own, or as a companion to the other book in the series:

Dirty Sexy Saint (Clay)
Dirty Sexy Inked (Mason)
Dirty Sexy Cuffed (Levi)
Dirty Sexy Sinner (Jackson)
BUY LINKS
Amazon B & N Google Play Books IBooks Kobo
REVIEW: DIRTY SEXY SINNER (DIRTY SEXY) BY CARLY PHILLIPS AND ERIKA WILDE
Dirty Sexy Sinner by Carly Phillips

My rating: 5 of 5 stars



ARC Review: Dirty Sexy Sinner (Dirty Sexy) by Carly Phillips and Erika Wilde

In my eyes Jackson was not a sinner, more of a lost soul. He spent a great deal of time searching for that missing piece that would allow him to feel loved, accepted and whole. Having followed the Dirty Sexy series from the beginning I can say in all honestly that although Clay and Levi can be bad like nobody's business, Mason and Jackson are the keepers of my heart. It was a tough choice between Mason (the sensitive protector) and Jackson (the heart of a bad boy with the soul of romantic) to decide on my favorite, so I'm calling it a draw. Dirty Sexy Sinner is my favorite of the series. Naughty and nice join together to tie up loose ends and strengthen the bonds of family. Along the way Ms. Phillips and Ms. Wilde constructed a love story for the ages. Family = Love = Happiness. Sad to see this series end.



View all my reviews
ONE SNOWY NIGHT ( HEARTBREAKER BAY) BY JILL SHALVIS
Release Date: November 8, 2016
SYNOPSIS
New York Times bestselling author Jill Shalvis returns to Heartbreaker Bay with a fun and festive holiday novella!

It's Christmas Eve and Rory Andrews is desperate to get home to the family she hasn't seen in years. Problem is, her only ride to Lake Tahoe comes in the form of the annoyingly handsome Max Stranton, and his big, goofy, lovable dog Carl.

Hours stuck in a truck with the dead sexy Max sounds like a fate worse than death (not), but Rory's out of options. She's had a crush on Max since high school and she knows he's attracted to her, too. But they have history… and Max is the only one who knows why it went south.

They've done a good job of ignoring their chemistry so far, but a long road trip in a massive blizzard might be just what they need to face their past… and one steamy, snowy night is all it takes to bring Max and Rory together at last.
BUY LINKS
Amazon B & N Google Play Books IBooks Kobo
REVIEW: ONE SNOWY NIGHT (HEARTBREAKER BAY) BY JILL SHALVIS
One Snowy Night by Jill Shalvis

My rating: 5 of 5 stars



ARC Review: One Snowy Night (Heartbreaker Bay) by Jill Shalvis

I always have a blast reading Jill Shalvis. She puts her heart into her story and that love shines thru. Charming stories and irresistible characters are my weakness and this author put that on full display with One Snowy Night. Max and Rory are on a collision course with fate and nothing can stop the impact. When a writer can humanize an animal enough to steal the story without taking away from the plot line, I know she's a winner. The only bummer is that the trip was over too soon.



View all my reviews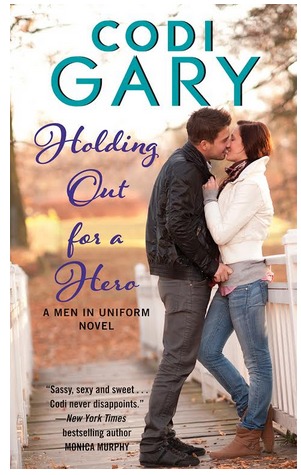 HOLDING OUT FOR A HERO (MEN IN UNIFORM) BY CODI GARY
Release Date: November 8, 2016
SYNOPSIS
He wasn't looking for love...

Two years after the death of his wife, Sergeant Blake Kline is still hurting. He isn't ready to date, but whenever he stops by his local diner and sees the friendly smile of his favorite waitress, he feels a spark of true happiness again. And when her life is unexpectedly threatened, Blake discovers his feelings for her might not be as platonic as he thought.

She was holding out for the hero of her dreams...

Bookworm Hannah York has always been a hopeless romantic—preferring book boyfriends to blind dates—and she's been day-dreaming about Blake since the moment he came into her diner. She's convinced they'll never be more than friends... until Blake kisses her and "weak in the knees" becomes more than just a line from her favorite romance novel. The closer Blake and Hannah get, however, the harder he fights to keep her at a distance.

But forever has a way of sneaking up on you...

When their blossoming relationship takes a complicated turn, Blake will have to face his past… or risk losing Hannah forever.
BUY LINKS
Amazon B & N Google Play Books IBooks Kobo
REVIEW: HOLDING OUT FOR A HERO (MEN IN UNIFORM) BY CODI GARY
Holding Out for a Hero by Codi Gary

My rating: 4 of 5 stars



ARC Review Holding Out for a Hero (Men in Uniform) by Codi Gary

Holding Out For A Hero is much more than the title. Hannah and Blake are two lonely hearts searching for a chance to be whole. Hannah is stuck in her fantasy of what a perfect man should be. Blake is living on heartbreaking memories of a love gone too soon. Basically, Hannah is leading with her heart and Blake his head. Problem is in order to stand a chance at building a future and finding happiness, they have to listen to both head and heart. Not one or the other. One of the reasons that I am a fan of Ms. Gary is that she is not afraid to show the vulnerabilities of the hero. The true measure of a man is not only his strength but the ability to expose his weaknesses as well. Holding Out For a Hero is a story that exudes the power of faith, the strength of love and the pain of moving on in the face of grief. Relate-able for anyone whose ever loved and loss.



View all my reviews
ONE SUMMER OF SURRENDER (SEASONS) BY JESS MICHAELS
Release Date: November 8, 2016
SYNOPSIS
A hot historical romance from USA Today Bestselling Romance Author Jess Michaels

Lucien, the Earl of Stenfax has been engaged twice, but only in love once. That was with his childhood sweetheart, Elise. When she threw him over for a man with more money and a higher ranking title, it broke him. Now she's widowed and he finds himself drawn to her again, like a moth to her flame.

Elise had her reasons for walking away from Lucien, reasons he doesn't understand. Back in Society, she's now financially desperate and is even considering becoming someone's mistress. But Lucien keeps appearing at the most inopportune moments and it's only a matter of time before the desire between them explodes.

Time will tell if Lucien will be able to see past his lusty drive for revenge. And if Elise can convince him she's worthy of more, despite the past.
BUY LINKS
Amazon B & N Google Play Books IBooks Kobo
REVIEW: ONE SUMMER OF SURRENDER (SEASONS) BY JESS MICHAELS
One Summer of Surrender by Jess Michaels

My rating: 4 of 5 stars



ARC Review: One Summer of Surrender (Seasons) by Jess Michaels

Love can conquer anything. Or so they thought. Lucien offered his heart to the woman of his dreams only to have it thrown callously back at him. Elise will always carry a special place in her heart for her first love, but sometimes love is not enough. When circumstances conspire to keep them apart, can fate in the form of a lady of the evening help them find their second chance?

The mystery of the heartbroken Earl has led me on a merry chase since Lucien first graced thel canvas in Gray and Rosalind story. I wanted answers and Jess Michaels puts it all out there. Elise sacrificed her reputation and torpedoed her own happiness to protect the people she loved. It doesn't get more real than that. I shed quite a few tears for what might have been as I hoped and prayed that there would be a chance for these star crossed lovers to begin again. One Summer of Surrender reeks of passion from the emotional turmoil to the tempting attraction. The big reveal of the scandalous secrets was over drawn out but the story itself hypnotizes..



View all my reviews
WELCOME HOME FOR CHRISTMAS (HERO'S WELCOME) BY ANNIE RAINS
Release Date: November 8, 2016
SYNOPSIS
The bestselling Hero's Welcome series continues with a juicy Christmas romance, a short novel set in Seaside, North Carolina, where the bustling military base keeps this small town stocked with dedicated, lovable heroes.

Three-hundred-and-sixty-four days a year, Allison Carmichael doesn't mind being single. It sure beats dating another loser, and it keeps her heart safe. Then there's that three-hundred-and-sixty-fifth day: Christmas Eve, the traditional time her entire family gathers together—and gangs up on her, demanding to know when she's going to get married. This year, she swears, is going be different. And that's why, at a charity auction she's throwing on-base, she buys herself a man.

Sergeant Troy Matthews insists that he's not for sale. His time is, though, and he's happy to donate it. Happier still when he learns the identity of the winning bidder: the redhead with the killer good looks and smart mouth who runs the veteran's center. Allison needs Troy's help to fool her family into believing they're an item, and he's all too happy to indulge her. But by the time Christmas Eve rolls around, their little charade is working a little too well . . . because Troy's falling head over heels.
BUY LINKS
Amazon B & N Google Play Books IBooks Kobo
REVIEW: WELCOME HOME FOR CHRISTMAS (HERO'S WELCOME) BY ANNIE RAINS
Welcome Home for Christmas by Annie Rains

My rating: 5 of 5 stars


ARC Review: Welcome Home For Christmas (Hero's Welcome) by Annie Rains

Most of the time Allison is content. She adores her family, is happy with her choices, but then there are the times that loneliness rears it's head and leaves her yearning. What's
a girl to do to shake away those holiday blues? A spur of the moment decision is about to pay huge dividends.

I have been waiting for Allison to get her heart's desire. Her nurturing nature was evident in the care she took of others. The fact that her match had been right in her sights the whole time was a pleasant surprise. I have enjoyed every minute of Annie Rains' Hero's Welcome series. Full of positive, vivacous pleasure with endearing characters and lots of heart.



View all my reviews

CURRENTLY AVAILABLE ON
Amazon B & N Google Play Books Kobo
COMING 11/21 TO:
A BILLIONAIRE FOR LEXI: HOLIDAY NOVELLA (THE BARRINGTON BILLIONAIRES) BY RUTH CARDELLO, JEANNETTE WINTERS AND DANIELLE STEWART
Release Date: November 8, 2016
SYNOPSIS
A Holiday Barrington Billionaire Novella by NYTs and USA Today Bestselling Author Ruth Cardello: A Billionaire for Lexi

PLUS two bonus synchronized novellas: Just in Thyme by Jeannette Winters and Midnight on the Slopes by Danielle Stewart

What is a synchronized novella? Love seeing your favorite characters show up in other stories? One world. Three authors. Character cross-over. Binge reading at its best.
Each novella can be enjoyed individually but reading them together weaves an exciting and unique experience.


A Billionaire for Lexi by Ruth Cardello

Clay Landon has never taken himself or his life of privilege seriously. He has spent his life going where he wanted, when he wanted, and keeping his relationships as casual and open as his lifestyle. It's a pretty damn good life until he meets Lexi Chambers, an equally free spirit who is completely unimpressed by him or his wealth.

Having her becomes his obsession.

Lexi Chambers knows how to get into trouble and does so with a skill acquired by doing it a shit–Let's just say a lot. Her sister, Willa, recently married into the wealthy Barrington family and Lexi is trying to stay on her best behavior.

One too-sexy-for-his-own-good, Clay, will test her resolve.

He'll make her laugh and push her to, once again, believe in possibilities.

Just in Thyme by Jeannette Winters

World-renowned chef, Vincent Moretti, could have anyone, anything, anytime. Social events had a single agenda—build his business, which was why he couldn't refuse the last-minute invite to the New Year's charity event. When he learned his investors wouldn't be there, he was angry he'd wasted his valuable time.

Adventurous and loyal Renita Gallo had chosen to stay in Stowe, Vermont for one reason—her father. She wanted to be a teacher. He wanted her to follow in his footsteps and become a chef. When her father became ill and couldn't cater the very important Barrington event at the Vermont resort, she was forced into a role she wasn't prepared for, and into the presence of the most arrogant man she'd ever met.

Renita was confounding, a woman who challenged Vincent, a woman so enchanting he couldn't resist. Wouldn't resist. She was also determined to ignore the allure of the devastatingly handsome Chef Moretti.

Vincent ignited such passion within her that shook her steadfast sense of responsibility.
Thrown together during a snow storm, more than food will be cooking in the kitchen.

Midnight on the Slopes by Danielle Stewart

Nolan Saint-Jane is a big enough person to pretend he's happy his sister Libby has married a billionaire oilman. She deserves the best but the sudden change has taken the last piece of family from him. Having spent Christmas alone, brooding Nolan is determined that New Year's Eve will be different.

Holly McNamara travels light. She can't be held down by anything when it's time to run again. New Year's Eve is the perfect time to make a break for it and a chance meeting with a stranger in a coffee shop gives her the opportunity she needs.

When the snow starts to fall, the passion erupts and the truth comes out, Nolan and Holly will have to decide if the new year holds hope for the new life they both need.

If you enjoyed reading these intertwined novellas, you'll love our synchronized billionaire series. All the same fun, but with stand alone romances set in the same world with character cross over and plots that will have you laughing out loud, fanning your face, and staying up to see what happens next. We'd like to apologize ahead of time for the inevitable book hangovers, but with so many stories set in this world the cure is easy¬–read on!

Ruth Cardello
Always Mine
Stolen Kisses
Trade It All
A Billionaire for Lexi
Let It Burn

Jeannette Winters
One White Lie
Table for Two
You and Me Make Three
Just in Thyme
Virgin for the Fourth Time

Danielle Stewart
Fierce Love
Wild Eyes
Crazy Nights
Midnight on the Slopes
BUY LINKS
Amazon B & N Google Play Books IBooks Kobo
REVIEW: A BILLIONAIRE FOR LEXI: HOLIDAY NOVELLA (THE BARRINGTON BILLIONAIRES) BY RUTH CARDELLO, JEANNETTE WINTERS AND DANIELLE STEWART
A Billionaire For Lexi: Holiday Novella by Ruth Cardello

My rating: 5 of 5 stars


Home. That's the way I feel whenever I read a Ruth Cardello novel. Like I was meant to be right where I am. Jeannette Winters and Danielle Stewart continue that legacy of welcome with two beautiful stories of their own. With each new journey there is love, hope and a family connection.

A Billionaire for Lexi by Ruth Cardello - I've been a little in love with Clay since he gave a glimpse of his heart with Willa in Trade it All. Clearly he needed to open his heart and let love in. Lexi fought every step of the way but Mr. Landon was hard to resist.

Just in Thyme by Jeannette Winters, brings along the spice and dishes out a little temptation. Vincent and Renita, never knew what hit them.

Danielle Stewart brings on the tenderness with a hint of mystery and a heaping helping of heart in Midnight on the Slopes.

These stories are a tough act to follow but a sweet habit that may prove hard to break.



View all my reviews
HOLIDAY HEAT: THE MEN OF STARLIGHT BEND ANTHOLOGY
Release Date: November 8, 2016
SYNOPSIS
5 All-New, Never-Before-Published Holiday Romances, Featuring NYT Bestselling Authors Jennifer Ashley & Jennifer Probst, plus Erin Quinn, Calista Fox and Mary Leo!

Starlight Bend is a cozy Montana town nestled between glacial lakes and snow-capped mountains. This Christmas, holiday magic is in the air and wishes can come true--all it takes is believing. Visit us in Starlight Bend and meet five sexy, heartwarming heroes and the women who steal their hearts...

Snowbound in Starlight Bend ~ Jennifer Ashley

Haley McKee is furious to find herself stuck in the tiny town of Starlight Bend so near Christmas, helped out by the handsome Maddox Campbell, a cowboy who's not impressed with her fancy job titles and parents' money. In fact, no one has given her this much crap her entire life. But there's a lot more to Maddox than at first seems--he's a hard-working man who gives much of his time and patience to help those who have little. When a spark of Christmas magic promises Haley all she wants, will she make her wish with her head or her heart?

The Long Gone Girl of Starlight Bend ~ Erin Quinn

Kari has big plans that are about to pay off, and she doesn't have time for tall, dark, and amazing Ty Timberlake. Ty knows he's in trouble as soon as he meets smart, beautiful Kari. He understands her goals, but knows the rat race won't make her happy. Kari is hell-bent on making her mark and moving onto the next challenge; Ty is determined to win her love and make her stay. As Christmas approaches, Kari begins to question what she wants. Should she stick to her plan and be long gone by the New Year, or choose the man who's stolen her heart?

His Angel of Starlight Bend ~ Calista Fox

Anna Voss and Nick Hoffman are Starlight Bend's star-crossed lovers. They were inseparable growing up, but destined for different paths. They haven't seen each other in over a decade, but this Christmas, Nick returns home—with some startling surprises that turn Anna's world upside down.

Love and desire have always burned bright between these two, but they're both haunted by the past. Yet there's a mystical entity working in their favor this time around—if they can open their hearts and minds to a destiny rewritten, with the help of family and a little holiday magic…

Ropin' the Lone Cowboy of Starlight Bend ~ Mary Leo

Jolie Shepherd didn't want to spend Christmas alone. So when she accepts an open invitation for a visit to Starlight Bend, Montana from her best friend, Jolie expects to pass most of the holiday season holed up inside a rustic cabin, not playing cowgirl with quite possibly the most adorable cowboy in the entire state. Red Weisman is a man who prefers to ride alone . . . that is until he meets Jolie Shepherd. Once they team up to grant a Christmas wish for a needy child, something magical happens between them. Now all they have to do is believe . . . but can they?

The Grinch of Starlight Bend ~ Jennifer Probst

Noah used to be a beloved member of the Starlight Bend community, until a tragedy turns to betrayal and drives him into solitude. His face horribly scarred, he retreats to his mountain top mansion—until a stubborn social worker asks for a Christmas wish to help a sick child. He never expects to fall for the spitfire, do-gooder, but when she offers love as the solution, can he let go of the past? When Josephine convinces Noah to host a Winter Carnival, she's intrigued by the fascinating man hiding a bruised heart. But will her love be enough for him to take a chance on a brand new future?
BUY LINKS
REVIEW: HOLIDAY HEAT: THE MEN OF STARLIGHT BEND ANTHOLOGY
Holiday Heat: The Men of Starlight Bend by Jennifer Ashley

My rating: 5 of 5 stars


The mischief is about to get naughty this holiday season. This men are sizzling, the women are bold and the variety is just the right mix of steamy and emotional. Jennifer Probst shows what kindness and a little hope can do with her Beauty and the Beast inspired Grinch of Starlight Bend. Mary Leo's Ropin the Lone Cowboy shows how an open heart and caring soul can work wonders anytime of year. Erin Quinn supplies a voice of reason with The Lone Cowgirl. Kari needs to realize living is about more than accomplishments, it's about appreciating every moment. Ty may be just the man to help her cut loose and relax. Calista Fox gives romance a second chance in His Angel of Starlight Bend and Jennifer Ashley delivers surprises with Snowbound in Starlight Bend. Holiday Heat is a great gift to share. It summarizes how faith, love and opportunity can be found in the most surprising of places.




View all my reviews
CHRISTMAS ON POINTE (SILVER BELL FALLS) BY SAMANTHA CHASE
Release Date: November 9, 2016
SYNOPSIS
It's Christmastime again in Silver Bell Falls and the whole town is getting in the spirit to help ballet teacher Abby Foster achieve her dream of opening her own dance studio!

Dancing has been Abby's dream for her entire life – but more than anything, she wanted that dream in her beloved hometown of Silver Bell Falls. Teaching ballet to children at the community center is fine, but she' hoping for so much more – her own studio, her own business…not to mention maybe meeting Mr. Right and having a family of her own. For almost a year, she's been picturing Dean Hughes in that role and if he wasn't such a darn recluse, maybe she'd have a chance.

Solitude and Dean Hughes have always gone hand-in-hand. It wasn't by choice, but because of circumstances beyond his control. And once again, things are out of his control when he finds himself being named permanent guardian for his five year old niece just in time for the holidays. Dean had always imagined that he'd have a family of his own someday, just not quite like this. With the support of his hometown friends, he knows he's going to be okay. But it's Abby's help with his niece that's making the biggest difference.

This isn't the Christmas either of them has planned, but maybe it's the chance for the most perfect one yet!
BUY LINKS
Amazon B & N Google Play Books IBooks Kobo
REVIEW: CHRISTMAS ON POINTE (SILVER BELL FALLS) BY SAMANTHA CHASE
Christmas On Pointe: A Silver Bell Falls Holiday Novella by Samantha Chase

My rating: 5 of 5 stars


ARC Review: Christmas on Pointe (Silver Bell Falls) by Samantha Chase

Sometimes it takes a bump in the road to help us find our way. With Christmas on Pointe, Ms. Chase spins a beautiful tale of missed opportunities, optimism and the powerful force that puts everything in focus. LOVE! Abby is a dreamer. Her hopes don't always pan out, but she looks at the world with more of a glass half full mentality. If at first you don't succeed, keep trying until you do is her opinion. Dean is more of a realist. He sees things as they are, not as they could be. When life throws him another curveball in the form of his five year old niece, his life, his heart and his home will never be the same. Christmas on Pointe is a story of faith, miracles and family. Captures the meaning of the season as it casts a spell on the heart.



View all my reviews
TRU BLUE BY MELISSA FOSTER
Release Date: November 9, 2016
SYNOPSIS
He wore the skin of a killer, and bore the heart of a lover...

There's nothing Truman Gritt won't do to protect his family--Including spending years in jail for a crime he didn't commit. When he's finally released, the life he knew is turned upside down by his mother's overdose, and Truman steps in to raise the children she's left behind. Truman's hard, he's secretive, and he's trying to save a brother who's even more broken than he is. He's never needed help in his life, and when beautiful Gemma Wright tries to step in, he's less than accepting. But Gemma has a way of slithering into people's lives and eventually she pierces through his ironclad heart. When Truman's dark past collides with his future, his loyalties will be tested, and he'll be faced with his toughest decision yet.
BUY LINKS
Amazon B & N Google Play Books IBooks Kobo
REVIEW: TRU BLUE BY MELISSA FOSTER
Tru Blue by Melissa Foster

My rating: 5 of 5 stars


I am not ashamed to say that I cried quite a bit while reading Tru Blue. Ms. Foster, went for the gut with Truman and Gemma. Tru was complicated. Just when I thought I had a read on him, he threw me off course again. From family man to convicted felon, to sensitive soul, there were many sides to this warrior. He had the heart of a lover but the soul of a fighter. His need to protect those he loved, forced him to make some tough decisions. In trying to do the right thing, he changed the course of so many lives and sacrificed the most precious parts of himself. Gemma is his redemption. She's his conscience when he loses his way, his helper when he needs it and his biggest fan when he loses faith. Tru Blue is more than a romance, it is a story of love, a story of hope and a story of courage. 10 + stars.

Copyright of Night Owl Reviews
HEARTTHROB (HOLLYWOOD HEARTS) BY BELINDA WILLIAMS
Release Date: November 10, 2016
SYNOPSIS
Can an average girl survive Hollywood?

Ally Valenti doesn't belong in Hollywood. Not like her friend and actress, Lena Lyons. Lena's convinced Ally to pursue her dreams of fashion design, starting with some gowns for the awards season.

Which Ally will get around to creating as soon as she can stop looking at Jacob Swan, Lena's latest co-star. Not that she's staring. Ally's skeptical of anything celebrity and it's not like she'd be pathetic enough to fall for a Hollywood heartthrob.

Then Ally learns there's more to Jacob than his good guy, all-American persona. She finds herself torn between the desire to get to know him better and her determination to stay out of the limelight.

Of course the media has other ideas—and someone doesn't like all the attention Ally's getting. When threats aimed at destroying her fashion career go too far, Ally's convinced she's living in crazy town.

The sensible thing would be to retreat home before it all ends in spectacular fashion. But will Ally be leaving more than her dreams behind if she says goodbye to Hollywood?
BUY LINKS
Amazon B & N Google Play Books IBooks Kobo
REVIEW: HEARTTHROB (HOLLYWOOD HEARTS) BY BELINDA WILLIAMS
Heartthrob by Belinda Williams

My rating: 5 of 5 stars



ARC Review: Heartthrob (Hollywood Hearts) by Belinda Williams

It's stories like Heartthrob that keep the fantasy alive and well for the ordinary people of the world. Heartthrob is the stuff diaries are made of. Ms. Williams take the glitzy Hollywood style of living and contrasts it with the dreams of a small town girl determined to make her dreams a reality. Like a fish out of water Ally has to learn to adapt to the big city or risk losing out on a successful career and true love. Heartthrob is my first time reading a Belinda Williams novel. Her character quickly developed a life of their own as I was swept away. Look forward to reading the next novel in this series.



View all my reviews
YOUR INESCAPABLE LOVE (BENNETT FAMILY) BY LAYLA HAGEN
Release Date: November 10, 2016
SYNOPSIS
*A new sizzling friends-to-lovers romance from a USA TODAY Best-selling Author*
*This book is a stand-alone. Each book in The Bennett Family series will follow a different couple.*
Max Bennett was nine years old the first time he met Emilia. The two formed a tight friendship that lasted for years until she moved away. Now, years later, Max enjoys a successful career, and his brilliant business sense helped him take his family's company to the next level. Max loves his life: carefree and fun. He has everything he wants and does not intend to settle down anytime soon (even though his family might have other ideas).
But when a chance encounter brings him face-to-face with Emilia, he starts questioning everything. The girl he last saw years ago has grown into a beautiful woman with sensual curves and a smile he can't get out of his mind. Their chemistry is sizzling, and between old memories and new challenges, the two form an undeniable connection.
Emilia Campbell has a lot on her plate, taking care of her sick grandmother. Still, the twenty-eight-year-old physical therapist faces everything with a smile on her face and a positive attitude. The one area in her life where she's not too optimistic is love. After practically being left at the altar, Emilia has sworn off men. Until the childhood friend she hero-worshiped and hasn't quite forgotten steps into her clinic. Max is every bit the troublemaker she remembers, only now he has a body to drool over and a smile to melt her panties. Not that she intends to do the former, or let the latter happen.
They are both determined not to cross the boundaries of friendship. But as they spend more time together, their chemistry spirals out of control. Can Emilia trust her childhood hero with the key to her heart and accept she might have found her one true love?
BUY LINKS
Amazon US Amazon UK B & N Google Play Books IBooks Kobo
REVIEW: YOUR INESCAPABLE LOVE (BENNETT FAMILY) BY LAYLA HAGEN
Your Inescapable Love by Layla Hagen

My rating: 5 of 5 stars


ARC Review: Your Inescapable Love (Bennett Family) by Layla Hagen

The Bennetts are a joy to get to know. Mom and Pop Bennet raised a group of independent individuals who have eclectic tastes but have remained true to the traditions instilled in them as children. Love is overflowing with this family and there is always room for honorary editions. Ms. Hayden welcomes readers with open arms into her stories. She gets it. She delivers from her heart revealing and pleasurable reads. Max and Emilia take a trip down memory lane that goes from innocent to provocative really quickly. A friendship that began at the age of nine when an adventurous boy met a brokenhearted, shy girl and appointed himself her protector, picks up where a fifteen year hiatus left off. Emilia has grown into a beautiful woman. Her job brings her up close and personal with the boy she never forgot. An accident reunites Max with the girl of his dreams, but will he finally admit she stole his heart at nine years old? Not only did Your Inescapable Love deliver an unforgettable romance, it also touched on a subject that is dear to my heart. Alzheimer's is never easy to live through. Both my grandmothers struggled with the disease and it leaves a lasting impression and takes an emotional toll. I totally related with what Emilia went through with her grandmother.



View all my reviews

RITES OF PASSAGE (TULSA THUNDERBIRDS) BY CATHERINE GAYLE
Release Date: November 10, 2016
SYNOPSIS
Where do you go once you've hit rock bottom?

With his world already in shambles, Andrew Nash's life plummets even further after a freak accident on the ice exposes his deepest secret. Still unsure if he should ever return to the game he's devoted his life to, the future Thunderbirds captain knows he isn't quite ready to throw in the towel. Meeting a talented and sexy artist changes everything for Drew.

But Ravyn Penn's past is darker than his, and her wounds cut deeper. Drew's looking forward, but Ravyn is stuck dwelling over a life that leaves her guilt-ridden and full of regret.

Drew's a fighter, and he knows they need to claw their way out of the past—together—even when the future promises no guarantees. But can Ravyn let go and blindly trust him—taking a rite of passage through the darkness—to find the life they both deserve?
BUY LINKS
Amazon B & N Google Play Books IBooks Kobo
REVIEW: RITES OF PASSAGE (TULSA THUNDERBIRDS) BY CATHERINE GAYLE
Rites of Passage by Catherine Gayle

My rating: 5 of 5 stars


ARC: Rites of Passage (Tulsa Thunderbirds) by Catherine Gayle

With Ms. Gayle there is no halfway. Her stories are absorbing journeys that impart wisdom, demand attention and leave readers craving more. Kleenex is always close at hand in my case. Raw emotion is hard to contain. Rites of Passage deals with a hot button topic that still is misunderstood years after it's first appearance. HIV. Three letters that have changed many lives over the years are still the catalyst for debate. Rites of Passage humanized this disease and gives a voice to those unknown faces living in fear. I applaud this courageous story, it's hard not be affected by the struggle of anyone in pain whether it be emotional or physical. If I had to describe Rites of Passage in two words, I would use hauntingly beautiful.



View all my reviews
Original post: ishacoleman7.booklikes.com/post/1465284/new-releases-for-week-of-november-6-2016