NEW TO RETAILERS WEEK OF JANUARY 22, 2017
ROYAL SCANDAL (ROYALS IN EXILE) BY MARQUITA VALENTINE
Release Date: January 24, 2017
SYNOPSIS
Fairy tales do come true—and so do tabloid scandals! Bestselling author Marquita Valentine kicks off a juicy contemporary romance series with a novel about a prince whose best-laid plans go deliciously awry when he marries the maid next door.

Forced to flee to the United States with his siblings after their parents' assassination, Crown Prince Colin Sinclair takes it upon himself to become the caretaker of his family while hiding out near Charlotte, North Carolina. But after a decade in hiding, the secret's out and Parliament demands that Colin wed a princess of their choosing. Unwilling to play their game, Colin decides to marry an American instead, and he has the perfect candidate in mind.

As a home-service professional, Della Hughes doesn't believe in storybook endings. But when her best friend and secret crush reveals that he's a flesh-and-blood prince, she doesn't know what to think. Still, she'll do anything for Colin, including becoming his wife—in name only, of course. But when their plans to stay purely platonic go by the wayside, their fake honeymoon turns all too real. After a week of white-hot nights, Della can no longer deny her feelings—not with a happily ever after so tantalizingly close.
BUY LINKS
Amazon B & N Google Play Books IBooks Kobo
REVIEW: ROYAL SCANDAL (ROYALS IN EXILE) BY MARQUITA VALENTINE
Royal Scandal by Marquita Valentine

My rating: 4 of 5 stars


From the moment I learned about the exiled royals it was a given that I would read the series. The little girl within me was drawn in by the fairytale of it all. Royal Scandal delivers revelations that are explosive, conspiracies riddled with confusion and sassy characters that are as complex as the situation they face, but it lived up to being a good story. Life is not a fairytale but it's fun to escape into one every now and again. With Royal Scandal, Ms. Valentine makes that dream possible.



View all my reviews
ACCIDENTALLY ON PURPOSE (HEARTBREAKER BAY) BY JILL SHALVIS
Release Date: January 24, 2017
SYNOPSIS
There's no such thing as a little in love…

Elle Wheaten's priorities: friends, career, and kick-ass shoes. Then there's the muscular wall of stubbornness that's security expert Archer Hunt—who comes before everything else. No point in telling Mr. "Feels-Free Zone" that, though. Elle will just see other men until she gets over Archer . . . which should only take a lifetime . . .

There's no such thing as a little in lust…

Archer's wanted the best for Elle ever since he sacrificed his law-enforcement career to save her. But now that she's earned happiness and success, Archer just wants Elle 24/7. Their chemistry could start the next San Francisco Earthquake, and Archer doesn't want to be responsible for the damage. The alternative? Watch her go out with guys who aren't him . . .

There is such a thing as…

As far as Archer's concerned, nobody is good enough for Elle. But when he sets out to prove it by sabotaging her dates, she gets mad—and things get hot as hell. Now Archer has a new mission: prove to Elle that her perfect man has been here all along…
BUY LINKS
Amazon B & N Google Play Books IBooks Kobo
REVIEW: ACCIDENTALLY ON PURPOSE (HEARTBREAKER BAY) BY JILL SHALVIS
Accidentally on Purpose by Jill Shalvis

My rating: 5 of 5 stars


The overprotective rebel, afraid to let anyone close. The spirited smart mouth wIth a chip on her shoulder and a wound in her heart. Archer held his own but Elle stole the show. She refused to be ruled by the pain of her pass and that laser sharp tongue could knock a man on his ***. The tough exterior hides vulnerability but the way she handles herself shows the strength of who she is. Archer is brash, sexy and hard on the outside but behind that resides a man with his own demons to hide. At the heart of Accidentally on Purpose is a bond formed from darkness that blossoms into a blinding light. Not everyone sets out to find love, sometimes it has a way of sneaking up on you. With laughter, realism and an abundance of passion, Ms. Shalvis does what does best: GETS A REACTION.



View all my reviews
NEW TO RETAILERS WEEK OF JANUARY 15, 2017
THE RULE MAKER (RULES BREAKERS) BY JENNIFER BLACKWOOD
Release Date: January 16, 2017
SYNOPSIS
Ten Steps to Surviving a New Job:

1. Don't sleep with the client. It'll get you fired. (Sounds easy enough.)

2. Don't blink when new client turns out to be former one-night stand.

3. Don't call same client a jerk for never texting you back.

4. Don't believe client when he says he really, really wanted to call.

5. Remember, the client is always right—so you can't junk punch him when he demands new design after new design.

6. Ignore accelerated heartbeat every time sexy client walks into room.

7. Definitely ignore client's large hands. They just mean he wears big gloves.

8. Don't let client's charm wear you down. Be strong.

9. Whatever you do, don't fall for the client. You'll lose more than your job—maybe even your heart.

10. If all else fails, see rule number one again.
BUY LINKS
Amazon B & N Google Play Books IBooks Kobo
REVIEW: THE RULE MAKER (RULES BREAKERS) BY JENNIFER BLACKWOOD
The Rule Maker by Jennifer Blackwood

My rating: 5 of 5 stars


The good, the bad and the crazy sum up Ryder and Zoey. Zoey is a force of nature. She has a talent for design and a penchant for ending up in embarrassing situations. Case in point: sleeping with a client is a definite no - no, sleeping with the client's brother, a maybe. The Rule Maker is an amusing blend of temptation and heart. All kinds of wrong, she never feel so right. Jennifer Blackwood does guilty pleasure and she got it right. I missed out on The Rule Book, but that's easily rectifiable. The Rules Breakers series is a winner.



View all my reviews
LET IT BURN (THE BARRINGTON BILLIONAIRES) BY RUTH CARDELLO
Release Date: January 17, 2017
SYNOPSIS
Billionaire Andrew Barrington walked away from the lavish lifestyle he was raised in to serve as a Marine. Until recently, he would have said he'd made the right choice. A tragic set of events, however, has him not reenlisting and emotionally hitting rock bottom.

Helene Franklin is visiting her uncle as part of an extended vacation in Aruba. She trades her bikini for an office job when he says there is trouble brewing at his clinic and asks her to keep an eye out for anything unusual.
Every Marine needs a mission. To appease his family, Andrew heads to Aruba to track down what he believes is a wild goose chase. Expecting to discover nothing, he meets a quirky, irresistible virgin who is just about to turn his whole world upside down.

His questions will put her in danger.

Her love will set him free.

What will they gain and what will they lose when they both decide to. . .let it burn?

A new, seven book series about the Andrade's Boston cousins.
The first series in the Barrington Billionaire WORLD.
Book 1: Always Mine
Book 2: Stolen Kisses
Book 3: Trade it All
Book 4: Let It Burn (Coming soon)
Book 5: More Than Love (Coming 2017)
Book 6: Forever Now (Coming 2017)
Book 7: Never Goodbye (Coming 2017)

*Look for a linked series set in the same world, written by Jeannette Winters (my sister) and Danielle Stewart (my niece).
You won't have to read the other series to enjoy mine, but it sure will make it more fun. Characters will appear in all three series.

Author Jeannette Winters
Book 1: One White Lie
Book 2: Table for Two

Danielle Stewart
Book 1: Fierce Love
Book 2: Wild Eyes
Book 3: Crazy Nights

Other Contemporary Romance Titles by Ruth Cardello:

The Legacy Collection
Where my billionaires began.
Book 1: Maid for the Billionaire
Book 2: For Love or Legacy
Book 3: Bedding the Billionaire
Book 4: Saving the Sheikh
Book 5: Rise of the Billionaire
Book 6: Breaching the Billionaire: Alethea's Redemption
Recipe For Love: A Hot Andrade Christmas Novella
Book 7: A Corisi Christmas Novella

The Andrades:
A spin off series of the Legacy Collection with cameos from characters you love from that series.
Book 1: Come Away With Me
Book 2: Home to Me
Book 3: Maximum Risk
Book 4: Somewhere Along the Way
Book 5: Loving Gigi

Lone Star Burn Series
Fun, hot romances that roam from the country to the city and back.
Book 1: Taken, Not Spurred
Book 2: Tycoon Takedown
Book 3: Taken Home
Book 4: Taking Charge

Temptation Series Bundle
Guaranteed to put you on Santa's Naughty List.
Book 1: Twelve Days of Temptation
Book 2: Be My Temptation


Taken by a Trillionaire
Ruth Cardello, JS Scott, Melody Anne.
Three hot fantasies about alpha princes and the women who tame them.
BUY LINKS
Amazon B & N Google Play Books IBooks Kobo
REVIEW: LET IT BURN (THE BARRINGTON BILLIONAIRES) BY RUTH CARDELLO
Let It Burn by Ruth Cardello

My rating: 4 of 5 stars



ARC Review: Let It Burn (The Barrington Billionaires) by Ruth Cardello

The Barringtons are far from perfect but underneath the drama, scheming, heartache and secrets lies a bond of love that can't be broken. In death, Patrice continues to make an impact on the lives of many with her hateful actions. Let It Burn takes one step closer to some much needed answers, but within it's pages is a quest for redemption. With some help from friends both old and new, Ms. Cardello delivers a message of healing while building a love that was years in the making. Helene and Andrew were meant to find each other. All it took was fate, wisdom and danger to seal their connection.



View all my reviews

BIG SHOT BY CARLY PHILLIPS & ERIKA WILDE


Release Date: January 17, 2017
SYNOPSIS

New York Times Bestselling Authors Carly Phillips and Erika Wilde bring you THE BOOK BOYFRIEND SERIES, featuring four hot heroes guaranteed to make you swoon!
Fall in love with your next Book Boyfriend . . .
Wes Sinclair is a notorious heart-breaker, a hot as sin bad boy with a panty-dropping smile no woman can resist. Except for his prim and proper adversary, Natalie Prescott, who seems immune to his flirtatious charms. While she's become a permanent fixture in his dirtiest, most scandalous fantasies, she wants nothing to do with him, or his seductive promises. Challenge accepted. His goal? To bring her to her knees, make her beg, and show her just how good being bad can be.
ALL BOOK BOYFRIEND NOVELS:
Hot as Sin
Hot and Heavy
Hot as Hell
Hot as it Gets
BUY LINKS

Amazon B & N Google Play Books IBooks Kobo
REVIEW: BIG SHOT BY CARLY PHILLIPS & ERIKA WILDE
My rating: 5 of 5 stars
ARC Review: Big Shot by Carly Phillips and Erika Wilde
Wes Sinclair had it going on that's for sure but the perfect book boyfriend was best friend Richard. Wes was "dream man" material with his sexy smile, arrogant demeanor and bedroom charm, however Richard with his smart mouth, hearty devotion and sense of humor was addictive as well. Natalie had it made on both sides of the spectrum. A good thing Richie boy was gay because Wes would have had some stiff competition. Big Shot had me in stitches when I wasn't salivating over the fireball that is Wes and Natalie. The battle of wills became a showdown of the heart. Ms. Phillips and Ms. Wilde are the power duo of the romance world. They seem to always get it right.
IT'S YOU (IT'S YOU #2) BY KATY REGNERY (K.P. KELLEY)
Release Date: January 17, 2017
SYNOPSIS
The thrilling conclusion of Katy Regnery's first paranormal romance series!

HAPPILY EVER AFTER…

To some, they're just words signifying a fairytale ending.
For me, Jack Beauloup, they represent an unyielding desire:
Forever with Darcy Turner, the unexpected love of my life.
A love that has placed her human life in danger.

According to Pack Law, my binding is an abomination that must be severed.
It's ignited a fiery hatred that I must confront and control.

But what is bound cannot be broken.
I will keep Darcy safe.
Even if it means giving up on my dreams.
Even if it means giving up my life.
BUY LINKS
Amazon B & N Google Play Books IBooks Kobo
REVIEW: IT'S YOU (IT'S YOU #2) BY KATY REGNERY (K.P. KELLEY)
It's You by Katy Regnery

My rating: 5 of 5 stars


Darcy fell for the ultimate bad boy. Before he became a man of mystery, he was the boy of her dreams. Literally. He haunted her mind, body and soul for so many years, but his many secrets be the undoing of them both? It's You is a cataclysmic fight between good and evil. Jack is a good man with a beautiful soul. He has fought all his life to be seen as more than the ugliness that surrounds his very existence. Darcy is his chance at redemption. She lights up his world with her beauty and makes him want to be the man she needs. If she can look beyond the darkness and discover the man beneath the beast. The hint of danger, the epic love story and the ethereal spell that Ms. Regnery can weave so well make the It's You series a one click power duo.



View all my reviews
SWEET SOMETHINGS BY BARBARA FREETHY
Release Date: January 17, 2017
SYNOPSIS
From #1 New York Times Bestselling Author Barbara Freethy comes a poignant, and charming romance about going home, falling in love and finding yourself.

Roman Prescott has always lived his life in the shadows. Being invisible meant staying alive—during his troubled childhood and his years as a soldier. But when an injury sends him back to the small town of Fairhope, he can't hide from his past or the light brought forth by a beautiful pastry chef.

Having lost her parents at a young age, Juliette Adams has had her share of tragedy, but now she fills her days making sweet desserts in her bakery and trying to recapture her happy childhood. Then she meets an attractive, brooding man, who is not only tearing down her old house but might just tear apart her fragile future. She's not interested in the tragic love story she was named after—she wants a love that will lift her up, that will last, and this sexy soldier has one foot out the door.

They both know they should ignore the sparks between them, but Valentine's Day fever has lit up the town and old love letters and long-buried secrets keep bringing them together. Can these two wary souls get past their fear of loving and losing to finally win the greatest love of all?

If so, what could be sweeter than that?


AUTHOR'S NOTE:

SWEET SOMETHINGS is a full-length standalone novel. But to add a cool twist, it's set in the world of a romantic movie called COFFEE SHOP that is being released on the same day! Both stories (the book and the movie) take place in the same small coastal town, and some of the characters cross over. You can read/watch each separately without missing a beat, as they each have their own independent storylines, but if you'd love to check out both, you'll have even more fun!
BUY LINKS
Amazon B & N Google Play Books IBooks Kobo
REVIEW: SWEET SOMETHINGS BY BARBARA FREETHY
Sweet Somethings by Barbara Freethy

My rating: 5 of 5 stars


Everybody deserves their second chance. For some people it just takes a little more time to find it. Juliette and Roman are due to have some happiness in their lives. Having been dogged by tragedy and heartache, it's only right that the dark shadows fade to make way for more sunshine. But can these shadow hunters let go of the past and say hello to a brighter future? Sweet Somethings uses the past to influence the future. Brought together by an old house, an unforgettable love story and some surprising secrets this couple may finally find a place to call home. Each other. Ms. Freethy continues to surprise me with her frank candor, emotional stories and epic romances. Her voice is unique and her stories have a purity that shines through.

Coffee Shop - A woman in search of a love that won't let her down. Coffee Shop and it's cast of characters mixes funny with a whole of heart to deliver a quirky yet lovable journey to a second chance love. Donovan is a woman on a mission. If she can get her head out of the past and listen to her heart. The charm was there, even in the lukewarm moments. A Hallmark card for the soul.



View all my reviews


TANGLED UP (TAKING CHANCES) BY ERIN NICHOLAS
Release Date: January 17, 2017
SYNOPSIS
Storm chaser Max Grady can already feel it: there's a tornado coming to his hometown of Chance, Nebraska. Max is going after it, and the only person he wants by his side is police officer Bree McDermott, fellow adrenaline junkie, his best friend, and the woman Max has secretly been in love with for years. But when a close call with a tornado leaves them lip-locked, Max knows that the danger is only beginning.

Bree is always up for excitement. Her close and sexy encounter with Max is unlike anything she's felt before, and she wants more. As they work together to help clean up Chance, the air between them crackles with sexual tension. But Bree has a tendency to look ahead to the next thrill, and Max knows it. Now they're all tangled up as they chase the strongest force of nature on earth: love.
BUY LINKS
REVIEW: TANGLED UP (TAKING CHANCES) BY ERIN NICHOLAS
Tangled Up by Erin Nicholas

My rating: 5 of 5 stars


Erin Nicholas is a master at telling a story. She is one of the few authors that I have in my favorites column on every reading app from Kindle to Nook to Kobo. Her talent lies in forcing a reader to face some of the scariest moments with laughter, optimism and courage. From a father determined to protect his child in No Matter What, to a woman discovering her strengths in Completely Yours or an underdog town staring down Mother Nature's fury to protect the people and community that they love in the Taking Chances series. Tangled Up has all the heart that I've come to expect, capped off by lovable characters and temptation galore. Original, entertaining and heartwarming moments are what Tangled Up has in store. I just have three words to add. I WANT MORE.



View all my reviews
HOME RUN (THE BOYS OF SUMMER) BY HEIDI MCLAUGHLIN
Release Date: January 17, 2017
SYNOPSIS
The second novel in New York Times bestselling author Heidi McLaughlin's Boys of Summer baseball series.

Cooper Bailey finally has a shot at being a major league ballplayer, but it will take all his focus and energy during spring training to make it happen. Complicating things is his instantaneous connection with Ainsley Burke. He can't get enough of her, and before he knows it, they're spending every night together. But as happy as he is off the field, his focus on it is suffering, and he isn't willing to risk his lifelong dream over a girl.

But without Ainsley, Cooper's miserable, and his game is still off. No matter what he tries, he can't get her out of his head, and he's starting to realize that maybe he doesn't want to. Baseball is just a game, but Ainsley might be the real thing. Now he just has to convince her of that.
BUY LINKS
Amazon B & N Google Play Books IBooks Kobo
REVIEW: HOME RUN (THE BOYS OF SUMMER) BY HEIDI MCLAUGHLIN
Home Run by Heidi McLaughlin

My rating: 5 of 5 stars


What is wrong with this picture? I hate football, baseball, basketball and hockey but am a fan of sports romance. Sarah Robinson and Catherine Gayle got me curious, Skye Jordan and Carly Phillips reeled me in and authors like Heidi McLaughlin, Victoria Denault and Jami Davenport keep me hanging around. Dedicated, opinionated and full of surprises, an athlete on a mission can get the heart racing on and off the field, ice or court. The drama comes when the risks start to outweigh the gain. With Home Run, Ms. McLaughlin strikes all the right cords with her sexy bad boy and his equally tempting bad girl. Home Run has all the tools to make a fan out of a novice like me.




View all my reviews


FOOL FOR LOVE ANTHOLOGY BY Beverley Oakley, Donna Cummings, Heather Boyd
Release Date: January 17, 2017
SYNOPSIS
Wicked Rogues. Handsome Aristocrats. Destined for love, one and all! Beverley Oakley, Donna Cummings, and Heather Boyd have teamed up to bring you three utterly romantic love stories to warm your heart!

In His Valentine's Secret, by Beverley Oakley, Lady Athelton's St Valentine's Ball should have been a time for love, not vengeance, as the once carefree Lisette plots the demise of the man she once loved. Will she learn the truth in time?

In Truly, My Love, by Donna Cummings, Lord Benedict and Lady Sommerwood stage a faux romance in order to help him evade two besotted young misses at a Valentine party. But can an affair built on falsehoods possibly turn into true love?

In A Husband for Mary, by Heather Boyd, Miss Mary Vine kissed a handsome stranger at the Fenwick Masquerade, never imagining the extraordinary attraction could be for the most disgraceful rake in London. A man she knew far too well…

This is an all-new collection of stand-alone complete works.
BUY LINKS
Amazon B & N Google Play Books IBooks Kobo
REVIEW: FOOL FOR LOVE ANTHOLOGY BY Beverley Oakley, Donna Cummings, Heather Boyd
Fool for Love by Beverley Oakley

My rating: 5 of 5 stars


Love is a multi-faceted emotion. There are so many words that can describe this one feeling from anger to lust, pain to happiness, attraction to hatred. So many feelings are wrapped up in this one word, therefore it's fitting that Fool for Love explores the effects of love both good and bad. A trio of talented authors give glimpses into the emotional havoc we can LOVE.

His Valentine's Secret by Beverly Oakley - From a painful breakup to a plot for revenge. The road to happily ever after leads Lisette on a journey of darkness and hurt pride. Can she let go of the pain of the past for a second chance at happiness?

Truly, My Love by Donna Cummings - A sham of convenience, has a surprising Twist. Ms. Cummings lightens up the mood with this adorable couple.

A Husband for Mary by Heather Boyd - A mysterious kiss leads to an all to familiar emotion. Can a leopard change it's spots? Or will risking her heart turn into Mary's biggest heartache?

Heather Boyd, Beverly Oakley and Donna Cummings approach this complex emotion with a hint of humor, a ton of mystery and a wealth of wisdom. Fool for Love is a wonderful ode to romance.



View all my reviews
THEODORA (LADY ARCHER'S CREED) BY CHRISTINA MCKNIGHT
Release Date: January 17, 2017
SYNOPSIS
Friendship…

Lady Theodora Montgomery departed Miss Emmeline's School of Education and Decorum for Ladies of Outstanding Quality to attend her first London Season—her three dearest friends by her side. With her sharp wit and skill on the archery field, Theo is far more interested in winning a large purse prize than securing a husband. But when she is unmasked on the tourney grounds, her face exposed to all, she fears her identity and days spent gallivanting around London will cause not only her undoing, but the downfall of her friends as well.

Loyalty…

Mr. Alistair Price, heir to the elderly Viscount Melton, arrived in London with his eight younger siblings in tow. He is charged with keeping his family name above reproach until the Season starts and his sister, Miss Adeline Price, is presented to society—though that proves far more difficult than Alistair ever expected when he discovers his rebellious sister climbing down the side of their townhouse and scurrying off to Whitechapel for an archery tournament. His focus remains on saving his family from the certain ruin and disgrace Adeline's actions invited—until Alistair catches sight of another female archer, her arrow connecting with far more than the center of her target.

And honor above all…

With Theodora's future—and that of her friends—in jeopardy, will she agree to a marriage devoid of affection, or risk everything for the man who won her heart?

More about the Lady Archer's Creed Series

A love of archery brings four young girls together to form The Lady Archer's Creed. Through their mutual love of the sport, they solidify an unbreakable bond, and each woman has a unique quality that adds to their dynamic friendship:

Theodora, Lady Archer's Creed Series (Book One)
Lady Theodora with her sharp mind and love of academics becomes the perfect archery coach. Despite being the last to join their group, and the obvious outcast, she will risk her future for her friends.

Georgina, Lady Archer's Creed Series (Book Two)
Lady Georgina makes the perfect financier. The forgotten daughter of a wealthy duke, she seeks to belong to something—or someone—by any means necessary.

Adeline, Lady Archer's Creed Series (Book Three)
Miss Adeline is a natural leader. Having grown up in a large and often spirited family, she now allows no one to place her in the shadows.

Josephine, Lady Archer's Creed Series (Book Four)
Lady Josephine, having a sweet and impressionable nature, strives to please everyone—and keep their bond intact, even after they return to London for the Season.

Adeline, Georgie, Theo, and Josie live each day by the Lady Archer's Creed, which they developed during their school days at Miss Emmeline's School of Education and Decorum for Ladies of Outstanding Quality. "Friendship, loyalty, and honor above all" is their mantra. Now, as they face the challenges that come with adulthood, the creed is more important than ever.
BUY LINKS
Amazon B & N Google Play Books IBooks Kobo
REVIEW: THEODORA (LADY ARCHER'S CREED) BY CHRISTINA MCKNIGHT
Theodora by Christina McKnight

My rating: 5 of 5 stars


Positivity. Such a big word, with a simple meaning that means so much. I am drawn to strong heroines. So many times, women are looked at as in need of a rescuer but Ms. McKnight has spotlighted the opposite with her Lady Archer's Creed series. Strength of character breeds strong friendships, fearless women and great storytelling. I can go on all day about Theodora and her band of courageous compadres but the greatest message of all within the pages of this novel is: There is no one mold for a person to fit into. We are special for what we are and that inner light that sets our course not only makes us unique but beautiful.



View all my reviews
LIFE OF THE PARTY (CALYPSO FALLS) BY KRIS FLETCHER
Release Date: January 17, 2017
SYNOPSIS
In this all-new contemporary romance series, the five Elias sisters of Calypso Falls, New York, discover that love sometimes arrives in surprising ways...

Jenna Elias was always the life of the party, coasting on her charm and beauty, hiding the shame of the scandal surrounding her absentee father, a corrupt politician. But the party ended all too soon with an injury that left her partially paralyzed and a husband who simply left her. Now, at age thirty, she's back in Calypso Falls. She leads a simple existence working in her sister's coffee shop, but Jenna misses the joy she once had in her life. Then Cole Morrissey walks into the coffee shop.

As idealistic as he is sexy, the local lawyer is running for mayor of Calypso Falls. Drawn to Jenna's quick wit and radiance, he asks her to volunteer for his campaign. As the two start working together, there's no denying the powerful attraction they feel for each other. A desktop makeout session leads to much more. But when Jenna's dad returns to Calypso Falls and wants to be a part of her life again, the association could spell political suicide for Cole—and the end of a once-in-a-lifetime chance at true love.
BUY LINKS
Amazon B & N Google Play Books IBooks Kobo
REVIEW: LIFE OF THE PARTY (CALYPSO FALLS) BY KRIS FLETCHER
Life of the Party by Kris Fletcher

My rating: 4 of 5 stars


It takes an excessive amount of energy to play the clown. To paste on a smile and put on a compelling show, when the world is falling apart around you. Oh, to be that girl. Kris Fletcher gives a front row seat to the roller coaster drama that Is Jenna Elias' life. From the good time girl who can turn on the charm. To the broken woman working to bounce back after numerous heartbreaks and tragic circumstances. To the woman on the verge of starting a scandal, Jenna is never dull. Jenna, may be a wild child but her spirit and heart are what I liked most about her. Cole was the spark that lit the fuse that brought joy, laughter and some of that fight back into Jenna's life. Life of the Party mixes wit with drama and delivers a gritty story of scandalous love and redemption.



View all my reviews
DARING TO FALL (HIDDEN FALLS) BY T.J. KLINE
Release Date: January 17, 2017
SYNOPSIS
Emma Jordan has returned home after her father's death to run the animal sanctuary that had been his legacy. But strange things start happening, and it seems that someone is out to shut her down, someone who doesn't mind putting lives in jeopardy to see it through. When Hidden Falls' sexiest fireman starts to ask questions, Emma needs to make sure his charm doesn't distract her from keeping her dreams alive.

Ben McQuaid has an obligation as a local fireman to protect the community, even from a well-meaning wildlife veterinarian who's in way over her head. But, it's becoming hard to keep his loyalty to the town and his desire for the pretty vet separate. As Ben and Emma become caught in a dangerous game of cat and mouse, their feelings for each other are growing.

Will they let duty drive them apart or will they dare to fall?
BUY LINKS
Amazon B & N Google Play Books IBooks Kobo
REVIEW: DARING TO FALL (HIDDEN FALLS) BY T.J. KLINE
Daring to Fall by T.J. Kline

My rating: 3 of 5 stars


When it comes to heartache, T. J. Kline is synonymous with delivering the goods. Ms. Kline writes literature that stimulates the mind and breaks the heart, both qualities will have a reader sit up and take notice. Daring to Fall adds mystery to an already full emotional plate. Ben and Emma are a compelling combination but with so much going on it's sometimes hard to keep the story line straight.



View all my reviews
AVAILABLE NOW!
DEAR JANE (AN ANIMAL ATTRACTION) BY MARISSA CLARKE
Release Date: January 9, 2017
SYNOPSIS
Jane Dixon is a dating disaster. Flammable tablecloths and broken arms are just a typical evening for her unlucky companions. No wonder Jane never gets past a first date. But luckily her co-worker and new bff says he's got loads of friends who'd date her more than once. If only she could stop thinking about how much fun he was to hang out with. And she'd never dropped a bucket of ice on his junk. Win.

All attorney Eric Blackwell has to do to make junior partner is not screw anything up for six weeks, which seems like a slam dunk until he finds himself matchmaker to the office "One Date Wonder" aka the boss's daughter. It's hard to stay focused when setting up the hottest girl he's ever met with everyone but himself. Maybe he could just set her up with all the wrong men, and keep his hands off his new friend… Yeah. His promotion is toast.
BUY LINKS
Amazon B & N Google Play Books IBooks Kobo
REVIEW: DEAR JANE (AN ANIMAL ATTRACTION) BY MARISSA CLARKE
Dear Jane by Marissa Clarke

My rating: 5 of 5 stars


Ms. Clarke and her hilariously dangerous, yet endearing couple are a joy. Jane is a one woman tornado. Her love life is a testament to the disasters that are her constant shadow. The appeal of Dear Jane is that despite the odds and the accidents, love found a way. Eric found a way around Jane's imperfections and saw the beauty that hid within her soul. Thanks to Eric and Jane, Marissa Clarke delivered a beautiful message of empowerment while supplying laughs and touching hearts. Dear Jane is a short, sweet, irresistible treat.



View all my reviews
PROPERLY GROOMED (WEDDING FAVORS) BY BOONE BRUX
Release Date: January 9, 2017
SYNOPSIS
Playing house just got real…
When Joya Bennett wakes up after her brother's wedding, half-naked and lying next to her lifelong crush, she's mortified. OMG, did she try to jump his bones? Worse, did she succeed? Intending to lay low and housesit for her brother until the embarrassment fades, she sneaks away before he wakes up.
What she didn't plan on is having company.
Lincoln Fisher doesn't do relationships, but if he did, his friend's little sister would be the one to tie him down. Good thing Joya had one too many drinks during the reception or he'd have crossed a line. Her brother would kill him if he found out all the places Linc wanted to kiss the sexy, auburn-haired beauty.
And now they're stuck in the same house. For two weeks.
She's off-limits. And he needs to keep it that way, even if the heat building between them is hot enough to blow off the roof…

Each book in the Wedding Favors series is a stand-alone, full-length story that can be enjoyed out of order.

Book #1 Bridesmaid Blues
Book #2 Random Acts of Marriage
Book #3 Properly Groomed
BUY LINKS
Amazon B & N Google Play Books IBooks Kobo
REVIEW: PROPERLY GROOMED (WEDDING FAVORS) BY BOONE BRUX
Properly Groomed
by
Boone Brux
My rating:
5 of 5 stars
Boone Brux went with the obvious approach.
Properly Groomed
is a theme every romance reader is familiar with, but still can't get enough of. The exotic animal and the unusual dog were a nice touch. Comfort, laughter and happily every after are all there for me to enjoy in Ms. Brux's stories.
View all my reviews
A SHOT WITH YOU (BOURBON BROTHERS) BY TERI ANNE STANLEY
Release Date: January 9, 2017
SYNOPSIS
Bourbon is in Brandon Morgan's blood. His family owns the best bourbon brand in the country—or it will be with his marketing genius. And after meeting the fiery daughter of a tequila distillery owner, he's never been more sure.

His barrels, her tequila. It's a match made in heaven. But only if he can keep his hands off the owner's daughter…and his secrets to himself.

Lesa Ruiz will do anything to keep Little Possum afloat, but one look at Brandon's gorgeous dimples and Lesa knows two things for sure: forever is not in the cards with this man and he's way too sexy to resist for long.

Well, three things… Brandon is hiding something, and she'll need to get a lot closer to figure it out and save her family's legacy. Shots, anyone?
BUY LINKS
Amazon B & N Google Play Books IBooks Kobo
REVIEW: A SHOT WITH YOU (BOURBON BROTHERS) BY TERI ANNE STANLEY
A Shot with You by Teri Anne Stanley

My rating: 4 of 5 stars


Who's playing who? Ms. Stanley is an author after my own heart. A winning story, a spicy heroine, what's not to like? Lesa may be down but she's not out. She's not above a little seductive manipulation to get her point across. Brandon skills are more boardroom than bedroom, but for Lesa he just might make an exception. The biggest strength of A Shot With You, Ms. Stanley and her characters drew me in too.



View all my reviews

FULL PACKAGE BY LAUREN BLAKELY
Release Date: January 9, 2017
SYNOPSIS
I've been told I have quite a gift.

Hey, I don't just mean in my pants. I've got a big brain too, and a huge heart of gold. And I like to use all my gifts to the fullest, the package included. Life is smooth sailing....

Until I find myself stuck between a rock and a sexy roommate, which makes for one very hard…place.

Because scoring an apartment in this city is harder than finding true love. So even if I have to shack up with my buddy's smoking hot and incredibly amazing little sister, a man's got to do what a man's got to do.

I can resist Josie. I'm disciplined, I'm focused, and I keep my hands to myself, even in the mere five-hundred square feet we share. Until the one night she insists on sliding under the covers with me. It'll help her sleep after what happened that day, she says.

Spoiler—neither one of us sleeps.

Did I mention she's also one of my best friends? That she's brilliant, beautiful and a total firecracker? Guess that makes her the full package too.

What's a man stuck in a hard place to do?
BUY LINKS
Amazon Amazon Paperback B & N Google Play Books IBooks Kobo
REVIEW: FULL PACKAGE BY LAUREN BLAKELY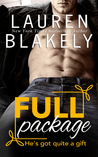 Full Package by Lauren Blakely

My rating: 5 of 5 stars



ARC Review: Full Package by Lauren Blakely

A cynical playboy with a smart mouth, quick wit and raging sex drive. Chase is a wet dream come to life. His ego hides a big heart and a secret fantasy that risks the two friendships he values most. Josie is his biggest fan but also his largest weakness. A sweetheart with big dreams and a few secrets of her own, her delectable desserts are tempting but her guilty pleasure involves a certain doctor with a sweet tooth and a knack for rule breaking. Lauren Blakely stays true to the title with Josie and Chase. She delivers a humorous story full of heart, overflowing with temptation and characters that are charismatic scene stealers in every way. Full Package is the whole enchilada.



View all my reviews
WILD KISSES (WILDWOOD) BY SKYE JORDAN
Release Date: January 10, 2017
SYNOPSIS
Newly divorced, Avery Hart returns home to Wildwood eager to take on her dream opportunity and transform her family's dive bar into her own bakery. The contractor for hire isn't just a master with his hands—he's big, built, and wears a tool belt like nobody's business. Despite being an ex-con, Trace Hutton is irresistible. Too bad he'd never go for someone as inexperienced as Avery.
Trace needs to focus on the job at hand, not daydream about smearing icing all over the sexy baker…and licking it off. This job is the key to getting his construction company back on its feet after his time in prison. Besides, no one deserves a fresh start more than Avery, and she certainly won't get that with him.
After a delectable night of passion (and pie), Trace craves something more. But he'll be damned if he'll let his checkered past crush her dreams. And as Avery starts to realize how Trace fulfills more than just her physical needs, she struggles with whether to let her history decide her future, or explore the wild new possibilities of forever…
BUY LINKS
REVIEW: WILD KISSES (WILDWOOD) BY SKYE JORDAN
Wild Kisses by Skye Jordan

My rating: 5 of 5 stars


The Wildwood series, keeps getting better. I love the message that Ms. Jordan places at the forefront of every story: Everyone deserves a second chance, so grab hold and make it count. Forbidden Fling laid the groundwork with Delaney and Ethan's journey to forgiveness and ultimately romance. Wild Kisses continues this powerful saga as Delaney's sister Avery finds her voice, opens her heart and seeks her own happily every after. Trace is the object of her secret fantasies. A self-made man with a boatload of mistakes hanging like a noose around his neck. Will he ever learn to see himself as more than the bad choices he's made? Two people with broken hearts and shattered dreams, just may find redemption in each other. Author, series and characters are showstopping.



View all my reviews
INVITING TROUBLE (HAPPY ENDINGS BOOK CLUB) BY KYLIE GILMORE
Release Date: January 10, 2017
SYNOPSIS
A best friend's little sister romance...

Madison Campbell has worshipped her older brother's best friend Parker Shaw for as long as she can remember. So the night before he leaves for the Air Force, she decides he's leaving town with her virginity. All she has to do is transform her tomboy self into a sexy woman with a bit of borrowed makeup and some creative fashion choices. The results? One drunken kiss that Park doesn't even remember.


Ten years later, no man has ever gotten close to her heart the way Park did. And now that he's back, the very unfeminine Madison refuses to blow her second chance. But when her bold attempts to snag his attention ("Oops! Dropped my towel.") fail miserably, she does something completely insane—she caves to a makeover from the meddling matchmaker in charge of The Happy Endings Book Club. Hey, Park, you want some of this? Madison is about to find out.


For more humorous contemporary romance, check out all of Kylie's books!

Happy Endings Book Club Series
Book 1: Hidden Hollywood
Book 2: Inviting Trouble

Clover Park Series
Book 1: The Opposite of Wild
Book 2: Daisy Does It All
Book 3: Bad Taste in Men
Book 4: Kissing Santa
Book 5: Restless Harmony
Book 6: Not My Romeo
Book 7: Rev Me Up
Book 8: An Ambitious Engagement
Book 9: Clutch Player
Book 10: A Tempting Friendship

The Clover Park STUDS Series
Book 1: Almost in Love
Book 2: Almost Married
Book 3: Almost Over It
Book 4: Almost Romance
Book 5: Almost Hitched
BUY LINKS
Amazon B & N Google Play Books IBooks Kobo
REVIEW: INVITING TROUBLE (HAPPY ENDINGS BOOK CLUB) BY KYLIE GILMORE
Inviting Trouble by Kylie Gilmore

My rating: 5 of 5 stars


Once a Kylie Gilmore fan, there is no escape. Inviting Trouble is just another reason why resistance is futile. How can you help but love an author that uses charm and humor to deliver relevant advice? Did I mention she's does all this while stealing your heart? The lesson: Every color is special, don't be afraid to let them shine through. I just lost another little piece of my heart and I'm so okay with that.



View all my reviews
SAFE BET (THE RULES) BY MONICA MURPHY
Release Date: January 10, 2017
Sydney Walker's new job is perfect. As the live-in nanny to the most famous quarterback in the NFL and his beautiful wife, she couldn't have it any better. Their kids are adorable. Her bosses are more than generous. Plus, there are hot football players at the house all the time. Life can't get much better than this.
Until her life turns into an absolute nightmare. The media is abuzz with rumors that she and her boss Drew Callahan are having a torrid affair. Everyone knows the truth—except the public. So Drew's wife Fable comes up with the perfect idea.
She creates a fake relationship between Sydney and one of the rookie players on Drew's team. Wade Knox is forever indebted to Drew and Fable and readily agrees to the set up. Pretending to be in a romantic relationship with the hot nanny for a week—how hard can it be?
Crazy how it only takes one week for two people to fall head over heels in love…
(This mash-up new adult romance features characters from both the One Week Girlfriend series and The Rules series.)
REVIEW: SAFE BET (THE RULES) BY MONICA MURPHY
Safe Bet by Monica Murphy

My rating: 5 of 5 stars


I am not as familiar with Monica Murphy's The Rules series or One Week Girlfriend series as I would like to be. That's okay though because Safe Bet has a voice all it's own. Ms. Murphy took me back to a time of first love, insecurity and discovering one's place in an uncertain world. The road is hard but the reward is worth the fight. Sydney and Drew represent every person afraid to follow their dreams, every missed opportunity and every hope that something better awaits. It's easy to relate to characters that have pieces of us all written into them. Her skill at touching the heart, tickling the senses and supplying food for thought are a few of the many reasons why Monica Murphy is a regular on my favorites list.



View all my reviews
ADORED IN AUTUMN (SEASONS) BY JESS MICHAELS
Release Date: January 10, 2017
SYNOPSIS
The final steamy chapter in the popular Seasons series from USA Today Bestselling Author Jess Michaels.

Viscountess Felicity Barbridge escaped a violent marriage with her life because she was willing to make desperate choices. Now those choices are back to haunt her, as is the object of her girlhood obsession, Asher Seyton.

Asher was never anything more than a servant's son, but he's elevated himself through an education and is now a respected solicitor. He only returns to his childhood home to help with a financial issue, but when he realizes Felicity is being threatened, he's driven to stay and help. Even if he must now face all the feelings for her he tried to repress over the years.

Will Felicity be able to trust Asher enough to share more than passion? And will Asher's own secrets unravel all they've built?

Length: Full-Length
Heat Level: Intensely passionate

Part of the Seasons series but can be read as a standalone story.
BUY LINKS
Amazon B & N Google Play Books IBooks Kobo
REVIEW: ADORED IN AUTUMN (SEASONS) BY JESS MICHAELS

Adored in Autumn by Jess Michaels

My rating: 5 of 5 stars


Ms. Michaels saved the best for last. The masterful seductress has whet many an appetite with her jaw dropping moments and heartbreaking reveals. Finally, the main course is on full display with Adored in Autumn. Felicity has been a mystery that has been exposed little by little with each Seasons novel. Now all the drama, passion and intensity are laid out for all to see in a stunning wrap up to a magnetic series. Felicity was more than the sum of her tragic life. Her inner strength gave her the tools she needed to rescue herself from personal tragedy and to face her fears with a head held high. So it's fitting that the tigress that is Felicity Barbridge found her own warrior in such an unorthodox man like Asher.



View all my reviews
ROYALLY DEEP (GOING DEEP) BY VIRNA DEPAUL
Release Date: January 10, 2017
SYNOPSIS
Take one sexy quarterback,
Mix in one adventurous princess,
Add some serious sexual tension,
And you get the royal romance of a lifetime.

Kyle Young—all-star quarterback and lady-killer—thought he knew what he wanted out of life: freedom, football and fun. Then he meets Bella. She seems like the perfect woman: gorgeous, funny, and a huge football fan. But what he doesn't know? Bella also happens to be Princess Arabella of Salasia.

Yearning for adventure and romance before she devotes herself to her country and marries a man she doesn't love, Arabella can't believe her luck when she meets Kyle. Sparks fly between the football player and the princess, and they begin an affair neither of them could've imagined.

Soon, however, duty and self-doubt cause Kyle and Arabella to separate. Can he become the prince she needs? And can Arabella overcome her family's disapproval? Or will their love transform back into a pumpkin at midnight, leaving them both without a happily ever after?
BUY LINKS
Amazon B & N Google Play Books IBooks Kobo
REVIEW: ROYALLY DEEP (GOING DEEP) BY VIRNA DEPAUL
Royally Deep by Virna DePaul

My rating: 5 of 5 stars


Virna DePaul never falls short of capturing an audience. Whether rocking out with the band, lusting after the bad boy, learning family secrets or searching out a new life and experiencing some long needed freedom, it's a forgone conclusion that each journey will be captivating. Royally Deep turns the aristocracy on it's head with a fearless princess and her unconventional Prince Charming. Bella is her own woman. A world of structure has bred a woman willing to break down those walls and create her own path. Kyle, is living the dream. A spectacular career full of money, opportunity and stardom. The bright lights should be enough, but an energetic firecracker is about to shake up his life and heart in a short amount of time. Royally Deep dares to be different. Ms. DePaul takes a dab of fairytale and blends it with an abundance of modern day romance. Sports, royalty and romance deliver a touchdown.



View all my reviews
WALK OF SHAME (LOVE & OTHER DISASTERS) BY JENNIFER DAWSON
Release Date: January 10, 2017
SYNOPSIS
The walk of shame.

Ah, yes, there's nothing quite like shamelessly letting yourself be dragged off to a storage closet by a younger man to really put the cherry on top of your humiliation sundae. It's been a long, slow trip to the bottom, but I've finally reached my limit. After spending the night with Christopher Fellows, and slinking out of his apartment in the wee hours of the morning, I have no choice but to take a serious look at myself. It's time for a change. A real life overhaul, full of self-development, healthy living, and all that other stuff that's supposed to be good for you. And what better way to find yourself than with a vow of celibacy and a trip to Belize? The way I figure it, if you're going to get your act together, you might as well begin with a tropical jaunt to paradise to start your transformation off on the right foot.

What could possibly go wrong?
BUY LINKS
Amazon B & N Google Play Books IBooks Kobo
REVIEW: WALK OF SHAME (LOVE & OTHER DISASTERS) BY JENNIFER DAWSON
Walk of Shame by Jennifer Dawson

My rating: 4 of 5 stars


Ashley used to believe in love, until one heartache too many. Now her life consists of random hook - ups, disappointing dates and watching her friends find their perfect match. Christopher gets his feet knocked out from under him when he meets hurricane Ash. Between raging hormones and a disappearing paramour his heart can hardly stand the shock of the blow. Walk of Shame is more low key than some of Ms. Dawson's works. Less sexy, more sassy with a hint of innuendo and a barrel of laughs. Jennifer Dawson continues to cross barriers by breaking stereotypes such as how irrelevant age is in romance and shining a light on truths it's easy to take for granted. The bottom line is Ash and Chris may be unconventional, but this author's strength lies in her "dare to be different" approach.



View all my reviews
CLAIMING THE BILLIONAIRE (SEATTLE BACHELORS) BY JM STEWART
Release Date: January 10, 2017
SYNOPSIS
In the tradition of E. L. James and Sylvia Day comes a sultry new series starring women who want to live out their wildest dreams . . .


Code Name: Love


Staff Sergeant Tyler Benson is a survivor. He doesn't give up on what he wants, and right now, he wants Cassandra Stephanopolous. He thought about her every single day he was gone. Now that he's back, nothing will stop him from making her his. Plan of Action: Crash Seattle's biggest billionaire-bachelorette auction and make sure he comes out the highest bidder. If he wins a date with Cassie, she'll have to talk to him.


Three years. It's been three years since Cassie said goodbye to Tyler, and she's been trying to pick up the pieces ever since. Just as she's starting to feel ready to move on, he walks in, all cocky smiles and blue-collar charm. She's determined to keep her focus where it should be: on her thriving jewelry business. But as he lays siege to her heart, she wonders just how long her defenses will last . . .
BUY LINKS
Amazon B & N Google Play Books IBooks Kobo
REVIEW: CLAIMING THE BILLIONAIRE (SEATTLE BACHELORS) BY JM STEWART
Seattle Bachelors #4 by J.M. Stewart

My rating: 5 of 5 stars


Claiming the Billionaire lived up to all of my expectations. Cassie stole every scene she dared to grace in Gray and Madison's story, so it was a forgone conclusion that her own story would be explosive. Cassie is classy, brashy and not afraid to get trashy. Like in everything else, when she loves, she does so with her whole being and when she hurts, the healing process is a long, difficult one. Tyler is the perfect match for such a volatile woman. Rebellious and determined this man has survived some of the hardest conditions and tragedies of his life. No way is "No" going to stop him from claiming his prize. The heart of the one woman who can break his heart or save his soul. JM Stewart delivered a flameworthy couple that does combustible like no other but still manages to bring out the tears along the way.



View all my reviews
RESCUED BY LOVE (LOVE IN BLOOM: THE RYDERS) BY MELISSA FOSTER
Release Date: January 11, 2017
SYNOPSIS
In RESCUED BY LOVE...

As the daughter of a world-renowned fashion designer, Addison West enjoyed a privileged life attending the most sought after parties, traveling around the world, and having anything she wanted. Until she broke free and went against her father's wishes, needing to prove to herself--and to him--that she could make it on her own. Now she's ready to take her adventures in a new direction and sets her sights on roughing it in the wilderness.

Jake Ryder followed in his father's footsteps as a top search and rescue professional. He spends his days saving those in need and his nights in the arms of willing women who offer nothing more than a few hours of sexual enjoyment. Just the way he likes it.

When Jake's sister-in-law calls and reports her best friend missing, it's up to Jake to find her and bring her home. But Addison isn't lost, and she sure as hell isn't going to be told what to do by an ornery mountain man with whom she'd spent one torrid night after her best friend's wedding. Jake has never left anyone behind--will Addison be his first failed rescue?


MORE RYDERS coming soon!
Seized by Love (Blue)
Claimed by Love (Duke)
Chased by Love (Trish)
Rescued by Love (Jake)
Swept Into Love (Gage)

The RYDERS are part of the LOVE IN BLOOM big family romance collection. Each book may be read as a stand-alone novel, or as part of the series. Read the complete LOVE IN BLOOM series:

SNOW SISTERS
Sisters in Love
Sisters in Bloom
Sisters in White

THE BRADENS (at Weston, CO)
Lovers at Heart (Treat & Max)
Destined for Love (Rex & Jade)
Friendship on Fire (Josh & Riley)
Sea of Love (Dane & Lacy)
Bursting with Love (Savannah & Jack)
Hearts at Play (Hugh & Bree)

THE BRADENS (at Trusty, CO)
Taken by Love (Luke)
Fated for Love (Wes)
Romancing My Love (Pierce)
Flirting with Love (Ross)
Dreaming of Love (Emily)
Crashing into Love (Jake)

THE BRADENS (at Peaceful Harbor)
Healed by Love (Nate)
Surrender My Love (Cole)
Crushing on Love (Shannon)
River of Love (Sam)
Whisper of Love (Tempest)
Thrill of Love (Ty)

BRADEN WORLD NOVELLAS
Promise My Love (Rex & Jade's Wedding Novella)
Daring Her Love (1001 Dark Nights)

THE REMINGTONS
Game of Love (Dex)
Stroke of Love (Sage)
Flames of Love (Siena)
Slope of Love (Rush)
Read, Write, Love (Kurt)

SEASIDE SUMMERS
Seaside Dreams (Bella)
Seaside Hearts (Jenna)
Seaside Sunsets (Jamie)
Seaside Secrets (Amy)
Seaside Nights (Sky)
Seaside Embrace (Hunter)
Seaside Lovers (Grayson)
Seaside Whispers (Matt)
BUY LINKS
Amazon B & N Google Play Books IBooks Kobo
REVIEW: RESCUED BY LOVE (LOVE IN BLOOM: THE RYDERS) BY MELISSA FOSTER
Rescued by Love by Melissa Foster

My rating: 5 of 5 stars


Addy and Jake are a mass of contradictions. On the surface you have people who are self assured and thrive on independence, yet the deeper you dig the bigger the mess. From trust issues to control issues, insecurities and a chasm of painful truths, falling in love is an uphill battle for these loners. Addy was a work in progress. Sort of a switch of roles. Addy was the objectifier and Jake the aggressor. She saw sex as a means to an end. Jake from the start seemed to be all in. Rescued by Love sets about breaking down barriers, which Ms. Foster is well versed in doing but the prize at the end of the journey is a narrative that is hard to forget.



View all my reviews
HER ROGUE RUSSIAN (KAREV BROTHERS) BY LESLIE NORTH
Release Date: January 11, 2017
SYNOPSIS
Former Russian mobster Maxim Karev is a man with something to prove. His father's been murdered and even his own brother thinks he's guilty. To clear his name, Maxim has to return to the organization he left behind. He likes to work alone, but this time an FBI agent leaves him little choice—either she goes in undercover with him, or Maxim can rot in jail. One thing's for sure—he's not going down for a crime he didn't commit. If playing with the beautiful agent is what it takes to prove his innocence, Maxim is prepared to go the distance.

FBI agent Savannah Casillero never backs down. She already lost her partner on this case, and now she's more determined than ever to find Sergey Karev's killer. With the Mafia's former head of security under her thumb, she finally has a way inside—as Maxim's girlfriend. Controlling the lone wolf may be a bit of challenge, but Savannah's confident she can handle it. The six-and-a-half-foot Mafia man is certainly not her type, but she'll do more than play along to make it believable.

They're willing to work together to track down a killer, but when the ruse becomes a little too real, will Maxim and Savannah give in to temptation or hold fast to their original obligations?
BUY LINKS
Amazon B & N Google Play Books IBooks Kobo
REVIEW: HER ROGUE RUSSIAN (KAREV BROTHERS) BY LESLIE NORTH
Her Rogue Russian by Leslie North

My rating: 5 of 5 stars


He got out for his sanity. Will he go back to clear his name? Max is a good man. It may be hard to tell but behind the shady mafia background lies a man who wants to be a better man. A murdered father and a target on your back is no way to atone for said sins. In a world where one wrong move can be your last, Max is quickly running out of options. Enter Savannah, a woman with a plan. She needs answers, Max wants to clear his name and this partnership could be their undoing. If they don't end up dead. Her Russian Rogue ping pongs between adrenaline fodder, sexual fantasy and witty dialogue and dominates them all. The Karev Brothers are lethal in more ways than one.



View all my reviews
SWEET SERENDIPITY (KINDLE WORLDS: HOPE FALLS) BY JAMIE FARRELL
Release Date: January 12, 2017
SYNOPSIS
Wyatt Owens has had a crush on his best friend's little sister for as long as he can remember. So when he unexpectedly finds her at his buddy's vacation home – naked, no less! – when he arrives for a week of hanging in Hope Falls, he can't decide if this is his lucky day, or if he's in for the longest week of his life.

Skye Ryder has never much liked Wyatt. He's bossy and disapproving and he never does anything wrong. But she's also never been alone with him before. Nor has she ever noticed how sexy he can be, especially when he's showing off his military-issue muscles and flashing those rare smiles. She's not looking for love, but the man she hated is suddenly the man she can't resist.

Can they make it last forever, or does what happens in Hope Falls stay in Hope Falls?
BUY LINKS
REVIEW: SWEET SERENDIPITY (KINDLE WORLDS: HOPE FALLS) BY JAMIE FARRELL
Sweet Serendipity by Jamie Farrell

My rating: 5 of 5 stars


What does Hope Falls mean to me? LOVE. More than the stories, it's the caring hearts of the citizens that keep me coming back. Jamie Farrell fit right in with Sweet Serendipity. Wyatt and Skye were a pleasant surprise. More sweet than sexy Serendipity blends heart, nostalgia and second chances to create quite a treat.



View all my reviews
TO TEMPT A VISCOUNT (ENTANGLED NOBILITY) BY NAOMI BOOM
Release Date: January 13, 2017
SYNOPSIS
Lady Laura Rosing knows two things: first, she will marry for love, and second, she detests rakes. When she meets Lord Gavin Farris, she understands immediately that he fails both her criteria, and worse yet, he is an absolute cad who refuses to leave her be.
Lord Farris has always appreciated women and cannot understand why Lady Laura is so resistant to his charms. While pretty, she is not his usual type, but something about her intrigues him. Much to his chagrin, he finds himself desperately in love with her, but he may be too late. His adamant refusal to marry just might have planted her firmly in the arms of another.
BUY LINKS
Amazon B & N Google Play Books IBooks Kobo
REVIEW: TO TEMPT A VISCOUNT (ENTANGLED NOBILITY) BY NAOMI BOOM
To Tempt a Viscount by Naomi Boom

My rating: 5 of 5 stars


I consider myself to be a connoisseur of literature. My love of reading has allowed me to discover a wide range of talented authors in an even larger range of genres. By choice, I enjoy the romance genre, particularly historical. From my first Judith McNaught novel, I was hooked. That message of love overcoming tragedies, social standing and even healing and building bonds is one that I have always loved. To Tempt a Viscount is a contemporary romance with a historical format. Ms. Boom lends her voice to the majestic regency era while giving her lovebirds a more modern field and it works. Laura is my kind of heroine. She's knows what she wants, speaks her mind and stays true to herself. Farris is a playboy through and through. He shields his heart by playing the part of a rogue. These characters highlight the best in each other and give the story an airy feel. New author, fabulous romance.
HIS BALLERINA BRIDE (DRAKE DIAMONDS) BY TERI WILSON
Release Date: January 1, 2017
SYNOPSIS
The Ultimate Pas de Deux

A Page Six Exclusive Report

Debonair Artem Drake has had tongues wagging all over New York since he became surprise CEO of Drake Diamonds. This playboy hopes to bring new life to the storied old business before those rumored bad investments sink the family ship. He's even plucked an ambitious salesgirl out of the shadows to become the store's new star designer. But Ophelia Rose isn't the ingenue she seems. The swanlike beauty's hiding a past that glimmers as bright as a Drake diamond—she once graced the stage as a professional ballerina…until she was forced to take her final curtsy and hide from the limelight. Now can Artem bring her back to center stage? Or will their glittering future together wither under the secrets of the past?
BUY LINKS
Amazon B & N Google Play Books Harlequin IBooks Kobo
REVIEW: HIS BALLERINA BRIDE (DRAKE DIAMONDS) BY TERI WILSON
His Ballerina Bride by Teri Wilson

My rating: 5 of 5 stars


Hypothesizing a situation is much different then living it out full scale. The mind allows the person to dream up worse case scenarios but the heart refuses to believe that any can happen. Teri Wilson guided me on a journey of sorrow, hope and winding roads in the inspirational tale of Ophelia Rose. Her lifelong dream ended the day her nightmare began, now it's up to a billionaire playboy to show her what true beauty is. Flaws and all. It's hard to see words when your eyes refuse to stop watering. I loved Ophelia for her grace in the face of adversity. Artem made suave not only look sexy but despite his philandering ways was the perfect soulmate to mend a broken heart. His Ballerina Bride felt like journeying through a dream that I never wanted to end.

Copyright of Night Owl Reviews



View all my reviews
LORD SEBASTIAN'S SECRET (THE DUKE'S SONS) BY JANE ASHFORD
Release Date: January 3, 2017
SYNOPSIS
He's hidden this shameful secret all his life...
Lord Sebastian Gresham is a battle tested soldier and brilliant strategist. Yet all his life he's had to hide his complete failure to decipher letters. In his own mind, he's just stupid. What a miracle it is that he's found the perfect bride. Lady Georgina Stane is beautiful, witty, and brilliantly intelligent. Sebastian is head over heels in love, proud as a peacock, and terrified. If she finds out, he'll lose her love forever.
The Duke's Sons Series:
Heir to the Duke (Book 1)
What the Duke Doesn't Know (Book 2)
Lord Sebastian's Secret (Book 3)
BUY LINKS
Amazon B & N Google Play Books IBooks Kobo
REVIEW: LORD SEBASTIAN'S SECRET (THE DUKE'S SONS) BY JANE ASHFORD
Lord Sebastian's Secret by Jane Ashford

My rating: 4 of 5 stars


Ordinary breeds extraordinary. What that means to me is that a person is so much more than the skills they lack. They are special because of who they are. In the long run a pure heart and an open mind are all that matters. Sebastian was a smart man but he failed to see that because of a misinterpreted flaw. He was a man of action. He could create a plan and carry it out but with intelligence and skill but when it came to understanding the reading, writing and curriculum, he felt like fish out of water. Lord Sebastian's Secret deals with a prevalent subject in a time when not much was known about it. Still to this day dyslexia is still look at as a weakness, in our ever changing world. Ms. Ashford examines the subject with gentleness and a great deal of insight. Through the eyes of Sebastian, the author allows the change to understand the frustration and shame of an individual dealing with the not knowing and the fear of being different. Lord Sebastian's Secret is an eye opener. The message is clear: "Every journey is unique, but we all have struggles to overcome." Sebastian was stronger than his fear and with the love of a good woman like Georgiana, he learned that he was more than his disability.




View all my reviews
IT'S YOU (IT'S YOU #1) BY KATY REGNERY (K.P. KELLEY)
Release Date: January 3, 2017
SYNOPSIS
From New York Times bestselling author Katy Regnery comes her first duo of paranormal romances!

ONCE UPON A TIME...
the most beautiful boy in the world kissed me.
I've never been able to forget.
Perhaps it was his jet-black hair,
or the changing copper-color of his eyes,
the intense way he looked at me...
or the fact that he awakened my passion for the first time,
at once otherworldly yet heartbreakingly real.

After that kiss, I never saw him again.

His name was Jack Beauloup.
Jack, my "Beautiful Wolf."

Twenty years passed.
He has returned.
For me.


**********

Jack Beauloup and Darcy Turner share one, perfect kiss in high school before he vanishes from sleepy Carlisle, NH without a trace.

Twenty years later, Darcy, who has never forgotten Jack, is shocked when he suddenly appears as a guest at her cousin's wedding. Their attraction to one another is just as searing as it was in high school, but immediately there are a landslide of questions that need answers. Where did he go? Why did he disappear? And what made him return?

As they find their way back to each other, they will discover that the secrets Jack holds are enough to bind them for life, or rip them apart forever.

IT'S YOU is a two-book paranormal love story. Book #1 ends with a cliffhanger. Book #2 ends with an HEA. Both book will be available within 3 months of each other. These books are sexy and steamy and intended for readers over 18.
BUY LINKS
Amazon B & N Google Play Books IBooks Kobo
REVIEW: IT'S YOU (IT'S YOU #1) BY KATY REGNERY (K.P. KELLEY)
It's You by Katy Regnery

My rating: 4 of 5 stars


Paranormal is an acquired taste. The closest I've come to paranormal fiction is watching a Twilight movie on cable, so I was a skeptic from the very beginning about It's You. I am familiar with work by Ms. Regnery, as a contemporary author and that is why I decided to give It's You a try. That decision turned out to be one of the best ones I have made to date. The lure of the unknown, the thrill of the adventure and magic of star crossed love made a believer out of me. Jack and Darcy are an enthralling combination. The only con is that the story is a cliffhanger.



View all my reviews


SUMMER INDISCRETIONS (SUMMER LOVE) BY TAMARA MATAYA
Release Date: January 3, 2017
SYNOPSIS
Free-spirited beach-dweller looking to Switch lives with outgoing urbanite.
Sense of adventure mandatory.
Clothing optional.
One email away from a total meltdown, I'm desperate to escape New York. Using Switch—a website designed to help strangers swap homes for the summer—I slip out of my stilettos and into a string bikini. But of all the beaches in all the world, Blake Wilde just had to show up on mine. He's hot. Scorching hot. And he's been strictly off-limits for as long as I can remember.
To hell with that. New life? New rules.
I know something this good can't be made to last. But for three sizzling weeks, I can pretend there won't be consequences, recriminations, or regret... And that somehow our growing connection can be more than just a summer fling.
BUY LINKS

Amazon Books-A-Million Barnes & Noble Chapters Google Play Books iBooks Indiebound Kobo
REVIEW: SUMMER INDISCRETIONS (SUMMER LOVE) BY TAMARA MATAYA
Summer Indiscretions by Tamara Mataya

My rating: 3 of 5 stars


Summer Indiscretions has the potential to be something special. Melanie and Blake have a combustible energy that blends instant attraction and the insecurities of doubt to deliver a tempting foray into romance and the baggage that goes along with it. Following the heart, is a scary risk and I thought how Ms. Mataya presented a first person look into matters of the heart was original in delivery but at times lacked in feeling. The premise and the chemistry between Blake and Melanie are huge assets to this author's credit.



View all my reviews
IT'S IN HIS ARMS (RED RIVER VALLEY) BY SHELLY ALEXANDER
Release Date: January 3, 2017
SYNOPSIS
Lorenda Lawson has built a safe, sheltered life for her two young sons since their father was KIA several years ago. She has a beautiful cottage and a support network of family and friends. No one in Red River suspects that her marriage to Cam was ever less than perfect. Nobody, that is, except the gorgeous ex-SEAL who's shown up after a long absence: Cam's notorious twin brother, Mitchell.
Mitchell Lawson was a teenage rebel who fled Red River after the local watering hole burned down, choosing the military over jail. Now he has a new mission: making amends with the town and his sheriff father for his hell-raising days, while resisting the woman he's always wanted. Between Lorenda's warmth and sensuality and her boys' mischievous matchmaking ploys, it won't be easy.
When a string of fires breaks out, suspicious eyes turn toward Mitchell. Lorenda risks her reputation for his sake—but she'll need to risk her heart, too, to bring this onetime bad boy home for good.
BUY LINKS
REVIEW: IT'S IN HIS ARMS (RED RIVER VALLEY) BY SHELLY ALEXANDER
It's In His Arms by Shelly Alexander

My rating: 5 of 5 stars


Mitchell and Lorenda's story is as heartbreaking as it is poignant. The emotions Ms. Alexander evokes and the lessons she bestows are just a taste of her excellence as an author. At the center of It's in His Arms is a tale of two brothers. Cam lived the life of a soldier. Duty before all was his motto and he followed that mantra to the end of his life. Mitchell had the heart of a rebel and the reputation to match but beneath the subterfuge was a sensitive man who was often misunderstood. A rush to judgment shaped the lives of both brothers. One woman holds the key to unlocking the secrets to two men. Will she risk it all in the name of love? I find myself becoming more deeply enmeshed in Red River Valley. The people, the emotions and stories that translate from fiction to reality.



View all my reviews
KNIGHT IN TATTOOED ARMOUR (INTERNATIONAL BILLIONAIRES: THE LATINOS) BY CARO LAFEVER
Release Date: January 5, 2017
SYNOPSIS
She's a charming, spoiled princess. He's a sexy, surly fella. Opposites in every way, why is it they can't keep their hands off each other?
Enrique de Molina might be secretly rich and a retired Marine SEAL, but his two successful brothers think nothing of him and his parents despair at his lack of ambition. His beloved grandmother might believe in fairy tales, but she's powerless to break the spell surrounding him. Hiding behind an armour of casual indifference, Riq can't find any dream with chasing.
Until Maurisa Migneault storms into his life bringing her snotty attitude and demanding questions. Determined to save her family's perfume company, even though her parents only see her as a pretty princess, she pursues him, as he's the only angel investor who can save the day.
When Riq finds himself with an unwelcome guest on his private island, he pursues his own agenda of teaching this spoiled girl a lesson she richly deserves. But what happens when the spoiled girl transforms into a charming, winsome woman, one who steals his heart, as well as his flip-flop?
BUY LINKS
REVIEW: KNIGHT IN TATTOOED ARMOUR (INTERNATIONAL BILLIONAIRES: THE LATINOS) BY CARO LAFEVER
Knight in Tattooed Armour by Caro LaFever

My rating: 5 of 5 stars


Knight In Tattooed Armour (International Billionaires: The Latinos) by Caro LaFever

Reviewed for Candid Book Reviews



Knight in Tattooed Armour is an updated reminder of an age old genre that shines as brightly today as it did back when. Fairytales and fantasies continue to enchant and inspire every author, reader and genre, whether it be in the past or present. Caro LaFever exemplified that with Riq and Risa. She took the most memorable aspects, added a hint of spice, delivered some sass and kept the heart, making me fall all over again. In these ever changing times, Ms. LaFever gave voice to a powerful message that despite the odds has stood the test of time. Hope, the powerful to believe that the impossible can be a reality. That message never gets old.



View all my reviews
Original post: ishacoleman7.booklikes.com/post/1514192/fire-up-your-romance-collection