READ AND REVIEW
THE RELUCTANT COWBOY (MORGAN RANCH) BY KATE PEARCE
Release Date November 29, 2016
SYNOPSIS
After a turbulent childhood, the Morgan brothers went their separate ways, leaving the family cattle ranch and their cowboy days far behind. But now, one by one, they're being called back home to California. Have they been summoned to save the land—or to start a new legacy?

Chase Morgan high-tailed it away from ranching life as soon as possible. But running a successful technology company can't erase the memories, or secrets, of his youth. Coming home to help his Grandma Ruth may finally put some ghosts to rest—if he can just get a certain smart, beautiful houseguest out of his business. But getting her out of his head is proving even more difficult…

Determined to save the Morgan ranch, historian January Mitchell has pinned her hopes on the surprisingly rugged, surprisingly likable, and exasperatingly stubborn Chase. Surely his love of this breathtaking, mysterious land runs deep enough that he'll once again embrace his inner cowboy. Or maybe, despite both of their skittish hearts, she'll have to find a way to get him back in the saddle…any which way she can.

BUY LINKS
Amazon B & N Google Play Books IBooks Kobo
REVIEW: THE RELUCTANT COWBOY (MORGAN RANCH) BY KATE PEARCE
The Reluctant Cowboy by Kate Pearce

My rating: 5 of 5 stars


To new beginnings. The Reluctant Cowboy is the start of what looks to be a promising journey of healing for three brothers. The road to being united may be long and paved with painful secrets and hurt feelings but the reward at the end is worth the price. Chase has an easygoing charm that fools the outside world but he still grapples with the heartaches of a painful youth. January is a woman with a lot of ambition but a tender heart and Chase along with his family are in need of some her tender loving care. Can she win over their trust? Am looking forward to more with this complicated bunch.



View all my reviews
THE MAVERICK COWBOY (MORGAN RANCH) BY KATE PEARCE
Release Date January 31, 2017
SYNOPSIS
The heartbreak of their childhood drove the Morgan brothers far from their family's California ranch—and one another. But as they face the wounds of the past, each feels the land calling him home . . .

Blue Morgan never thought he'd crave long days on horseback, working the cattle ranch where he grew up. But after a decade of getting shouted and shot at in the Marines, fresh air and hard work are just what he needs to settle his restless energy. Except no matter how hard he tries to focus, his mind wanders to the pretty, prickly new veterinarian instead.

There's no denying the spark between Jenna McDonald and Blue. But with her job at risk and her own family's expectations to wrangle, Jenna isn't looking for another sparring partner. Blue needs her expertise on horses. And if she can help solve his mother's disappearance, she's willing to pitch in. But she'll leave his ideas about how love should be scheduled to him. Jenna is tired of being told what she can't have—and ready to reach for what she wants . . .
BUY LINKS
Amazon B & N Google Play Books IBooks Kobo
REVIEW: THE MAVERICK COWBOY (MORGAN RANCH) BY KATE PEARCE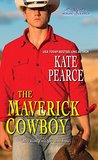 The Maverick Cowboy by Kate Pearce

My rating: 5 of 5 stars


ARC Review: The Maverick Cowboy (Morgan Ranch) by Kate Pearce

In the past I have not been a fan of Ms. Pearce. Some of her historical romances have been a little extreme for my taste, but I have to say she may be redeeming herself in my eyes with contemporary romances. Particularly, the Morgan Ranch series. Her sexy cowboys with good hearts and tortured souls, toe the line between "wet dream" material and heartwarming entertainment. With an edge of suspense for good measure. The world is not always a pretty place as Blue and Jenna well know but if you can capture the beautiful moments it can be a bit easier to bear the painful ones. The Maverick Cowboy is a moment worth savoring.




View all my reviews
Original post: ishacoleman7.booklikes.com/post/1521974/spotlight-morgan-ranch-series-by-kate-pearce