Review:
READ AND REVIEW
TRIPLETS UNDER THE TREE (BILLIONAIRES AND BABIES) BY KAT CANTRELL
Release Date: December 1, 2015
SYNOPSIS
This Christmas, he'll meet his three babies for the first time...and desire their mother in a whole new way!

After a plane crash robs him of his memory, billionaire fighter Antonio Cavallari comes home for the holidays to find triplets--and their "mother"--waiting. Antonio doesn't remember surrogate Caitlyn Hopewell, but he has triplets depending upon him. Who else can he turn to except the woman raising his children...and making him burn with desire?

Caitlyn has longed for Antonio secretly for years. Now she's living in his home, loving his babies, living the life with him she's always wanted. But then Antonio's memory returns. And the secrets he's forgotten will change everything...
BUY LINKS
Amazon B & N Google Play Books Harlequin Ibooks Kobo
REVIEW: TRIPLETS UNDER THE TREE (BILLIONAIRES AND BABIES) BY KAT CANTRELL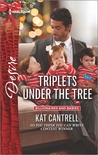 Triplets Under the Tree by Kat Cantrell

My rating: 5 of 5 stars


Kat Cantrell wrote a story that I found different from anything that I have read. Triplets Under the Tree is not a Christmas romance. It is a story of survival, second chances and moving forward. Antonio is a fighter in every sense of the word. He has managed to cheat death, survive loss and find his way home despite having amnesia. But the surprises don't end there. As he battles fleeting memories that reveal aspects of his past little by little he starts to realize that he does not like the things he is discovering about himself. Caitlyn is a nurturer. She has a tender heart and a strong will. When circumstances find her looking after three beautiful babies and losing her heart to the unattainable "man of her dreams". I received an ARC of this story in exchange for an honest review. I loved this story. Antonia and Caitlyn had to learn that love is about sacrifice and acceptance. Antonio was blessed to get a second chance at life, love, family and living out his dream. Nothing beats that.



View all my reviews
Original post: ishacoleman7.booklikes.com/post/1295016/on-sale-12-1-triplets-under-the-tree-billionaires-and-babies-by-kat-cantrell