READ AND REVIEW
ROADSIDE ASSISTANCE (KINDLE WORLDS: MELODY ANNE'S BILLIONAIRE UNIVERSE) BY CASEY HAGEN
SYNOPSIS
Philanthropic billionaire, Lathan Kincaid, needs a wife. Now. He's got seventeen days to woo and wed, or risk losing his trust fund and a controlling interest in the family business—and without those, he'll miss the balloon payment on the project dearest to his heart: a school he's funding in Kenya to honor his deceased brother. The clock is ticking, and Lathan will do anything to find a wife, even make a deal with the firecracker of a female who shows up in the tow truck to rescue his Porsche.

Jacqueline "Jack" Price refuses to get sucked into anyone's family drama—especially not the sexy playboy with bedroom eyes and a crazy pickup line. Working day and night to earn enough to care for her father, who has Alzheimer's, Jack has no time to play house with a desperate billionaire. But when Lathan sweetens the pot with the promise of money to provide her father the best of care, Jack swallows her pride and agrees to the soulless terms: marriage for a minimum of one year in exchange for her father's comfort.

Lathan and Jack know from the outset that the foundation of their marriage is built in sinking sand. But as Jack locks up her heart to protect herself, Lathan opens his, understanding that the only thing he wants is the one thing his billions can't buy: Forever...with Jack.
BUY LINKS
REVIEW
:
ROADSIDE ASSISTANCE (KINDLE WORLDS: MELODY ANNE'S BILLIONAIRE UNIVERSE) BY CASEY HAGEN
Roadside Assistance
by
Casey Hagen
My rating:
5 of 5 stars
Everything in life happens for a reason. At the time we may not understand it, but gradually as time goes on the reasons come into sharper focus. Casey Hagen took that piece of wisdom and ran with it. A chance meeting, car trouble and a roadside tow leads to some life changing revelations for a totally mismatched pair. Who knew that from something so simple could come a story so profound. Jack is a beer drinking, straight shooting, tow truck driving pistol. She knows her cars, loves her family and makes the best of her lot in life. Lathan is a lost soul with the heart of a dreamer but the noose of responsibility. He's totally misunderstood by his family and out of his element in business but a tragic loss has placed him in a place that he hoped never to be. For all of their differences Lathan and Jack share one thing. The need to keep a promise and money is the key to fulfilling both of their needs. Or is it?
Roadside Assistance
uses humor, irony and a heart to deliver a message of faith and show the impact that love haves on the lives of many.
View all my reviews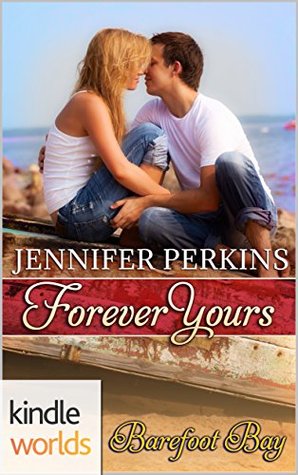 FOREVER YOURS (KINDLE WORLDS: BAREFOOT BAY) BY JENNIFER PERKINS
SYNOPSIS
Kinsley Stone never thought she'd arrive at her honeymoon destination being single. She believed a working vacation at Mimosa Key, building her business, would be the best place to recover after being jilted at the altar. It felt like the ideal getaway until her ex-fiancé and his new wife showed up.

Logan Sweet had made a commitment to his parents that he was done with his party lifestyle. He insisted he was ready to settle down and take control of the family business with his brother and sister. He kept that promise until he met Kinsley.

Can Kinsley and Logan handle the roadblocks thrown their way, or could there possibly be fireworks they hadn't imagined?
BUY LINKS
REVIEW
:
FOREVER YOURS (KINDLE WORLDS: BAREFOOT BAY) BY JENNIFER PERKINS
Barefoot Bay: Forever Yours
by
Jennifer Perkins
My rating:
4 of 5 stars
Mimosa Key is the central character of any Barefoot Bay story. The beautiful scenery draws people in and the often friendly people beckon them to stay. The irony is that most visitors to this exotic location are running away from life and find a new beginning in this beautiful place.
Forever Yours
takes on the pain of heartbreak, the hope of moving on and the journey of finding one's self. The magic that is Mimosa Key has the power to chase away the blues and maybe bring on a few " I do's along the way.
View all my reviews