READ AND REVIEW
LORD SEBASTIAN'S SECRET (THE DUKE'S SONS) BY JANE ASHFORD
Release Date: January 3, 2017
SYNOPSIS
He's hidden this shameful secret all his life...
Lord Sebastian Gresham is a battle tested soldier and brilliant strategist. Yet all his life he's had to hide his complete failure to decipher letters. In his own mind, he's just stupid. What a miracle it is that he's found the perfect bride. Lady Georgina Stane is beautiful, witty, and brilliantly intelligent. Sebastian is head over heels in love, proud as a peacock, and terrified. If she finds out, he'll lose her love forever.
The Duke's Sons Series:
Heir to the Duke (Book 1)
What the Duke Doesn't Know (Book 2)
Lord Sebastian's Secret (Book 3)
BUY LINKS
Amazon B & N Google Play Books IBooks Kobo
REVIEW: LORD SEBASTIAN'S SECRET (THE DUKE'S SONS) BY JANE ASHFORD
Lord Sebastian's Secret by Jane Ashford

My rating: 4 of 5 stars


Ordinary breeds extraordinary. What that means to me is that a person is so much more than the skills they lack. They are special because of who they are. In the long run a pure heart and an open mind are all that matters. Sebastian was a smart man but he failed to see that because of a misinterpreted flaw. He was a man of action. He could create a plan and carry it out but with intelligence and skill but when it came to understanding the reading, writing and curriculum, he felt like fish out of water. Lord Sebastian's Secret deals with a prevalent subject in a time when not much was known about it. Still to this day dyslexia is still look at as a weakness, in our ever changing world. Ms. Ashford examines the subject with gentleness and a great deal of insight. Through the eyes of Sebastian, the author allows the change to understand the frustration and shame of an individual dealing with the not knowing and the fear of being different. Lord Sebastian's Secret is an eye opener. The message is clear: "Every journey is unique, but we all have struggles to overcome." Sebastian was stronger than his fear and with the love of a good woman like Georgiana, he learned that he was more than his disability.




View all my reviews
IT'S YOU (IT'S YOU #1) BY KATY REGNERY (K.P. KELLEY)
Release Date: January 3, 2017
SYNOPSIS
From New York Times bestselling author Katy Regnery comes her first duo of paranormal romances!

ONCE UPON A TIME...
the most beautiful boy in the world kissed me.
I've never been able to forget.
Perhaps it was his jet-black hair,
or the changing copper-color of his eyes,
the intense way he looked at me...
or the fact that he awakened my passion for the first time,
at once otherworldly yet heartbreakingly real.

After that kiss, I never saw him again.

His name was Jack Beauloup.
Jack, my "Beautiful Wolf."

Twenty years passed.
He has returned.
For me.


**********

Jack Beauloup and Darcy Turner share one, perfect kiss in high school before he vanishes from sleepy Carlisle, NH without a trace.

Twenty years later, Darcy, who has never forgotten Jack, is shocked when he suddenly appears as a guest at her cousin's wedding. Their attraction to one another is just as searing as it was in high school, but immediately there are a landslide of questions that need answers. Where did he go? Why did he disappear? And what made him return?

As they find their way back to each other, they will discover that the secrets Jack holds are enough to bind them for life, or rip them apart forever.

IT'S YOU is a two-book paranormal love story. Book #1 ends with a cliffhanger. Book #2 ends with an HEA. Both book will be available within 3 months of each other. These books are sexy and steamy and intended for readers over 18.
BUY LINKS
Amazon B & N Google Play Books IBooks Kobo
REVIEW: IT'S YOU (IT'S YOU #1) BY KATY REGNERY (K.P. KELLEY)
It's You by Katy Regnery

My rating: 4 of 5 stars


Paranormal is an acquired taste. The closest I've come to paranormal fiction is watching a Twilight movie on cable, so I was a skeptic from the very beginning about It's You. I am familiar with work by Ms. Regnery, as a contemporary author and that is why I decided to give It's You a try. That decision turned out to be one of the best ones I have made to date. The lure of the unknown, the thrill of the adventure and magic of star crossed love made a believer out of me. Jack and Darcy are an enthralling combination. The only con is that the story is a cliffhanger.



View all my reviews


SUMMER INDISCRETIONS (SUMMER LOVE) BY TAMARA MATAYA
Release Date: January 3, 2017
SYNOPSIS
Free-spirited beach-dweller looking to Switch lives with outgoing urbanite.
Sense of adventure mandatory.
Clothing optional.
One email away from a total meltdown, I'm desperate to escape New York. Using Switch—a website designed to help strangers swap homes for the summer—I slip out of my stilettos and into a string bikini. But of all the beaches in all the world, Blake Wilde just had to show up on mine. He's hot. Scorching hot. And he's been strictly off-limits for as long as I can remember.
To hell with that. New life? New rules.
I know something this good can't be made to last. But for three sizzling weeks, I can pretend there won't be consequences, recriminations, or regret... And that somehow our growing connection can be more than just a summer fling.
BUY LINKS

Amazon Books-A-Million Barnes & Noble Chapters Google Play Books iBooks Indiebound Kobo
REVIEW: SUMMER INDISCRETIONS (SUMMER LOVE) BY TAMARA MATAYA
Summer Indiscretions by Tamara Mataya

My rating: 3 of 5 stars


Summer Indiscretions has the potential to be something special. Melanie and Blake have a combustible energy that blends instant attraction and the insecurities of doubt to deliver a tempting foray into romance and the baggage that goes along with it. Following the heart, is a scary risk and I thought how Ms. Mataya presented a first person look into matters of the heart was original in delivery but at times lacked in feeling. The premise and the chemistry between Blake and Melanie are huge assets to this author's credit.



View all my reviews
IT'S IN HIS ARMS (RED RIVER VALLEY) BY SHELLY ALEXANDER
Release Date: January 3, 2017
SYNOPSIS
Lorenda Lawson has built a safe, sheltered life for her two young sons since their father was KIA several years ago. She has a beautiful cottage and a support network of family and friends. No one in Red River suspects that her marriage to Cam was ever less than perfect. Nobody, that is, except the gorgeous ex-SEAL who's shown up after a long absence: Cam's notorious twin brother, Mitchell.
Mitchell Lawson was a teenage rebel who fled Red River after the local watering hole burned down, choosing the military over jail. Now he has a new mission: making amends with the town and his sheriff father for his hell-raising days, while resisting the woman he's always wanted. Between Lorenda's warmth and sensuality and her boys' mischievous matchmaking ploys, it won't be easy.
When a string of fires breaks out, suspicious eyes turn toward Mitchell. Lorenda risks her reputation for his sake—but she'll need to risk her heart, too, to bring this onetime bad boy home for good.
BUY LINKS
REVIEW: IT'S IN HIS ARMS (RED RIVER VALLEY) BY SHELLY ALEXANDER
It's In His Arms by Shelly Alexander

My rating: 5 of 5 stars


Mitchell and Lorenda's story is as heartbreaking as it is poignant. The emotions Ms. Alexander evokes and the lessons she bestows are just a taste of her excellence as an author. At the center of It's in His Arms is a tale of two brothers. Cam lived the life of a soldier. Duty before all was his motto and he followed that mantra to the end of his life. Mitchell had the heart of a rebel and the reputation to match but beneath the subterfuge was a sensitive man who was often misunderstood. A rush to judgment shaped the lives of both brothers. One woman holds the key to unlocking the secrets to two men. Will she risk it all in the name of love? I find myself becoming more deeply enmeshed in Red River Valley. The people, the emotions and stories that translate from fiction to reality.



View all my reviews
FULL PACKAGE BY LAUREN BLAKELY
Release Date: January 9, 2017
SYNOPSIS
I've been told I have quite a gift.

Hey, I don't just mean in my pants. I've got a big brain too, and a huge heart of gold. And I like to use all my gifts to the fullest, the package included. Life is smooth sailing....

Until I find myself stuck between a rock and a sexy roommate, which makes for one very hard…place.

Because scoring an apartment in this city is harder than finding true love. So even if I have to shack up with my buddy's smoking hot and incredibly amazing little sister, a man's got to do what a man's got to do.

I can resist Josie. I'm disciplined, I'm focused, and I keep my hands to myself, even in the mere five-hundred square feet we share. Until the one night she insists on sliding under the covers with me. It'll help her sleep after what happened that day, she says.

Spoiler—neither one of us sleeps.

Did I mention she's also one of my best friends? That she's brilliant, beautiful and a total firecracker? Guess that makes her the full package too.

What's a man stuck in a hard place to do?
BUY LINKS
Amazon Amazon Paperback B & N Google Play Books IBooks Kobo
REVIEW: FULL PACKAGE BY LAUREN BLAKELY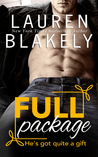 Full Package by Lauren Blakely

My rating: 5 of 5 stars



ARC Review: Full Package by Lauren Blakely

A cynical playboy with a smart mouth, quick wit and raging sex drive. Chase is a wet dream come to life. His ego hides a big heart and a secret fantasy that risks the two friendships he values most. Josie is his biggest fan but also his largest weakness. A sweetheart with big dreams and a few secrets of her own, her delectable desserts are tempting but her guilty pleasure involves a certain doctor with a sweet tooth and a knack for rule breaking. Lauren Blakely stays true to the title with Josie and Chase. She delivers a humorous story full of heart, overflowing with temptation and characters that are charismatic scene stealers in every way. Full Package is the whole enchilada.



View all my reviews
INVITING TROUBLE (HAPPY ENDINGS BOOK CLUB) BY KYLIE GILMORE
Release Date: January 10, 2017
SYNOPSIS
A best friend's little sister romance...

Madison Campbell has worshipped her older brother's best friend Parker Shaw for as long as she can remember. So the night before he leaves for the Air Force, she decides he's leaving town with her virginity. All she has to do is transform her tomboy self into a sexy woman with a bit of borrowed makeup and some creative fashion choices. The results? One drunken kiss that Park doesn't even remember.


Ten years later, no man has ever gotten close to her heart the way Park did. And now that he's back, the very unfeminine Madison refuses to blow her second chance. But when her bold attempts to snag his attention ("Oops! Dropped my towel.") fail miserably, she does something completely insane—she caves to a makeover from the meddling matchmaker in charge of The Happy Endings Book Club. Hey, Park, you want some of this? Madison is about to find out.


For more humorous contemporary romance, check out all of Kylie's books!

Happy Endings Book Club Series
Book 1: Hidden Hollywood
Book 2: Inviting Trouble

Clover Park Series
Book 1: The Opposite of Wild
Book 2: Daisy Does It All
Book 3: Bad Taste in Men
Book 4: Kissing Santa
Book 5: Restless Harmony
Book 6: Not My Romeo
Book 7: Rev Me Up
Book 8: An Ambitious Engagement
Book 9: Clutch Player
Book 10: A Tempting Friendship

The Clover Park STUDS Series
Book 1: Almost in Love
Book 2: Almost Married
Book 3: Almost Over It
Book 4: Almost Romance
Book 5: Almost Hitched
BUY LINKS
Amazon B & N Google Play Books IBooks Kobo
REVIEW: INVITING TROUBLE (HAPPY ENDINGS BOOK CLUB) BY KYLIE GILMORE
Inviting Trouble by Kylie Gilmore

My rating: 5 of 5 stars


Once a Kylie Gilmore fan, there is no escape. Inviting Trouble is just another reason why resistance is futile. How can you help but love an author that uses charm and humor to deliver relevant advice? Did I mention she's does all this while stealing your heart? The lesson: Every color is special, don't be afraid to let them shine through. I just lost another little piece of my heart and I'm so okay with that.



View all my reviews
WILD KISSES (WILDWOOD) BY SKYE JORDAN
Release Date: January 10, 2017
SYNOPSIS
Newly divorced, Avery Hart returns home to Wildwood eager to take on her dream opportunity and transform her family's dive bar into her own bakery. The contractor for hire isn't just a master with his hands—he's big, built, and wears a tool belt like nobody's business. Despite being an ex-con, Trace Hutton is irresistible. Too bad he'd never go for someone as inexperienced as Avery.
Trace needs to focus on the job at hand, not daydream about smearing icing all over the sexy baker…and licking it off. This job is the key to getting his construction company back on its feet after his time in prison. Besides, no one deserves a fresh start more than Avery, and she certainly won't get that with him.
After a delectable night of passion (and pie), Trace craves something more. But he'll be damned if he'll let his checkered past crush her dreams. And as Avery starts to realize how Trace fulfills more than just her physical needs, she struggles with whether to let her history decide her future, or explore the wild new possibilities of forever…
BUY LINKS
REVIEW: WILD KISSES (WILDWOOD) BY SKYE JORDAN
Wild Kisses by Skye Jordan

My rating: 5 of 5 stars


The Wildwood series, keeps getting better. I love the message that Ms. Jordan places at the forefront of every story: Everyone deserves a second chance, so grab hold and make it count. Forbidden Fling laid the groundwork with Delaney and Ethan's journey to forgiveness and ultimately romance. Wild Kisses continues this powerful saga as Delaney's sister Avery finds her voice, opens her heart and seeks her own happily every after. Trace is the object of her secret fantasies. A self-made man with a boatload of mistakes hanging like a noose around his neck. Will he ever learn to see himself as more than the bad choices he's made? Two people with broken hearts and shattered dreams, just may find redemption in each other. Author, series and characters are showstopping.



View all my reviews
ROYALLY DEEP (GOING DEEP) BY VIRNA DEPAUL
Release Date: January 10, 2017
SYNOPSIS
Take one sexy quarterback,
Mix in one adventurous princess,
Add some serious sexual tension,
And you get the royal romance of a lifetime.

Kyle Young—all-star quarterback and lady-killer—thought he knew what he wanted out of life: freedom, football and fun. Then he meets Bella. She seems like the perfect woman: gorgeous, funny, and a huge football fan. But what he doesn't know? Bella also happens to be Princess Arabella of Salasia.

Yearning for adventure and romance before she devotes herself to her country and marries a man she doesn't love, Arabella can't believe her luck when she meets Kyle. Sparks fly between the football player and the princess, and they begin an affair neither of them could've imagined.

Soon, however, duty and self-doubt cause Kyle and Arabella to separate. Can he become the prince she needs? And can Arabella overcome her family's disapproval? Or will their love transform back into a pumpkin at midnight, leaving them both without a happily ever after?
BUY LINKS
Amazon B & N Google Play Books IBooks Kobo
REVIEW: ROYALLY DEEP (GOING DEEP) BY VIRNA DEPAUL
Royally Deep by Virna DePaul

My rating: 5 of 5 stars


Virna DePaul never falls short of capturing an audience. Whether rocking out with the band, lusting after the bad boy, learning family secrets or searching out a new life and experiencing some long needed freedom, it's a forgone conclusion that each journey will be captivating. Royally Deep turns the aristocracy on it's head with a fearless princess and her unconventional Prince Charming. Bella is her own woman. A world of structure has bred a woman willing to break down those walls and create her own path. Kyle, is living the dream. A spectacular career full of money, opportunity and stardom. The bright lights should be enough, but an energetic firecracker is about to shake up his life and heart in a short amount of time. Royally Deep dares to be different. Ms. DePaul takes a dab of fairytale and blends it with an abundance of modern day romance. Sports, royalty and romance deliver a touchdown.



View all my reviews
SAFE BET (THE RULES) BY MONICA MURPHY
Release Date: January 10, 2017
Sydney Walker's new job is perfect. As the live-in nanny to the most famous quarterback in the NFL and his beautiful wife, she couldn't have it any better. Their kids are adorable. Her bosses are more than generous. Plus, there are hot football players at the house all the time. Life can't get much better than this.
Until her life turns into an absolute nightmare. The media is abuzz with rumors that she and her boss Drew Callahan are having a torrid affair. Everyone knows the truth—except the public. So Drew's wife Fable comes up with the perfect idea.
She creates a fake relationship between Sydney and one of the rookie players on Drew's team. Wade Knox is forever indebted to Drew and Fable and readily agrees to the set up. Pretending to be in a romantic relationship with the hot nanny for a week—how hard can it be?
Crazy how it only takes one week for two people to fall head over heels in love…
(This mash-up new adult romance features characters from both the One Week Girlfriend series and The Rules series.)
REVIEW: SAFE BET (THE RULES) BY MONICA MURPHY
Safe Bet by Monica Murphy

My rating: 5 of 5 stars


I am not as familiar with Monica Murphy's The Rules series or One Week Girlfriend series as I would like to be. That's okay though because Safe Bet has a voice all it's own. Ms. Murphy took me back to a time of first love, insecurity and discovering one's place in an uncertain world. The road is hard but the reward is worth the fight. Sydney and Drew represent every person afraid to follow their dreams, every missed opportunity and every hope that something better awaits. It's easy to relate to characters that have pieces of us all written into them. Her skill at touching the heart, tickling the senses and supplying food for thought are a few of the many reasons why Monica Murphy is a regular on my favorites list.



View all my reviews
ADORED IN AUTUMN (SEASONS) BY JESS MICHAELS
Release Date: January 10, 2017
SYNOPSIS
The final steamy chapter in the popular Seasons series from USA Today Bestselling Author Jess Michaels.

Viscountess Felicity Barbridge escaped a violent marriage with her life because she was willing to make desperate choices. Now those choices are back to haunt her, as is the object of her girlhood obsession, Asher Seyton.

Asher was never anything more than a servant's son, but he's elevated himself through an education and is now a respected solicitor. He only returns to his childhood home to help with a financial issue, but when he realizes Felicity is being threatened, he's driven to stay and help. Even if he must now face all the feelings for her he tried to repress over the years.

Will Felicity be able to trust Asher enough to share more than passion? And will Asher's own secrets unravel all they've built?

Length: Full-Length
Heat Level: Intensely passionate

Part of the Seasons series but can be read as a standalone story.
BUY LINKS
Amazon B & N Google Play Books IBooks Kobo
REVIEW: ADORED IN AUTUMN (SEASONS) BY JESS MICHAELS

Adored in Autumn by Jess Michaels

My rating: 5 of 5 stars


Ms. Michaels saved the best for last. The masterful seductress has whet many an appetite with her jaw dropping moments and heartbreaking reveals. Finally, the main course is on full display with Adored in Autumn. Felicity has been a mystery that has been exposed little by little with each Seasons novel. Now all the drama, passion and intensity are laid out for all to see in a stunning wrap up to a magnetic series. Felicity was more than the sum of her tragic life. Her inner strength gave her the tools she needed to rescue herself from personal tragedy and to face her fears with a head held high. So it's fitting that the tigress that is Felicity Barbridge found her own warrior in such an unorthodox man like Asher.



View all my reviews
CLAIMING THE BILLIONAIRE (SEATTLE BACHELORS) BY JM STEWART
Release Date: January 10, 2017
SYNOPSIS
In the tradition of E. L. James and Sylvia Day comes a sultry new series starring women who want to live out their wildest dreams . . .


Code Name: Love


Staff Sergeant Tyler Benson is a survivor. He doesn't give up on what he wants, and right now, he wants Cassandra Stephanopolous. He thought about her every single day he was gone. Now that he's back, nothing will stop him from making her his. Plan of Action: Crash Seattle's biggest billionaire-bachelorette auction and make sure he comes out the highest bidder. If he wins a date with Cassie, she'll have to talk to him.


Three years. It's been three years since Cassie said goodbye to Tyler, and she's been trying to pick up the pieces ever since. Just as she's starting to feel ready to move on, he walks in, all cocky smiles and blue-collar charm. She's determined to keep her focus where it should be: on her thriving jewelry business. But as he lays siege to her heart, she wonders just how long her defenses will last . . .
BUY LINKS
Amazon B & N Google Play Books IBooks Kobo
REVIEW: CLAIMING THE BILLIONAIRE (SEATTLE BACHELORS) BY JM STEWART
Seattle Bachelors #4 by J.M. Stewart

My rating: 5 of 5 stars


Claiming the Billionaire lived up to all of my expectations. Cassie stole every scene she dared to grace in Gray and Madison's story, so it was a forgone conclusion that her own story would be explosive. Cassie is classy, brashy and not afraid to get trashy. Like in everything else, when she loves, she does so with her whole being and when she hurts, the healing process is a long, difficult one. Tyler is the perfect match for such a volatile woman. Rebellious and determined this man has survived some of the hardest conditions and tragedies of his life. No way is "No" going to stop him from claiming his prize. The heart of the one woman who can break his heart or save his soul. JM Stewart delivered a flameworthy couple that does combustible like no other but still manages to bring out the tears along the way.



View all my reviews
RESCUED BY LOVE (LOVE IN BLOOM: THE RYDERS) BY MELISSA FOSTER
Release Date: January 11, 2017
SYNOPSIS
In RESCUED BY LOVE...

As the daughter of a world-renowned fashion designer, Addison West enjoyed a privileged life attending the most sought after parties, traveling around the world, and having anything she wanted. Until she broke free and went against her father's wishes, needing to prove to herself--and to him--that she could make it on her own. Now she's ready to take her adventures in a new direction and sets her sights on roughing it in the wilderness.

Jake Ryder followed in his father's footsteps as a top search and rescue professional. He spends his days saving those in need and his nights in the arms of willing women who offer nothing more than a few hours of sexual enjoyment. Just the way he likes it.

When Jake's sister-in-law calls and reports her best friend missing, it's up to Jake to find her and bring her home. But Addison isn't lost, and she sure as hell isn't going to be told what to do by an ornery mountain man with whom she'd spent one torrid night after her best friend's wedding. Jake has never left anyone behind--will Addison be his first failed rescue?


MORE RYDERS coming soon!
Seized by Love (Blue)
Claimed by Love (Duke)
Chased by Love (Trish)
Rescued by Love (Jake)
Swept Into Love (Gage)

The RYDERS are part of the LOVE IN BLOOM big family romance collection. Each book may be read as a stand-alone novel, or as part of the series. Read the complete LOVE IN BLOOM series:

SNOW SISTERS
Sisters in Love
Sisters in Bloom
Sisters in White

THE BRADENS (at Weston, CO)
Lovers at Heart (Treat & Max)
Destined for Love (Rex & Jade)
Friendship on Fire (Josh & Riley)
Sea of Love (Dane & Lacy)
Bursting with Love (Savannah & Jack)
Hearts at Play (Hugh & Bree)

THE BRADENS (at Trusty, CO)
Taken by Love (Luke)
Fated for Love (Wes)
Romancing My Love (Pierce)
Flirting with Love (Ross)
Dreaming of Love (Emily)
Crashing into Love (Jake)

THE BRADENS (at Peaceful Harbor)
Healed by Love (Nate)
Surrender My Love (Cole)
Crushing on Love (Shannon)
River of Love (Sam)
Whisper of Love (Tempest)
Thrill of Love (Ty)

BRADEN WORLD NOVELLAS
Promise My Love (Rex & Jade's Wedding Novella)
Daring Her Love (1001 Dark Nights)

THE REMINGTONS
Game of Love (Dex)
Stroke of Love (Sage)
Flames of Love (Siena)
Slope of Love (Rush)
Read, Write, Love (Kurt)

SEASIDE SUMMERS
Seaside Dreams (Bella)
Seaside Hearts (Jenna)
Seaside Sunsets (Jamie)
Seaside Secrets (Amy)
Seaside Nights (Sky)
Seaside Embrace (Hunter)
Seaside Lovers (Grayson)
Seaside Whispers (Matt)
BUY LINKS
Amazon Amazon AU Amazon CA Amazon UK B & N Google Play Books IBooks Kobo
REVIEW: RESCUED BY LOVE (LOVE IN BLOOM: THE RYDERS) BY MELISSA FOSTER
Rescued by Love by Melissa Foster

My rating: 5 of 5 stars


Addy and Jake are a mass of contradictions. On the surface you have people who are self assured and thrive on independence, yet the deeper you dig the bigger the mess. From trust issues to control issues, insecurities and a chasm of painful truths, falling in love is an uphill battle for these loners. Addy was a work in progress. Sort of a switch of roles. Addy was the objectifier and Jake the aggressor. She saw sex as a means to an end. Jake from the start seemed to be all in. Rescued by Love sets about breaking down barriers, which Ms. Foster is well versed in doing but the prize at the end of the journey is a narrative that is hard to forget.



View all my reviews
LET IT BURN (THE BARRINGTON BILLIONAIRES) BY RUTH CARDELLO
Release Date: January 17, 2017
SYNOPSIS
Billionaire Andrew Barrington walked away from the lavish lifestyle he was raised in to serve as a Marine. Until recently, he would have said he'd made the right choice. A tragic set of events, however, has him not reenlisting and emotionally hitting rock bottom.

Helene Franklin is visiting her uncle as part of an extended vacation in Aruba. She trades her bikini for an office job when he says there is trouble brewing at his clinic and asks her to keep an eye out for anything unusual.
Every Marine needs a mission. To appease his family, Andrew heads to Aruba to track down what he believes is a wild goose chase. Expecting to discover nothing, he meets a quirky, irresistible virgin who is just about to turn his whole world upside down.

His questions will put her in danger.

Her love will set him free.

What will they gain and what will they lose when they both decide to. . .let it burn?

A new, seven book series about the Andrade's Boston cousins.
The first series in the Barrington Billionaire WORLD.
Book 1: Always Mine
Book 2: Stolen Kisses
Book 3: Trade it All
Book 4: Let It Burn (Coming soon)
Book 5: More Than Love (Coming 2017)
Book 6: Forever Now (Coming 2017)
Book 7: Never Goodbye (Coming 2017)

*Look for a linked series set in the same world, written by Jeannette Winters (my sister) and Danielle Stewart (my niece).
You won't have to read the other series to enjoy mine, but it sure will make it more fun. Characters will appear in all three series.

Author Jeannette Winters
Book 1: One White Lie
Book 2: Table for Two

Danielle Stewart
Book 1: Fierce Love
Book 2: Wild Eyes
Book 3: Crazy Nights

Other Contemporary Romance Titles by Ruth Cardello:

The Legacy Collection
Where my billionaires began.
Book 1: Maid for the Billionaire
Book 2: For Love or Legacy
Book 3: Bedding the Billionaire
Book 4: Saving the Sheikh
Book 5: Rise of the Billionaire
Book 6: Breaching the Billionaire: Alethea's Redemption
Recipe For Love: A Hot Andrade Christmas Novella
Book 7: A Corisi Christmas Novella

The Andrades:
A spin off series of the Legacy Collection with cameos from characters you love from that series.
Book 1: Come Away With Me
Book 2: Home to Me
Book 3: Maximum Risk
Book 4: Somewhere Along the Way
Book 5: Loving Gigi

Lone Star Burn Series
Fun, hot romances that roam from the country to the city and back.
Book 1: Taken, Not Spurred
Book 2: Tycoon Takedown
Book 3: Taken Home
Book 4: Taking Charge

Temptation Series Bundle
Guaranteed to put you on Santa's Naughty List.
Book 1: Twelve Days of Temptation
Book 2: Be My Temptation


Taken by a Trillionaire
Ruth Cardello, JS Scott, Melody Anne.
Three hot fantasies about alpha princes and the women who tame them.
BUY LINKS
Amazon B & N Google Play Books IBooks Kobo
REVIEW: LET IT BURN (THE BARRINGTON BILLIONAIRES) BY RUTH CARDELLO
Let It Burn by Ruth Cardello

My rating: 4 of 5 stars



ARC Review: Let It Burn (The Barrington Billionaires) by Ruth Cardello

The Barringtons are far from perfect but underneath the drama, scheming, heartache and secrets lies a bond of love that can't be broken. In death, Patrice continues to make an impact on the lives of many with her hateful actions. Let It Burn takes one step closer to some much needed answers, but within it's pages is a quest for redemption. With some help from friends both old and new, Ms. Cardello delivers a message of healing while building a love that was years in the making. Helene and Andrew were meant to find each other. All it took was fate, wisdom and danger to seal their connection.



View all my reviews
ROYAL SCANDAL (ROYALS IN EXILE) BY MARQUITA VALENTINE
Release Date: January 24, 2017
SYNOPSIS
Fairy tales do come true—and so do tabloid scandals! Bestselling author Marquita Valentine kicks off a juicy contemporary romance series with a novel about a prince whose best-laid plans go deliciously awry when he marries the maid next door.

Forced to flee to the United States with his siblings after their parents' assassination, Crown Prince Colin Sinclair takes it upon himself to become the caretaker of his family while hiding out near Charlotte, North Carolina. But after a decade in hiding, the secret's out and Parliament demands that Colin wed a princess of their choosing. Unwilling to play their game, Colin decides to marry an American instead, and he has the perfect candidate in mind.

As a home-service professional, Della Hughes doesn't believe in storybook endings. But when her best friend and secret crush reveals that he's a flesh-and-blood prince, she doesn't know what to think. Still, she'll do anything for Colin, including becoming his wife—in name only, of course. But when their plans to stay purely platonic go by the wayside, their fake honeymoon turns all too real. After a week of white-hot nights, Della can no longer deny her feelings—not with a happily ever after so tantalizingly close.
BUY LINKS
Amazon B & N Google Play Books IBooks Kobo
REVIEW: ROYAL SCANDAL (ROYALS IN EXILE) BY MARQUITA VALENTINE
Royal Scandal by Marquita Valentine

My rating: 4 of 5 stars


From the moment I learned about the exiled royals it was a given that I would read the series. The little girl within me was drawn in by the fairytale of it all. Royal Scandal delivers revelations that are explosive, conspiracies riddled with confusion and sassy characters that are as complex as the situation they face, but it lived up to being a good story. Life is not a fairytale but it's fun to escape into one every now and again. With Royal Scandal, Ms. Valentine makes that dream possible.



View all my reviews
ZERO TO SIXTY (BODY SHOP BAD BOYS) BY MARIE HARTE
Release Date: February 7, 2017
SYNOPSIS
Bad boy Sam + Good girl Ivy + Stray puppy = Damaged hearts learning to love again

After her last relationship bombed, Ivy Stephens is doing her best to put her life back together. She's enjoying her job, her apartment-and the cute little puppy she's seen hanging around. When she goes looking for him, she finds the stray in the arms of a big, burly, devastatingly handsome man.

Sam Hamilton is lonelier than he's ever been after his best friend's engagement. To give himself a sense of purpose, he takes in a puppy that keeps showing up around the garage where he works. The puppy has another suitor though-one who happens to be blond and beautiful.
BUY LINKS
Amazon B & N Google Play Books IBooks Kobo
REVIEW: ZERO TO SIXTY (BODY SHOP BAD BOYS) BY MARIE HARTE
Zero to Sixty by Marie Harte

My rating: 5 of 5 stars


Easy on the eyes, tough on the heart and detrimental to the hormones. Marie Harte is an author after my own heart. There is nothing more toxic to the hormonal chemistry than a man with a puppy (except maybe a single dad). The fact that Sam was a bad boy raised the hot level tenfold. More bark than bite, Ms. Harte made it hard for me to decide who I loved more Sam and his wounded bear act or the matchmaking puppy with the hidden agenda. Zero to Sixty is a savory romance that blends humor, heart and heat to delivery a top of the charts performance. It's love at first sight.

Copyright of Night Owl Reviews


PERFECT FOR YOU (SUNSHINE CREEK VINEYARD) BY CANDIS TERRY
Release Date: February 28, 2017
SYNOPSIS
Declan Kincade has spent so much time chasing success he's almost forgotten how to just live. Lately though, his all-business routine has been thrown into disarray. Brooke Hastings is the best employee Dec's ever had: polished, capable, and intelligent. After four years, he's just realized that she's also smoking hot. But their working relationship is too valuable to stake on a fling, no matter how mind-bendingly pleasurable it promises to be.

What's worse than never meeting the right man? Finding him, and then working side-by-side every day while he remains absolutely blind to your existence. That is, until one temptation-packed road-trip changes everything. Teaching her gorgeous, driven boss how to cut loose and have fun is the toughest challenge Brooke's ever faced. But it's one that could give both of them exactly what they need, if Dec will take a chance on a perfect—and perfectly unexpected—love.
BUY LINKS
Amazon B & N Google Play Books IBooks Kobo
REVIEW: PERFECT FOR YOU (SUNSHINE CREEK VINEYARD) BY CANDIS TERRY
Perfect for You by Candis Terry

My rating: 5 of 5 stars



ARC Review: Perfect For You (Sunshine Creek Vineyard) by Candis Terry

Candis Terry is a one click author for me. She is perfect escapism reading. Her characters never take themselves too seriously and despite that, her novels manage to appeal to the heart, stimulate the hormones and continuously fall into the irresistible category. Though not as emotional as Jordan and Lucy's journey of mistakes and regret in A Better Man, Perfect for You has it's moment of unforgettable. Brooke and Declan's story is more about living life to the fullest than dwelling on past regrets. Brooke is a risk taker. She knows what she wants and when it matters most, has no problem with asserting herself. Declan can learn a thing or to from this firecracker. The ability to get out of your head for a while is reason enough to give this author a try.

Copyright of Night Owl Reviews



View all my reviews
MY FAIR DUCHESS (DUKES BEHAVING BADLY) BY MEGAN FRAMPTON
Release Date: February 28, 2017
SYNOPSIS
The unexpected duchess

Archibald Salisbury, son of a viscount, war hero, and proficient in the proper ways of aristocratic society, has received orders for his most challenging mission: Genevieve, Duchess of Blakesley. How she inherited a duchy isn't his problem. Turning her into a perfect duchess is. But how can he keep his mind on business when her beauty entices him toward pleasure?

It was impossible, unprecedented…and undeniably true. Genevieve is now a "duke", or, rather, a duchess. So what is she to do when the ton eyes her every move, hoping she'll make a mistake? Genevieve knows she has brains and has sometimes been told she has beauty, but, out of her depth, she calls on an expert. And what an expert, with shoulders broad enough to lean on, and a wit that matches her own. Archie is supposed to teach her to be a lady and run her estate, but what she really wants to do is unladylike—run into his arms.
BUY LINKS
Amazon B & N Google Play Books IBooks Kobo
REVIEW: MY FAIR DUCHESS (DUKES BEHAVING BADLY) BY MEGAN FRAMPTON
My Fair Duchess by Megan Frampton

My rating: 5 of 5 stars


Society will never be the same when a wild child shakes up the structured world of a man on a mission. Ms. Frampton brings humorous charm and seasoned class to a scenario done many times. My Fair Duchess is a twist on an old gem that develops a life of it's own when Archibald and Genevieve step into view. He's a pillar of the aristocracy with his title and war hero status. She's a newbie in need of some serious taming. What ensues is ultimate chaos with irresistible heart. Another classic in the making.

Copyright of Night Owl Reviews



View all my reviews
THE ENGLISH DUKE BY KAREN RANNEY
Release Date: March 28, 2017
SYNOPSIS
In the second in New York Times Bestselling Author Karen Ranney's scintillating series, society's most coveted duke finds the one thing wealth and position cannot buy—the perfect partner…

For years, Martha York has been fascinated by a man she's never met—Jordan Hamilton, the new Duke of Roth and protégé to her inventor father. Could the elusive gentleman possibly live up to his brilliant letters? When Martha travels to his estate to carry out her father's last bequest, she discovers that the answer is a resounding yes, for the duke's scientific mind belies a deep sensuality…

Jordan was determined to complete his prototype alone, but it's impossible to resist the alluring young woman who shows up at his door. Working together, they grow ever closer, until a case of mistaken identity leaves him bound to another. A woman's heart may be more complex than the most intricate invention, but Jordan must find a way to win Martha's, or lose the only woman who can truly satisfy him…
BUY LINKS
Amazon B & N Google Play Books IBooks Kobo
REVIEW: THE ENGLISH DUKE BY KAREN RANNEY
The English Duke by Karen Ranney

My rating: 4 of 5 stars


Karen Ranney turned geeky into sexy with The English Duke. Jordan proved a different type of hero with his scientific mind and sensitive soul. Ever the romantic, the fact that Martha was captivated by his words before ever having seen Jordan's face made for a beautiful story. The concept, the message, the characters all did it for me. Being unique is one of the best traits a person can have. Ms. Ranney gave a taste of beauty's true meaning. Just be you and everything will fall into place. Priceless message, unforgettable read. 4 1/2 stars

Copyright of Night Owl Reviews



View all my reviews
Original post: ishacoleman7.booklikes.com/post/1508865/step-into-the-new-year-with-a-fresh-outlook-and-a-full-ereader-pre-order-now