AVAILABLE NOW!!!

ENTANGLED, Book #2 in The Accidental Billionaires series by Bestselling @AuthorJSScott.

Amazon https://amzn.to/2EckTFs
Amazon CA https://amzn.to/2Ee2ubl
Amazon UK https://amzn.to/2EfFmt5
Amazon AU https://amzn.to/2EfG6hR
FREE on #KindleUnlimited
ENTANGLED (THE ACCIDENTAL BILLIONAIRES) BY J.S. SCOTT
Release Date: April 30, 2019
SYNOPSIS
There's nothing richer than a second chance in the steamy second book of New York Times bestselling author J.S. Scott's Accidental Billionaires series.
Aiden Sinclair was a commercial fisherman before he suddenly came into his billionaire inheritance—not that he's complaining. Being a Sinclair does have its perks. But things were simpler before the money. He may have been dirt poor, but he loved his job and fully intended to always come back from the sea to his girlfriend, Skye Weston, so they could move toward something more permanent. Or at least that had been the plan . . . until he returned from a two-month fishing trip to discover that she had moved away and was marrying somebody else. It tore his world apart.
Now Skye's back in town after nearly a decade. She's a single mother and just as beautiful as ever. However, for some odd reason, she appears to hate him, when it should be Aiden who wants nothing to do with the woman who dumped him. Unfortunately, more than nine years of separation has done nothing to put a damper on their white-hot chemistry when they're together. But even if those feelings are real, Skye has been keeping secrets. The truth of the past is about to come to light, and there is so much more at stake than just Aiden's heart.
BUY LINKS
Amazon Amazon AU Amazon CA Amazon UK
REVIEW: ENTANGLED (THE ACCIDENTAL BILLIONAIRES) BY J.S. SCOTT
Entangled by J.S. Scott

My rating: 5 of 5 stars


Fear made her fearless. Pain made her strong and love helped her survive. Entangled is a salute to the voices never heard. The hopes forever lost and the fighter who never quits. Scott celebrates the spirit of every person who has survived what seems impossible and found the hero and/or heroine within. For Aiden Sinclair and Skye Weston life was never a fairytale, but the glow of young love helped them get through. Until it all came crashing down. Can these former soulmates find their second chance in the ashes that were left behind?



View all my reviews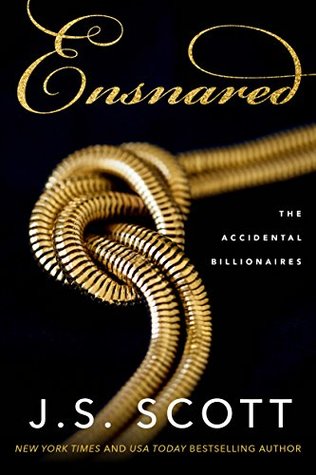 ENSNARED (THE ACCIDENTAL BILLIONAIRES) BY J.S. SCOTT
Release Date: October 16, 2018
SYNOPSIS
Love is worth a fortune in this sizzling novel of accidental romance and riches by New York Times bestselling author J.S. Scott.
Wildlife conservationist Jade Sinclair isn't used to having money. But when she and her siblings learned they were part of the mega-rich Sinclair dynasty, they became billionaires overnight. Jade doesn't even know how to act rich, especially when she's dealing with an arrogant, privileged, unreasonably sexy snob like Eli Stone.
Unlike Jade, Eli grew up rich, and he just keeps getting richer. Eli is always looking for an adventure, and he's found an inviting one in Jade—as resistant as she is irresistible. His less-than-honorable plan? Get her alone in the wilderness by buying out all the spots in her survival class.
Calling a truce, they strike a bargain: Jade will teach Eli basic survival skills, and he'll teach her how to navigate the world of the wealthy elite. Jade has only one condition—she will not let herself be seduced by him. But some things are easier said than done…
Book 1 ENSNARED is on SALE NOW for a Limited Time.
Amazon https://amzn.to/2EzLZRK
Amazon CA https://amzn.to/2JxD0o8
Amazon UK https://amzn.to/2II4hmF
Amazon AU https://amzn.to/2IGfnZ5
REVIEW: ENSNARED (THE ACCIDENTAL BILLIONAIRES) BY J.S. SCOTT
Ensnared by J.S. Scott

My rating: 5 of 5 stars



Life is so much bigger than all of us. Even at it's most painful, there are lessons to be learned. Ensnared grabbed me at hello. Scott guides readers into a storm of emotion that never stops being beautiful, but has underlying currents of turbulence. Jade and Eli blend sweet and sensual into their little tango of love. They are two halves learning how to be whole. Eli is a man trapped within two worlds. The geeky nerd with a thirst for knowledge and the extreme athlete searching for something more. Jade is a woman with her own brand of personal baggage. Thrust into a world where she doesn't quite fit, she's looking for a place to belong. People come into our lives just when we need them, but never realize as much. Ensnared is an inspirational tale of the healing power of love. Like the most captivating of duets Ensnared wraps itself around the heart in an unforgettable way.



View all my reviews
STAY UP TO DATE WITH ALL THE NEWS and SALES:
https://www.bookbub.com/authors/j-s-scott

Join the Newsletter for news, giveaways, freebies, sales etc: http://bit.ly/1msPHkz



#Romance

#Alpha

#MustRead

#TheAccidentalBillionairesSeries

#OneClick
#JSScott
#WhatToRead
#PreOrder
#MustRead
#AmReading
#TBR
#MontlakeRomance
#Amazon
#AmazonPublishing
Original post: ishacoleman7.booklikes.com/post/1878264/happy-book-week-entangled-the-accidental-billionaires-by-j-s-scott