READ AND REVIEW
DEAR JANE (AN ANIMAL ATTRACTION) BY MARISSA CLARKE
Release Date: January 9, 2017
SYNOPSIS
Jane Dixon is a dating disaster. Flammable tablecloths and broken arms are just a typical evening for her unlucky companions. No wonder Jane never gets past a first date. But luckily her co-worker and new bff says he's got loads of friends who'd date her more than once. If only she could stop thinking about how much fun he was to hang out with. And she'd never dropped a bucket of ice on his junk. Win.

All attorney Eric Blackwell has to do to make junior partner is not screw anything up for six weeks, which seems like a slam dunk until he finds himself matchmaker to the office "One Date Wonder" aka the boss's daughter. It's hard to stay focused when setting up the hottest girl he's ever met with everyone but himself. Maybe he could just set her up with all the wrong men, and keep his hands off his new friend… Yeah. His promotion is toast.
BUY LINKS
Amazon B & N Google Play Books IBooks Kobo
REVIEW: DEAR JANE (AN ANIMAL ATTRACTION) BY MARISSA CLARKE
Dear Jane by Marissa Clarke

My rating: 5 of 5 stars


Ms. Clarke and her hilariously dangerous, yet endearing couple are a joy. Jane is a one woman tornado. Her love life is a testament to the disasters that are her constant shadow. The appeal of Dear Jane is that despite the odds and the accidents, love found a way. Eric found a way around Jane's imperfections and saw the beauty that hid within her soul. Thanks to Eric and Jane, Marissa Clarke delivered a beautiful message of empowerment while supplying laughs and touching hearts. Dear Jane is a short, sweet, irresistible treat.



View all my reviews
PROPERLY GROOMED (WEDDING FAVORS) BY BOONE BRUX
Release Date: January 9, 2017
SYNOPSIS
Playing house just got real…
When Joya Bennett wakes up after her brother's wedding, half-naked and lying next to her lifelong crush, she's mortified. OMG, did she try to jump his bones? Worse, did she succeed? Intending to lay low and housesit for her brother until the embarrassment fades, she sneaks away before he wakes up.
What she didn't plan on is having company.
Lincoln Fisher doesn't do relationships, but if he did, his friend's little sister would be the one to tie him down. Good thing Joya had one too many drinks during the reception or he'd have crossed a line. Her brother would kill him if he found out all the places Linc wanted to kiss the sexy, auburn-haired beauty.
And now they're stuck in the same house. For two weeks.
She's off-limits. And he needs to keep it that way, even if the heat building between them is hot enough to blow off the roof…

Each book in the Wedding Favors series is a stand-alone, full-length story that can be enjoyed out of order.

Book #1 Bridesmaid Blues
Book #2 Random Acts of Marriage
Book #3 Properly Groomed
BUY LINKS
Amazon B & N Google Play Books IBooks Kobo
REVIEW: PROPERLY GROOMED (WEDDING FAVORS) BY BOONE BRUX
Properly Groomed
by
Boone Brux
My rating:
5 of 5 stars
Boone Brux went with the obvious approach.
Properly Groomed
is a theme every romance reader is familiar with, but still can't get enough of. The exotic animal and the unusual dog were a nice touch. Comfort, laughter and happily every after are all there for me to enjoy in Ms. Brux's stories.
View all my reviews
A SHOT WITH YOU (BOURBON BROTHERS) BY TERI ANNE STANLEY
Release Date: January 9, 2017
SYNOPSIS
Bourbon is in Brandon Morgan's blood. His family owns the best bourbon brand in the country—or it will be with his marketing genius. And after meeting the fiery daughter of a tequila distillery owner, he's never been more sure.

His barrels, her tequila. It's a match made in heaven. But only if he can keep his hands off the owner's daughter…and his secrets to himself.

Lesa Ruiz will do anything to keep Little Possum afloat, but one look at Brandon's gorgeous dimples and Lesa knows two things for sure: forever is not in the cards with this man and he's way too sexy to resist for long.

Well, three things… Brandon is hiding something, and she'll need to get a lot closer to figure it out and save her family's legacy. Shots, anyone?
BUY LINKS
Amazon B & N Google Play Books IBooks Kobo
REVIEW: A SHOT WITH YOU (BOURBON BROTHERS) BY TERI ANNE STANLEY
A Shot with You by Teri Anne Stanley

My rating: 4 of 5 stars


Who's playing who? Ms. Stanley is an author after my own heart. A winning story, a spicy heroine, what's not to like? Lesa may be down but she's not out. She's not above a little seductive manipulation to get her point across. Brandon skills are more boardroom than bedroom, but for Lesa he just might make an exception. The biggest strength of A Shot With You, Ms. Stanley and her characters drew me in too.



View all my reviews

FULL PACKAGE BY LAUREN BLAKELY
Release Date: January 9, 2017
SYNOPSIS
I've been told I have quite a gift.

Hey, I don't just mean in my pants. I've got a big brain too, and a huge heart of gold. And I like to use all my gifts to the fullest, the package included. Life is smooth sailing....

Until I find myself stuck between a rock and a sexy roommate, which makes for one very hard…place.

Because scoring an apartment in this city is harder than finding true love. So even if I have to shack up with my buddy's smoking hot and incredibly amazing little sister, a man's got to do what a man's got to do.

I can resist Josie. I'm disciplined, I'm focused, and I keep my hands to myself, even in the mere five-hundred square feet we share. Until the one night she insists on sliding under the covers with me. It'll help her sleep after what happened that day, she says.

Spoiler—neither one of us sleeps.

Did I mention she's also one of my best friends? That she's brilliant, beautiful and a total firecracker? Guess that makes her the full package too.

What's a man stuck in a hard place to do?
BUY LINKS
Amazon Amazon Paperback B & N Google Play Books IBooks Kobo
REVIEW: FULL PACKAGE BY LAUREN BLAKELY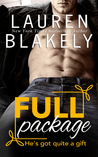 Full Package by Lauren Blakely

My rating: 5 of 5 stars



ARC Review: Full Package by Lauren Blakely

A cynical playboy with a smart mouth, quick wit and raging sex drive. Chase is a wet dream come to life. His ego hides a big heart and a secret fantasy that risks the two friendships he values most. Josie is his biggest fan but also his largest weakness. A sweetheart with big dreams and a few secrets of her own, her delectable desserts are tempting but her guilty pleasure involves a certain doctor with a sweet tooth and a knack for rule breaking. Lauren Blakely stays true to the title with Josie and Chase. She delivers a humorous story full of heart, overflowing with temptation and characters that are charismatic scene stealers in every way. Full Package is the whole enchilada.



View all my reviews
Original post: ishacoleman7.booklikes.com/post/1511864/on-sale-january-9-2017