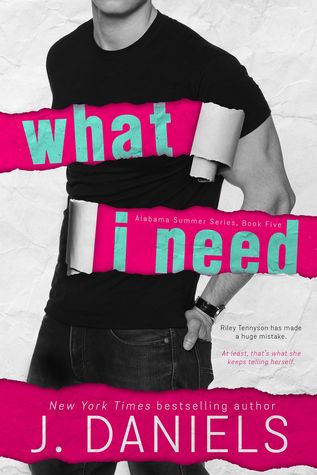 WHAT I NEED (ALABAMA SUMMER) BY J DANIELS
Release Date: March 5, 2017
SYNOPSIS
From New York Times bestselling author, J. Daniels, comes a sexy new STANDALONE novel.

Riley Tennyson has made a huge mistake.

At least, that's what she keeps telling herself.

Showing up to her brother's wedding pissed off and newly single, Riley seeks comfort in solitude and an open bar, until the gorgeous and irresistibly charming CJ Tully makes her a better offer―a wild night with the master of smooth-talking where nothing is off limits.

Riley does what any single woman would do, and a connection is made. One neither one of them can ignore. But when she comes home to the boyfriend she no longer thought she had, Riley buries her secret and begs CJ to do the same.

Forget about each other. It was a mistake. That's all it was… right?

Desires are hidden. Distance is kept. Until one night CJ makes the ultimate sacrifice, and Riley can no longer avoid the man she can't stop thinking about.

Not with him sleeping down the hall…
BUY LINKS
Amazon Amazon UK B & N Google Play Books IBooks Kobo
REVIEW: WHAT I NEED (ALABAMA SUMMER) BY J DANIELS
What I Need by J. Daniels

My rating: 4 of 5 stars


ARC Review: What I Need (Alabama Summer) by J. Daniels

How does one night of heartache lead to the daybreak of complications? One minute Riley is a lonely heart seeking a way to forget. The next instant she gives in to temptation and is left with morning after regret. From bad to worse to overwhelming Riley lands herself in a mess. Can she dig herself out and listen to fate before it becomes too late? What I Needed may have stemmed from a cliche but bloomed into something more. Be careful what we wish for ladies, because it's hard to guess what life has in store. Ms. Daniels took that saying to heart and ran with it. She delivered love, pain and the whole shebang.



View all my reviews
ICED: AN ATLANTIC CITY HUSTLERS BOXSET BY VERONICA FORAND AND SUSAN SCOTT SHELLEY
Release Date: March 6, 2017
SYNOPSIS
FLIRTING ON ICE

When a sexy, forbidden spark blazes to life between professional hockey player Zac Elliott and the team owner's daughter, he's willing to risk being benched to have her. Their relationship is deeply passionate and intensely private...until the press catches them in the act. The only way out of the penalty box is for Zac to play hockey like life--and love--depends on it...

SIMMERING ICE

Physical therapist Annie Davidson is great at her job but unlucky when it comes to love. All she can do is focus on work...that is until she runs into professional hockey player Alec O'Meara. Alec likes to keep things loose on and off the ice, but the red-headed Annie challenges his beliefs and makes him think about taking their relationship to the net...
BUY LINKS
Amazon B & N Google Play Books IBooks Kobo
REVIEW: ICED: AN ATLANTIC CITY HUSTLERS BOXSET BY VERONICA FORAND AND SUSAN SCOTT SHELLEY
Iced: An Atlantic City Hustlers Boxset by Veronica Forand, Susan Scott Shelley

My rating: 5 of 5 stars


ARC Review: Iced: An Atlantic City Hustlers Boxset by Veronica Forand and Susan Scott Shelley

This duet combines risk with heart and scores a winning goal.

Flirting on Ice - Zac is a rule breaker on the ice, but when he takes those skills off the ice his heart and career may not withstand the blow. Heather proves to be his greatest temptation and his biggest risk? Will the odds end in his favor? (5 stars)

Simmering Ice - She wants to sit this one out. He's playing for keeps. Will this attraction score a goal or go bust? (5 stars)

Iced proved to be a win, win for me. Not only did I discover additions to my one click collection, but I found two novellas that were easy to love and hard to put down. Here's to taking risks.



View all my reviews
HER SECRET RANGER (MEN OF AT EASE RANCH) BY DONNA MICHAELS
Release Date: March 6, 2017
SYNOPSIS
By-the-book event planner Beth Brannigan's best friend dared her to kiss a cowboy. She should have said no. Instead, she said please…again and again. If her brother finds out she's dating—okay, kissing—okay, sleeping with—one of his military buddies, he'll kill her. Assuming he doesn't kill his friend first.

Former Army Ranger Brick Mitchum isn't a relationship kind of guy. But then he meets Beth and starts to wonder if maybe it's time he settled down. She's mysterious. Unpredictable. Curvy in every way he needs… And hiding something. He's just got to figure out what.
BUY LINKS
Amazon B & N Google Play Books IBooks Kobo
REVIEW: HER SECRET RANGER (MEN OF AT EASE RANCH) BY DONNA MICHAELS
Her Secret Ranger by Donna Michaels

My rating: 5 of 5 stars


ARC Review: Her Secret Ranger (Men of At Ease Ranch) by Donna Michaels

Ms. Michaels' can brighten up any day with her enchanting characters and heartwarming stories. If laughter is the best medicine, Her Secret Ranger is the perfect remedy to chase away the blues. Beth is uptight. With an overbearing boss, who makes her life miserable. A rapidly approaching wedding and an overprotective family, she has a lot on her plate. When a friendly dare leads to a bold decision, her need to relax goes out the window, along with her heart. A person can't help but smile while reading the light and amusing romance.




View all my reviews
Original post: ishacoleman7.booklikes.com/post/1538708/now-available-happy-book-day