DEEP INSIDE (GOING DEEP) BY VIRNA DEPAUL
Release Date: January 23, 2018
SYNOPSIS
Ruby O'Brien, NFL publicist extraordinaire, lives her life by three simple rules:

#1 - Never date a client.
#2 - Never sleep with a client.
#3 - Never fall in love with a client.

The problem is, she never counted on Alec LeBrun.

Alec, the cocky and talented tight end of the Savannah Bootleggers, repeatedly asks Ruby for a date, and no one's more shocked than Ruby when she finally says yes. Less than twenty four hours later, however, he's engaged to someone else. Lesson learned. Two months later, Alec's single again, acting like a publicity nightmare and requiring up-close supervision. Now Ruby has to help Alec fix his bad boy reputation, even as she protects her heart.

Alec watched Ruby from afar for months, long before circumstances got him engaged to his lying ex. Now he's free to pursue the only woman he's ever truly wanted. Ruby's smart, gorgeous, and super-professional, and he wants her with a hunger he's never experienced before. Too bad Ruby thinks he's still pining for another woman. Now he has to prove her wrong. Jeopardizing their careers isn't part of the plan, but he also refuses to play by her rules—not when doing so means losing the woman he loves.

Can Alex convince Ruby that, sometimes, scoring in love means risking it all? And will Ruby accept that she's not second best, but the only woman Alec wants? For a lifetime.
BUY LINKS
Amazon B & N Google Play Books IBooks Kobo
REVIEW: DEEP INSIDE (GOING DEEP) BY VIRNA DEPAUL
Deep Inside by Virna DePaul

My rating: 5 of 5 stars


Harmless fun leads to risky business as Alex and Ruby break all the rules of love. Deep Inside is as smart as it is sexy. Ruby has her head on straight and her heart locked away, until temptation steps up to the line in the form of a smart alecky playboy with the best of intentions, but a knack for finding himself in sticky situations. Whether on the field or off the clock and dealing with the real world, Ms. DePaul keeps readers guessing and hearts racing as she heads right into a touchdown.



View all my reviews
SIDELINED BY MARQUITA VALENTINE
Release Date: January 23, 2018
SYNOPSIS
A new funny, flirty, and oh so sexy sports romance from NYT and USA Today Bestselling Author Marquita Valentine.

It was supposed to be the happiest time of my life.
And it was, until my husband left me.
On our honeymoon.
For the wedding planner.

Now I all I want to do is get over the humiliation with the one man I shouldn't.
Except he's avoiding me at all costs.

But I'm not going to let Aiden McHugh get away. He might be the hottest quarterback in the NFL and my older brother's best friend, but he doesn't intimidate me. He promised to help me and I'm holding him it… even if it means I have to convince him one seduction at a time.

Until the seduced becomes the seducer.
I no longer want to get over my ex; I just want Aiden.
BUY LINKS
Amazon B & N Google Play Books IBooks Kobo
REVIEW: SIDELINED BY MARQUITA VALENTINE
Sidelined by Marquita Valentine

My rating: 5 of 5 stars


Love has a way of knocking you flat before it lifts you up. Marquita Valentine has an innate talent for merging the good with the bad and keeping you laughing as she's breaking your heart. Sidelined is one woman's quest to heal her broken heart in the most wicked way possible. He helped break her heart, perhaps he can help put it back together again. Aiden and Layton can be each other's worst nightmares, but behind the bickering, the frustration and the mistrust, there is a deep love. Sidelined is a little slice of heaven presented in a temptingly, heartwarming package.



View all my reviews
IT STARTED WITH A WHISPER by Dawn Brower, Deb Marlowe, Amanda Mariel, Christina McKnight, Erica Monroe, Ava Stone
Release Date: January 23, 2018
SYNOPSIS
It started with a whisper...

Rumors, gossip, and secrets all have a way of unraveling at the worst possible time. Follow each story as it leads you through a path of mystery and intrigue. Lady X's gossip sheet tells all and it leaves everybody talking. The rumors have the potential to ruin lives and with each whisper a new scandal arises.

Will those who find themselves the subject of her scandal sheet escape unscathed and discover who Lady X is along the way?

One Moonlit Tryst by Amanda Mariel Lady Tabitha Pemberton wants nothing more than to enjoy her first season without becoming attached, but when Lady X writes of a forbidden tryst between Tabitha and Colin Brooks, the earl of Harcourt, everything changes. Now Tabitha must choose between her reputation and her desire to remain unattached.

Love Me, Lord Tender by Deb Marlowe Lord Tensford has an old title and an empty purse. He knew it would be difficult to find a Society bride, but after Lady X heeds baseless rumor and brands him Lord Terror, it's next to impossible.
Until he comes to the aid of Lady Hope Brightley, causing Lady X to re-dub him Lord Tender.
Now he's a laughing stock and a fortune hunter. But Lady Hope means to repay him and help him find a bride. In the end, will she turn him over to the perfect mate? Or ask him to . . . Love Me, Lord Tender?

The Lady Loves a Scandal by Christina McKnight Many years ago, Gideon Lyndon, Viscount Galway, made a grave mistake. On the verge of rectifying this misdeed, he finds himself faced with his greatest challenge yet: winning back the woman he has loved since the moment he met her. But after a year of silence, convincing his headstrong paramour Sybil Anson to take him back will not be easy. Especially since he can't even explain why he left--not if he wants to keep her safe.

The Scandalous Widow by Erica Monroe Bow Street Runner Gabriel Sinclair has spent the last three years trying to forget about smart, beautiful Lady Jemma Forster, Countess of Wolverston, who broke his heart when she married his best friend. Her husband's death thrusts Gabriel and Jemma back together, as they work to find his murderer. Their investigation takes them into the darkest, most dangerous parts of London. They're perfect partners for solving crimes, but can they be partners in love too?

How to Land an Earl in Ten Days or Less by Ava Stone Known for his silver tongue, Reese Delacy, the Earl of Darling, wagers that he can make any girl fall in love with him in less than a fortnight. Unfortunately, the boast catches the ear and subsequently the pen of a notorious gossip columnist, making Reese a pariah in short order. He seems doomed for failure until he meets a Bermudian beauty who is seemingly unaware of the scandal.
With control of the Caribbean salt trade hanging in the balance, Miss Cara Beckett, left her home to solicit the support of parliament, never imagining she'd become embroiled in a reckless wager.

A Lady Hoyden's Secret by Dawn Brower Lady Helena Carter has a secret. She dare not reveal it and court her own ruin--or incur the wrath of Lady X. Oliver Hunt, the Marquess of Dashville has problems of his own regarding the Lady of Whispers, and only Lady Helena can help him. As they cross paths, desire sparks between them. Their budding romance is tested as secrets are uncovered, and the revelations will either bring them closer together or tear them apart forever.
BUY LINKS
Amazon B & N Google Play Books IBooks Kobo
REVIEW: IT STARTED WITH A WHISPER by Dawn Brower, Deb Marlowe, Amanda Mariel, Christina McKnight, Erica Monroe, Ava Stone
It Started with a Whisper by Dawn Brower

My rating: 5 of 5 stars


With a stroke of the pen and a vivid imagination, these six immensely talented authors have created something special. It Started with a Whisper is mysterious, sensuous, humorous and hard to resist. By mixing old school values with modern day twists, historical romance will continue to shine it's bright light on a much loved genre of stories.


Deb Marlowe and Dawn Brower, show how dangerous gossip can be to one's reputation and heart. Erica Monroe begins with a scandal and ends with a hard won happily ever after. Second chances are the catch of the day when Ava Stone and Christina McKnight take center stage. Amanda Mariel seduces readers and characters alike with her tale of One Moonlit Tryst. Prepare to be scandalized and hypnotized with this fascinating collection of tempting tales.



View all my reviews
ABOUT THAT KISS (HEARTBREAKER BAY) BY JILL SHALVIS
Release Date: January 23, 2018
SYNOPSIS
When love drives you crazy . . .

When sexy Joe Malone never calls after their explosive kiss, Kylie shoves him out of her mind. Until she needs a favor, and it's a doozy. Something precious to her has been stolen and there's only one person with unique finder-and-fixer skills that can help—Joe. It means swallowing her pride and somehow trying to avoid the temptation to throttle him—or seduce him.

the best thing to do . . .

No, Joe didn't call after the kiss. He's the fun time guy, not the forever guy. And Kylie, after all she's been through, deserves a good man who will stay. But everything about Kylie makes it damned hard to focus, and though his brain knows what he has to do, his heart isn't getting the memo.

… is enjoy the ride.

As Kylie and Joe go on the scavenger hunt of their lives, they discover surprising things about each other. Now, the best way for them to get over "that kiss" might just be to replace it with a hundred more.
BUY LINKS
Amazon B & N Google Play Books IBooks Kobo
REVIEW: ABOUT THAT KISS (HEARTBREAKER BAY) BY JILL SHALVIS
About That Kiss by Jill Shalvis

My rating: 4 of 5 stars


What makes reading fun is watching an author explore new directions. About That Kiss is Jill Shalvis veering into new territory, but reminding readers, she has the talent to back it up. While keeping with tradition and seducing our socks off, Joe and Kylie add some mystery to the lovable canvas of Heartbreaker Bay. What began with a kiss grew in a most intriguing way. From a scene stealing dog, to a curmudgeonly father, a flighty mother and a missing penguin, Ms. Shalvis keeps the charm while adding a hint of suspense. What I enjoy most about the crew from Heartbreaker Bay is that they show how love can build a family. Blood may not bind them but heart does.



View all my reviews

SAVING THE SHERIFF (THE HILLS OF TEXAS) BY KADIE SCOTT
Release Date: January 23, 2018
SYNOPSIS
There's a storm brewing…

The day his wife died, Sheriff Cash Hill discovered she was leaving him for another man, one she'd loved since before their marriage. How could the single dad ever trust another woman again? But when Georgia's best friend, Holly, comes back to town, something about Holly's sweet, sassy vulnerability has his protective instincts kicking in hard.

Holly Jensen left La Colina, Texas with regrets. She's returned home to work as the new large animal vet and to watch over her best friend's daughter. But Holly's knowledge of Georgia's past could rip a family apart. And she's reluctant to go to the sexy…and single…sheriff, as he's made it clear he wants nothing to do with her.

Both are faced with a choice…stay locked in the past or allow their reservations to be silenced by a passion hotter than Texas summer nights. Can they learn to trust their own hearts and each other?
BUY LINKS
Amazon B & N Google Play Books IBooks Kobo
REVIEW: SAVING THE SHERIFF (THE HILLS OF TEXAS) BY KADIE SCOTT
Saving the Sheriff by Kadie Scott

My rating: 4 of 5 stars


What you don't know can hurt. A lesson Cash learned the hard way. Now he's left to face the fall out of a secretive wife, a devastating loss and single parenthood. What happens when the person you trusted the most, betrays you in the worst way? Saving the Sheriff is a tale of second chances that begins with heartache and ends with forgiveness.



View all my reviews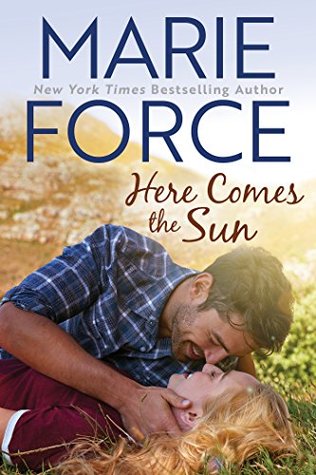 HERE COMES THE SUN (BUTLER, VERMONT) BY MARIE FORCE
Release Date: January 23, 2018
SYNOPSIS
Wade Abbott is one and done.

One look, one conversation, one weekend, and he knows who he wants.

Except, Mia Simpson is not free to return his affection. In fact, he suspects she's in an abusive marriage, but she never confirms that, and he has no choice but to mind his own business where she's concerned.

Two years after they first met and a year after he last heard from her, Mia shows up half-frozen, bruised and beaten on his doorstep, needing something only Wade can provide.

He's determined to make it work, no matter the cost. Grab the latest in a series you will fall in love with!

Reading Order for Green Mountain/Butler, Vermont Series
Green Mountain Series

Book 1: All You Need Is Love (Will & Cameron)
Book 2: I Want to Hold Your Hand (Hannah & Nolan)
Book 3: I Saw Her Standing There (Colton & Lucy)
Book 4: And I Love Her (Hunter & Megan)
Novella: You'll Be Mine (Will & Cameron's Wedding)
Book 5: It's Only Love (Ella & Gavin)
Book 6: Ain't She Sweet (Charley & Tyler)

Butler, Vermont Series

Book 1: Every Little Thing (Grayson & Emma)
Book 2: Can't Buy Me Love (Patrick & Mary)
Book 3: Here Comes the Sun (Wade & Mia)
BUY LINKS
Amazon B & N Google Play Books IBooks Kobo
REVIEW: HERE COMES THE SUN (BUTLER, VERMONT) BY MARIE FORCE
Here Comes the Sun by Marie Force

My rating: 4 of 5 stars


Marie Force has a gift for taking the complications of real life and creating stories of inspirational optimism. Here Comes the Sun is a story that blends moments of courage with high octane emotion and the sweetest, yet almost tragic romance. For Mia and Wade love brings surprising twists. Finding a soul mate can either complete your heart or break it in two. Is it worth the risk? A stunningly addictive journey.



View all my reviews
Original post: ishacoleman7.booklikes.com/post/1634320/happy-book-day-new-releases-for-january-23-2018