Welcome to Billionaire Bachelors Inc, where the sexiest men in the city are about to meet their match…
Hot bachelor Max Carlisle is heir to a media empire, tabloid catnip, and… wants to hire me to be his fake fiancee. I know what it takes to keep a billionaire in line, but signing up for seven days in close quarters with this Very Irresistible Playboy? It's just asking for trouble. The kind of thrilling, reckless trouble I could use a little more of since my career is currently ass-backwards in a mud bath with six shih-tzus (don't ask).
So do I:
a) Take the job, and bicker wildly every step of the way?
b) Embark on a mad-cap treasure hunt to claim his billion-dollar inheritance?
c) Try my hardest not to fall head-over-heels in love with him and wind up having the best sex of my life?
d) All of the above?
Something tells me I'm about to be way out of my league… and under the most handsome, infuriating man I've ever met. But with a fortune on the line, can we beat out his crazy relatives to win the prize? And will our fake relationship be game over at the finish line?
Find out in the new sexy, hilarious romantic comedy from Lila Monroe!
REVIEW: VERY IRRESISTIBLE PLAYBOY (BILLIONAIRE BACHELORS) BY LILA MONROE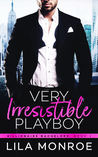 VIP by Lila Monroe

My rating: 5 of 5 stars


Very Irresistible Playboy is not meant to be taken seriously, but definitely packs a punch. The seduction begins almost immediately between the charming playboy and his cynical, yet unforgettable introduction to the equally love phobic Hallie. Through jaded eyes and smart, yet saucy dialogue, Lila Monroe takes readers on an ironic dance of love, laughter and temptation. From first meeting to final goodbye Max and Hallie have a stranglehold on hearts and hormones of any reader willing to take a chance on romance.



View all my reviews
BILLIONAIRE BACHELORS SERIES
1 VIP (Jan 2018)
2 Hot Daddy (April 2018)
3 Wild Card (June 2018)
4 TBC (Aug 2018)
Max sets me down gently, and brushes a strand of wet hair from my face. His eyes are stormy blue in the darkness, and his fingertips hot against my face.
My breath catches. My eyes drift to his mouth, and then just like that, he's pulling me close again, into a hot, reckless kiss.
Ahhh.
God, I've been dying to taste him again. His mouth is hard and possessive, claiming mine, and a shudder of lust rolls through me at the feel of him. His hands are all over me, molding me against him as the fire between us blazes hotter, and I forget everything. Like my rules, and our arrangement, and the fact I've sworn off men like him . . . None of it matters, not with Max's tongue doing wicked things to mine, and his body so hard against me.
Very hard.
Hello.
About the Author
Combining her passions for books, sex, and well-fitted suits, Lila Monroe wrote her first romantic comedy, The Billionaire Bargain, in 2015 and hasn't stopped since. She loves writing about smart alpha men, and the strong and sassy women who try to tame them.
Facebook | Twitter | Goodreads | Website | Amazon Author Page | Newsletter
Original post: ishacoleman7.booklikes.com/post/1632767/happy-book-week-very-irresistible-playboy-billionaire-bachelors-by-lila-monroe