UNTIL YOU'RE MINE (FIGHTING FOR HER) BY CINDI MADSEN
Release Date

: January 22, 2018
SYNOPSIS
You might've heard of me, Shane Knox, the guy who rose quickly through the MMA fighter ranks, only to crash just as fast. No one cares about personal reasons when it comes to losing fights and money. I'm determined to get back to where I was. For you to hear my name again. I've finally convinced the owner of Team Domination to take a chance and get me back in fighting—and winning—shape. What I didn't bargain for is the guy's spitfire of a daughter. Factor in her two professional-fighter brothers who are acting as my coaches and the fact that my career hangs in the balance, and Brooklyn's the last girl I should be fantasizing about.

The closer we get, the more I want Brooklyn. The stakes are high, and I know there's a big chance of both of us getting hurt, but I won't stop until she's mine.
BUY LINKS
Amazon
B & N
Google Play Books
IBooks
Kobo
REVIEW
:
UNTIL YOU'RE MINE (FIGHTING FOR HER) BY CINDI MADSEN
Until You're Mine
by
Cindi Madsen
My rating:
4 of 5 stars
The tough guy is about to get schooled. Shane is a fighter. He has battled his way to the top once and plans on making it back again. Whatever it takes, is his daily mantra. Until triple S walks through the door. Smart, sexy and sassy, Brooklyn knows the game, but breaks all his rules and complicates his life. The chase is on and the prize will be his most precious acquisition to date.
Until You're Mine
mixes street smarts and soft hearts with fierce battles and witty dialogue. No matter the canvas, Ms. Madsen let's her humor shine through in the strength of her characters and her dedication to winning readers hearts.
View all my reviews
VERY IRRESISTIBLE PLAYBOY (BILLIONAIRE BACHELORS) BY LILA MONROE
Release Date

: January 22, 2018
SYNOPSIS
Welcome to Billionaire Bachelors Inc, where the sexiest men in the city are about to meet their match..

Hot bachelor Max Carlisle is heir to a media empire, tabloid catnip, and… wants to hire me to be his fake fiancee. I know what it takes to keep a billionaire in line, but signing up for seven days in close quarters with this Very Irresistible Playboy? It's just asking for trouble. The kind of thrilling, reckless trouble I could use a little more of since my career is currently ass-backwards in a mud bath with six shih-tzus (don't ask).

So do I:
a) Take the job, and bicker wildly every step of the way?
b) Embark on a mad-cap treasure hunt to claim his billion-dollar inheritance?
c) Try my hardest not to fall head-over-heels in love with him and wind up having the best sex of my life?
d) All of the above?

Something tells me I'm about to be way out of my league… and under the most handsome, infuriating man I've ever met. But with a fortune on the line, can we beat out his crazy relatives to win the prize? And will our fake relationship be game over at the finish line?

Find out in the new sexy, hilarious romantic comedy from Lila Monroe!



BILLIONAIRE BACHELORS SERIES

:

1 VIP (Jan 2018)
2 Hot Shot (April 2018)
3 Wild Card (June 2018)
4 TBC (Aug 2018)
BUY LINKS
Amazon
B & N
Google Play Books
IBooks
Kobo
Amazon UK
Amazon AU
REVIEW
:
VERY IRRESISTIBLE PLAYBOY (BILLIONAIRE BACHELORS) BY LILA MONROE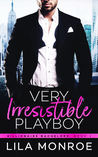 VIP
by
Lila Monroe
My rating:
5 of 5 stars
Very Irresistible Playboy
is not meant to be taken seriously, but definitely packs a punch. The seduction begins almost immediately between the charming playboy and his cynical, yet unforgettable introduction to the equally love phobic Hallie. Through jaded eyes and smart, yet saucy dialogue, Lila Monroe takes readers on an ironic dance of love, laughter and temptation. From first meeting to final goodbye Max and Hallie have a stranglehold on hearts and hormones of any reader willing to take a chance on romance.
View all my reviews
DEEP INSIDE (GOING DEEP) BY VIRNA DEPAUL
Release Date

: January 23, 2018
SYNOPSIS
Ruby O'Brien, NFL publicist extraordinaire, lives her life by three simple rules: #1 - Never date a client. #2 - Never sleep with a client. #3 - Never fall in love with a client. The problem is, she never counted on Alec LeBrun.
Alec, the cocky and talented tight end of the Savannah Bootleggers, repeatedly asks Ruby for a date, and no one's more shocked than Ruby when she finally says yes. Less than twenty four hours later, however, he's engaged to someone else. Lesson learned. Two months later, Alec's single again, acting like a publicity nightmare and requiring up-close supervision. Now Ruby has to help Alec fix his bad boy reputation, even as she protects her heart.
Alec watched Ruby from afar for months, long before circumstances got him engaged to his lying ex. Now he's free to pursue the only woman he's ever truly wanted. Ruby's smart, gorgeous, and super-professional, and he wants her with a hunger he's never experienced before. Too bad Ruby thinks he's still pining for another woman. Now he has to prove her wrong. Jeopardizing their careers isn't part of the plan, but he also refuses to play by her rules—not when doing so means losing the woman he loves.
Can Alex convince Ruby that, sometimes, scoring in love means risking it all? And will Ruby accept that she's not second best, but the only woman Alec wants? For a lifetime.
BUY LINKS
Amazon
B & N
Google Play Books
IBooks
Kobo
REVIEW
:
DEEP INSIDE (GOING DEEP) BY VIRNA DEPAUL
Deep Inside
by
Virna DePaul
My rating:
5 of 5 stars
Harmless fun leads to risky business as Alex and Ruby break all the rules of love.
Deep Inside
is as smart as it is sexy. Ruby has her head on straight and her heart locked away, until temptation steps up to the line in the form of a smart alecky playboy with the best of intentions, but a knack for finding himself in sticky situations. Whether on the field or off the clock and dealing with the real world, Ms. DePaul keeps readers guessing and hearts racing as she heads right into a touchdown.
View all my reviews
SIDELINED BY MARQUITA VALENTINE
Release Date

: January 23, 2018
SYNOPSIS
A new funny, flirty, and oh so sexy sports romance from NYT and USA Today Bestselling Author Marquita Valentine.
It was supposed to be the happiest time of my life.
And it was, until my husband left me.
On our honeymoon.
For the wedding planner.
Now I all I want to do is get over the humiliation with the one man I shouldn't.
Except he's avoiding me at all costs.
But I'm not going to let Aiden McHugh get away. He might be the hottest quarterback in the NFL and my older brother's best friend, but he doesn't intimidate me. He promised to help me and I'm holding him it… even if it means I have to convince him one seduction at a time.
Until the seduced becomes the seducer.
I no longer want to get over my ex; I just want Aiden.
BUY LINKS (Coming Soon)
Amazon B & N Google Play Books IBooks Kobo
REVIEW
:
SIDELINED BY MARQUITA VALENTINE
Sidelined
by
Marquita Valentine
My rating:
5 of 5 stars
Love has a way of knocking you flat before it lifts you up. Marquita Valentine has an innate talent for merging the good with the bad and keeping you laughing as she's breaking your heart.
Sidelined
is one woman's quest to heal her broken heart in the most wicked way possible. He helped break her heart, perhaps he can help put it back together again. Aiden and Layton can be each other's worst nightmares, but behind the bickering, the frustration and the mistrust, there is a deep love. Sidelined is a little slice of heaven presented in a temptingly, heartwarming package.
View all my reviews
IT STARTED WITH A WHISPER

by

Dawn Brower, Deb Marlowe, Amanda Mariel, Christina McKnight, Erica Monroe, Ava Stone
Release Date

: January 23, 2018
SYNOPSIS
It started with a whisper...
Rumors, gossip, and secrets all have a way of unraveling at the worst possible time. Follow each story as it leads you through a path of mystery and intrigue. Lady X's gossip sheet tells all and it leaves everybody talking. The rumors have the potential to ruin lives and with each whisper a new scandal arises.
Will those who find themselves the subject of her scandal sheet escape unscathed and discover who Lady X is along the way?
One Moonlit Tryst
by
Amanda Mariel
Lady Tabitha Pemberton wants nothing more than to enjoy her first season without becoming attached, but when Lady X writes of a forbidden tryst between Tabitha and Colin Brooks, the earl of Harcourt, everything changes. Now Tabitha must choose between her reputation and her desire to remain unattached.
Love Me, Lord Tender
by
Deb Marlowe
Lord Tensford has an old title and an empty purse. He knew it would be difficult to find a Society bride, but after Lady X heeds baseless rumor and brands him Lord Terror, it's next to impossible.
Until he comes to the aid of Lady Hope Brightley, causing Lady X to re-dub him Lord Tender.
Now he's a laughing stock and a fortune hunter. But Lady Hope means to repay him and help him find a bride. In the end, will she turn him over to the perfect mate? Or ask him to . . . Love Me, Lord Tender?
The Lady Loves a Scandal
by
Christina McKnight
Many years ago, Gideon Lyndon, Viscount Galway, made a grave mistake. On the verge of rectifying this misdeed, he finds himself faced with his greatest challenge yet: winning back the woman he has loved since the moment he met her. But after a year of silence, convincing his headstrong paramour Sybil Anson to take him back will not be easy. Especially since he can't even explain why he left--not if he wants to keep her safe.
The Scandalous Widow
by
Erica Monroe
Bow Street Runner Gabriel Sinclair has spent the last three years trying to forget about smart, beautiful Lady Jemma Forster, Countess of Wolverston, who broke his heart when she married his best friend. Her husband's death thrusts Gabriel and Jemma back together, as they work to find his murderer. Their investigation takes them into the darkest, most dangerous parts of London. They're perfect partners for solving crimes, but can they be partners in love too?
How to Land an Earl
in Ten Days or Less
by
Ava Stone
Known for his silver tongue, Reese Delacy, the Earl of Darling, wagers that he can make any girl fall in love with him in less than a fortnight. Unfortunately, the boast catches the ear and subsequently the pen of a notorious gossip columnist, making Reese a pariah in short order. He seems doomed for failure until he meets a Bermudian beauty who is seemingly unaware of the scandal.
With control of the Caribbean salt trade hanging in the balance, Miss Cara Beckett, left her home to solicit the support of parliament, never imagining she'd become embroiled in a reckless wager.
A Lady Hoyden's
Secret by
Dawn Brower
Lady Helena Carter has a secret. She dare not reveal it and court her own ruin--or incur the wrath of Lady X. Oliver Hunt, the Marquess of Dashville has problems of his own regarding the Lady of Whispers, and only Lady Helena can help him. As they cross paths, desire sparks between them. Their budding romance is tested as secrets are uncovered, and the revelations will either bring them closer together or tear them apart forever.
BUY LINKS
Amazon B & N Google Play Books IBooks Kobo
REVIEW
:
IT STARTED WITH A WHISPER

by

Dawn Brower, Deb Marlowe, Amanda Mariel, Christina McKnight, Erica Monroe, Ava Stone
It Started with a Whisper
by
Dawn Brower
My rating:
5 of 5 stars
With a stroke of the pen and a vivid imagination, these six immensely talented authors have created something special.
It Started with a Whisper
is mysterious, sensuous, humorous and hard to resist. By mixing old school values with modern day twists, historical romance will continue to shine it's bright light on a much loved genre of stories.
Deb Marlowe and Dawn Brower, show how dangerous gossip can be to one's reputation and heart. Erica Monroe begins with a scandal and ends with a hard won happily ever after. Second chances are the catch of the day when Ava Stone and Christina McKnight take center stage. Amanda Mariel seduces readers and characters alike with her tale of One Moonlit Tryst. Prepare to be scandalized and hypnotized with this fascinating collection of tempting tales.
View all my reviews
ABOUT THAT KISS (HEARTBREAKER BAY) BY JILL SHALVIS
Release Date

: January 23, 2018
SYNOPSIS
When love drives you crazy . . .
When sexy Joe Malone never calls after their explosive kiss, Kylie shoves him out of her mind. Until she needs a favor, and it's a doozy. Something precious to her has been stolen and there's only one person with unique finder-and-fixer skills that can help—Joe. It means swallowing her pride and somehow trying to avoid the temptation to throttle him—or seduce him.
the best thing to do . . .
No, Joe didn't call after the kiss. He's the fun time guy, not the forever guy. And Kylie, after all she's been through, deserves a good man who will stay. But everything about Kylie makes it damned hard to focus, and though his brain knows what he has to do, his heart isn't getting the memo.
… is enjoy the ride.
As Kylie and Joe go on the scavenger hunt of their lives, they discover surprising things about each other. Now, the best way for them to get over "that kiss" might just be to replace it with a hundred more.
BUY LINKS
Amazon
B & N
Google Play Books
IBooks
Kobo
REVIEW
:
ABOUT THAT KISS (HEARTBREAKER BAY) BY JILL SHALVIS
About That Kiss
by
Jill Shalvis
My rating:
4 of 5 stars
What makes reading fun is watching an author explore new directions.
About That Kiss
is Jill Shalvis veering into new territory, but reminding readers, she has the talent to back it up. While keeping with tradition and seducing our socks off, Joe and Kylie add some mystery to the lovable canvas of Heartbreaker Bay. What began with a kiss grew in a most intriguing way. From a scene stealing dog, to a curmudgeonly father, a flighty mother and a missing penguin, Ms. Shalvis keeps the charm while adding a hint of suspense. What I enjoy most about the crew from Heartbreaker Bay is that they show how love can build a family. Blood may not bind them but heart does.
View all my reviews
SAVING THE SHERIFF (THE HILLS OF TEXAS) BY KADIE SCOTT
Release Date

: January 23, 2018
SYNOPSIS
There's a storm brewing…
The day his wife died, Sheriff Cash Hill discovered she was leaving him for another man, one she'd loved since before their marriage. How could the single dad ever trust another woman again? But when Georgia's best friend, Holly, comes back to town, something about Holly's sweet, sassy vulnerability has his protective instincts kicking in hard.
Holly Jensen left La Colina, Texas with regrets. She's returned home to work as the new large animal vet and to watch over her best friend's daughter. But Holly's knowledge of Georgia's past could rip a family apart. And she's reluctant to go to the sexy…and single…sheriff, as he's made it clear he wants nothing to do with her.
Both are faced with a choice…stay locked in the past or allow their reservations to be silenced by a passion hotter than Texas summer nights. Can they learn to trust their own hearts and each other?
BUY LINKS
Amazon
B & N
Google Play Books
IBooks
Kobo
REVIEW
:
SAVING THE SHERIFF (THE HILLS OF TEXAS) BY KADIE SCOTT
Saving the Sheriff
by
Kadie Scott
My rating:
4 of 5 stars
What you don't know can hurt. A lesson Cash learned the hard way. Now he's left to face the fall out of a secretive wife, a devastating loss and single parenthood. What happens when the person you trusted the most, betrays you in the worst way?
Saving the Sheriff
is a tale of second chances that begins with heartache and ends with forgiveness.
View all my reviews
HERE COMES THE SUN (BUTLER, VERMONT) BY MARIE FORCE
Release Date

: January 23, 2018
SYNOPSIS
Wade Abbott is one and done.One look, one conversation, one weekend, and he knows who he wants.
Except, Mia Simpson is not free to return his affection. In fact, he suspects she's in an abusive marriage, but she never confirms that, and he has no choice but to mind his own business where she's concerned.
Two years after they first met and a year after he last heard from her, Mia shows up half-frozen, bruised and beaten on his doorstep, needing something only Wade can provide.
He's determined to make it work, no matter the cost. Grab the latest in a series you will fall in love with!
Reading Order for Green Mountain/Butler, Vermont Series
Green Mountain Series
Book 1: All You Need Is Love (Will & Cameron)
Book 2: I Want to Hold Your Hand (Hannah & Nolan)
Book 3: I Saw Her Standing There (Colton & Lucy)
Book 4: And I Love Her (Hunter & Megan)
Novella: You'll Be Mine (Will & Cameron's Wedding)
Book 5: It's Only Love (Ella & Gavin)
Book 6: Ain't She Sweet (Charley & Tyler)
Butler, Vermont Series
Book 1: Every Little Thing (Grayson & Emma)
Book 2: Can't Buy Me Love (Patrick & Mary)
Book 3: Here Comes the Sun (Wade & Mia)
BUY LINKS
Amazon
B & N
Google Play Books
IBooks
Kobo
REVIEW
:
HERE COMES THE SUN (BUTLER, VERMONT) BY MARIE FORCE
Here Comes the Sun
by
Marie Force
My rating:
4 of 5 stars
Marie Force has a gift for taking the complications of real life and creating stories of inspirational optimism.
Here Comes the Sun
is a story that blends moments of courage with high octane emotion and the sweetest, yet almost tragic romance. For Mia and Wade love brings surprising twists. Finding a soul mate can either complete your heart or break it into. Is it worth the risk? A stunningly addictive journey.
View all my reviews
DIAMONDS AND DIRT ROADS (BILLIONAIRES IN BLUE JEANS) BY ERIN NICHOLAS
Release Date

: January 26, 2018
SYNOPSIS
A pretend relationship…within a pretend relationship.

Attorney Evan Stone knows every crazy stipulation in billionaire Rudy Carmichael's will. After all, he wrote it. And he's determined to make sure each one is fully met by Rudy's triplet daughters. Even if that means dating the workaholic CEO, Ava. Or pretending to at least. And even if it means resisting the so-right-for-him-she's-totally-wrong party girl, Cori.


Cori's only got three things on her to do list from her dad:
• Move to Bliss, Kansas.
• Run his pie shop with her sisters for a year.
• No dating. For six months.

But stepping in for her sister when it's clear that Ava and Evan aren't fooling anyone with their "romance" isn't really dating. And falling for her sister's pretend boyfriend while pretending to be her sister…well, that's ridiculous. No matter how real things feel whenever she and Evan are together.
BUY LINKS
Amazon B & N Google Play Books IBooks Kobo
REVIEW
:
DIAMONDS AND DIRT ROADS (BILLIONAIRES IN BLUE JEANS) BY ERIN NICHOLAS
Diamonds and Dirt Roads
by
Erin Nicholas
My rating:
5 of 5 stars
Life has a way of throwing curve balls. Ava, Brynn and Cori have just landed in the middle of one. Death has a way of being the ultimate wake up call. For billionaire Rudy, his call came a tad too late. Or did it?
Diamonds and Dirt Roads
begins a father's love letter to his beautiful little girls who have become fierce and lost young women. With the help of a to do list, a father guides the girls he never took the time to know, become the women they are meant to be. In book one Cori gets her time to shine. Misunderstood and brushed aside Cori is about to show the world she's more than just the party girl, she's thought to be. Erin Nicholas can always be counted on to pour on the charm with hypnotizing stories of heartache, humor and healing. You can never stop at just one.
View all my reviews
BAD TO THE BONE (THE DOGFATHER) BY ROXANNE ST. CLAIRE
Release Date

: January 26, 2018
SYNOPSIS
Trace Bancroft has been in prison for fourteen years, paying for a mistake that cost a man his life. Now released, Trace heads back to Bitter Bark with his mutt, Meatball, and runs into Daniel Kilcannon, who offers to provide some medical care for the dog. Trace knows that would mean seeing Molly Kilcannon, a girl who shared one crazy night with him before his life took a turn for the worst. But when Meatball's illness intensifies, Trace has no choice. He has to face Molly again and pray she'll save his dog, no matter what their history.
When Trace Bancroft arrives at Waterford Farm with a critically ill dog, Molly Kilcannon's entire world is rocked to the core. Firmly believing Trace died in a bar fight years ago, Molly never told anyone that the bad boy of Bitter Bark was the father of Prudence Kilcannon, her very
good
thirteen-year-old daughter. But Molly has promised to tell Pru the truth about her conception, and now that truth is a living, breathing
ex-con
whose very existence could change everything, including a precious mother-daughter relationship.
It doesn't take long for Molly to realize there's more to this sexy man than his dark past and tattooed arms. And while the realization that he's a father is the best thing to ever happen to him, Trace doubts anything could make him worthy of Pru or her spirited veterinarian mother. As they nurse Meatball back to health and grow ever closer, Trace and Molly have to decide when and how to tell Pru the truth. But will the secret that binds their hearts be the very thing that breaks them apart?
BUY LINKS (More links Coming Soon)
Amazon B & N Google Play Books IBooks Kobo
REVIEW
:
BAD TO THE BONE (THE DOGFATHER) BY ROXANNE ST. CLAIRE
Bad to the Bone
by
Roxanne St. Claire
My rating:
5 of 5 stars
When life hands you a curve ball, you step up to the plate and come out swinging. Trace and Molly had to learn the hardest of lessons in the most heartbreaking of ways. One night changed the course of two lives, can the love of a special dog, be the olive branch they need to reconcile?
Bad to the Bone
is a coming of age tale. Molly and Trace's road is littered with life - changing choices, heartbreaking mistakes and untold blessings that set the stage for a second chance. Ms. St. Claire highlights a lesson that is profound with a romance that is prolific and a love that is awe-inspiring.
View all my reviews
THE SHEIKH'S STUBBORN ASSISTANT (THE SHARIF SHEIKHS) BY LESLIE NORTH
Release Date

: January 14, 2018
BARGAINING WITH THE BOSS (ACCIDENTALLY YOURS) BY JENNIFER SHIRK
Release Date

: January 15, 2018
BESTING THE BILLIONAIRE (BILLIONAIRE BAD BOYS) BY ALISON AIMES
Release Date

: January 15, 2018
Release Date
:
January 15, 2018
SCORING WITH THE WRONG TWIN (WAGS) BY NAIMA SIMONE
Release Date
:
January 15, 2018
CAN'T LET HER GO (NASHVILLE DREAMS) BY SANDY JAMES
Original post:
ishacoleman7.booklikes.com/post/1628911/new-to-retailers