READ AND REVIEW
THE RANCHER RETURNS (THE WESTMORELAND LEGACY) BY BRENDA JACKSON
Release Date: October 4, 2016
SYNOPSIS
Discover New York Times bestselling author Brenda Jackson's The Westmoreland Legacy—a navy SEAL returns to his ranch…and finds irresistible desire!

Returning from active duty to find his ranch being dug up by a beautiful stranger isn't the homecoming navy SEAL Gavin Blake expected. Layla Harris is convinced there's buried treasure on his land. But the only treasure this wealthy rancher wants to uncover is the professor's secret desires! When Layla unearths family secrets—and mysterious threats—he vows to do whatever it takes to protect her. Even as her revelations change everything…
BUY LINKS
Amazon B & N Google Play Books Harlequin IBooks Kobo
REVIEW: THE RANCHER RETURNS (THE WESTMORELAND LEGACY) BY BRENDA JACKSON
The Rancher Returns by Brenda Jackson

My rating: 4 of 5 stars


Gavin is everything you would expect a creation of Brenda Jackson's imagination to be. Overpowering, controlling, easy on the eyes but havoc to the heart. His attraction to Layla, was sure to set the roof on fire. Mysterious happenings and surprising twists kept me glued to The Rancher Returns for days on end. I really don't believe Ms. Jackson will ever miss with her style of writing and her sultry characters. Gavin with his bedroom eyes and alpha ways is a character that gets under the skin. Layla has more of a subdued personality that creeps us on you and draws a reader in bit by bit. I fell for this author when I read my first Westmoreland story and grow fonder with every read.

Copyright of Night Owl Reviews



View all my reviews
MISTLETOE BETWEEN FRIENDS/ THE SNOW FLAKE INN BY SAMANTHA CHASE
Release Date: October 4, 2016
SYNOPSIS
Two gorgeous stories about the most romantic time of the year...
The holidays don't have to be fraught with tension, as lifelong friends Lily Cavanaugh and Cameron Greene discover in Mistletoe Between Friends when they cook up a scheme to fool their family and friends.
The Snowflake Inn shows rivals Grace Brodie and Riley Walsh that Christmas is a time when dreams come true-even if you've given up on those dreams long ago.
BUY LINKS
Amazon B & N Google Play Books IBooks Kobo
REVIEW: MISTLETOE BETWEEN FRIENDS/ THE SNOW FLAKE INN BY SAMANTHA CHASE
Mistletoe Between Friends / The Snowflake Inn by Samantha Chase

My rating: 5 of 5 stars


The gift that keeps on giving. That is my catch phrase for any Samantha Chase novel. Whether in print, digital or reissue this author never disappoints. I'm as hooked on these stories now as I was the very first time I read them. Keeps getting better with time.

Mistletoe Between Friends - Cam can rival encyclopedias with his intellectual skills, but his awkward choice of topics can put the kibosh on romance faster than a match can spark a flame. Lily has a flair for the dramatic, her hobbies are interesting and career choices creative. Her flights of fancy, keep her lonely and leave her family questioning her sanity. Take two clueless friends, mix in a couple of matchmaking parents and you have cozy, funny and enchanting. Mistletoe Between Friends is the perfect read for anytime of the year, because it warms from the inside out.


The Snowflake Inn - Riley and Grace prove nothing is impossible. If the heart is open and the mind is willing to takes a risk. Hope comes in the form of The Snowflake Inn to a broken hearted dreamer and a frustrated businessman.



View all my reviews

MERRIED (MISFIT BRIDES) BY JAMIE FARRELL
Release Date: October 4, 2016
SYNOPSIS
He's the Spare Heir of Bliss's most famous jewelry shop
Max Gregory's family is best known for creating and displaying the infamous Mrs. Claus diamond ring, but here in the bridal capital of the world, Max is best known for having a cursed love life. Not that he believes in curses. Or he didn't, until he met her.

She's the daughter of a notorious jewel thief

Merry Silver's parents have wreaked havoc on her life. After her last romantic disaster—thanks, Daddy—she's fleeing the country for a chance at normal. But first, she has to avoid her favorite ex-boyfriend while she gets her mom married off. Again.

And their Christmas miracle might be a second chance at love

Max was horrified when he discovered why Merry disappeared last year. Now she's back in Bliss for a wedding, and her father may be after his family's most prized possession. But is it the diamond Max is worried about? Or is he afraid of losing the only woman who's ever made him want to settle down?
BUY LINKS
Amazon B & N Google Play Books IBooks Kobo
REVIEW: MERRIED (MISFIT BRIDES) BY JAMIE FARRELL
Merried by Jamie Farrell

My rating: 5 of 5 stars



Merried is a story of heartache, betrayal and second chances. There is heart in every word on every page. Ms. Farrell has written a story of devotion. Love of family has landed Merry in some sticky situations. It's brought her the love of her life in Max, but family has cost her just as much. With a father that is addicted to living on the edge and a mother who needs to be the center of attention, childhood was unpredictable. Adulthood is even more complicated. Falling for the one man who that you know is off limits is heartbreaking but unprofessional for the daughter of a jewel thief.

Max met the girl of his dreams and just as quickly she disappeared. Now she's back with a lot of baggage and even more secrets, that could spell doom for his career and trouble for his heart. Max and Merry are totally mismatched but they do belong together. As an outsider looking in it was easy to feel Merry's uncertainy, Max's conflicting emotions and the fact that family was an important part of their lives made a chance at happiness even more difficult. Merried examines the love of family and listening to one's heart. Treacherous, seductive, emotional yet irresistibly charming.




View all my reviews
GETTING DIRTY WITH THE CEO (THE SUITS UNDONE) BY MIA SOSA
Release Date: October 4, 2016
SYNOPSIS
Sometimes you have to get a little dirty to get what you want.

Publicist Mimi Pennington is at the top of her game. She's savvy, hard-working, and eager to move up the corporate ladder. So when her boss tells her that in order to make partner she has to land a prestigious account, Mimi meets the challenge head on. Never mind that the prospective client is Daniel Vargas, the polished and pompous player who rejected her months ago.

Mimi hasn't given Daniel the time of day since their one fateful encounter, and while business has brought them back together, pleasure is what he has in mind. She says she's not interested in giving him a second chance, but Daniel is prepared to call her bluff. All he needs is one week. One week to test her rules and prove that he's exactly the kind of man she needs . . .
BUY LINKS
Amazon B & N Google Play Books IBooks Kobo
REVIEW: GETTING DIRTY WITH THE CEO (THE SUITS UNDONE) BY MIA SOSA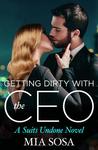 Getting Dirty with the CEO by Mia Sosa

My rating: 5 of 5 stars


It's a given that Mia Sosa writes sensual stories. In my opinion she deserves credit for her ability to write sexy stories that are captivating and characters that deliver more than just hormones and looks. Front and center are problems that are prevalent and relatable. Getting Dirty with the CEO examines sexism and issues with self worth through the eyes of two very proud people. Mimi is in the business of show and tell, but despite her chosen career has hidden depths to her that alter her opinion of the world. Men in particular. Daniel's imagination helps him find and create beauty, but his connection to cynical Mimi is a challenge that he thrives on conquering. A pessimist and an optimist should not work. Yet, they share some of the same outlooks and challenge each others ideals. This is only my second novel by this author. The message her stories emit are more powerful than any heated attraction.



View all my reviews
HARD TO FALL (TAKE THE FALL) BY MARQUITA VALENTINE
Release Date: October 18, 2016
SYNOPSIS
Wedding bells are ringing—and tempers are flaring—as the Take the Fall series continues in this sweet, sexy novel from the bestselling author of After We Fall ("This beautiful story kept me transfixed until the very end."—Krista Lakes).

As a hardworking, hard-partying firefighter, Hayden Walker values his career and his freedom. But as the eldest son of a U.S. senator, he agreed long ago to follow in his father's footsteps and run for office, and that means settling down and marrying the picture-perfect wife. Hayden just isn't ready for that sort of commitment . . . not with women like beautiful, curvy Saylor Dean—the naughty bridesmaid he recognizes the morning after his buddy's wedding—tempting Hayden to stay single forever.

The unwanted love child of a well-known politician, Saylor has always felt isolated and alone, her only solace the animal shelter she runs in Forrestville. Then she meets Hayden at her best friend's wedding. During their impulsive and unforgettable night together, Saylor feels desired like never before—only to wake up and find that Hayden doesn't remember his drunken proposal, or their hasty marriage, or her. But when the truth comes out, Saylor finds it's a lot harder to fall out of love than in love.
BUY LINKS
Amazon B & N Google Play Books IBooks Kobo
REVIEW: HARD TO FALL (TAKE THE FALL) BY MARQUITA VALENTINE
Hard to Fall by Marquita Valentine

My rating: 5 of 5 stars


Marquita Valentine, made it easy to fall in love with Hayden and Saylor. The hard part was saying goodbye to these extraordinary characters. Hayden is a bad boy masquerading as the dutiful son of a powerful politician. Saylor, has lived as a source of secrecy and shame. An accident of birth has left her insecure, isolated and searching for a place to belong. Can the bad boy with the perfect life be the answer to her prayers? Will the totally wrong woman end up saving Hayden from himself? I received an ARC of Hard to Fall in exchange for an honest review. The badge of a gifted author is the ability to allow the reader to get carried away and become a part of the journey. Ms. Valentine succeeded and created a well written story. A powerhouse of emotion that inspires and entertains. 5++++++.



View all my reviews
THE CRUSH (A WINE COUNTRY ROMANCE) BY HEATHER HEYFORD
Release Date: October 25, 2016
SYNOPSIS
In the first of Heather Heyford's new series, set in Oregon's Willamette Valley wine country, the grape isn't the only source of intoxication . . .

RISKY BUSINESS

Juniper Hart has her dream job—or rather, her dream job has her. Under Junie's management, the winery her late father started is finally getting noticed. But she's lonely, deep in debt, and overwhelmed with work. Even if she had time to date, the only men she meets are smug,
stemware-breaking hotshots like Lieutenant Manolo Santos, whose good looks and smooth charm don't half make up for the sour taste he leaves on Junie's palate.

After years as an army engineer and a childhood in a restaurant kitchen, Manolo can see Junie's winery is about to go sideways—and he's bursting with ideas to help. Except Junie's far too magnetic for comfort. He left New Jersey to escape becoming one more Santos man shackled to a captivating woman and a failing family business. But in the misty hills of Oregon, with a sip of supple Pinot on his tongue, pulling away is the last thing he wants to do . . .
BUY LINKS
Amazon B & N Google Play Books IBooks Kobo
REVIEW: THE CRUSH (A WINE COUNTRY ROMANCE) BY HEATHER HEYFORD
The Crush by Heather Heyford

My rating: 5 of 5 stars


The Crush reminds me of a watercolor. The vibrant colors, the vivid energy and the emotional connection are a work of art that speaks to the reader. There is a sexiness and flavor that is abundantly clear from the word go. Junie is a woman that has an emotional bond to wine. Her late father owned a winery and she wants to honor his memory and prove to herself that she can keep his dream alive, despite the odds. Her pride won't settle for less than success. Manelo, knows a thing or two about flavor. His background makes him an asset, but his arrogance makes him an aggravation in Junie's eyes. Opposites attract but can these two work together without combusting? A robust story that blends spice, sass and lots of pizzazz.



View all my reviews

TAKING CHARGE (LONE STAR BURN) BY RUTH CARDELLO
Release Date: October 25, 2016
SYNOPSIS
Lucy Albright never wanted her family's Texas ranch, but now it's in foreclosure. She's already lost so much she can't bear the thought of losing one more thing. Lucy learned the hard way not to accept help from a man when there are strings attached, so she'll do whatever it takes to save the ranch on her own terms—even if that means launching an online business marketing high-¬tech sex toys.
Ranch manager David Harmon has a reputation for being a cowboy with a heart of gold. Even if she refuses his help, down-and-out Lucy is the kind of woman he'll do anything to protect. And while David may not know much about Lucy's naughty side business, that won't stop a cowboy from doing something he's set his mind to.
With the ranch threatened by a scheming neighbor, Lucy can't help but keep David around. Their attraction may be undeniable, but will the spark between them burn her entire future to the ground?
BUY LINKS
REVIEW: TAKING CHARGE (LONE STAR BURN) BY RUTH CARDELLO
Taking Charge by Ruth Cardello

My rating: 5 of 5 stars


Taking Charge delivers. One of the main reasons I have become addicted to the Lone Star Burn series is the small town feel, mixed with big city problems. Each story has it's own way of making you laugh and cry but also getting to the heart of the matter with humility, wisdom and a whole lot heat. Lucy has a great deal of heart but a lack of trust and an abundance of guilt. Every child dreams of making their parents proud and having success come their way but shame and sorrow have become constant companions for this young woman. Determined to prove to herself she can, she sets out to save the family business and ends up getting more than she bargained for. A helping hand, guardian and just maybe the man of her dreams. Sometimes pride can be a person's worse enemy. Taking Charge uses humour and irresistibility to drive that point home.



View all my reviews
TRU BLUE BY MELISSA FOSTER
Release Date: November 9, 2016
SYNOPSIS
He wore the skin of a killer, and bore the heart of a lover...

There's nothing Truman Gritt won't do to protect his family--Including spending years in jail for a crime he didn't commit. When he's finally released, the life he knew is turned upside down by his mother's overdose, and Truman steps in to raise the children she's left behind. Truman's hard, he's secretive, and he's trying to save a brother who's even more broken than he is. He's never needed help in his life, and when beautiful Gemma Wright tries to step in, he's less than accepting. But Gemma has a way of slithering into people's lives and eventually she pierces through his ironclad heart. When Truman's dark past collides with his future, his loyalties will be tested, and he'll be faced with his toughest decision yet.
BUY LINKS
Amazon B & N Google Play Books IBooks Kobo
REVIEW: TRU BLUE BY MELISSA FOSTER
Tru Blue by Melissa Foster

My rating: 5 of 5 stars


I am not ashamed to say that I cried quite a bit while reading Tru Blue. Ms. Foster, went for the gut with Truman and Gemma. Tru was complicated. Just when I thought I had a read on him, he threw me off course again. From family man to convicted felon, to sensitive soul, there were many sides to this warrior. He had the heart of a lover but the soul of a fighter. His need to protect those he loved, forced him to make some tough decisions. In trying to do the right thing, he changed the course of so many lives and sacrificed the most precious parts of himself. Gemma is his redemption. She's his conscience when he loses his way, his helper when he needs it and his biggest fan when he loses faith. Tru Blue is more than a romance, it is a story of love, a story of hope and a story of courage. 10 + stars.

Copyright of Night Owl Reviews
Original post: ishacoleman7.booklikes.com/post/1471553/and-the-countdown-begins