PRETENDING WITH THE GREEK BILLIONAIRE BY KIRA ARCHER
Release Date: August 29, 2016
SYNOPSIS
Always the life of the party, Luca Vasilakis needs to prove he's capable of taking over his father's billion-dollar corporation. The perfect opportunity falls in his arms in the form of the reserved but sexy social worker Constance McMurty. What
better way to improve his reputation than to get engaged to a do-gooder who is raising six orphans?

Constance wants nothing to do with Luca. But a poorly timed paparazzi photo lands her in the middle of a media nightmare, and Luca is her only way out. He proposes an idea that will help them both—be his fiancée to gain him some respectability and he'll make a huge donation to her organization…and save her reputation.

But when their lie starts feeling like the truth, and the chemistry just won't stop, they have a hard time separating what's real and what's fantasy…
BUY LINKS
Amazon B & N Google Play Books IBooks Kobo
REVIEW: PRETENDING WITH THE GREEK BILLIONAIRE BY KIRA ARCHER
Pretending With the Greek Billionaire by Kira Archer

My rating: 5 of 5 stars


Count on Kira Archer to take life's awkward moments and turn them into romance gold. A playboy billionaire makes a desperate bid for good publicity and ends up getting the family he never bargained for. Luca puts the word party in "party animal". Fun, women and booze are constant companions for this rich kid until an ultimatum leaves him trying to clean up his act. Constance is the total opposite. She takes her responsibilities seriously and cares about her charges like her own family members. When a serious situation rises due to a mischievous charge, against her better judgment she agrees to help Luca and herself by posing as a couple. Sparks fly, hearts are at risk and a world of possibilities open up. The little girls were an adorable touch. There is nothing sweeter than a man out of his league due to a handful of little girls



View all my reviews


THE BACHELOR'S PROMISE (BACHELOR AUCTION) BY NAIMA SIMONE
Release Date: August 29, 2016
SYNOPSIS
Aiden Kent never expected to see Noelle Rana again. He's determined to keep his distance from the beautiful enigma wrapped in denim and leather. He can't trust anyone with the last name Rana. But he made a promise to his dying mother, and it isn't long before Noelle invades his personal space. He can't stop thinking about the exotic beauty's alluring curves.

He wants the daughter of his enemy, and he's determined to have her…if only for one night.

If Noelle wants to move forward with her life, she must make a deal with the devastatingly gorgeous, broody millionaire Aiden. He made a promise years ago, and she's come to collect—even if it means facing down the only man who ever broke her heart. And there's a really good chance he'll do it again.
BUY LINKS
Amazon B & N Google Play Books IBooks Kobo
REVIEW: THE BACHELOR'S PROMISE (BACHELOR AUCTION) BY NAIMA SIMONE
The Bachelor's Promise by Naima Simone

My rating: 4 of 5 stars


Easy is not a word that either Aiden or Noelle are familiar with. Fight is the motto that plays on repeat like a theme song in their lives. He's the guy with the chip on his shoulder and enough anguish and guilt to last a lifetime. Noelle's the woman that carries shame and heartache around like her own personal zip code. Events beyond their control has left these two at odds. Can a promise to a dying woman heal two broken hearts? The Bachelor's Promise paints a picture of so much pain, but out of all the bitterness, two people learned how to hope again. Naima Simone blended the passion and heat of a complicated rivalry to make for a fiery story of forgiveness and courage. Powerful message: Love can stomp out hate.



View all my reviews
CALLED UP (CALLING IT) BY JENNIFER DOYLE
Release Date: August 29, 2016
SYNOPSIS
There are two things Max "Deke" Deacon can always count on: his old high school teammates and Fitz Hawkins. But no matter how much Deke might secretly fantasize otherwise, a relationship with one of his best friends is off limits. Until one unexpectedly smoldering encounter has Deke and Fitz looking at each other in a whole new way.

Angelica "Fitz" Hawkins knows for a fact that it is not better to have loved and lost. After losing her parents, she'd rather lock up her heart and throw away the key than endure that kind of pain again. If that means giving up any hope of a lasting relationship, then so be it.

With Deke, Fitz finally feels like she's back in the land of the living. But she won't risk another broken heart—even if it means saying good-bye to Deke for good. It's up to Deke to convince her that the safest place she could ever be is right here with him.
BUY LINKS
Amazon | B & N | iTunes | Kobo
REVIEW: CALLED UP (CALLING IT) BY JENNIFER DOYLE
Called Up by Jen Doyle

My rating: 4 of 5 stars


There is fear in exposing the weakest parts of the soul. That vulnerability can be easily susceptible to hurt and makes it hard to recover if the wounds are deep enough. Called Up explores the frailties of the heart and how sacrifice and risk, though scary are beneficial to keeping hope alive. Deke is Fitz's other half. He lifts her spirits, encourages her dreams and forces her to face her emotions despite the difficulty of doing so. He's someone that she's come to rely on and that is the one thing she cannot and will not allow. She knows the pain of loneliness and the darkness of loss. No way will she allow those emotions into her life again. Letting go is not easy, but the right thing to do.

Deke has seen Fitz at her worst. He knows her fears. She challenges him at every turn, breaking his heart little by little as she pushes him away. What she doesn't fathom is for him the unknown is worth the risk and he'll do whatever it takes to keep from losing the woman he secretly loves. Ms. Doyle examines the uncertainty of falling in love in an easily understood setting that is full of so many emotions it's gritty, painful but well written and disturbingly accurate.



View all my reviews

MY FAIR PRINCESS (THE IMPROPER PRINCESS) BY VANESSA KELLY
Release Date: August 30, 2016
SYNOPSIS
First, Vanessa Kelly brought readers The Renegade Royals. Now, in a delightfully witty new series, she introduces The Improper Princesses—three young women descended from royalty, each bound for her own thrilling adventure . . .

Despite being the illegitimate daughter of a prince, Gillian Dryden is happily ignorant of all social graces. After growing up wild in Italy, Gillian has been ordered home to England to find a suitable husband. And Charles Valentine Penley, the excessively proper, distractingly handsome Duke of Leverton, has agreed to help transform her from a willful tomboy to a blushing debutante.

Powerful and sophisticated, Charles can make or break reputations with a well-placed word. But his new protégée, with her habit of hunting bandits and punching earls, is a walking scandal. The ton is aghast . . . but Charles is thoroughly intrigued. Tasked with taking the hoyden in hand, he longs to take her in his arms instead. Can such an outrageous attraction possibly lead to a fairytale ending?
BUY LINKS
Amazon B & N Google Play Books IBooks Kobo
REVIEW: MY FAIR PRINCESS (THE IMPROPER PRINCESS) BY VANESSA KELLY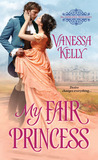 My Fair Princess by Vanessa Kelly

My rating: 5 of 5 stars


A heroine unlike any other ...

Gillian is not afraid to be herself. Even when everyone else is pushing her to become someone else. Vanessa Kelly creates characters that are bold and electrifying. I don't think that I have every come across one as strong willed as Gillian in one of her stories, however. When summoned home to take her place as the toast of the social elite, she meets her biggest challenge in the one man determined to change her wild ways. What Charles finds is a free spirit that appeals to his inner wildness. Can he accept the beauty that is Gillian or will he break his own heart in taming her? I love to read stories that integrate the importance of being true to one's self. There is a piece of beauty in ever soul. Thanks for shining a light on that message Vanessa Kelly.



View all my reviews
THE BILLIONAIRE'S VOICE (THE SINCLAIRS) BY J.S. SCOTT
Release Date: August 30, 2016
SYNOPSIS
As an extreme-sports mogul, billionaire Micah Sinclair is comfortable taking risks. But nothing—and no one—has ever challenged him like Tessa Sullivan. He's fascinated by the woman who's overcome so much, including the loss of her hearing. The petite blonde dynamo, a small-town restaurateur on the Maine coast, is the most courageous person he knows, and he wants her in his bed. Now all he has to do is convince Tessa to explore their desire.

After a lifetime of loss, Tessa's finally come to terms with her limitations. Or she would, if a certain sexy businessman weren't pushing her to want more. And to want him. All her remaining senses are clamoring for her to touch, taste, and feel. But her doubts tell her to go slow when their passion gets too hot.

Micah's determined to prove to Tessa that she can still have everything she's ever wanted, including his love. But will she listen to her head—or her heart?
BUY LINKS
Amazon B & N Amazon AU Amazon CA Amazon UK
REVIEW: THE BILLIONAIRE'S VOICE (THE SINCLAIRS) BY J.S. SCOTT
The Billionaire's Voice by J.S. Scott

My rating: 5 of 5 stars


ARC Review: The Billionaire's Voice ( The Sinclairs) by J.S. Scott

It's hard for me to put into words the emotions stirred by The Billionaire's Voice. Tessa and Micah are like poetry in motion. Their feelings are evident in every expression and like a beautifully choreographed ballet is just as haunting. Tessa is a symbol of hope and inspiration for any person who faces an obstacle that seems insurmountable. She had stumbles but dusted herself off and despite wanting to, never gave up on her dream. She deserved a chance to shine and have happiness. Micah came into her life at a time when she needed a helping hand and something to believe in. His guidance and devotion were what conquered her self - doubt and healed her spirit. The Billionaire's Voice is stunning. I am blown away. J.S. Scott has been on my radar for a few months and based on the beauty that is Micah and Tessa I will be back.



View all my reviews
WHISKEY & WOMEN (KINDLE WORLDS: LONE STAR BURN) BY STEPHANIE HAEFNER
Release Date: August 30, 2016
SYNOPSIS
After being caught in a compromising position, Raelyn Parker needs an escape and her sister's home in Fort Mavis is the perfect place. Or the worst place. She's not sure yet. Bad boy cowboys have suddenly become her weakness, especially one in particular. Several townspeople warn her away from him, but she sees something they don't. This bad boy isn't as bad as he pretends to be.

Hayes Turner likes his women the same way he likes his liquor—no fuss, straight up, and readily available. The burn from the liquor he can handle, but he vowed to never again be in a position to let a woman destroy him. He has no trouble keeping the women in his life in his bed, but far from his heart, until a big city spitfire reignites something inside him that's long been extinguished.
BUY LINKS
REVIEW: WHISKEY & WOMEN (KINDLE WORLDS: LONE STAR BURN) BY STEPHANIE HAEFNER
He knows he's not good enough for the prim firecracker with the smart mouth and the classy allure. She's drawn to the bad boy with the bedroom eyes, tattooed body and wicked personality. Haefner has a knack for grabbing the attention with unforgettable character and saucy chemistry and sweet stories that easily worm their way into the heart. RaeLyn is nothing like her sister Laney. She speaks her mind and wants to take a walk on the wild side. Hayes has a hard shell but a gentle center. Whiskey Women is full of sassiness but the emotions are deeply heartwarming and add to the experience of getting to know these opposites. 5.0 stars.
A SCOT IN THE DARK (SCANDAL & SCOUNDREL) BY SARAH MACLEAN
Release Date: August 30, 2016
SYNOPSIS
Lonesome Lily Turned Scandalous Siren

Miss Lillian Hargrove has lived much of her life alone in a gilded cage, longing for love and companionship. When an artist offers her pretty promises and begs her to pose for a scandalous portrait, Lily doesn't hesitate...until the lying libertine leaves her in disgrace. With the painting now public, Lily has no choice but to turn to the one man who might save her from ruin.

Highland Devil turned Halfhearted Duke

The Duke of Warnick loathes all things English, none more so than the aristocracy. It does not matter that the imposing Scotsman has inherited one of the most venerable dukedoms in Britain—he wants nothing to do with it, especially when he discovers that the unwanted title comes with a troublesome ward, one who is far too old and far too beautiful to be his problem.

Tartan Comes to Town

Warnick arrives in London with a single goal: get the chit married and see her become someone else's problem, then return to a normal, quiet life in Scotland. It's the perfect plan, until Lily declares she'll only marry for love...and the Scot finds that there is one thing in England he likes far too much...
BUY LINKS
Amazon B & N Google Play Books IBooks Kobo
REVIEW: A SCOT IN THE DARK (SCANDAL & SCOUNDREL) BY SARAH MACLEAN
A Scot in the Dark by Sarah MacLean

My rating: 4 of 5 stars


With loads of laughs and words of wisdom, Sarah MacLean takes readers on a wickedly entertaining romance between an overbearing brute and his unwanted ward a naive vixen caught up in a surprising scandal. Irresistible, with lovable characters and scenarios reminiscent in minute ways of Beauty and the Beast.



View all my reviews
MAD FOR THE PLAID (THE OXENBURG PRINCES) BY KAREN HAWKINS
Release Date: August 30, 2016
SYNOPSIS
The third captivating, sizzling Scottish historical romance inNew York Times bestseller Karen Hawkins's Princes of Oxenburg series. Fans of Julia Quinn, Monica McCarty and Julie Garwood will be enchanted by this dazzling read.

Prince Nikolai Romanovin is bored out of his bejeweled crown with London's society scene. If he has to make inane small talk or dance with one more tongue-tied virgin, he might actually run off. So when he gets word his beloved grandmother might be in danger back in his homeland of Oxenburg, Nik is all too willing to rush to the estate she's been staying in in the snow-capped mountains of Scotland. Arriving in secret only to find his grandmother missing, Nik devises a plan to switch identities with a member of his honor guard so he can move around freely without the pomp and circumstance that comes with the Crown Prince title. He relishes the freedom that comes with losing his title, until he spots her...

While her five older sisters all enjoyed seasons, got married to men of high station, and had children of their own, Lyssa, the baby of the family, was left at home to be raised by her absent father and her sharp-witted, but ailing grandmother after losing her mother in childbirth. Now twenty-nine years old, the sole caretaker of her grandmother, and the entrenched mistress of the castle, Lyssa has resigned herself to living at the castle and enjoying the amusements offered - spending time with her grandmother, copious amounts of reading, wild rides through the moors, and the occasional ball in the local town. All in all, it's a satisfying, if sedate, life . . . But when she meets a guard more handsome, and far more arrogant and sure of himself than any man she's ever met, she's determined to figure out his secrets, no matter the cost.
BUY LINKS
Amazon B & N Google Play Books IBooks Kobo
REVIEW: MAD FOR THE PLAID (THE OXENBURG PRINCES) BY KAREN HAWKINS
Mad for the Plaid by Karen Hawkins

My rating: 4 of 5 stars


Conspiracy and adventure are the driving force behind Nik and Lyssa's clandestine love affair. Seeking to gain answers and enjoy some much needed freedom Nik sets in motion plans to ensure his identity remains hidden. What he does not count on is stumbling across his heart's desire in the form of an impetuous spirit like Lyssa. While her family responsibilities are first and foremost in her daily life, Lyssa secretly years for more. When a dashing guard enters her world, how could she have known her life would never be the same. Mad for the Plaid spins an animated escapade of passion, secrets and captivating romance.



View all my reviews

RUN TO YOU (RISKING IT ALL) BY RACHEL LACEY
Release Date: August 30, 2016
SYNOPSIS
ONE LITTLE LIE. A WHOLE LOTTA TROUBLE.

Moments after meeting the most gorgeous guy ever, Gabby Winters promptly gets stung by a zillion yellow jackets and falls-not gracefully-into a stream. Yup, Ethan Hunter is trouble with a capital "hot," and Gabby definitely needs to keep her distance. Except in the small town of Haven, there's nowhere to hide from Ethan's sexy, infectious grin . . . and all the residents are conspiring against her.

At the center of the town's matchmaking is Ethan's grandmother, who's convinced their relationship is a done deal. Rather than break her heart, Gabby and Ethan find themselves cornered into pretending to be falling in love. The problem: there's serious sizzling attraction between them. And if this charade continues, they won't fool just the entire town - they might fool themselves too . . .
BUY LINKS
Amazon B & N Google Play Books IBooks Kobo
REVIEW: RUN TO YOU (RISKING IT ALL) BY RACHEL LACEY
Run to You by Rachel Lacey

My rating: 5 of 5 stars


It started with a laugh, bloomed with a lie and ended in romance. On the roadway to love there are many turns off course before smooth sailing wins out. Ms. Lacey takes the comedic approach and creates a love story that is full of lighthearted antics and unforgettable moments. A wily old woman, a determined town and an embarrassing incident lead Ethan and Gabby on a collision course with destiny and each other in Run to You. Run to You leaves a lasting impression with continuous laughs and a feeling of family, home and heart.



View all my reviews


AT FAIRFIELD ORCHARD (FAIRFIELD ORCHARD) BY EMMA CANE
Release Date: August 30, 2016
SYNOPSIS
For Amy Fairfield, the family orchard is more than a business. With its blossom-scented air and rows of trees framed by the majestic Blue Ridge Mountains, it's her heritage and her future. But right now, it's also a headache. Putting a painful breakup behind her, Amy has come home to help revitalize Fairfield Orchard. She doesn't have time for the handsome-distracting-professor who wants to dig into her family's history for his research.
Jonathan Gebhart knows he needs the Fairfields' cooperation to make his new book a success. As for Amy-nothing in his years of academia could have prepared him for their sudden and intense attraction. He doesn't want to complicate her life further, especially since she seems uneasy about him poking around in the past and he knows he's not the sort of man built for forever. But some sparks can't help but grow, and Jonathan and Amy may just learn that unexpected love can be the sweetest of all.
BUY LINKS
Amazon | B & N | Google | iTunes | Kobo
REVIEW: AT FAIRFIELD ORCHARD (FAIRFIELD ORCHARD) BY EMMA CANE
At Fairfield Orchard by Emma Cane

My rating: 4 of 5 stars


To mature consists of a never ending cycle of wisdom, self -discovery and learning from past events that shape those to come. Reading At Fairfield Orchard felt like perusing a family album and taking a stroll down memory lane. That sense of connection with the main characters felt that realistic and deep. Emma Cane shared one woman's journey into the complicated territory of facing the good, bad and heartbreaking. Growth never stops no matter the age, but the benefit of the lessons learned are the ability to impart our knowledge to the people we love and gain a better understanding from what long gone ancestors have left behind. I could practically feel the emotion radiating off the pages.
MEANT TO BE MINE (GUILTY PLEASURES) BY LISA MARIE PERRY
Release Date: August 30, 2016
SYNOPSIS
Loving him was hard. Wanting him was so damn easy . . .
Sofia Mercer may have been sick as a teen, but she's no delicate flower. And she's proven it by making it on her own and starting a new life away from the town that turned against her, away from the boy who broke her already fragile heart. But when her aunt Luz dies unexpectedly, leaving Sofia with a mountain of regrets and the keys to a quirky boutique, Sofia has no choice but to return to Cape Cod. Only, this new life in her old town comes with complications.
Burke Wolf was Sofia's first love—a relationship that burned bright and went up in flames. Seeing him again, Sofia can't help but get caught up in that all-too-familiar tornado of passion and pain. He's battled his own demons—that much is clear. But Sofia can't afford to be careless with her heart . . . and loving Burke again might just break it completely.
BUY LINKS
Amazon Barnes & Noble Books-A-Million iBooks IndieBound Google Play
REVIEW: MEANT TO BE MINE (GUILTY PLEASURES) BY LISA MARIE PERRY
Meant to Be Mine by Lisa Marie Perry

My rating: 4 of 5 stars


Sofia Mercer has a broken heart. From an early age a heart condition has ruled her life. Determined to not be defined by her past health issues or the failures in her personal life, she leaves the past behind and starts fresh in a new place. Or so she believes. When the death of her aunt forces her return, she must confront all the drama, painful memories and recapture the heart she left behind. From the outside looking in, it's easy to make assumptions but until the facts are all laid out, misconceptions will always create pain. Meant to Be Mine is passionate, insightful and captivating. To heal one has to be open to facing all aspects of themselves and that is not always a pretty portrait.



View all my reviews
WINNER TAKES ALL (CHAMPION VALLEY) BY ERIN KERN
Release Date: August 30, 2016
SYNOPSIS
Money. Fame. Endorsements. Blake Carpenter had it all—before his professional football career spiraled out of control. Determined to rebuild his life, he takes on coaching the high school team in his Colorado hometown. Despite a few fumbles, Blake knows he can lead these boys to victory. As long as he can keep his eyes on the prize and off the team's distractingly gorgeous physical therapist.

Annabelle Turner knows all about the scandal that cost Blake his NFL career, and she'll be damned if she's going to let his mistakes hurt her team. What she doesn't count on is the intense attraction that turns every heated run-in they have into a wildly erotic competition. Point by point, play by play, kiss by kiss, they try to keep things professional for the good of the team. But when the score is this close—and the passion this fierce—it's anybody's game . . .
BUY LINKS
Amazon Barnes & Noble Books-A-Million iBooks IndieBound Google Play Kobo
REVIEW: WINNER TAKES ALL (CHAMPION VALLEY) BY ERIN KERN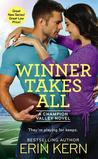 Winner Takes All by Erin Kern

My rating: 4 of 5 stars


Blake had big plans. Become famous doing what he loved was just the beginning to what he saw as his long term goals. When an injury derailed his football career and left his good boy rep destroyed, his big dreams imploded and left him on the outside looking in. Winner Takes All is an all too familiar scenario. Life not working out according to plan is a format that every person has faced at one time or another. What Blake has to learn is that upsets help a person discovery their inner strength. Sometimes setting them on the path they were meant to be on instead of where they hoped to be. Winner Takes All wears many hats. Returning home gave Blake the chance to see that he could make a difference in the lives of the home team he coached, helped him reconnect with friends and discover his true purpose. It only took a determined young woman to wake him up to all the possibilities. Hope and faith are the greatest weapons in an individuals inner arsenal, they keep us going in the hardest of times.



View all my reviews



FIRE BRAND BY DIANA PALMER
Release Date: August 30, 2016
SYNOPSIS
He'll risk his whole heart to save her from the past

Gaby Cane was always a bit afraid of her attraction to Bowie McCayde. Even when she was fifteen and Bowie's family took her in, she had sensed his simmering resentment. Now ten years later, she's an aspiring journalist who can hold her own with any man professionally, the dark shadows of years gone by far behind her. Then Bowie strides back into her life—only this time, he needs her, and the pull of loyalty to his family is too strong to ignore.

When Bowie asked Gaby to help save his family's Arizona ranch, he never expected the girl he once knew to return transformed into a stunning, successful woman. As they work together, Bowie is shocked to find that her innocence and beauty stir a hunger he can't deny. But the rogue rancher can sense something holding her back, and he's determined to uncover the terrible secret Gaby is fighting to keep hidden…
BUY LINKS
Amazon B & N Google Play Books Harlequin IBooks Kobo
REVIEW: FIRE BRAND BY DIANA PALMER
Fire Brand by Diana Palmer

My rating: 5 of 5 stars


Bowie was blessed with good looks but a sour disposition. Enamored of his pretty face, it's once he opens his mouth the acidic personality shines through. Gaby is an outsider with a huge heart but a secret past that is as dramatic as it is heartbreaking. She's tenacious, fierce but broken inside. I received an ARC of Fire Brand in exchange for an honest review. Fire Brand is the Diana Palmer I've been waiting to see again. When she puts pen to paper I expect to feel a stirring of my emotional compass and she sent it off the charts with this read. In Fire Brand Ms. Palmer examines how secrets and subterfuge can leave a lasting impression. Not just on one life but many. She blends two different love stories with the rough terrain of the Arizona desert and creates a story that is as haunting as the prairie and history that she used as the back drop. This novel made me remember why I enjoy her stories.



View all my reviews
AN INDECENT PROPOSAL (THE O'MALLEYS) BY KATEE ROBERT
Release Date: August 30, 2016
SYNOPSIS
New York Times and USA Today bestselling author Katee Robert continues her smoking-hot series about the O'Malleys-wealthy, powerful, and full of scandalous family secrets.

Greed. Ambition. Violence. Those are the "values" Olivia Rashidi learned from her Russian mob family-and the values she must leave behind for the sake of her daughter. When she meets Cillian O'Malley, she recognizes the red flag of his family name . . . yet she still can't stop herself from seeing the smoldering, tortured man. To save her family, Olivia sets out to discover Cillian's own secrets, but the real revelation is how fast-and how hard-she's falling for him.

Plagued by a violent past, Cillian is more vulnerable than anyone realizes. Anyone except Olivia, whose beauty, compassion, and pride have him at "hello," even if she's more inclined to say good-bye to an O'Malley. While his proposal of sex with no strings seems simple, what he feels for her isn't, especially after he learns that she belongs to a rival crime family. Cillian knows that there is no escape from the life, but Olivia may be worth trying-and dying-for . . .
BUY LINKS
Amazon B & N Google Play Books IBooks Kobo
REVIEW: AN INDECENT PROPOSAL (THE O'MALLEYS) BY KATEE ROBERT
An Indecent Proposal by Katee Robert

My rating: 4 of 5 stars


ARC Review: An Indecent Proposal (The O'Malleys) by Katee Robert

Cillian and Olivia are like a bad cliche'. Their love story reads like a Greek tragedy. Surrounded by violence, ambition and sadness, each is searching for a way to escape. Katee Robert's story of sacrifice, survival and redemption is lead by courageous central characters who are more than the danger, darkness and tragedy embedded in their DNA. Each has to overcome obstacles ranging from guilt, to unknown enemies and secrets in order to find the strength to leave behind the bitterness and mistrust ingrained in their souls. It is amazing to me how flexible an author Ms. Robert is proving to be. Her street smart heroes and heroines are as intriguing as her suave heroes and sassy heroines. An Indecent Proposal has that edge of danger that good girls love.



View all my reviews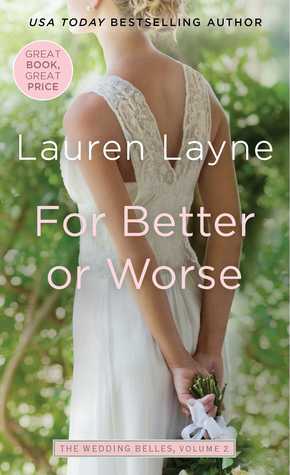 FOR BETTER OR WORSE (WEDDING BELLES) BY LAUREN LAYNE
Release Date: August 30, 2016
SYNOPSIS
Will a budding wedding planner and her bad boy neighbor stop banging heads and start hearing wedding bells in the sexy second novel in USA TODAY bestselling author Lauren Layne's irresistible new series that marries Sex and the City with The Wedding Planner?

When small-town girl Heather Fowler finally gets promoted from assistant to actual wedding planner, she's determined to make it as one of Manhattan's elite Wedding Belles. Unfortunately, her first client demands an opulent black-tie affair at the Plaza…in five months' time. Heather's days quickly become a flurry of cake tastings, dress-fittings, RSVP cards, and bridal tantrums. But what she's really losing sleep over is the live music blaring from her playboy neighbor's apartment all night.

Five years ago, Josh Tanner was an up-and-comer on Wall Street, complete with the penthouse and the migraines. But a grim cancer diagnosis made him realize there is more to life than the corner office. If only he could convince his pretty, workaholic neighbor to let loose, too. As Heather lets down her guard, Josh is surprised when he starts falling for the sweet, vulnerable woman hiding beneath those power suits. Soon, it's Heather's turn to convince Josh to take the biggest risk of all: love.
BUY LINKS
Amazon B & N Google Play Books IBooks Kobo
REVIEW: FOR BETTER OR WORSE (WEDDING BELLES) BY LAUREN LAYNE
For Better or Worse by Lauren Layne

My rating: 4 of 5 stars



ARC Review: For Better or Worse (The Wedding Belles) by Lauren Layne

It's not very often that I can picture the characters as actors in a live movie. With Heather and Josh I totally could. Josh has had a hard road and been faced with some tough choices but the uncertainty and adversity has made him aware of his inner strength and allowed him to gain new appreciation for his surroundings. Heather balances out the seriousness with her quirky yet charming personality. I entered this story dreading the serious subject matter and exited applauding the excellent way it was handled. For Better or Worse mixes drama with charisma and ended up surprising me.



View all my reviews
Original post: ishacoleman7.booklikes.com/post/1422919/new-releases-for-week-of-august-28-2016