Today we have a sexy excerpt from Mia Sosa's Getting Dirty with the CEO! Check it out and be sure to preorder your copy today! Getting Dirty with the CEO comes out October 4th!
GETTING DIRTY WITH THE CEO (THE SUITS UNDONE) BY MIA SOSA
Release Date

: October 4, 2016
SYNOPSIS
Sometimes you have to get a little dirty to get what you want.

Publicist Mimi Pennington is at the top of her game. She's savvy, hard-working, and eager to move up the corporate ladder. So when her boss tells her that in order to make partner she has to land a prestigious account, Mimi meets the challenge head on. Never mind that the prospective client is Daniel Vargas, the polished and pompous player who rejected her months ago.

Mimi hasn't given Daniel the time of day since their one fateful encounter, and while business has brought them back together, pleasure is what he has in mind. She says she's not interested in giving him a second chance, but Daniel is prepared to call her bluff. All he needs is one week. One week to test her rules and prove that he's exactly the kind of man she needs . . .
BUY LINKS
REVIEW: GETTING DIRTY WITH THE CEO (THE SUITS UNDONE) BY MIA SOSA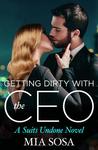 Getting Dirty with the CEO
by
Mia Sosa
My rating:
5 of 5 stars
It's a given that Mia Sosa writes sensual stories. In my opinion she deserves credit for her ability to write sexy stories that are captivating and characters that deliver more than just hormones and looks. Front and center are problems that are prevalent and relatable.
Getting Dirty with the CEO
examines sexism and issues with self worth through the eyes of two very proud people. Mimi is in the business of show and tell, but despite her chosen career has hidden depths to her that alter her opinion of the world. Men in particular. Daniel's imagination helps him find and create beauty, but his connection to cynical Mimi is a challenge that he thrives on conquering. A pessimist and an optimist should not work. Yet, they share some of the same outlooks and challenge each others ideals. This is only my second novel by this author. The message her stories emit are more powerful than any heated attraction.
View all my reviews
"This debut romance sparkles." -- Library Journal (starred review) on Unbuttoning the CEO
"A fun, contemporary romance that reminds us that any attempt to predict or manage love is destined only to enhance its chaos." -- The Washington Post on One Night with the CEO
EXCERPT
Daniel Vargas needed a distraction. His gaze floated over the faces of the wedding guests until it settled on a familiar face.
Mimi Pennington.
The bride's best friend—and distraction in the flesh.
Bull's-eye.
She stood by the open bar and typed on her phone, giving him a minute to watch her undetected. The bridesmaid's dress she wore skimmed her delicate ankles and hugged her generous curves. She'd pinned her blond hair on top of her head, her bangs and a few runaway strands framing her face. Though she was petite, Mimi's larger-than-life personality made her appear six feet tall to him. And damn, that mouth. It was an entity unto itself, and for reasons he had yet to decipher, its barbs had recently begun landing on him. Still, like a moth to a six-alarm fire, he was drawn to her anyway.
Didn't matter that she would skewer him. He'd much rather focus on Mimi's sharp tongue than the sadness in his parents' eyes. So he strolled over to the bar and rested his elbows on the counter. "Hey, Fireworks."
She stopped typing and raised her head—but she didn't bother looking at him. "What do you want, Vargas?"
"I'm flattered. Do you have a sixth sense when it comes to me?"
She turned to face him then, her blue eyes sparkling. "You know how dogs have this supernatural ability to hear sounds at high decibels? Well, I have a similar talent for detecting pompous men. I could sense you from across the room. Watching. Plotting. Arroganting."
He chuckled, the brief exchange already lifting his mood. This was why he chose to engage with her: A conversation with Mimi never traveled along a straight path, and the journey was just as enjoyable as the destination. "Arroganting?"
"Being arrogant. It comes so naturally to you, the word deserves to be a verb."
Author Bio
Mia Sosa is an award-winning writer and 2015 Romance Writers of America® Golden Heart® Finalist. She writes contemporary romances that are funny, flirty, and a little dirty. Ahem.
Although she once dreamed of being a professional singer, the pesky need to generate steady income led Mia to take the law school admissions test instead. She practiced First Amendment and media law in the nation's capital for ten years before returning to her creative roots. Now she spends most of her days writing love stories about smart women and the complicated men who love them. Okay, let's be real here: she wears PJs all day and watches more reality television than a network television censor—all in the name of research, of course.
Social Media Links
Enter Mia's Giveaway:
a Rafflecopter giveaway