READ AND REVIEW
PLAYING IT COOL (SYDNEY SMOKE RUGBY) BY AMY ANDREWS
Release Date: September 12, 2016
SYNOPSIS
Harper Nugent might have a little extra junk in her trunk, but her stepbrother calling her out on it is the last straw… When rugby hottie, Dexter Blake, witnesses the insult, he surprises Harper by asking her out. In front of her dumbass brother. Score! Of course, she knows it's not for reals, but Dex won't take no for an answer.

Dexter Blake's life revolves around rugby with one hard and fast rule: no women. Sure, his left hand is getting a workout, but he's focused on his career for now. Then he overhears an asshat reporter belittle the curvy chick he'd been secretly ogling. What's a guy to do but ask her out? It's just a little revenge against a poser, and then he'll get his head back in the game.

But the date is better than either expected. So is the next one. And the next. And the heat between them…sizzles their clothes right off.

Suddenly, this fake relationship is feeling all too real…
BUY LINKS
Amazon B & N Google Play Books IBooks Kobo
REVIEW: PLAYING IT COOL (SYDNEY SMOKE RUGBY) BY AMY ANDREWS
Playing It Cool by Amy Andrews

My rating: 5 of 5 stars


We as a society should be disappointed in ourselves. So much attention is given to the superficial that important issues fall by the wayside. A person can have good looks, a fit body and money but an ugly disposition. Cruelty is not a good look for anyone. Playing It Cool tackles the sensitive issues of self worth and body image with accuracy and painful honesty. Harper has endured tragic losses in her young life but nothing hurts more than the constantly bullying her stepfamily heaps on her. The apple doesn't fall far from the tree and her stepbrother Chuck is rotten to the core. Like mother, like son. Dex scored major hero points with the way he treated Harper. Ms. Andrews may not have set out to put the world on blast, but she gave an important voice to a serious problem.



View all my reviews
THE 48 HOUR HOOK UP (CHASE BROTHERS) BY SARAH BALLANCE
Release Date: September 12, 2016
SYNOPSIS
Who knew a sweaty photo would be good for business?
Now unwanted booty calls are coming in as fast as work orders, and Liam Chase needs to get away. Cue a job upstate. His new client is hot as hell, but he left NYC to escape attention, not to hook up with the city's "Runaway Bride".
With three disastrous relationships under her belt, it's clear Claire Stevens's judgment sucks. And what's she's feeling for America's newest sex god? Obviously another hormone-fueled mistake.
But when she accidentally fells a tree on his truck, leaving them stranded in a winter storm with a chocolate-snatching raccoon, there's something to be said for body heat.
Too bad neither can trust their explosive chemistry…
Each book in the Chase Brothers series is a standalone, full-length story that can be enjoyed out of order.

Book #1 Five Things I Love About You
Book #2 For Seven Nights Only
Book #3 The Three Week Arrangement
Book #$ The 48 Hour Hook Up
BUY LINKS
Amazon B & N Google Play Books IBooks Kobo
REVIEW: THE 48 HOUR HOOK UP (CHASE BROTHERS) BY SARAH BALLANCE
The 48 Hour Hookup by Sarah Ballance

My rating: 5 of 5 stars


Claire and Liam have two things in common: unwanted infamy and an explosive attraction. Throw in a fallen tree and a blistering snowstorm and theirs just may be a match made in heaven. The 48 Hook Up is a love story made for the tabloids. Sarah Ballance brings a scorching romance with plenty of laughs and a truckload of fun. Those Chase boys really know how to woo a woman.



View all my reviews
JUST ONE WEEK BY ALICE GAINES
Release Date: September 12, 2016
SYNOPSIS
Her brother's best friend is not only the hottest man Michelle Dennis has ever seen, he's the reason she left town eight years ago. Of course he's the one waiting at the airport. Worse, he made sure they're staying in the same house.

Alex Stafford is expecting to pick up his friend's kid sister, not a full-fledged bombshell. He was planning to apologize for their past, but the feelings he had years ago come roaring back…and this time, there's no denying them.

Keeping his hands off is a test he's bound to fail—especially when they're stuck in close quarters. But falling in love with Michelle, living in her world, isn't an option for a guy like him. And remembering that will save them both a lot of heartache…
BUY LINKS
Amazon B & N Google Play Books IBooks Kobo
REVIEW: JUST ONE WEEK BY ALICE GAINES
Just One Week by Alice Gaines

My rating: 5 of 5 stars


Mickey and Alex had more in common than each was willing to admit. A broken heart tore apart the close friendship they shared. A bruised ego kept them apart for eight years. And an inferiority complex stands in the way of a chance for reconciliation. Just One Week shows how hurt and insecurity can create a breach in the strongest of relationships. With age Michelle and Alex had to learn how to move on from the pain of the past and look ahead to a chance at happiness together. A new author, a tempting story and a insightful read.



View all my reviews
LANDING THE AIR MARSHAL (SNOWPOCALYPSE) BY JENNIFER BLACKWOOD
Release Date: September 12, 2016
SYNOPSIS
It was meant to be a one-night stand. One wicked night with an irresistibly sexy passenger. That's all Air Marshal Gage Michaels can afford--his career comes before everything else. Too bad the snowpocalpyse of the century has different plans for him and Abby Winters. Before the night's over, they find themselves snowed in at the most luxurious hotel in the city.

Abby's scouting job of a NYC penthouse should be quick, simple, and definitely shouldn't include a sexy-as-hell man messing up the 3000 count sheets that will be featured in her company's next blockbuster hit. Not when she's up for a promotion that could skyrocket her entire career in the film industry. Still, she can't refuse what the weather gods so obviously want her to have. She'll give in, just this once.

Leaving is tougher than either of them could have imagined. But they're two people who have nothing in common, living on opposite coasts. There's no way they can ever be together. Right?
BUY LINKS
Amazon B & N Google Play Books IBooks Kobo
REVIEW: LANDING THE AIR MARSHAL (SNOWPOCALYPSE) BY JENNIFER BLACKWOOD
Landing the Air Marshal by Jennifer Blackwood

My rating: 5 of 5 stars


Abby and Gage both share a need for control. So what happens when a surprise attraction causes them to throw caution to the wind? Instant chaos. Landing the Air Marshal has been my introduction to Jennifer Blackwood. I thought Abby was a jumble of humanity. Her foibles were many, her nerouses were hard to resist and her hormones were all over the place. Gabe was a lot more bottled up, but when the heat flared between these two, it was a combustible force. I'm glad I took a chance on a new author. Well worth it.



View all my reviews
CLAIMING THE ENEMY (PULSE) BY LAUREN HAWKEYE
Release Date: September 12, 2016
SYNOPSIS
Piper Dawson has spent a lifetime living by other people's rules.
She's worked hard to get what she wants—a residency at her first choice hospital—and no one will ever tie her down again, not even her severe yet incredibly sexy supervisor, Dr. Alexander "Ace" Lennox.

Ace is done with love. He's had his heart shattered, and he never wants to go there again. But when he's inexplicably enticed by the sexy, tattooed woman with blue streaks in her hair and a perpetual smile on her lip, he figures that maybe he can keep it to just sex.

The problem? He thrives on control, and Piper dances just around the edges of it.

But when they're together, control is the first thing to go...
BUY LINKS
Amazon B & N Google Play Books IBooks Kobo
REVIEW: CLAIMING THE ENEMY (PULSE) BY LAUREN HAWKEYE
Claiming the Enemy by Lauren Hawkeye

My rating: 4 of 5 stars


Claiming the Enemy is a spicy enigma. Ms. Hawkeye brings the sizzle but displays an air of seriousness as well. Piper and Ace deal with guilt, grief and self image issues as they rapidly and awkwardly fall into love. Piper was not afraid to be herself but her emotions were easily bruised by the opinions of others. Her outer shell hides deep wounds that are hard to escape. Ace has loved and loss. His tragedy has left him broken inside and he hides behind an unbridgeable aloofness that offends others but protects himself. The breaking down of barriers exposes the pain inside and gives each a chance to heal. There is temptation, drama and feeling that shine like a diamond in all it's glory. Not always light and pretty but the beauty lies in the work to achieve the glow. 4.0 stars



View all my reviews
WELL HUNG BY LAUREN BLAKELY
Release Date: September 12, 2016
SYNOPSIS
From the NYT Bestselling author of MISTER O, comes a hot and hilarious new standalone...

Here's what you need to know about me — I'm well-off, well-hung and quick with a joke. Women like a guy who makes them laugh—and I don't mean at the size of his d*ck. No, they want their funny with a side of huge… not to mention loyal. I've got all that plus a big bank account, thanks to my booming construction business. Yup. I know how to use all my tools.

Enter Natalie. Hot, sexy, smart, and my new assistant. Which makes her totally off limits... 

Hey, I'm a good guy. Really. I do my best to stay far away from the kind of temptation she brings to work.

Until one night in Vegas… 

Yeah, you've heard this one before. Bad news on the business front, drowning our sorrows in a few too many Harvey Wallbangers, and then I'm banging her. In my hotel room. In her hotel room. Behind the Titanic slot machine at the Flamingo (don't ask). And before I can make her say "Oh God right there YES!" one more time, we're both saying yes—the big yes—at a roadside chapel in front of a guy in press-on sideburns and a shiny gold leisure suit. 



But it turns out what happened in Vegas didn't stay in Vegas. And now, my dick doesn't stay in my pants when she's around. I try to resist. Honest. But the more we try to keep our hands to ourselves, the more we end up naked again, and the more time I want to spend with her fully clothed, too.

The question now is…do I take this woman to be my ex-wife?
BUY LINKS
Amazon B & N Google Play Books IBooks Kobo
REVIEW: WELL HUNG BY LAUREN BLAKELY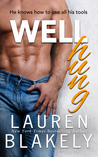 Well Hung by Lauren Blakely

My rating: 5 of 5 stars


Wise men say, only fools rush in ....

I Can't Help Falling In Love With You. I have always loved that song, it describes the ups and downs of love in a way that is beautiful and magical at the same time. Lauren Blakely chose the perfect theme for this friends to lovers romance. Wyatt and Natalie have a laid back friendship. She's the brains of the office. She keeps his business organized while brightening up his life. He's the brawn. He loves construction and is great at getting the job done. Together their unstoppable. When a business trip to Vegas goes sideways, all hell breaks loose. A few drinks has this dynamic duo breaking all the rules. What happens in Vegas, doesn't stay in Vegas- with the light of day comes reality and it's up to these two to decide if they can turn a heated night of romance into a love that lasts forever. Well Hung worked for me. The heat levels were off the charts. The romance and backstory had a feel of charm and the first person narrative added a sense of emotional connection that had me falling in love with Wyatt and Natalie.



View all my reviews
THE GOVERNESS WAS WICKED (GOVERNESS) BY JULIA KELLY
Release Date: September 12, 2016
SYNOPSIS
This delightfully charming and saucy Regency era romance, is first in the Governess series in which three best friends are employed as governesses for different families, and all find themselves wanting something they can't have.

Elizabeth Porter is quite happy with her position as the governess for two sneaky-yet-sweet girls when she notices that they have a penchant for falling ill and needing the doctor. As the visits from the dashing and handsome Doctor Edward Fellows become more frequent, Elizabeth quickly sees through the lovesick girls' ruse. Yet even Elizabeth can't help but notice Edward's bewitching bedside manner even as she tries to convince herself that someone of her station would not make a suitable wife for a doctor. But one little kiss won't hurt.
BUY LINKS
Amazon B & N Google Play Books IBooks Kobo
REVIEW: THE GOVERNESS WAS WICKED (GOVERNESS) BY JULIA KELLY
The Governess Was Wicked by Julia Kelly

My rating: 4 of 5 stars


To love or not to love. The Governess was Wicked, does not lack much. Two adorable matchmakers, a dedicated doctor and a hypnotic attraction. He's a respected physician who is devoted to helping others. She's a woman with little to offer but her heart and soul to her charges. A potent connection quickly develops between the doctor and the Governess but vindictive people and ticking time are on the verge of ending themail affair before, it's even begun. Despite a few minor hiccups along the way, Ms. Kelly delivered a sweet story.



View all my reviews
QUICK TRICK (ROUGH RIDERS HOCKEY) BY SKYE JORDAN
Release Date: September 12, 2016
SYNOPSIS
From the New York Times bestselling author who brought you the adrenaline junkie, scorchingly sexy stuntmen of Renegades. Skye Jordan delivers another sizzling series starring her mouthwatering brand of high-octane, insomnia-inducing heroes.

Introducing the Rough Riders' Hockey Series.

Quick Trick -- September 12, 2016
Hot Puck -- October 3, 2016
Dirty Score -- November 7, 2016
Wild Zone -- December 5, 2016

Infamous Rough Riders' playboy Grant Saber has been sidelined for a bum shoulder. If he has to be off the ice for three weeks of recovery, he'll do it on his back—breaking in a new wanna-be cowgirl every night. But pressure from the team's owner and Grant's parents land him in his hometown of Holly, North Carolina instead. Things look up when he learns the hometown beauty who was once so out of his league is now single, and sexier than ever. Determined to slip in a night with her while he's in town, Grant is shocked to discover one will never be enough.

Faith Nicholas has no interest in the newest Saber-son gossip. After losing her father just months before, she is now on the verge of losing their family hardware store—which is also her home. She couldn't care less about the Saber's big money or flashy toys. But she can't seem to keep Grant out of her store--or her dreams. His magnetic charisma is impossible to ignore, and the longer he stays in town, the more she finds to love about a man who isn't as superficial as he'd like others to believe.

With a struggling store, four-hundred miles and a rigorous hockey season looming between them, Grant will have to pull out his very best moves if he's going to make this quick trick last forever.
BUY LINKS
Amazon B & N Google Play Books IBooks Kobo
REVIEW: QUICK TRICK (ROUGH RIDERS HOCKEY) BY SKYE JORDAN
Quick Trick by Skye Jordan

My rating: 4 of 5 stars


There are no guarantees with life. The one constant is change. Whether good or bad change is inevitable. How a person adapts to it, is what shows strength of character. Quick Trick delivers a full course of nostalgia with a side dish of flames. Youth makes life seem so simple, but as we grow into adulthood, we discover just how complicated things can get. Faith was the "It" girl on campus, she got good grades, dated the most popular guy and made it look easy. With her school girl days in the past, her shine has lost it's luster. Struggling to keep her business afloat and bounce back from a broken heart and an upsetting loss, she's at the end of her rope. Grant was the guy with a difficult home life but hockey saved him from small town living and the pressures of home. Injury brings him face to face with the past and sets him on the path to his future. Quick Trick has maturity making it a more subtle romance but it speaks to the heart. The message is there in bright shining headlights: HOME IS WHEREVER THE HEART LEADS YOU!



View all my reviews
BARGAINING FOR THE BILLIONAIRE (SEATTLE BACHELORS) BY JM STEWART
Release Date: September 13, 2016
SYNOPSIS
In the tradition of E.L. James and Sylvia Day comes a sultry new series starring women who want to live out their wildest dreams . . .

You know what they say: billionaires do it better . . .

Grayson Lockwood is every girl's fantasy. Fabulously weathy? Check. Dangerous good looks, complete with a titillating tattoo on his rock-hard chest? Check. High-powered CEO? Check. Too bad none of that impressed the only woman he ever loved. Since she walked away from him three years ago, Grayson can't get her out of his mind. To win her back, he'll have to finally open up about the secrets he's been keeping. But first, he may have to use a little deception.

Tired of her comatose love life, Madison O'Reilly spices things up by chatting online with a sexy stranger. All she's really looking for is a hot fling-and BookNerd seems flirtatious and surprisingly attuned to her needs. As their chats become steamier, she begins to wonder just how long she can hold out before she has the real thing. But when he steps out from behind his avatar, Grayson can only hope that Maddie will finally see his true heart . . .
BUY LINKS
Amazon B & N Google Play Books IBooks Kobo
REVIEW: BARGAINING FOR THE BILLIONAIRE (SEATTLE BACHELORS) BY JM STEWART
Bargaining for the Billionaire by J.M. Stewart

My rating: 5 of 5 stars


What makes a family is simple. LOVE! Therein lies the beauty of JM Stewart's Seattle Bachelors series. Maddie, Hannah, Christina, Cade, Sebastian and Grayson have experienced some of the most tragic and ugly moments in their lives. Fate brought these people together at a time when they needed each other most but love was the glue that united these lost souls. Past experiences have broken Gray and Mad's trust in themselves and each other but with a little push from friends these two just may get a chance to mend fences and join hearts. Ms. Stewart combines emotion with lust and creates a ray of sunshine from a cloud of darkness.




View all my reviews
THE TYCOON'S DESIRE: BILLIONAIRE DESIRE (TYCOON ROMANCE) BY JULIE FARRELL
Release Date: September 14, 2016
SYNOPSIS
He's a wealthy playboy.

She's a movie star with a squeaky-clean reputation.

Property developer Giovanni Romano has no intentions of settling down because commitment isn't part of his blueprints. His idea of 'long-term' is staying for breakfast - one thing he never does. But when he meets the successful movie star Cassie Carlton, his plans begin to change - and sparks begin to fly.

Determined to keep her innocent persona untainted, Cassie refuses to give in to her attraction to the wild bachelor. But when a crazed fan won't leave her alone, there's only one person in London she can trust - even though she can't trust him with her heart. Protecting Cassie from the bad guys is the easy part, but can Giovanni find a way to show Cassie that she's the one person he can finally build a commitment with?
BUY LINKS
Amazon B & N Google Play Books IBooks Kobo
REVIEW: THE TYCOON'S DESIRE: BILLIONAIRE DESIRE (TYCOON ROMANCE) BY JULIE FARRELL
The Tycoon's Desire: Billionaire Obsession by Julie Farrell

My rating: 3 of 5 stars


I'm conflicted. The Tycoon's Desire is a sexy suspenseful thriller, which is the type of story I expected. Gio was an alpha personality with Dom tendencies, Cassie was the beautiful innocent with a taste for the bad boy. Naturally. Never did I get bored, but I did get frustrated. Cassie had a successful career but was afraid of her own shadow. Don't get me wrong, I understand fear of the unknown. There was a lot that was out of her control but, it is a pet peeve of mine when the main female character needs to count on others to save her. Cassie's was her own worst enemy. She allowed insecurities and outside influences to control her life.



View all my reviews
AUTUMN ALLURE BY ALLIE BONIFACE
Release Date: September 15, 2016
SYNOPSIS
Time for this playboy to face the music. He just never dreamed it would be a lullaby…

Nate Hunter went to college for a business degree, but he prefers working as a bartender and enjoying his small-town, single life. Then a dying ex-girlfriend tracks him down to tell him he has a daughter he never knew existed.

Nate doesn't know the first thing about being a father, but one look at Autumn and he's a goner, so he agrees to take care of her until her aunt returns at Christmas.

When he asks no-nonsense librarian Maxine Abbott to move in with him and help take care of his daughter, she agrees – but only if he'll pretend to be her boyfriend and get her mother off her back.

Their relationship of convenience works perfectly at first, until real feelings begin to chip away at their fake romance. Then Autumn's aunt shows up early, and everything changes. Will Nate and Maxine's budding love end in heartbreak before the last leaves fall?
BUY LINKS
Amazon B & N Google Play Books IBooks Kobo
REVIEW: AUTUMN ALLURE BY ALLIE BONIFACE
Autumn Allure by Allie Boniface

My rating: 5 of 5 stars


A cataclysmic whirlwind of emotions steers Autumn Allure. Nate has the potential to make more of his life but lacks the drive to take a risk. Drifting through his days without direction gives him the freedom he wants but leaves him more content than happy. All that changes when a newly discovered daughter burrows her way into his heart. I just knew that I was going to cry. With Ms. Boniface, it's a given. However, Autumn Allure is more than a tearjerker. It's about sacrifice, maturity and discovering that the sum total of taking chances is ending up where you were meant to.



View all my reviews
STRANDED WITH THE SEAL (HERO FORCE) BY AMY GAMET
Release Date: September 17, 2016
SYNOPSIS
The Hands-on Engagement and Recognizance Operations (HERO) Force works behind the scenes, completing missions too sensitive or dangerous for regular channels.

HERO Force member and former Navy SEAL Trevor "Hawk" Hawkins is on an unsanctioned mission to take down the man responsible for his teammate's death. But when his car careens into another on a snowy mountain road, he finds himself stranded with a beautiful woman who has no memory of her life, despite the engagement ring he pulls off her injured hand.

As the storm outside worsens, passion flares between Hawk and the woman, but her true identity could be his undoing. Can he control his need to possess her, knowing she's engaged to a man she doesn't remember? Or will the barrier between him and his enemies fail to protect them from disaster?
BUY LINKS
Amazon B & N Google Play Books IBooks Kobo
REVIEW: STRANDED WITH THE SEAL (HERO FORCE) BY AMY GAMET
Stranded with the SEAL by Amy Gamet

My rating: 4 of 5 stars


Fear, revenge and action collide to create the bounty that is Stranded with the Seal. Amy Gamet is full of surprises. She took a story filled with emotional and created an action packed thrill ride that delivers suspense, romance, lust and heart. Livy is a woman faced with a tough choice, Trent is a man on a mission. Caught in the cross hairs of a vicious man and a dangerous situation Trent and his mystery women will have to face some truths and just maybe find the answers to a prayer, in each others arms. She's good. Whether facing down a violent mad man or working to confront a troubled past, Ms. Gamet delivers stories that are stunning works and unforgettable reads.



View all my reviews
Original post: ishacoleman7.booklikes.com/post/1456168/new-releases-for-week-of-september-11-2016