READ AND REVIEW
UNDER THE HOOD BOXED SET BY SALLY CLEMENTS
Release Date: September 5, 2016
SYNOPSIS
Under the Hood

When Alice Starr mistakenly believes attorney Mark Jameson needs her help, he discovers he likes being rescued for a change. Smitten by her confidence, he hides his expertise so he has an excuse to see her again. Alice doesn't have time for a man. But with one kiss, she and Mark have advanced into water so deep she's in danger of drowning...

Racing the Hunter's Moon

Feisty Betty Smith should have only one thing on her mind—catching the conman who swindled her mother. Not the sexy stranger who kissed her then completely disappeared.
Undercover FBI agent Joe Carter needs to focus on the bad guy who got away, not the gorgeous headstrong brunette who watches too many cop shows and keeps interfering in his case. And while entering the vintage car rally as a couple seemed like a good idea at the time, faking feelings for each other turns out to be the easiest part.

Love for Beginners

Melody Swan is looking for a man who can share her hopes and dreams, but she swore she would never lose herself to passion. When sexy Heath Starr agrees to temporarily sub in the Under the Hood garage for his sister, Mel sees the perfect opportunity to enjoy being with a man without becoming attached. Heath came to Meadowsweet to photograph nature, not find a hookup, especially since his last relationship ended in disaster. When the two find themselves isolated in a rustic cabin, they could both break their promises if they aren't careful...
BUY LINKS
Amazon B & N Google Play Books IBooks Kobo
REVIEW: UNDER THE HOOD BOXED SET BY SALLY CLEMENTS
Under the Hood Boxed Set by Sally Clements

My rating: 5 of 5 stars


Melody, Betsy and Alice are not afraid to follow their dreams and break stereotypes doing it. I enjoy reading stories with strong female characters. A woman can be strong when needed but being vulnerable at times is okay as well. Ms. Clements shows the multiple sides of femininity with her Under the Hood stories. A fun way to celebrate the female spirit, with laughter, love and self - respect.

Under The Hood - Alice proves it's okay to take charge of one's own destiny.

Racing The Hunter's Moon - Betsy proves a woman can be her own savior.

Love For Beginners - Melody proves a woman's heart is her greatest strength.



View all my reviews
FULL EXPOSURE (HANDS ON) BY CATHRYN FOX
Release Date: September 5, 2016
SYNOPSIS
Full Exposure is the finale of a three-part erotic series from New York Times and USA best-selling author Cathryn Fox.

I've just had the best two weeks of my life! Who'd have guessed that a big part of my rehab would involve giving a gorgeous psychologist private lessons in sex? The problem? I'm hooked. I want more and that wasn't part of the deal. But I have a job to go back to, and she's already pushing me away. So what the hell am I going to do? Still, as a quarterback, I know some things need a playbook and I'm used to winning. So before I walk away from this incredible thing between us, I'm going to use every strategy I know to convince her that the only hands she needs are mine…

This is the last of a three-part series full of mind-blowing sex, featuring a dirty-mouthed football player who knows the score and an inexperienced therapist who needs to learn it. Make sure you have the full series!

The Hands On serial is best enjoyed in order.

Reading Order:

Book #1 Hands On
Book #2 Body Contact
Book #3 Full Exposure
BUY LINKS
Amazon B & N Google Play Books IBooks Kobo
REVIEW: FULL EXPOSURE (HANDS ON) BY CATHRYN FOX
Full Exposure by Cathryn Fox

My rating: 4 of 5 stars


Ms. Fox has done it again. She delivered saucy, sexy and emotional in short sweet fashion. The Hands On series is full of heat, but has a great deal of heart as well. My one peeve with this series is the serial format. I loved the story but in order to get the full experience, I wish Dani and Jack's journey had been one novel.



View all my reviews
THE REBEL HEIR (THE SPARE HEIRS) BY ELIZABETH MICHELS
Release Date: September 6, 2016
SYNOPSIS
The Spare Heirs Society Cordially Invites You to Meet Ash Claughbane: The Imposter
Lady Evangeline Green is living a lie. To please her family, she masquerades as the perfect debutante…until she meets the wickedly charming Lord Crosby. With him, there are no rules. She's finally free to do as she desires—but freedom comes with a price, and Lord Crosby is not what he seems…
Ash is not Lord Crosby. He's a con artist, a noble Spare Heir living off his silver tongue. When the Greens ruined his family, he swore he'd make them pay, and he never doubted his devotion to revenge…until he met Evangeline. Now, caught in a web of lies, torn between duty and desire, what's a con to do but deceive all of London and steal the one lady who dared match wits with the devil himself?
BUY LINKS
Amazon BAM B & N Chapters Google Play Books IBooks Indiebound Kobo
REVIEW: THE REBEL HEIR (THE SPARE HEIRS) BY ELIZABETH MICHELS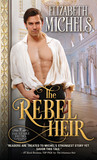 The Rebel Heir by Elizabeth Michels

My rating: 4 of 5 stars


Duty or heart, which will win? Ash is a sly one. He's handsome, charming and plays society like a finely tuned instrument. Gliding thru the ranks of the rich and powerful with a hidden agenda and secrets that could avenge his family and destroy the life of not only his intended target, but could also impact an innocent that could prove to be his redemption. Evie is a gazelle in a world of wolves. A disappointment to her family and easily manipulated into situations that are not of her own choosing. But make no mistake, she has some surprises of her own. Neither Ash or Evie are what they portray themselves to be and therein lies the draw of the story. On the surface, all is easily figured out but as the tale digs deeper you discovery the plot is more complicated. The author must love puzzles because she concocted a pattern riddled with cryptic clues that casts a spell of intriguing reveals and surprisingly intricate pieces.



View all my reviews
WHAT THE DUKE DOESN'T KNOW (DUKE SONS) BY JANE ASHFORD
Release Date: September 6, 2016
SYNOPSIS
A proper English wife, or the freedom of the sea?

Lord James Gresham is the fifth son of the Duke of Langford, a captain in the Royal Navy, and at a loss for what to do next. He's made his fortune; perhaps now he should find a proper wife and set up his nursery. But the sea calls to him, while his search for a wife leaves him uninspired. And then, a dark beauty with a heart for revenge is swept into his life.
He can't have both, but he won't give up either

Half-English, half-Polynesian Kawena Benson is out to avenge her father and reclaim a cache of stolen jewels. There's nothing for James to do but protest his innocence and help Kawena search for the jewels, even though it turns his world upside down.
BUY LINKS
REVIEW: WHAT THE DUKE DOESN'T KNOW (DUKE SONS) BY JANE ASHFORD
What the Duke Doesn't Know by Jane Ashford

My rating: 3 of 5 stars


She needs love but wants revenge. He lives for the adventure of the sea, but knows he has responsibilities to keep. What the Duke Doesn't Know is a journey vengeance, finding inner peace and being true to one's self. Kawena has to learn how to move forward without bitterness and anger and accept what cannot be changed, as well as all the traits that make her unique. James needs to discover that being true to your heart does not mean letting go of what he loves but understanding what it requires to blend his heart'safe desire and his life's responsibilities in a way that proves to be both beneficial and relaxing. Kawena and James' pathway to acceptance is enlightening and inspiring but monotonous at times.



View all my reviews
A RAKE REFORMED (GENTLEMEN OF WORTH) BY SHIRLEY MARKS
Release Date: September 6, 2016
SYNOPSIS
Frederick Worth, the Earl of Brent, is out of luck. He's gambled away a considerable fortune, and London's creditors are in pursuit. Rather than return to Faraday Hall and risk his father's displeasure, he flees to his property in the remote north. Only Penshaw Manor isn't quitethe safe, comfortable haven he expects.
Freddie is horrified to discover that not only is the property in an alarming state of disrepair but "the Earl of Brent" is loathed by tenants and neighbors alike. Forced to conceal his true identity, he finds himself enjoying this small circle of society, even as he falls for the lovely—if oftentimes infuriating—Miss Rosalind Harris.
Now he's tempted to bid farewell to his rakish ways and become the true lord of Penshaw Manor. But first, Freddie must prove his worth to Miss Rosalind—and to himself—before anyone discovers who hereally is…
BUY LINKS
REVIEW: A RAKE REFORMED (GENTLEMEN OF WORTH) BY SHIRLEY MARKS
A Rake Reformed by Shirley Marks

My rating: 3 of 5 stars


Ms. Marks is a new author to me. A Rake Reformed started off on the wrong foot. There was plenty of promise but the story took longer than I expected in gaining it's sea legs. I'meant a fast reader and like my stories to be as fast pasted as I am. My lukewarm opinion started to go full throttle when Fredrick went from careless young boy to a responsible young man. His metamorphic was complete as he opened his heart to love and opened his mind to learning the benefit of maturity. A Rake Reformed is slow moving but given a chance it'seems worth the trip.



View all my reviews
SO GOOD (LOVE ON THE VINE) BY DARCY BURKE
Release Date: September 6, 2016
SYNOPSIS
Cameron Westcott has spent eight years recovering from heartbreak by keeping romantic entanglements casual and simple. He's never minded being called a manwhore, but after two years immersing himself in his new winery, he might be ready for the next chapter. Especially when he meets a sexy wine distributor—only she says she isn't interested.

Following a bitter divorce, Brooke Ellis relocated to Ribbon Ridge to rebuild her life. Things will never be the same for her, and she's coming to terms with that reality when she meets charming, persistent Cam. She can't imagine a happy ever after given his reputation, but he makes her feel so good.

As the sparks between them intensify, they're both hesitant to commit for very different reasons. Or are they really just sabotaging their own futures? If they can trust each other—and themselves—they may realize that what they share is too good to let slip away.
BUY LINKS
Amazon | Barnes & Noble Google Play Books | iTunes | Kobo
REVIEW: SO GOOD (LOVE ON THE VINE) BY DARCY BURKE
So Good by Darcy Burke

My rating: 5 of 5 stars


There is sensuality to the business of wine. The taste of it, the preparation of the flavorful blends, are an attack on the senses and loosen inhibitions. It' s only fitting that this aphrodisiac would be at the center of a love story. Brooke and Cam are a complicated duo brought together by an attraction that is tempting and unstoppable from the beginning. Cam is a visionary. His creativity is one of the driving forces behind his vineyard and his determination is on the verge of paying off. Brooke is gusty, ambitious and wary of the man behind the wine. His reputation precedes him and her pasts haunts her. Will the pain of the past stand in the way of the hope for the future? So Good is classic Darcy Burke. Savvy, sexy and heartwarming contemporary romance. Getting to revisit Ribbon Ridge and catch up with old friends and meet new ones made this romance all the sweeter.



View all my reviews
TOO WILD TO TAME (ROMANCING THE CLARKSONS) BY TESSA BAILEY
Release Date: September 6, 2016
SYNOPSIS
Sometimes you just can't resist playing with fire…
By day, Aaron Clarkson suits up, shakes hands, and acts the perfect gentleman. But at night, behind bedroom doors, the tie comes off and the real Aaron comes out to play. Mixing business with pleasure got him fired, so Aaron knows that if he wants to work for the country's most powerful senator, he'll have to keep his eye on the prize. That's easier said than done when he meets the senator's daughter, who's wild, gorgeous, and 100 percent trouble.
Grace Pendleton is the black sheep of her conservative family. Yet while Aaron's presence reminds her of a past she'd rather forget, something in his eyes keeps drawing her in. Maybe it's the way his voice turns her molten. Or maybe it's because deep down inside, the ultra-smooth, polished Aaron Clarkson might be more than even Grace can handle…
BUY LINKS
Amazon B & N Google Play Books IBooks Kobo
THE ROMANCING THE CLARKSONS SERIES
Too Hot To Handle, #1
Too Wild To Tame, #2
REVIEW: TOO WILD TO TAME (ROMANCING THE CLARKSONS) BY TESSA BAILEY
Too Wild to Tame by Tessa Bailey

My rating: 5 of 5 stars


Aaron Clarkson is the man with a plan. His ambitious nature and smooth demeanor have landed him right in the middle of the action. His road to politics does not include getting distracted. One wrong move could incur another scandal. Enter Grace. A woman who is not afraid to dance to the beat of her heart. When she cares about something, she gives it her all and nothing stands in her way of doing what is right. So why is she drawn to the bad bad boy of politics? Why does Grace make Aaron want to become a better man? Too Wild to Tame is full of surprising twists, searing heat and the most important lesson of all: It's okay to be you. The Clarksons are an unconventional family but behind the tragedies, scandals and arguments there is love.



View all my reviews
A COWBOY CHRISTMAS MIRACLE (BURNT BOOT, TEXAS) BY CAROLYN BROWN
Release Date: September 6, 2016
SYNOPSIS
It will take a miracle bigger than the state of Texas for these two feuding families to survive the holidays!
Opposites might attract…
The Brennans and the Gallaghers put aside their one-hundred-year feud every Tuesday for their weekly poker game. This week, the stakes are sky-high. Goaded to recklessness, Declan Brennan bets one thousand dollars that he can woo the next woman to walk into the saloon. A minute later, fiery-haired Betsy Gallagher pushes through the doors. If Declan can tame this wild Gallagher, he'll have earned every penny.
If they don't kill each other first…
Betsy can outshoot anybody in Burnt Boot and loves ranching more than anything—until she falls for Declan. He's fallen for her too. But when she discovers what sparked their courtship, Declan will need a Christmas miracle to save his hide—and his heart.
NY Times and USA Today Bestselling author and RITA Finalist, Carolyn Brown, has published more than seventy books. These days she is concentrating on her two loves: women's fiction and contemporary cowboy romance. She and her husband, a retired English teacher, make their home in southern Oklahoma.
BUY LINKS
Amazon BAM B & N Google Play Books IBooks Kobo
REVIEW: A COWBOY CHRISTMAS MIRACLE (BURNT BOOT, TEXAS) BY CAROLYN BROWN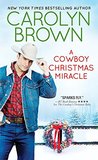 A Cowboy Christmas Miracle by Carolyn Brown

My rating: 5 of 5 stars


I love Carolyn Brown. Where else can I find humor, heart and mischief. With her own special brand of wisdom, she looks at the bright side of the world and gives hope in some of the most heartbreaking of circumstances. A Cowboy Christmas Miracle is one of her more light stories that although done before has a sweetness to it that is all her own. With one sentence she takes you to that place of hope and regret and spins it into an inspirational love, perfect for the holiday season.



View all my reviews
WINNING IT ALL (HOMETOWN PLAYERS) BY VICTORIA DENAULT
Release Date: September 6, 2016
SYNOPSIS
All's fair in love and hockey. . .

As his team's enforcer on the ice, Sebastian Deveau is America's favorite fighting Frenchman. But he's just as likely to get into trouble off the ice--especially when it comes to women.

Shayne Beckford is so over hockey. It ruined her parents' marriage. It spoiled her brother's dreams. And let's not even talk about her college boyfriend . . . So when Sebastian Deveau walks into her brother's gym, she has no idea who he is. All she knows is that he's one gorgeous man with the sexiest accent she's ever heard. And since she never has to see him again, she lets him give her the best orgasm of her life right on top of the gym's dryer.

But Sebastian isn't going to let this one-night stand get away so easily. He fights for what he wants, even if it takes fighting a little dirty . . .


More in the Hometown Players series:

One More Shot
Making a Play
The Final Move
BUY LINKS
Amazon B & N Google Play Books IBooks Kobo
REVIEW: WINNING IT ALL (HOMETOWN PLAYERS) BY VICTORIA DENAULT

Winning It All by Victoria Denault

My rating: 4 of 5 stars


Money, fame and women are Sebastian's Achilles Heel. They bring out the wild man in him and cause nothing but issues for his image. Hockey and heartache have followed Shayne around like a dark cloud for years. Hockey destroyed her family, crushed her brother's dreams and has left her on the receiving end of pain many times over. An instant attraction, a heated encounter and surprising discovery will land her right where she hoped to never be again. On the verge of a broken heart. The title says everything for this tumultuous love story. Winning It All, means taking a chance when the cons far outweigh the pros. Ms. Denault supplies the sentiment of romance, wrapped in the glamour of fame and seasons it with the charm of small town. What's not to love?



View all my reviews
t
A SPRING DECEPTION (SEASONS) BY JESS MICHAELS
Release Date: September 6, 2016
SYNOPSIS
The second book in the next historical romance series coming soon from USA Today Bestselling Romance Author Jess Michaels

Miss Celia Fitzgilbert's grandfather has decreed she must marry a man with a title or he'll never reveal her mysterious father's identity. But her engagement to an Earl was already broken, leaving her steeped in scandal. She has all but given up until the reclusive Duke of Clairemont returns to Society and sweeps her off her feet, a potential solution to all her problems.

But things are not so simple for the duke. Aiden is not comfortable with his position in Society, perhaps because he is a fraud. In truth, Clairemont died months ago and the man playing him is a spy, bent on uncovering a dangerous secret. A flirtation with Celia, meant to help him fit in, quickly turns very real. But can Celia recover when the lies come out? Ad can Aiden keep them both alive long enough to even consider a future?
BUY LINKS
Amazon B & N Google Play Books IBooks Kobo
REVIEW: A SPRING DECEPTION (SEASONS) BY JESS MICHAELS
A Spring Deception by Jess Michaels

My rating: 5 of 5 stars


Celia was a major fixture in her sister Rosalinde's finding love in An Affair in Winter. Rosalinde and Celia share a bond that is as strong as the heartache and disappointments they have had to live through. A Spring Deception sheds more light on Celia and her continued quests for answers in her search for the truth about her family. Her journey is paved with deceit and it takes her into a world far more complicated than any she has experienced before. As often happens Ms. Michaels sets the course for events that are shocking and fan the flames of forbidden love with all it's complications, but she once again delivers the thrill of love with all it's tragedies and triumphs in a story that is emotional, entertaining and worthy of a five star review.



View all my reviews
Original post: ishacoleman7.booklikes.com/post/1461697/coming-to-ereaders-this-week