#NowLive
When recently divorced Lexi Campbell walks into Ezra Benedict's life, all bets are off. Lexi might be out of his league, but when she hires Ezra for a job, he can't fight the pull between them. Fall for this hard-working hottie in More Than Enough by Moni Boyce, a Fling to Love Romance, the final book in the Blue Collar Romance Series.
"Lexi and Ezra stir up emotion that is deep enough to swim in and heat, hot enough to set your senses on fire. From life lessons to tough choices, More than Enough is a window into the soul." - (Isha C., Blogger, Reader, Reviewer - Hopeless Romantic)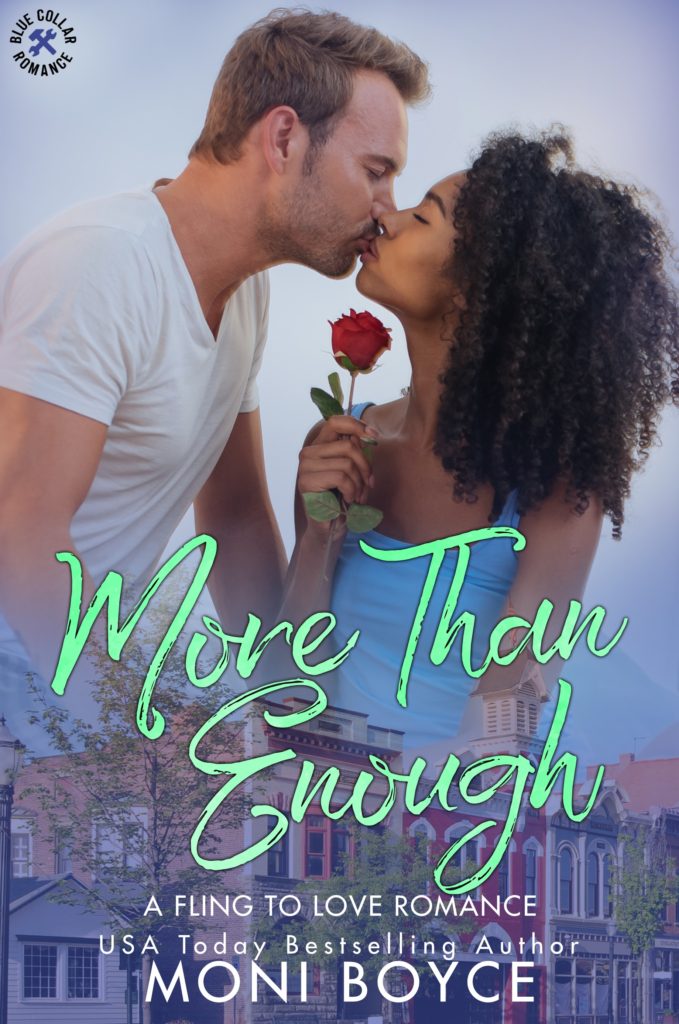 From Moni Boyce comes a fling to forever romance packed with redemption, heat and happily ever after.
Her whole life, Lexie Campbell has played by the rules and lived up to everyone else's expectations, never once stepping out of her comfort zone or putting her needs or wants first.
Divorced and ready for a little excitement in her life, she makes a playful bet to kiss the next guy who walks into the bar where she's out on the town with her girlfriends. She wasn't expecting that guy to be bad boy Erza Benedict himself.
Ezra has a reputation. Growing up on the wrong side of the tracks, he's never been able to outrun his troublesome past no matter how hard he works to redeem himself.
As far as relationships go? Lexie is so far out of his league, but that doesn't stop him from wanting more than one kiss or a one-night stand.
When Lexie comes back into his life by grand design and hires him to landscape the homes she has listed on the market, Ezra knows this is his shot. Unlike their one night together before, Ezra won't settle for hiding their relationship for long.
Together they'll have to learn to forget everyone else's expectations and live (and love) for themselves.
Welcome to Oak Bend, where these blue-collar hotties work hard and love even harder, especially when it comes to landing their happily ever after.
Amazon → https://amzn.to/3EHKilL
Free in #KindleUnlimited
REVIEW: MORE THAN ENOUGH (BLUE COLLAR ROMANCE) BY MONI BOYCE
More Than Enough by Moni Boyce

My rating: 5 of 5 stars


Lexi and Ezra stir up emotion that is deep enough to swim in and heat, hot enough to set your senses on fire. Moni Boyce to life a tale of deep fears and fierce courage. It's broken. It's beautiful. It's frustrating. From life lessons to tough choices, More than Enough is a window into the soul. Ezra and Lexi are unforgettable.



View all my reviews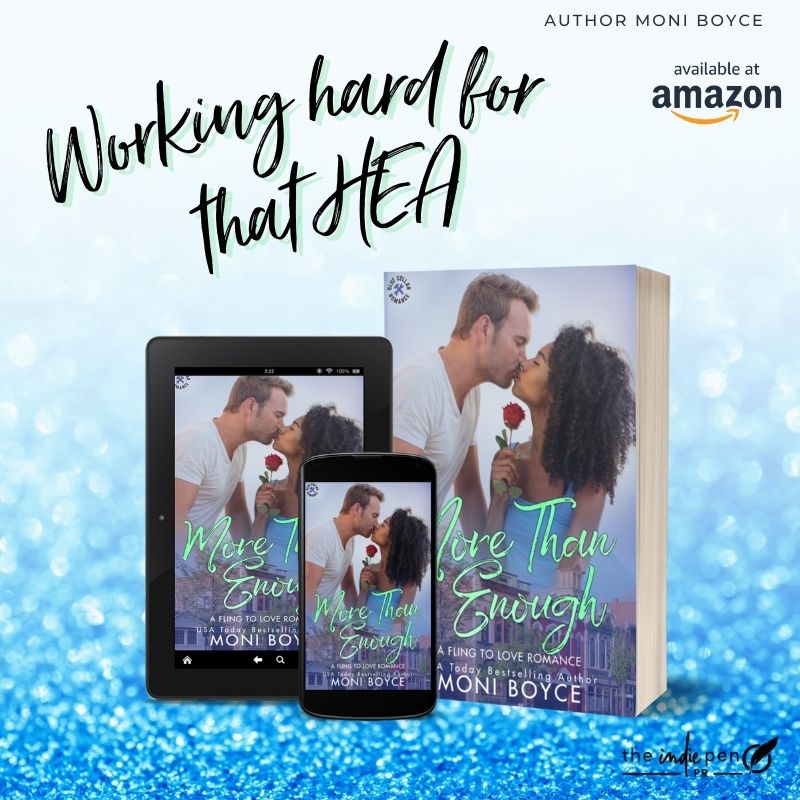 #morethanenough #flingtoloveromance #bwwmbooks #diversereads #diversebooks #interracialroamnce #bluecollarromanceseries #bluecollarromancecollection #eightbluecollarworkers #smalltownromance #contemporaryromance #steamyromance #newadultromance #comingsoon #guaranteedtofallinlove #happilyeverafter #readytomakeyoufallinlove #romancenovel #romancereads #romancebooks #readstagram #bookstagram #booklovers #bookblogger #readingromance #readingromancebooks #romancereadersofinstagram #allthebooks #readingissexy #romancereader #bookish #mustreadromance #multiauthorseries #newrelease #oneclick #amazon #indiepenpr #moniboyce
@IndiePenPR
@moniboyce & @indie_pen_pr