Upon returning to his hometown, Dean Hughes makes a deal with his best friend Stella Archer. However the more time they spend together the more the lines between friendship and romance blur, will they risk their friendship to take a chance on love? Fall for this hard-working hottie in Speeding Hearts by Claire Wilder, a Friends to Lovers Romance, the next book in the Blue Collar Romance Series.

"Speeding Hearts is more than a love story. It is a life lesson. An endearing tale of life, love and hope that makes a powerful statement." - (Isha C., Blogger, Reader, Reviewer - Hopeless Romantic)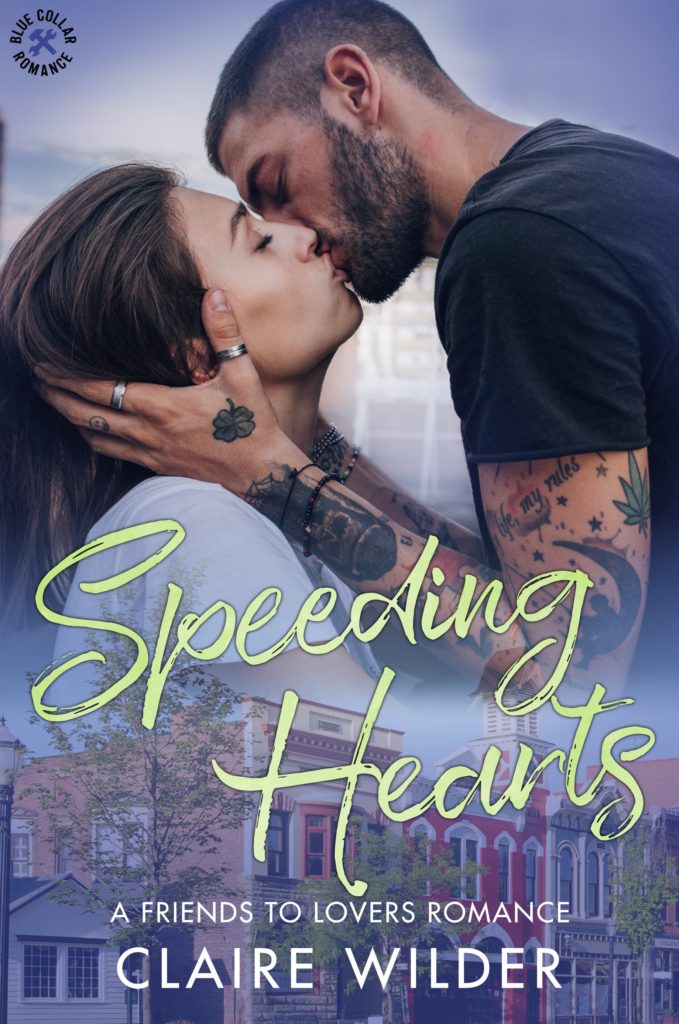 STELLA
Stella Archer has never been afraid of a challenge.
She was the first woman mechanic in her hometown. She runs her own garage.
And when her best friend and fellow mechanic Dean announces he's moving back to his hometown, instead of being devastated, she jumps at the chance to work part-time at his uncle's dirt track—and finally fulfill her dream of racing cars.
But with plenty of time to train with her best friend, for the first time in my life, Stella's scared. Scared that racing isn't really what she wants.
Scared that Dean is.
DEAN
Dean Hughes knows he can handle moving back to his hometown to care for his sick—and surly—father. He can even deal with returning to the scene of all his past mistakes.
The only thing he can't take is the idea of losing his best friend Stella.
Now that she's here in Oak Bend, she's going to see what a screw-up he really is.
Worse, he might see the truth he's been hiding from himself: he wants more from Stella than just friendship.
And when Stella finds out?
There'll be no putting the brakes on what comes next.

REVIEW: SPEEDING HEARTS (BLUE COLLAR ROMANCE) BY CLAIRE WILDER
Speeding Hearts by Claire Wilder

My rating: 5 of 5 stars


Speeding Hearts is more than a love story. It is a life lesson. Wilder paints a picture of yearning littered with empowering moments and heartbreaking scenarios. At the center of all the drama is Stella and Dean. She's fearless at following her dreams, but timid when it comes to risking her heart. He's her greatest cheerleader but his own worst critic. Can they overcome the events of their pasts to take a chance on a future together? An endearing tale of life, love and hope that makes a powerful statement.



View all my reviews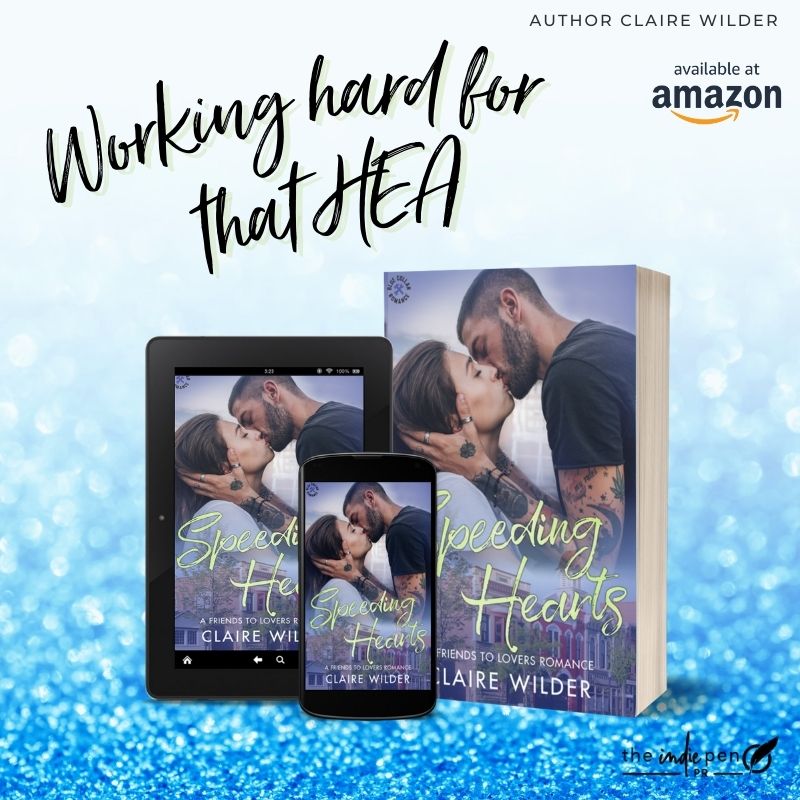 Excerpt
Copyright 2021 Claire Wilder

As it turned out, work kept me busy enough all day that I didn't have time to think much about Dean at all.
Or at least, not much. I still felt the littlest fluttering in my stomach when I thought about tonight—he was going to come by the motel at seven-thirty and take me on a little tour of his hometown.
It almost felt like a date.
Except that it was my buddy, Dean.
But those thoughts only happened a few times that day. Most of the time, I concentrated on working my ass off.
By the time the closing time rolled around, I was shocked at where the day had gone. John gave me a begrudging nod as he left. He'd nitpicked my work all day, but before clocking out, he actually said, "You're better than the last kid by a mile," which I took to be the highest compliment.
Freddie showed me how to lock up, which I'd be doing on my own a couple days a week, and then, mercifully, I was on my own. Throughout the day, a couple of drivers had come by to practice on the oval, and each time, I'd looked up longingly at the sound of them but turned quickly back to whatever engine I was working on. It was imperative I showed Colin what I could do.
Now, with the track silent, I stood next to one of the nicer cars parked outside in the lot. I looked around. The place was completely deserted, and I happened to have the keys Freddie had handed me.
The keyring in my hand, I knew, contained the key for this particular car. I'd seen Freddie drive it around front earlier.
Colin had said I wasn't supposed to go anywhere near the oval.
But he didn't say anything about not test driving any of the cars.
I knew I was interpreting his words more liberally than his intention, but I was a grown adult, damn it. And what harm would there be in taking it in a circle around the lot?
Just slipping behind the wheel made adrenaline shoot through my stomach. When I turned it on, I was nearly sick. For a moment, the adrenaline running through me went cold and slick. What the hell was I doing? I'd never actually gotten this close to my dream of racing cars before. I'd driven nice cars in my career, sure. I'd topped the speed limit on the highway a hundred times over. But actually sitting in a street stock car with my hands wrapped around the wheel, my foot on the gas, the stick in neutral… I wondered for the first time if this dream of mine was really mine or something I'd cooked up to show everyone how tough I was.
No. This was mine. It had to be. Checking to make sure the car was in neutral, I revved the engine.
It roared under me, making me laugh with the thrill of it. I did it again.
Man, this felt better than sex.
Not quite, but in the moment, it felt close.
Then I chickened out. I cut the engine and got out, slamming the car door behind me. Then I raised my fists in mock triumph, imagining the crowd screaming around me. I even made the sound I used to make as a kid playing with my brothers. Then someone clapped behind me.
I couldn't help it, I yelped.
Whirling around, my ponytail hit me in the eye just like it had the last time I was caught out here.
"Shit!" I swore, both at the sting in my eye and the mortification at getting caught by the boss playing make-believe.
But when I blinked, I saw it wasn't Colin. The figure before me was tall. Broad across the shoulders. Covered in tattoos.
Looking at me with a grin that made my insides melt into taffy.
Dean.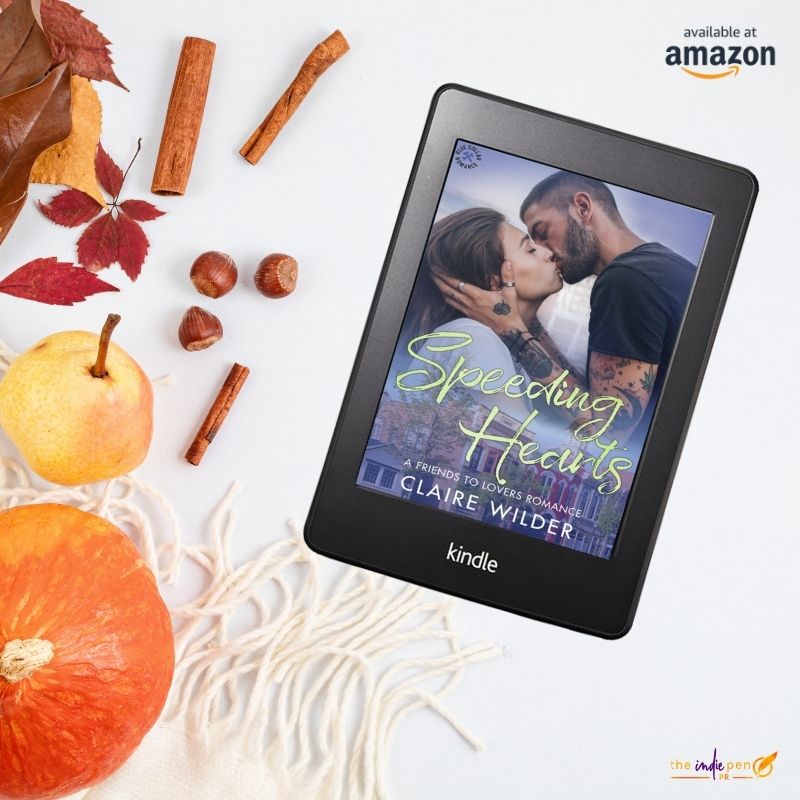 About Claire Wilder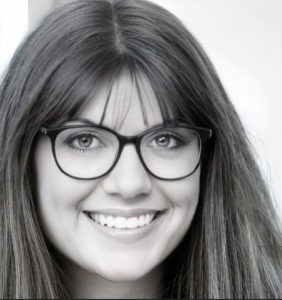 I write steamy lakeside romance novels (and the occasional sweet & sexy short story). When I'm not writing I'm either reading, taking long walks by the ocean (which I consider a giant lake!), or frolicking in the trees with my husband and three kids.
Follow: Facebook | Instagram | Pinterest | Goodreads | BookBub | Amazon | Website | Newsletter | Reader Group | Linktr.ee|

About The Blue Collar Romance Series

Escape to Oak Bend where blue-collar hotties work hard and love even harder.
From broody carpenters to sexy electricians, these eight standalones are packed with small town feels, heat, and heartwarming happily ever afters.
Enjoy your favorite tropes written by an amazing group of authors: Jaymee Jacobs, Alexa Rivers, Evelyn Sola, Kate Carley, Tracy Broemmer, Mila Nicks, Claire Wilder, and Moni Boyce.
Fall head over heels for swoon-worthy book boyfriends who aren't afraid of a little hard work for that happily ever after.

This promotional event is brought to you by Indie Pen PR