READ AND REVIEW
WELL HUNG BY LAUREN BLAKELY
Release Date: September 12, 2016
SYNOPSIS
From the NYT Bestselling author of MISTER O, comes a hot and hilarious new standalone...

Here's what you need to know about me — I'm well-off, well-hung and quick with a joke. Women like a guy who makes them laugh—and I don't mean at the size of his d*ck. No, they want their funny with a side of huge… not to mention loyal. I've got all that plus a big bank account, thanks to my booming construction business. Yup. I know how to use all my tools.

Enter Natalie. Hot, sexy, smart, and my new assistant. Which makes her totally off limits... 

Hey, I'm a good guy. Really. I do my best to stay far away from the kind of temptation she brings to work.

Until one night in Vegas… 

Yeah, you've heard this one before. Bad news on the business front, drowning our sorrows in a few too many Harvey Wallbangers, and then I'm banging her. In my hotel room. In her hotel room. Behind the Titanic slot machine at the Flamingo (don't ask). And before I can make her say "Oh God right there YES!" one more time, we're both saying yes—the big yes—at a roadside chapel in front of a guy in press-on sideburns and a shiny gold leisure suit. 



But it turns out what happened in Vegas didn't stay in Vegas. And now, my dick doesn't stay in my pants when she's around. I try to resist. Honest. But the more we try to keep our hands to ourselves, the more we end up naked again, and the more time I want to spend with her fully clothed, too.

The question now is…do I take this woman to be my ex-wife?
BUY LINKS
Amazon B & N Google Play Books IBooks Kobo
REVIEW: WELL HUNG BY LAUREN BLAKELY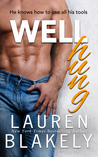 Well Hung by Lauren Blakely

My rating: 5 of 5 stars


Wise men say, only fools rush in ....

I Can't Help Falling In Love With You. I have always loved that song, it describes the ups and downs of love in a way that is beautiful and magical at the same time. Lauren Blakely chose the perfect theme for this friends to lovers romance. Wyatt and Natalie have a laid back friendship. She's the brains of the office. She keeps his business organized while brightening up his life. He's the brawn. He loves construction and is great at getting the job done. Together their unstoppable. When a business trip to Vegas goes sideways, all hell breaks loose. A few drinks has this dynamic duo breaking all the rules. What happens in Vegas, doesn't stay in Vegas- with the light of day comes reality and it's up to these two to decide if they can turn a heated night of romance into a love that lasts forever. Well Hung worked for me. The heat levels were off the charts. The romance and backstory had a feel of charm and the first person narrative added a sense of emotional connection that had me falling in love with Wyatt and Natalie.



View all my reviews
CHECK OUT SPENCER AND NICK
IN BIG ROCK AND MISTER O
AVAILABLE NOW!
BIG ROCK BY LAUREN BLAKELY
SYNOPSIS
It's not just the motion of the ocean, ladies. It's definitely the SIZE of the boat too.

And I've got both firing on all cylinders. In fact, I have ALL the right assets. Looks, brains, my own money, and a big cock.

You might think I'm an asshole. I sound like one, don't I? I'm hot as sin, rich as heaven, smart as hell and hung like a horse.

Guess what? You haven't heard my story before. Sure, I might be a playboy, like the NY gossip rags call me. But I'm the playboy who's actually a great guy. Which makes me one of a kind.

The only trouble is, my dad needs me to cool it for a bit. With conservative investors in town wanting to buy his flagship Fifth Avenue jewelry store, he needs me not only to zip it up, but to look the part of the committed guy. Fine. I can do this for Dad. After all, I've got him to thank for the family jewels. So I ask my best friend and business partner to be my fiancée for the next week. Charlotte's up for it. She has her own reasons for saying yes to wearing this big rock.

And pretty soon all this playing pretend in public leads to no pretending whatsoever in the bedroom, because she just can't fake the kind of toe-curling, window-shattering orgasmic cries she makes as I take her to new heights between the sheets.

But I can't seem to fake that I might be feeling something real for her.

What the fuck have I gotten myself into with this…big rock?

BIG ROCK is a standalone, dirty romance novel written from the guy's POV by NYT Bestselling author Lauren Blakely…
BUY LINKS
Amazon B & N Google Play Books IBooks Kobo
REVIEW: BIG ROCK BY LAUREN BLAKELY
Big Rock by Lauren Blakely

My rating: 5 of 5 stars


Can a leopard change it's spots? Lauren Blakely did a fine job of proving in the right circumstances anything is possible. Spencer was a douche. His cavalier attitude toward the opposite sex almost had me writing him off as completely hopeless. Yet he did have some redeeming qualities. He cared deeply about his family and when he loved he did so with his whole heart. This was evident from how he was with his best friend Charlotte. He was protective, caring and and now all around good guy. The way he stepped in to help when needed and how he looked after her was irresistible. It was so obvious that Charlotte and Spencer were soul mates. All they needed was a nudge in the right direction. I received an ARC of Big Rock in exchange for an honest review. A reward that is full of surprises.



View all my reviews
MISTER O BY LAUREN BLAKELY
SYNOPSIS
Three consecutive weeks on the New York Times Bestseller list! Dig into the hot and hilarious standalone!

Just call me Mister O. Because YOUR pleasure is my super power.

Making a woman feel 'oh-god-that's-good' is the name of the game, and if a man can't get the job done, he should get out of the bedroom. I'm talking toe-curling, mind-blowing, sheet-grabbing ecstasy. Like I provide every time.

I suppose that makes me a superhero of pleasure, and my mission is to always deliver.

BUT then I'm thrown for a loop when a certain woman asks me to teach her everything about how to win a man. The only problem? She's my best friend's sister, but she's far too tempting to resist--especially when I learn that sweet, sexy Harper, has a dirty mind too and wants to put it to good use. What could possibly go wrong as I give the woman I've secretly wanted some no-strings-attached lessons in seduction?

No one will know, even if we send a few naughty texts. Okay, a few hundred. Or if the zipper on her dress gets stuck. Not on that! Or if she gives me those get-over-here-and-take-me-eyes on the train in front of her whole family.

The trouble is the more nights I spend with her in bed, the more days I want to spend with her out of bed. And for the first time ever, I'm not only thinking about how to make a woman cry out in pleasure -- I'm thinking about how to keep her in my arms for a long time to come.

Looks like the real Adventures of Mister O have only just begun....
BUY LINKS
Original post: ishacoleman7.booklikes.com/post/1460243/available-for-pre-order-well-hung-by-lauren-blakely