HELPING HER REMEMBER (CRAWFORD FALLS) BY KATE CARLEY
Release Date: February 26, 2018
SYNOPSIS
Kelly's back.

How can two simple words make Dylan Bronstad's heart ache and sing at the same time?
Even seven years ago, Kelly Anne Leeson had possessed that power. Back then, all Dylan wanted to do was drink and make love to her. Really, it was no wonder she'd climbed out of his bed and walked out of his life, leaving him with nothing but a nasty hangover and the lonely memories of their time together.

Today, Dylan's life is on track. He's sober with the support of his family and his tight-knit group of friends. But Kelly could derail all he's worked to accomplish. Unfortunately, he can't seem to stay away from her.

Lured by the offer of her dream job, Kelly returns home to Crawford Falls and the friends she'd abandoned a lifetime ago. Mending those broken relationships will require some honest answers and a fair amount of forgiveness.

But facing Dylan will take a lot more—like maybe a suit of armor to protect her battle-weary heart and the secret she fears she'll never be able to keep.
While Kelly searches for a way to maintain the safe life she's created for her son, Dylan works to remind her of the relationship they once had.
Just as they rekindle their relationship, secrets and half-truths threaten to destroy everything.
BUY LINKS
Amazon B & N Google Play Books IBooks Kobo
REVIEW: HELPING HER REMEMBER (CRAWFORD FALLS) BY KATE CARLEY
Helping Her Remember by Kate Carley

My rating: 4 of 5 stars


The key to learning from mistakes is forgiving yourself for making them. For Dylan and Kelly it's a long road and a high price to a new beginning.What began with promise spun out of control, ending in pain. Now years later and older fate may be giving these former lovebirds a second chance, but not before the secrets hit the fan. Helping Her Remember sets course for redemption. Ms. Carley stirs up emotions with a romance that is as intoxicating as it is heartbreaking and even at the most wrenching of moments, never is it not captivating.



View all my reviews
A KISS IN THE SUNLIGHT (MACDERMOTT BROTHERS) BY MARIE PATRICK
Release Date: February 26, 2018
SYNOPSIS
Can the eldest MacDermott brother put the trama his family experienced at the hands of the Logan gang in his past once and for all? Find out in the emotional and satisfying conclusion to this heartfelt series.
Sheriff Teague MacDermott's life has been on hold since the Logan gang rode through Paradise Falls, killing and wounding his loved ones in an attempt to break one of their own out of jail. Now, four years later, he fears history is about to repeat itself as the last of the Logans is due to be released from prison and make good on his vow to put a bullet in Teague's back. He cannot let Logan get anywhere near his niece—or the spirited, new-in-town reporter who has found her way into his heart, despite his better judgment.
In order to win a coveted position on her father's newspaper, journalist Ryleigh Steele needs to write an in-depth story about how Sheriff MacDermott stopped the most notorious gang in Colorado. There's just one problem—the enigmatic sheriff won't open up to her, despite the growing attraction between them.
With Logan's release from prison looming, they must make tough choices. Ryleigh wants the story and the sheriff, but she can't have both. And Teague wants Ryleigh's love, but accepting her into his life means putting her in Logan's crosshairs. Can they risk it all for a brighter future together?
BUY LINKS
Amazon B & N Google Play Books IBooks Kobo
REVIEW: A KISS IN THE SUNLIGHT (MACDERMOTT BROTHERS) BY MARIE PATRICK
A Kiss in the Sunlight by Marie Patrick

My rating: 4 of 5 stars


For Teague doing the right thing is a way of life. Unfortunately following the rules has come at a high personal toll to himself and his family. Standing in the shadows of justice lies an aura of danger and a chance for happiness. Can the big, bad hero stop looking over his shoulder long enough to forgive himself and let love in? A Kiss In the Sunlight is an invitation into the heat of passion. A dance with danger that is as intricate as it intriguing.





View all my reviews
FIGHTING IRISH (THE SUMMERHAVEN TRIO) BY KATY REGNERY
Release Date: February 26, 2018
SYNOPSIS
Rory Haven and Brittany Manion knew one another as children...

...but it's been a long time since their childhood summers at Summerhaven.

The Havens weren't the children who attended exclusive Summerhaven Camp in Center Sandwich, New Hampshire. They were the children of the owners, expected to "pull their weight" and absolutely forbidden to fraternize with the paying guests. But that didn't keep Rory from having a quiet, unrequited crush on gorgeous, popular, insanely-rich, Brittany Manion for three tortuous summers.

When all-grown-up, recently-engaged Brittany books the off-season summer camp for her upcoming spring wedding, she immediately recognizes Rory as the scorching-hot boy who wouldn't give her the time of day. Meanwhile Rory, who senses that Brittany's nuptials are less about Mr. Right and more about Mr. Right Now, launches the fight of his life to win the heart of the girl he's always wanted.
BUY LINKS
Amazon B & N Google Play Books IBooks Kobo
REVIEW: FIGHTING IRISH (THE SUMMERHAVEN TRIO) BY KATY REGNERY
Fighting Irish by Katy Regnery

My rating: 5 of 5 stars


The spirit of the Irish meets the allure of romance. Ms. Regnery takes us beyond the borders of social class in a tale as old as time, but no less breathtaking. Rory and Brittany come from two different worlds. The haves and the have nots. When you live your life based on labels it's easy to lose sight of who you are. Money doesn't buy happiness. The grass is not always greener on the other side of the fence. As children Rory and Brittany had little choice in how they lived their lives. Will the maturity of adulthood give them courage to follow their heart's desire? In situations like this I always root for the underdog. Katy Regnery made one underdog out of two people. Fighting Irish captured my heart at hello, which made it hard to have to say goodbye.





View all my reviews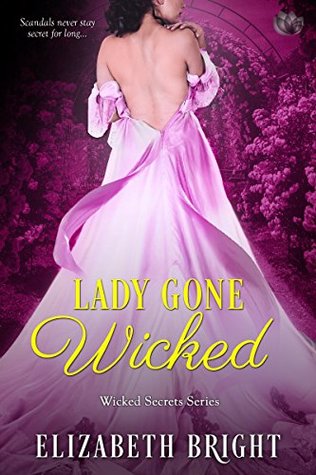 LADY GONE WICKED (WICKED SECRETS) BY ELIZABETH BRIGHT
Release Date: February 26, 2018
SYNOPSIS
Nicholas Eastwood is finally about to get everything he ever wanted. As a reward for his service to the Crown, he has been offered the title of marquess. All he has to do is stay scandal-free until the papers are signed. There's just one problem: His ex-lover, presumed dead, is remarkably alive.
Adelaide Bursnell is determined to right her wrongs. She will be a dutiful daughter and loving sister. Most importantly, she must marry before her scandal catches up to her. Nicholas was once her ruin, but now he is determined to be her salvation. If he can find her a suitable husband, their shared past can stay buried.
But old temptations prove impossible to resist and scandal can never stay secret for long...
Each book in the Wicked Secrets series is STANDALONE:
* Twice As Wicked
* Lady Gone Wicked
BUY LINKS
Amazon B & N Google Play Books IBooks Kobo
REVIEW: LADY GONE WICKED (WICKED SECRETS) BY ELIZABETH BRIGHT

Lady Gone Wicked by Elizabeth Bright

My rating: 5 of 5 stars


Be careful what you wish for, because it may come back at bite you in the end. Maybe someone should have warned Nicholas and Adelaide before their scandal began. Both have tragic pasts. Each has so much love to give but doesn't think they deserve to receive it. Victims of circumstance. Can two disillusioned hearts turn heartache into happily ever after? Amidst the scandal, betrayal, pain and darkness, lies a haunting tale of courage, hope and redemption. Unforgettable in every way.



View all my reviews


Original post: ishacoleman7.booklikes.com/post/1644843/happy-book-day-new-releases-for-february-26-2018