READ AND REVIEW
FLOW (PREQUEL TO GRIP) BY KENNEDY RYAN
Release Date: February 25, 2017
SYNOPSIS
In 8 years, Marlon James will be one of the brightest rising stars in the music industry.
Bristol Gray will be his tough, no-nonsense manager.
But when they first meet, she's a college student finding her way in the world,
and he's an artist determined to make his way in it.
From completely different worlds,
all the things that should separate them only draw them closer.
It's a beautiful beginning, but where will the story end?

FLOW is the prequel chronicling the week of magical days and nights that will haunt Grip & Bristol for years to come.

GRIP is the full-length conclusion of their story
BUY LINKS
REVIEW: FLOW (PREQUEL TO GRIP) BY KENNEDY RYAN
Flow
by
Kennedy Ryan
My rating:
5 of 5 stars
Marlon is a dreamer. He yearns for the unknown. Bristol is a realist. She has set her mind on success and will do whatever it takes to achieve her goals. Opposite in every way. However, the bond that emerges is one of support, friendship and maybe something more. Kennedy Ryan has a style that grabs at the heart, first and foremost.
Flow
lays the groundwork for the beginning of something special.
View all my reviews
GRIP BY KENNEDY RYAN
Release Date: March 2, 2017
SYNOPSIS
Resisting an irresistible force wears you down and turns you out.
I know.
I've been doing it for years.
I may not have a musical gift of my own,
but I've got a nose for talent and an eye for the extraordinary.
And Marlon James – Grip to his fans – is nothing short of extraordinary.
Years ago, we strung together a few magical nights, but I keep those memories in a locked drawer and I've thrown away the key.
All that's left is friendship and work.
He's on the verge of unimaginable fame, all his dreams poised to come true.
I manage his career, but I can't seem to manage my heart.
It's wild, reckless, disobedient.
And it remembers all the things I want to forget.
BUY LINKS
Amazon B & N Google Play Books IBooks Kobo
REVIEW: GRIP BY KENNEDY RYAN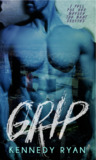 Grip
by
Kennedy Ryan
My rating:
5 of 5 stars
ARC Review: Grip by Kennedy Ryan
With Grip, Ms. Kennedy left no stone unturned. She exposed every heartache, flaw and yearning of both characters. Some pretty and others as haunting as the feelings that festered in their hearts. Bristol is a woman with a plan. Her friend needs her and she is determined to come through. Grip wants to be a success. But at what cost? If Flow was a coming of age journey between friends, Grip exposes a depth of growth and healing for this long standing friendship. A redemption of sorts that leaves a few cracks in the heart but proves inspiring to the soul. Ms. Ryan opens the mind while stealing the heart.
View all my reviews