FLUKE BY ADRIANA LOCKE

Release Date: April 10th
Genre/Tropes: Fake ex-husband / Small Town Romance / Friends to Lovers / One Bed / He Falls First
Fluke, an all-new small-town romance, by USA Today bestselling author Adriana Locke is coming April 10th!

CHECK OUT AN EXCERPT BELOW!

Pre-order this fake ex-husband, small-town romance TODAY!

Add to Goodreads
https://www.goodreads.com/book/show/61946841-fluke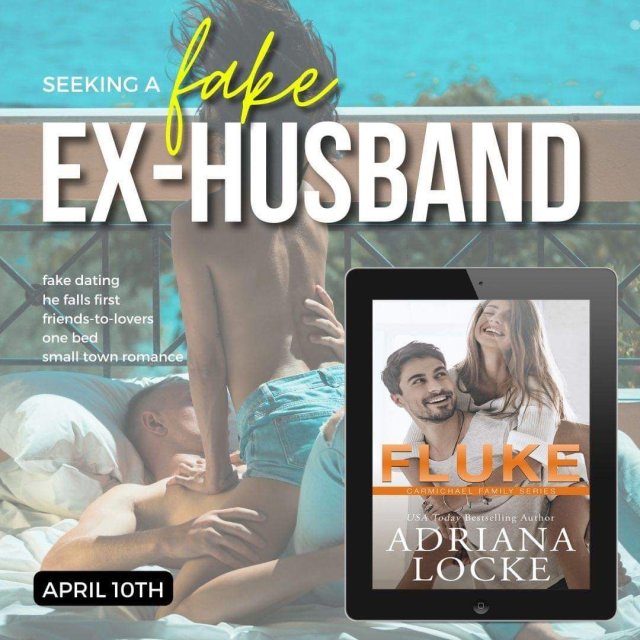 EXCERPT
"Do you check your email?" she asks.
"Yeah."
"Have you checked it today?"
"Uh, no. I've been working all day."
She clears her throat, shifting her weight from one foot to the other. "May I ask you to let me see your emails, please?"
Excuse me?
I press my lips together, curiosity getting the best of me, and pull my phone out of my pocket.
"Jess?"
"No, you may not see my emails."
Her hands go to her hips. "Please?"
"What are you up to, Pip?"
She reaches for my phone in a quick, bold move. Unfortunately for her, I'm quicker. I hold it up in the air and effectively out of her reach.
"Please, don't look at them. At least not with me standing here," she says, hopping a whole foot off the ground to try to reach the device.
I chuckle. "What did you do?"
"Give it to me." She hops again. "Now."
"Not a chance." I swipe the screen and find my email app as she tries to tug my arm down. "Will you stop it?"
"Jess," she says, fake crying. She stops hopping. "Wait."
I laugh at her little pout. "You are so fucking cute."
"I hate you."
"You do not."
The app opens, and I scan my inbox. It's the third message from the top that catches my attention.
Plum, Pippa Re: SEEKING AN EX-HUSBAND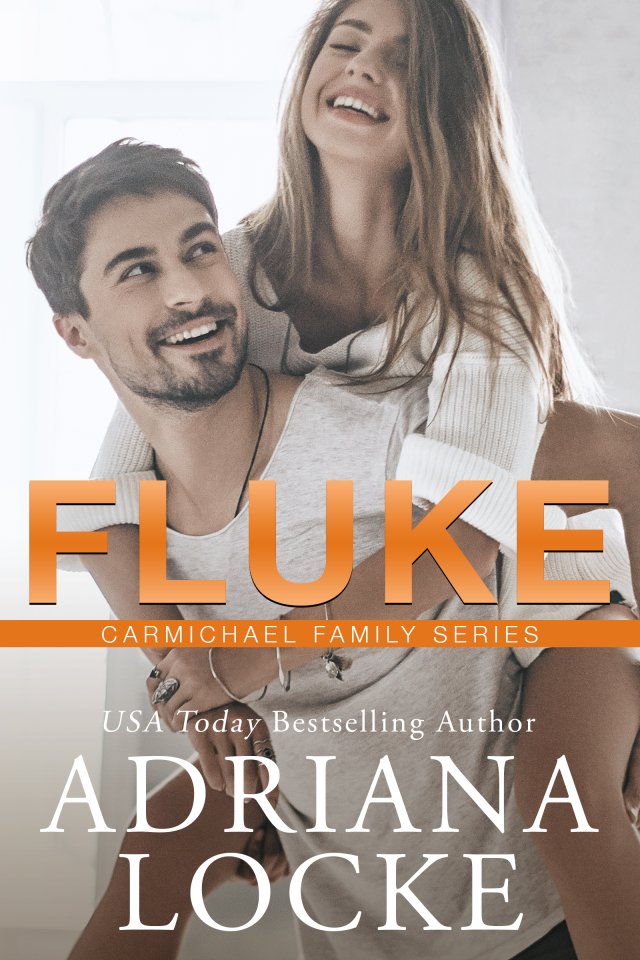 Blurb:
SEEKING AN EX-HUSBAND
I need a fake ex-husband.
Let me explain …
I may have let it slip to my new co-workers that I have an ex-husband. Now they're fascinated with the details, specifically with him.
Why wouldn't they be? He's gorgeous, has exceptional skills in the bedroom, and is determined to win me back.
But there's a problem. He doesn't exist.
The bigger problem? I have to produce him to save my job.
This is where you come in.
I'm seeking someone to play a smitten ex-husband for two weeks. You'll need to remember our love story—details matter when it comes to romance! Please be prepared to travel in-state at a moment's notice. We may be in close proximity and sharing a bed may be required.
One more thing—kisses are required for optics as necessary.
If this sounds interesting or, at the very least, entertaining, let me know.
Signed,
Your Future Ex-Wife
Buckle up for a steamy adventure between friends-turned-lovers in this new "fresh twist on a favorite trope!" take on fake dating, close proximity, and romance in the workplace from USA Today Bestselling author Adriana Locke.
About the Author:
USA Today Bestselling author, Adriana Locke, writes contemporary romances about the two things she knows best—big families and small towns. Her stories are about ordinary people finding extraordinary love with the perfect combination of heart, heat, and humor.
She loves connecting with readers, fall weather, football, reading alpha heroes, everything pumpkin, and pretending to garden.
Hailing from a tiny town in the Midwest, Adriana spends her free time with her high school sweetheart (who she married over twenty-five years ago) and their four sons (who truly are her best work). Her kitchen may be a perpetual disaster, and if all else fails, there is always pizza.
Learn more at adrianalocke.com.
Connect w/Adriana:
Website: https://adrianalocke.com
Facebook: https://www.facebook.com/authoradrianalocke
Facebook Group: https://www.facebook.com/groups/booksbyadrianalocke
Twitter: https://twitter.com/authoralocke
Instagram: https://www.instagram.com/authoradrianalocke
Goodreads: https://www.goodreads.com/author/show/8379774.Adriana_Locke
Amazon: https://amzn.to/3ivy7xd
Bookbub: https://www.bookbub.com/authors/adriana-locke
Newsletter Signup: http://bit.ly/NewsletterAddy
#ExcerptReveal #Fluke #AdrianaLocke #SpicyBooks #ComingSoon #SmallTown #CandiKanePRPromo @candikanepr