HERO OF MINE (MEN IN UNIFORM) BY CODI GARY
Release Date: August 16, 2016
SYNOPSIS
The men of Alpha Dog, a second chance program for at-risk teens, work hard and play hard. And when it comes to protecting the women they love . . . nothing stands in their way.

Danielle Hill used to live on the wild side, until a surprise pregnancy forced her to get her act together. Now her whole life revolves around her young son, and she will do anything to keep Noah's heart protected, even if it means avoiding the Marine who makes her want to be oh so bad . . .

Tyler Best loves his family, his friends, and his life, and he plans on living it to the fullest after nearly losing it. But Tyler didn't bank on running into a beautiful blond with blazing green eyes and temper to match his. Tyler always thought he wasn't ready to settle down, but Dani and Noah make him rethink his playboy ways . . .

Only just as these two start to build something, a shadow from Dani's past comes back to haunt them. But Tyler will do anything to keep her and Noah safe . . . anything.
BUY LINKS
REVIEW: HERO OF MINE (MEN IN UNIFORM) BY CODI GARY
ARC Review: Hero of Mine (Men in Uniform) by Codi Gary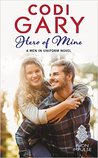 Hero of Mine
by
Codi Gary
My rating:
4 of 5 stars
Codi Gary continues to get better with each
Men In Uniform
novel. She really steps up her game with Tyler and Danielle. Past events have caused each to look at life life differently. For Tyler, he's gained a deeper appreciation of his surroundings and takes full advantage of every adventure life has to offer. For Danielle, maturity brought surprise motherhood and an inability to fully open her heart to anyone but her most prized achievement, her son. With
Hero of Mine
, Ms. Gary delves into a world of regret, self - doubt and second chances that don't come easily but are worth all the blood, sweat and tears to be faced along the way. Danielle was somewhat hard to get a read on because of how closed off she was, yet her strength was her will to tackle a tough situation and come out on top.
View all my reviews
EXCERPT
Dani pointed to the far wall of cages, oblivious to his disgruntlement. "Those are all the dogs whose time here expires. Feel free to take them out into the holding room"—she indicated a white door that had a sign reading holding room— "and do whatever you gotta do."
Turning her back on him, she squatted down in front of a large cage and opened it. Tyler bent down to see a massive gray dog with black spots and stripes. The dog lifted his head slightly, his floppy ears pricking as she cooed.
"Hey, Fugly, how you doing, bud?" Dani's hand glided over the dog's head and neck, and he relaxed back on his side with a whimper.
"What happened to him?" Tyler asked.
"Someone hit him with their car. A yard crew behind them stopped and picked him up, brought him here, but there's only so much I can do. The X-rays show he needs leg surgery, but my regular doctor is off today, and the prick subbing for him won't do a damn thing to help."
Tyler came closer, squatting behind her. The dog lifted his head and met Tyler's gaze with soft green-gray eyes. Rex's eyes had been a dark brown, nearly black, but the expression in this dog's eyes was still the same—filled with trust. This dog wasn't afraid of humans; he expected them to help him, to ease his pain.
Tyler's chest clenched. Although he'd trained several dogs since Rex, he hadn't experienced this pull, this kinship. This big, gray dog was calling to him, and he couldn't ignore it, no matter how crazy it seemed.
"Release him to me."
Dani spun his way so fast, she nearly knocked him back. "What?"
"Release him to me, and I'll run him down to my veterinarian. They'll go over the extent of his injuries and let me know what he needs."
Dani stared at him, her gaze wary. "Why would you do that? And what about the dogs you're supposed to evaluate?"
What the hell was he doing? He wasn't even sure the dog was trainable, let alone what his injuries were.
But he could still remember Rex's body as it cooled and stiffened in his arms. There had been nothing he could do to help Rex, but he could help this dog.
"If you will run interference for me with that guy, I'll drive . . ." Tyler hesitated to call the dog the bullshit name. "I'm sorry; he needs a better name than Fugly."
Dani laughed, but her voice shook a bit as though she might cry. "The workers that brought him in were calling him that."
"Not anymore. Whatever his name is, I'll drive him up there, drop him off, and come back here. If his owners show up, you can give me a call."
"I don't have your number." She closed the cage door and stood up.
"The front desk has it, but do you have your phone on you?" he asked.
"Yeah, I'll go get it." She left the room, and Tyler studied the dog. He was probably a good hundred and fifty pounds, which wouldn't be a problem to carry, but if he had more injuries they couldn't see, Tyler was concerned about jostling him around and doing more damage. He'd ask Dani if they had a stretcher when she got back.
She came back through the doors and handed him her phone. "Here."
Tyler stood up, staring at the screen saver of a smiling toddler with his arms wrapped around Dani's neck. Well, shit, that sent whatever attraction he'd had crashing to the ground. He had three rules for hooking up: Be honest from the get-go, no sleeping over, and definitely no repeats within the same week. And then there were the types of women he steered clear from.
No crazies. No attached or married women. And definitely no single moms.
No ifs, ands, or buts about it. He had watched his own mom get screwed over enough times to know that if you weren't ready, just stay far away.
Clearing his throat, he swiped his thumb over to her contacts and put in his information. "Cute kid."
"Thank you."
"He yours?" he asked.
"Yes, he's mine."
Was it just him, or did she sound defensive?
"How old is he?" Tyler handed the phone back to her, disappointed that she was off limits.
"He's almost two." Dani slipped her phone into her pocket. Her curt responses told him she didn't want to discuss her child with a complete stranger, and he couldn't blame her.
Apparently, he was just a nosy, interfering bastard today.
"About Fugly. I was going to just carry him out, but I'm afraid of causing more damage."
"He doesn't have internal bleeding, at least not that showed up on the X-rays. Most of the impact from the car occurred on his back end. Plus, I gave him a dose of pain meds when he first came in, and it should last him a while."
"Okay then, you get the door, and I'll get the dog."
Dani unlocked the cage again and unhooked the dog's IV, wrapping the tubing over the mobile pole by the cage. As gently as he could, Tyler reached in and picked up the dog, who tried to thrash for half a second before Tyler spoke firmly. "Stay."
The dog stilled, and Tyler stood up with him in his arms. "It's gonna be okay, boy."
Dani opened the doors as they went, but once they got to the lobby, Lab Coat Guy spotted them and spluttered, "What do you think you're doing?"
Dani puffed up. "He's taking the dog to his vet, since you won't do anything to help him."
Tyler had to admire the set of balls on Dani as every eye in the room swung on Lab Coat, pinning him with accusation.
"I didn't say anything like that. I told you his prognosis wasn't good and he was suffering."
"And I wanted a second opinion, so we're getting one."
Tyler grinned, following Dani out the door. Pausing for half a second, Tyler gave Lab Coat a warning look. "I haven't had a chance to evaluate the dogs yet. They'd better all be there when I get back."
Lab Coat swallowed hard, and as she closed the door, Dani laughed. "I think he just pissed himself."
Tyler liked her laugh, light and tinkling, like Christmas bells. "You're pretty terrifying yourself."
"I don't let bullies push me around," she said. "Where are your keys?"
"Right pocket."
When the warmth of her hand pushed into his pocket and grabbed his keys, he couldn't help his physical reaction. It was just too close to the groin, and the way she pressed with seeking fingers against him was enough to give him a semi. Despite it being October, it was still in the mideighties in Sacramento, and Tyler could feel beads of sweat dribbling down the sides of his face as she continued her search; he told himself it was just the heat getting to him.
Luckily, she hadn't seemed to notice, and once she found the keys, she unlocked the doors and pulled open the back door of the Alpha Dog van.
"Hang on." She ran back inside while Tyler waited, the dog's weight making his arms burn.
Suddenly, she was back and climbing past him into the backseat of the van.
"What are you doing?" he asked.
"Isn't it obvious? I'm coming with you. You're going to need someone to hold onto him while you drive, and besides," she said, her expression a soft mask of worry, "I don't want him to be alone and scared."
Tyler nodded, knowing exactly what she meant. He'd been rescuing dogs his whole life, much to his parents' exasperation. He remembered the first dog he'd brought home at nine, a skinny black dog with matted fur and a rank odor. When his mom had told him he couldn't bring the dog inside, he'd teared up and told her, "But, Mom, he's so hungry and scared." His mom had caved like a big old softy, and his dad left, coming back with food, bowls, and a collar and leash. He'd named the dog Barney, and he'd been the start of Tyler's love of dogs.
The fact that Dani appeared to have the same passion made him like her more. Cute, funny, didn't take shit from anyone? Plus, he'd bet his last dollar she was great in bed.
But the tiny, smiling little boy on her phone screen was like a big fat stop sign. He didn't do single moms—at least, not when he knew about the kid.
Laying the dog gently into the back, he watched her settle his head in her lap and begin stroking his gray coat. Suddenly, she looked up at Tyler, those green eyes filled with gratitude and . . . Hell, he had no idea, but it was a first for him.
"Thank you."
Tyler slammed the door to the van without responding, grabbing the keys out of the passenger door.
Tyler Best, bleeding-heart dog rescuer.
He climbed up into the driver's seat, preparing to take off.
"Really, why are you doing this?" she asked from behind him.
Adjusting the mirror so he could see her, he gave the only answer that made sense. "Why not?"
RAFFLECOPTER CODE
a Rafflecopter giveaway