READ AND REVIEW
THE REBEL'S RETURN (RED RIVER) BY VICTORIA JAMES
Release Date: August 22, 2016
SYNOPSIS
Natalia Puccini has spent her entire life playing by her overbearing but well-intentioned Italian family's rules...except the one time she took a chance on a bad boy and fell hard. She's worked to get her life back on track so when Aiden McCann comes sauntering back into town with his heart-stopping smile, Natalia vows not to fall for him again. There's no way she'll let him mess with her perfectly planned life...and there's no way she'll let him near her heart again...

Now reformed and a self-made success, Aiden is tormented by regrets and secrets. He left Red River years ago filled with anger and resentment and a promise to never come back. But when his ill father needs help, Aiden knows it's time to face the mess he left behind, and face the one woman he never got over. It doesn't matter how beautiful or intriguing she is, though, because he'll never be able to give her what she needs. As soon as his father is healthy, Aiden is leaving Red River...for good.
BUY LINKS
Amazon B & N Google Play Books IBooks Kobo
REVIEW: THE REBEL'S RETURN (RED RIVER) BY VICTORIA JAMES
The Rebel's Return by Victoria James

My rating: 4 of 5 stars


How do you move forward when the past grabs hold of your present? The Rebel's Return puts it all out there. Love, lust, loss and regret are major stepping stones on Aiden and Natalia's path to forgiveness. Both are rebels with something to prove. Nat wants her family's approval and respect on her own terms. Aiden longs for respect and wants to move on from his reckless youth. The way people see us is how we perceive ourselves to be. The key is to not let negativity shape who we are. With The Rebel's Return, Ms. James crafted a story of maturity and hard faced lessons that are contemplative and motivating.



View all my reviews
THE EARL'S RETURN (MARRIAGE MART MAYHEM) BY CALLIE HUTTON
Release Date: August 22, 2016
SYNOPSIS
London, 1819. Four years ago, Darius, the Earl of Redgrave fled London two weeks before his wedding to Lady Mary's sister and married another woman. Now a widower, he has returned to seek a new wife.

One woman catches his eye . . .

At first, Lady Mary doesn't recognize the handsome lord as the cad who ran out on her sister. After giving him the cut direct in a London ballroom, she finds herself running into him everywhere she goes, and fighting a forbidden attraction. Not only has Mary sworn off men, Redgrave is so very wrong for her. But she cannot stop thinking of his kisses. Redgrave means to stay away from Mary but it is impossible. Passion between two people who can never be together is a dangerous game.
BUY LINKS
Amazon B & N Google Play Books IBooks Kobo
REVIEW: THE EARL'S RETURN (MARRIAGE MART MAYHEM) BY CALLIE HUTTON
The Earl's Return by Callie Hutton

My rating: 4 of 5 stars


A mysterious flight, a secretive marriage. An instant attraction. A forbidden love affair. The Earl's Return is like lightning in a bottle. Sparks fly, turbulence ensues but love finds a way. Mary is devoted to her family, her spirit is fierce but her heart is torn. Darius is a man of mystery. Scandal dogs him and secrets haunt him. The biggest obstacle that stands in the way of these two are the events of four years prior. Mary's family was destroyed, her sister left heartbroken and unanswered questions have lingered for years. Nothing came easy with this couple. Complicated history lead to guilt and turmoil, but pressing forward helped mend the tatters of past mistakes.



View all my reviews
BEDDED BLISS (FOUND IN OBLIVION) BY CARI QUINN & TARYN ELLIOTT
Release Date: August 22, 2016
SYNOPSIS
Michael Shawcross is living the dream, opening up for his idols,
Oblivion, on his band Warning Sign's first tour. Until an overzealous fan goes
too far and his hard-partying ways catch up to him in the form of an ultimatum
from his manager, Lila Crandall.



Clean up your image—or else.



Single mom Chloe Adams is in Vegas for a rare girls' night out. She wasn't ever
supposed to be attracted to another rockstar. In fact, she's in rockstar rehab,
and the cure for her addiction definitely isn't a sexy, smart-assed guitarist
with wicked fingers.



She never expects to accidentally end up his wife. Or to have her new husband
suddenly decide that she's the solution to all his problems. And surprise…he's
happy to show his appreciation in a number of interesting, inventive ways.



Pretending their marriage is real might just be the hottest proposition she's
ever been given.



But what happens when a lie becomes the truth?

BEYOND OBLIVION - A Rockstar Romance full of sexy fun set within the
world of our Lost in Oblivion series! You never know who you'll see show up in
the books.
BUY LINKS
Amazon | B & N | iTunes | Kobo
REVIEW: BEDDED BLISS (FOUND IN OBLIVION) BY CARI QUINN & TARYN ELLIOTT
Bedded Bliss by Cari Quinn

My rating: 5 of 5 stars


What made Bedded Bliss work for me is that the two main characters where total opposites but without either one the story wouldn't have been as enjoyable. The chemistry was electric. The attraction was sensuous, dialogue was saucy and the story itself was total guilty pleasure material. He needed to tone down his wild ways. She needed to amp up hers. Um. Um. Good.



View all my reviews


TWISTED UP (TAKING CHANCES) BY ERIN NICHOLAS
Release Date: August 23, 2016
SYNOPSIS
Avery Sparks is a master at controlling chaos - and she gets plenty of opportunities as fire chief and head of emergency management in her hometown of Chance, Nebraska. The only thing she can't seem to control are her feelings when she's around Jake Mitchell, the man who was her first everything the night of their high school graduation. But Jake was so quick to leave Chance - and Avery - behind that she swore she'd move on.

While Avery's job is to minimize drama, Jake embraces the chaos of an emergency. After enlisting in the Army National Guard, Jake became a nationally recognized leader in disaster recovery. Yet a life on the road has left him restless. So when a class-four tornado wreaks havoc on Chance, he's eager to return home - and to the woman never far from his mind.

Now, Avery and Jake must team up to help their hometown weather a siege of violent storms. But it's clear to them both that nature isn't the only force they'll have to reckon with. Will Avery and Jake's whirlwind love affair be an all-new disaster - or can they recover from their stormy past to build a future together?
BUY LINKS
REVIEW: TWISTED UP (TAKING CHANCES) BY ERIN NICHOLAS
Twisted Up by Erin Nicholas

My rating: 4 of 5 stars


In times of adversity is when a person discovers how strong they really are. Twisted Up has action, humor, tension and sex appeal. It also has heart, the centerpiece of every Erin Nicholas' story. The Taking Chances series is off to a fine start. In times of chaos and uncertainty a small town must band together to survive. Two estranged lovers must work together to protect the community and the people they love. Twisted Up showcases the hard work and determination of emergency workers, but also gives hope. This story shines a light on an ever growing problem, tornadoes and the havoc they leave in their wake.



View all my reviews
TRULY, MADLY, DEEPLY (KINDLE WORLDS: BAREFOOT BAY) BY JEANNIE MOON
Release Date: August 23, 2016
SYNOPSIS
Nick DeMarco was a covert operative who breezed in and out of the lives of the people he cared about often without warning. This included his sister Josie's best friend, Lila Novak.
Nick and Lila had a torrid affair the last time he dropped into Barefoot Bay, and now that he's back, possibly for the long haul, he hopes she'll forgive him for disappearing without a word.
Lila loves her life as a teacher at Mimosa High School, but her affair with Nick has thrown her a curveball she never expected. Carrying his baby, she's faced with the loss of her job unless she agrees to do the last thing she wants to do – marry him.

Truly, Madly, Deeply is set in Roxanne St. Claire's Barefoot Bay Kindle World but can be read as a standalone
BUY LINKS
REVIEW: TRULY, MADLY, DEEPLY (KINDLE WORLDS: BAREFOOT BAY) BY JEANNIE MOON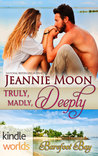 Truly, Madly, Deeply by Jeannie Moon

My rating: 5 of 5 stars


Life is too short to have to deal with mean spirited people. So if you have nothing good to say, don't speak at all. Jeannie Moon tackles the misery caused by gossip and how hope can bloom from the ashes of despair. Lila quickly learned that spitefulness has no age limit and no zip code. Even beauty hides ugliness. Misery loves to breed chaos and that is exactly what she faces down with integrity and grace. Nick, needs direction after being dealt a life changing blow. Can the beauty of Barefoot Bay smother the uncertainty of his future? Such a lovely story. Not even this ideal place is heavenly all the time.



View all my reviews
ONLY IN YOUR ARMS (KINDLE WORLDS: BAREFOOT BAY) BY DEBRA FISK
Release Date: August 23, 2016
SYNOPSIS
Tracking down leads to his partner's murder was all that mattered to Detective Noah Donavan, and finding Marco Talarico was his number one priority. When his captain makes him take vacation or face suspension, Noah uses the time to do some sleuthing in Barefoot Bay, the location of his suspect.

Luciana Talarico has been dreaming of making a name for herself her entire life. When her new business idea finals in the Golden Ticket Contest, she can't get out of New York fast enough--saying goodbye to her dead end job and her overbearing family. Too bad her dead beat brother picks that moment to get into trouble—again! If that weren't enough, running head first into Noah is a distraction her heart wants but could ruin everything.

Noah uses his connections in Barefoot Bay to go undercover. Using Marco's sister, Luciana isn't the best idea he's ever had but it's the only one he's got. Too bad she's everything he could hope for and more. When the two meet the sparks fly, but with so much at risk for both of them, will they give in to their hearts?
BUY LINKS
REVIEW: ONLY IN YOUR ARMS (KINDLE WORLDS: BAREFOOT BAY) BY DEBRA FISK
Only In Your Arms by Debra Fisk

My rating: 5 of 5 stars



Things just got way more complicated for the man with the plan. Noah needs answers. A fallen comrade and missing suspect lead him to the beautiful Barefoot Bay. Who-dun-its are my closet addiction and I'm always up for a little romantic enticement. Only In Your Arms delivers heat and deceit. Luciana dreams are on the verge of reality, when her screw up brother lands himself in hot water. His misfortune leads her into dangerous territory. One wrong move could cost her more than she's willing to risk. The lure of Luciana and Noah is the train wreck you know is coming but can't look away from. Anytime I can visit Barefoot Bay is an adventure.



View all my reviews
FURIOUS RUSH BY S. C. STEPHENS
Release Date: August 23, 2016
SYNOPSIS
The first in an emotion-fueled, New Adult series from the #1 bestselling author of the Thoughtless novels!
Too fast, too furious—and way too hot to handle…
Mackenzie Cox has a lot to prove. Daughter of a racing legend, she is eager to show the world that she has inherited her father's talent in the male-dominated sport of professional motorcycle racing. The last thing Kenzie needs is to be antagonized by her rival team's newest rider, Hayden Hayes. Plucked from the world of illegal street racing, Hayden immediately gets under Kenzie's skin. His insinuations that Kenzie is a spoiled princess who was handed her career fuels her desire to win, and much to her surprise, Kenzie soon learns she performs better when she's racing against Hayden.
As Kenzie and Hayden push each other on the track, the electric energy between them off the track shifts into an intense—and strictly forbidden—attraction. The only rule between their two ultra-competitive teams is zero contact. Kenzie always does her best to play by the rules, but when her team slips into a financial crisis, she has no choice but to turn to Hayden for help. The tension simmers during their secret, late-night rendezvous, but Kenzie has too much to lose to give in to her desires. Especially when she begins to doubt that Hayden has completely left his street life behind...
BUY LINKS
Amazon B & N Google Play Books IBooks Kobo
REVIEW: FURIOUS RUSH BY S. C. STEPHENS
Furious Rush by S.C. Stephens

My rating: 5 of 5 stars


Extreme sports are a big draw to sports enthusiasts. The adrenaline rush, expensive machines and death defying stunts are breathtaking. Furious Rush captures all the thrills of this risky sport and goes one step further by mixing in the most heart stopping adventure of all. Falling in love. Kenzie's adventurous spirit leads her down some treacherous roads and some spotty choices. Hayden is a bad boy with a need for speed and the heart of a champion. Kenzie was a lot of fun, she was sassy when she had to be, brutal when necessary but her choices were always her own and that makes for a strong and remarkable main character.



View all my reviews
SHOW ME HOW (THATCH) BY MOLLY MCADAMS
Release Date: August 23, 2016
SYNOPSIS
New York Times bestselling author Molly McAdams delivers another heart-wrenching, emotional novel in her Thatch series…

After her first love was ripped from her grasp four years earlier, Charlie Easton was sure she would never be able to trust anyone with the shattered pieces of her heart again. That is, until Deacon Carver forces himself into her life, and makes those pieces swirl in chaos. But Charlie doesn't know how to let him in… until a stranger stumbles upon a notebook filled with her innermost secrets, and shows her how.

Deacon Carver is known for sleeping his way through the town of Thatch, as well as the surrounding cities—something he used to take pride in. But that persona has haunted Deacon ever since he decided to leave that life behind for the girl he wants more than anything: Charlie Easton.

But when another girl falls into Deacon's life, allowing him to be himself without judgment for his past, will their conversations hinder his relationship with Charlie … even if he's never seen her?
BUY LINKS
Amazon B & N Google Play Books IBooks Kobo
REVIEW: SHOW ME HOW (THATCH) BY MOLLY MCADAMS
Show Me How by Molly McAdams

My rating: 5 of 5 stars


Stories with first person narrative make for powerful storytelling. It allows the reader to experience the events in the characters lives almost first hand. For that reason, Show Me How is impacting because the ability to empathize and understand Charlie's grief and self doubt as well as Deacon's journey from playboy to changed man are more relatable. There is no handy pocketbook to show the way to travel through tragedies, obstacles and growing as a person. We're all winging it, learning as we go and hoping we get it right. Show Me How is about owning choices we make and gaining knowledge from the past to help create a better person.



View all my reviews
WITH EVERY BREATH (SLOW BURN) BY MAYA BANKS
Release Date: August 23, 2016
SYNOPSIS
#1 USA Today and New York Times bestselling author Maya Banks continues her suspenseful and sizzling Slow Burn series with this fourth book—a mesmerizingly sexy tale of a strong, brilliant woman who encounters the one man who makes her lose all control.

Eliza Cummings fought free of a monster who terrorized her when she was an innocent teenager and helped put him away for good. She took a job with Devereaux Security Services and devoted every hour to taking down the very thing she'd nearly become. No one, not even those closest to her, know her darkest, shameful secrets. But now the killer has been set free on a legal loophole and it's only a matter of time before he comes for her. Eliza's only choice is to run and lead the monster away from the people she loves.

Wade Sterling has always lived by his own rules, a law unto himself who answers to no one. He's never professed to be a good man, and he's definitely not hero material. Wade never allows anyone close enough to see the man behind the impenetrable mask—but one woman threatens his carefully leashed control. He took a bullet for her and the result was more than a piece of metal entrenched in his skin. She was under his skin and nothing he did rid himself of the woman with the courage of a warrior and who thinks nothing of putting her life before others.

But when Wade sees a panicked and haunted Eliza he knows something is very wrong, because the fool woman has never been afraid of anything. And when she tries to run, the primal beast barely lurking beneath his deceptively polished façade erupts in a rage. She may not know it, but she belongs to him. This time, Eliza isn't going to play the protector. She was damn well going to be the protected. And as long as Wade breathes, no one will ever hurt what is his.
BUY LINKS
Amazon | B & N | Google | iTunes | Kobo
REVIEW: WITH EVERY BREATH (SLOW BURN) BY MAYA BANKS
With Every Breath by Maya Banks

My rating: 4 of 5 stars


Maya Banks is an author that I have been reading since her Pregnancy and Passion series was originally published in 2013. Her Harlequin stories are treasures that I repeatedly return to and are a major part of my favorites collection. I had no idea about her double life as a suspense writer, so it took me a while to wrap my head around the bone chilling terror of With Ever Breath. Only a twisted mind could torture an innocent in the way Eliza endured. Her experience has made her stronger and determined to protect others from her haunting history. Emotionally scarred, yet her inner strength was to think of others. An exceptional character. Wade and Eliza are united by darkness but the courage to rise above all of that is the true message. Addictive, heartbreaking and glorious story of the courage of two wounded souls searching for redemption. Had to finish, hard to forget.



View all my reviews

TRUSTING THE SEAL (SAVING THE SEALS) BY LESLIE NORTH
Release Date: August 23, 2016
SYNOPSIS
Spencer Nixon has spent his whole life pursuing justice, starting with becoming a Navy SEAL in the aftermath of 9/11. When a member of his team is killed by a mysterious sniper, he has to clear his name and the names of his comrades. With their only lead missing, Spencer persuades their prime suspect's daughter to hire him as her bodyguard.

The last thing beautiful PR woman Toni Williams wants is to be under Spencer's protection, but her billionaire father's ties to vital intelligence mean it's a necessity. Still, there are worst things than having a hunky SEAL watch your every move. Spencer doesn't trust her or her father, Coran Williams, but when Toni saves his life, he suddenly has no choice.

Even as things heat up between them, Spencer tries to keep Toni at arm's length for the sake of his mission. But when his investigation reveals her father's ties to a dangerous organization, it complicates things even further. Now, he'll have to decide what he's willing to do to bring her father to justice, and avenge his team mate--even if it means sacrificing his relationship with Toni in the process.
BUY LINKS
Amazon B & N Google Play Books IBooks Kobo
REVIEW: TRUSTING THE SEAL (SAVING THE SEALS) BY LESLIE NORTH
Trusting the SEAL by Leslie North

My rating: 5 of 5 stars


It's hard to stay sane when the world is crashing in around you. Spencer is familiar with the loss of control. All he holds sacred his career, honor and the memory of a friend are put at risk due to a dangerous unknown enemy. Leslie North swings back into action mode with Trusting the Seal. She delivers risky adventures, heated romance and alpha males that are easy on the eyes but murder on the heart. Can always count on this author to deliver romance for any mood.




View all my reviews
MONTANA RESCUE (THE WILDEST OF BIRCH BAY) BY KIM LAW
Release Date: August 23, 2016
SYNOPSIS
Championship bull rider Nick Wilde is the face of Montana Pro Rodeo, with all the acclaim and fans he can handle. But is that enough? Contemplating his next career move, he's come home to his family's cherry orchard—and to his childhood crush, helicopter pilot Harper Stone. But Harper's not quite the sexy, badass girl he once lusted after. Recently widowed, she's broken in two. Wanting to help her move on, Nick finds himself aching for the kind of stability he never had as a child.

True love comes once if you're lucky, and Harper already had her shot. An accident took her husband eighteen months ago and left only pain and guilt in his place. Now Nick is waking up her body and heart to everything she might still have to gain…or lose. A second chance is more than she thinks she deserves. But with a man like Nick doing the persuading, maybe it's time to try.
BUY LINKS
REVIEW: MONTANA RESCUE (THE WILDEST OF BIRCH BAY) BY KIM LAW
Montana Rescue by Kim Law

My rating: 5 of 5 stars


I have a deep respect for Kim Law as a writer. She does not shy away from human complexities and deep rooted emotional scars. She shines a light on mental instability, depression and tragedies in subtle ways which makes them all the more profound. Harper and Nick have dealt with many obstacles. Nick managed to rise above a life of emotional neglect to make a success of his professional career but has yet to overcome his childhood and find the same success in his personal life. Harper is struggling with a devastating loss that sends her spiraling into a depression that has her questioning herself, her life and the accident that left her a widow. Montana Rescue strength lies in it's inspiring message and it's beautiful backdrops. Heart and soul I fell.



View all my reviews

BODY SHOT (LAST SHOT) BY KELLY JAMIESON
Release Date: August 23, 2016
SYNOPSIS
The bestselling author of the Heller Brothers series stirs up a tempting cocktail of fun and seduction as a sexy SEAL-turned-bartender treats a buttoned-up scientist to a wild weekend . . . and a change of heart.

Former Navy SEAL Beck Whitcomb left a world of privilege to prove he could make his own way. Money, mansions, expensive cars—none of it could heal the loss of his older brother, or buy his parents' love. Now, after using his trust fund to open the Conquistadors tequila bar with his brothers-in-arms, Beck has it all: good friends, fine liquor, and hot hookups. When it comes to women, commitment's not his thing—until he gets a taste of the pretty professor who walks into his bar . . . and winds up in his bed.

Hayden Miles knows all too well that emotional decisions can lead to heartbreak, and nothing screams "bad decision" like a playboy bartender with inked biceps and a wicked smile. Still, their chemistry is off-the-charts explosive—and Hayden knows her chemistry. For once, this good girl longs to let loose. But is she willing to risk the pain to quench her thirst? With the promise of more on the table, Hayden's eager to believe . . . before she misses her shot.
BUY LINKS
Amazon B & N Google Play Books IBooks Kobo
REVIEW: BODY SHOT (LAST SHOT) BY KELLY JAMIESON
Body Shot by Kelly Jamieson

My rating: 4 of 5 stars


All work and no play makes for a stressful dull life. Beck is about to show Hayden how fun relaxation can be. Cute at first sight. These two work hard but Beck knows how to relieve stress and let go. Hayden needs a few pointers in that department. Their first meeting was one for the record books, I have never laughed so hard in my entire life. Embarassing? Yes, but there was a vulnerability there that added to the charm. It also provided a peek at the fledgling embers of attraction before they blossomed into an inferno. I have just began to become acquainted with Ms. Jamieson body of work and I am impressed. The heated build up is slower but the stories are beautiful. Body Shot sets the tone for an exciting series.



View all my reviews
SYNOPSIS
BUY LINKS
Amazon B & N Google Play Books IBooks Kobo
REVIEW:
SYNOPSIS
BUY LINKS
Amazon B & N Google Play Books IBooks Kobo
REVIEW:
SYNOPSIS
BUY LINKS
Amazon B & N Google Play Books IBooks Kobo
REVIEW:
SYNOPSIS
BUY LINKS
Amazon B & N Google Play Books IBooks Kobo
REVIEW:
ALWAYS THE ONE BY C.C. MONROE
Release Date: August 25, 2016
SYNOPSIS
Friendships are defined as a bond between two people, a building of a strong connection and like for one another. Usually excluding romantic or sexual feelings. Now what occurs when the typical doesn't happen and friendship turns to love?

Trey Adams spends his days working with music and pining over his longtime best friend, Shayla Donovan. The only thing holding him back is his past, a past where love only hurts and leaves you. To love Shayla the way he desires may be a long, arduous road.

Shayla Donovan has lived thirteen years of her life with a secret she is ready to confess. Pushing her fear aside may be the only way she can move forward in helping Trey learn the meaning of true love.

On their journey to finding love, these two souls will fight battles bigger than they could ever imagine.

*This novel contains mature subject matter, such as explicit sexual situations and coarse language, please refrain from reading if these things offend you. This story is not suitable for anyone under the age of 18. Hot, sensitive, alpha male, with an HEA.
BUY LINKS
Amazon B & N Google Play Books IBooks Kobo
REVIEW: ALWAYS THE ONE BY C.C. MONROE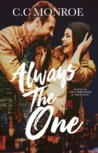 Always the One by C.C. Monroe

My rating: 4 of 5 stars


There are different phases to every relationship. How can a simple four letter word cause misunderstanding and hurt? Always the One gets down in the trenches and delivers what LOVE really means. It's not always sunshine and waterfalls. Love is about looking beyond the exterior and getting to know all pieces even the dark and hurtful ones. I applaud Ms. Monroe for her gritty and at times toxic portrayal of all angles of the emotion. Trey and Shayla gave a collision course of wisdom on the matter.



View all my reviews
Original post: ishacoleman7.booklikes.com/post/1455844/there-here-check-out-some-of-this-week-s-new-releases