Torch by Karen Erickson

Release Date: August 16th Series: Wildwood #3 Contemporary Romance
Synopsis:
Tate Warren has never met a woman he couldn't charm—until now.
Wren Gallagher won't give him the time of day and it's making him crazy.
But he won't give up without a fight… because there's one thing he knows for sure:
Enemies make the best lovers.
Most women swoon over Tate's devilish grin and firefighter uniform. But Wren couldn't be less impressed by his good looks and flirtatious banter—in fact, she seems to downright despise him. She thinks he's a player, but his attraction to her is no game. Wren is unlike anyone he's ever known and he isn't about to let the feisty, gorgeous woman slip through his fingers. Wooing Wren would be so much easier if she didn't hate him… Or does she?
Buy Links:
REVIEW: TORCH (THE WILDWOOD SERIES) BY KAREN ERICKSON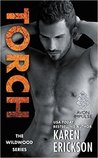 Torch
by
Karen Erickson
My rating:
5 of 5 stars
ARC Review: Torch (The Wildwood Series) by Karen Erickson
Karen Erickson outdid herself with Torch. The title the characters and the whodunit are great assets to this saucy series. Wren puts on a brave face but is really a lost soul searching for her own place. She yearns for a chance to find her happiness, even if it takes her away from the people and places she loves. Tate, is everything she wants but is scared to take a chance on. The flashy personality, his risky career and the turbulent attraction that she craves to let loose. An impressionable home life has left both Tate and Wren with feelings of inadequacy and fear of the unknown. Can they overcome the pain of their pasts, in order to find a future together?
The chemistry was combustible between Tate and Wren. It was so obvious that they had a special connection. What I loved most is that despite the animosity Wren showed, Tate was there whenever she needed someone to vent to or just to look after her. I adore these two together.
View all my reviews
About the Author:
USA Today bestselling author Karen Erickson is a firm believer in romance and happily ever afters. The author of too many contemporary romance books to count, she lives in central California on 14 acres of property with her husband, three kids, one dog and too many cats. Being a romance writer and bringing her characters to life is her greatest dream come true.