READ AND REVIEW
HER HELL YEAH COWBOY (KINDLE WORLDS: HELL YEAH / HARLAND COUNTY) BY
DONNA MICHAELS
Release Date: August 9, 2016
SYNOPSIS
Years ago, he unknowingly rescued his soulmate, now she's back in Texas and about to save his guarded heart.

Unlike his twin, Texas National Guardsman Sgt. Logan McCall would rather march barefoot and blindfolded through a cow pasture than date the same woman twice. After an active duty injury during a flood washed away his promising sports career and engagement years ago, Logan guards his heart more than his life until, fresh from deployment, he runs into a friend of the McCoys…literally. Hill Country's newest resident is hotter than the wing sauce soaking into his shirt.

Mission on.

Graphic designer and carrier of misfortune, Chloe Davis is a danger to herself and those around her, so entertaining thoughts for the sexy cowboy wearing her hot sauce should be a no-no…not a hell yeah—especially considering he's the guardsman linked to a horrible instance in her past. But when he turns out to be one of her clients, she can no more avoid him than the attraction sizzling between them. Chloe's back in Texas determined to make a fresh start, and she succeeds in business but fails to resist the handsome soldier's relentless pursuit.

But when he discovers her past, will he trust his heart or lose her forever?
BUY LINKS
REVIEW: HER HELL YEAH COWBOY (KINDLE WORLDS: HELL YEAH / HARLAND COUNTY) BY DONNA MICHAELS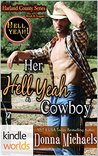 Hell Yeah!: Her Hell Yeah Cowboy (Kindle Worlds Novella) by Donna Michaels

My rating: 5 of 5 stars



Her Hell Yeah Cowboy (Kindle Worlds) by Donna Michaels<br>
Reviewed by for Candid Book Reviews

Can missed opportunities lead to a second chance of the Heart? Chloe and Logan are dealing with the fall out from heartaches, when their paths crossing at a time when they need each other most. Her Hell Yeah Cowboy is a romance that proves anything is possible, if a person opens the mind and heart to new possibilities. Full of optimism, creativity and lots of drama in a nice little package.



View all my reviews
UNTIL THERE WAS YOU (KINDLE WORLDS: HELL YEAH!) BY CIANA STONE
Release Date: August 9, 2016
SYNOPSIS
Lola's life is filled with mysteries. Why did her parents abandon her as a baby? What's behind the baffling blackouts she suffers and the frightening images she creates while she's out? Who is the strange woman claiming to hold the answers - and why does she say Lola has a life or death mission to perform?

Morgan has a few mysteries of his own. What was his father going to give him on the day he died, the gift he said would change Morgan's life? Who is this bewitching woman who passes out upon meeting him and creates pictures of his past and future?

And was she really sent to save his life or is she in need of psychiatric help?

All they both know is that from the moment they meet a bond is formed and it is stronger and more passionate than anything either has ever known. And that fate has brought them together for a very important reason.

If only they knew what it was...
BUY LINKS
REVIEW: UNTIL THERE WAS YOU (KINDLE WORLDS: HELL YEAH!) BY CIANA STONE
Hell Yeah!: Until There Was You by Ciana Stone

My rating: 3 of 5 stars



Hell Yeah!: Until There Was You by Ciana Stone

Reviewed for Candid Book Reviews

I'm not into stories bordering on the supernatural. The reason being authors have a tendency to get carried away with the strange and not deliver on the story. Until There Was You was a complicated story to sort through. Lots of haunting questions to answer but the aura of mystery was needed to keep Lola and Morgan's journey from coming across as generic. I tried something different and Ciana Stone kept the surprises coming, the pieces hidden and the wonder flowing until the bitter end. 3.5 stars.



View all my reviews
Original post: ishacoleman7.booklikes.com/post/1452565/kindle-worlds-hell-yeah-series